Spending time in the penalty box is never fun. It's not good for you, and it's not good for your team. Concerning public companies, there are all sorts of reasons a stock might be sent to the penalty box. And that's usually not a pleasant experience for the company or its shareholders.
For would-be long-term investors, however, acquiring shares of companies that have viable businesses, but may, for one reason or another, find themselves being punished by shareholders in the short-to-intermediate term, can be a worthwhile endeavor. This is the strategy I used frequently when building the 21 equity positions that comprise the buy-and-hold portion of my individual-stocks allocation. It does often require patiently waiting for opportunities. I haven't added a buy-and-hold position in over two months. But one company's stock has recently captured my attention: Target Corporation (NYSE:TGT).
There is no doubt that recent headlines surrounding the Target data breach have harmed the share price. Additionally, the recent environment for retail isn't anything to write home about. But when it comes to thinking about adding an equity position that I would like to hold for a decade or more, I focus my efforts on longer-term trends in earnings potential as well as the prospect for a respectable dividend yield. The goals I have for individual stocks that find a long-term home in my portfolio are current income, income growth, and a realistic potential to keep up with broader-market indices over an extended period of time.
Target currently sports a 2.91% dividend yield, and I suspect the yield on cost, based on the recent closing price of $59.20, will surpass 3% by the end of 2014. Target has raised its dividend every year since 1972, and I am very confident it will do so again this year. Looking further out in time, it is difficult to say whether the data breach will cause Target to push out its 2017 goal of a $3 per share dividend. But the mere fact the company has such a goal tells me there is currently a strong focus on returning capital to shareholders, and that the company will do whatever it can to meaningfully raise its dividend. Whether the $3 per share dividend goal is achieved in 2017, 2018, or 2019, that is where the company wants to take the dividend in the medium term. A $3 per share dividend would mean nearly 15% compounded annual growth over the next four years, and a yield on cost of 5.07% for shareholders buying at the recent price of $59.20. If you are able to grab shares at a lower price over the coming days and weeks, then, of course, your yield on cost would be higher than the aforementioned percentages.
Furthermore, keep in mind that the dividend's expected 15% CAGR over the coming years does not have to come in equal installments. I think there is the risk that 2014's dividend hike disappoints investors, should the "meaningfully weaker-than-expected sales since the announcement" continue for longer than expected. That risk, however, doesn't change the fact that from an income and income-growth perspective, Target is currently attractive.
Let's now turn our attention to an earnings-growth perspective. Earnings growth will be important for Target, if the stock is to avoid lagging the broader indices in the years to come, or at a minimum, not lose money for investors purchasing under $60 per share. As the table below illustrates, at this time, the consensus forecast is for earnings per share to grow to $4.40 one year from now, $5.22 two years from now, and $6.14 three years from now. The consensus estimate for the next twelve months ($4.40 per share) already reflects 11 downward revisions over the past four weeks. Also, earnings per share of $4.40, $5.22, and $6.14 mean forward P/Es of 13.45, 11.34, and 9.64 respectively.

In addition to the potential for future earnings growth, the P/E investors assign to the stock will also be important. Below is a chart showing Target's trailing-12-month P/E ratio in recent decades. If at some point in the coming years, Target can earn $6 per share and be awarded a 10 P/E, investors buying today will at least not lose money from a share price perspective.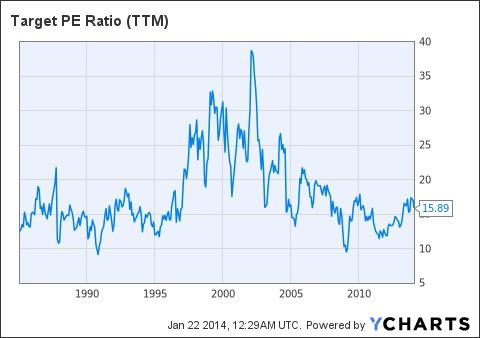 At the October 30, 2013 Target Corporation Financial Community Meeting, Target announced a 2017 earnings per share goal of $8. Even if Target misses that goal by $2 per share, resulting in notable multiple contraction from its recent close of $59.20, shareholders should be able to avoid losing money over the coming years. Of course, the possibility of only collecting a dividend may not be good enough for some shareholders. But, let me reiterate that $6 per share by the end of 2017 (fiscal year ending January 2018) is not the current consensus. It is simply an example of my trying to plan for adverse possibilities.
Is Target a buy right now?
For investors who assign more weight to income and income growth, Target is currently at attractive levels. Investors who assign more weight to future share price appreciation may demand lower prices in the near term. I am not against purchasing shares around these levels. With that said, because of my desire to obtain a bit more price protection should the long run not turn out as expected, I would be more comfortable buying in the $55 to $58 range, while leaving a small percentage of the full position for prices under $50 (just in case). The final allocation may never end up being filled, and that is something other investors may not be comfortable allowing. When building positions, I, however, always like to leave some dry powder just in case shares fall well below my initial purchase price. On the other hand, because of my desire to buy Target while it is still in the penalty box, I will also let the market be my guide (rather than having strict price targets).
Finally, if you are interested in buying shares over the coming days, there are a couple of near-term risks to keep in mind: (1) Analysts deciding to pile on with downgrades and lower price targets, (2) a broader-market sell off that puts downward pressure on all stocks, and (3) the earnings announcement on February 26.
Disclosure: I have no positions in any stocks mentioned, but may initiate a long position in TGT, over the next 72 hours. I wrote this article myself, and it expresses my own opinions. I am not receiving compensation for it (other than from Seeking Alpha). I have no business relationship with any company whose stock is mentioned in this article.