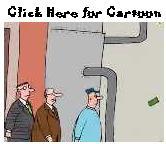 Outlook: Woody Allen once noted that we stand at an important fork in the road: "One path leads to despair and utter hopelessness, the other to total extinction. Let us pray we have the wisdom to choose correctly."
As it relates to the bond markets, Mr. Allen may have it right: one road leads to higher inflation, while the other to greater supply. Neither is positive for bond investors. The net beneficiary will be the equity markets, but the potential for a bond market swoon is as frightening to an equity investor as a tsunami is to an islander. [1]
CEF Weekly Review: The 13 closed-end fund (CEF) types on average posted a 0.7% increase for the week ending 3/26/10. The high-low spread was 2.0% vs. 1.1% last week. On an aggregate, unweighted basis, the weekly average price change for the 500 CEFs was up 0.6%.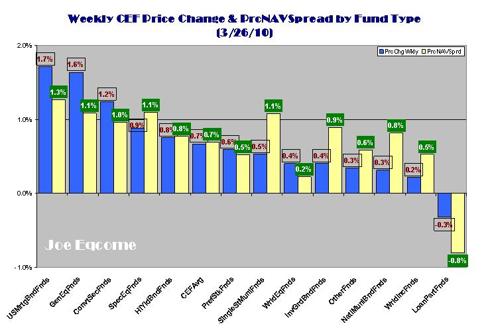 The PowerShares CEF Income Composite (NYSEARCA:PCEF), an ETF that invests in taxable income CEFs, advanced 0.5% for the week. The S&P 500 increased 0.6% for the week; up 4.6% YTD.
(Click here [2] for YTD CEF Performance. The table is based on a smaller CEF sample size as all the data fields are not available for the CEF universe.)
The Eqcome CEF Fear Index eased significantly with the average price advancing 0.6% versus a 0.2% decline in the NAV.
The CBOE Volatility Index (VIX), which typically moves inversely with the stock market—but is mostly a measure of volatility—was up 4.7% for the week. Despite the weekly rise in the VIX, it continues to hug its 52 week low. A recent study by Biryini Associates concluded that the VIX's predictive power is quite limited. If anything, the VIX is more useful as a contrarian indicator. In the futures markets, the VIX is trading higher than the spot market indicating the possibility of greater future volatility.
The S&P 500 average daily trading volume rose 3.5% from the previous week to 4.75 billion shares. Volume on Thursday spiked to 5.7 million shares on option expirations.
CEF Weekly Fund Type Performance: Fund type performance was a reflection of several investors' concerns that surfaced during the week. WrldEqFnds and WrldIncFnds were whipsawed on the EU's "off-again-on-again" support for Greece's fiscal crisis and the downgrading of Portugal's credit rating. Equities and equity-oriented fund types, HiYldBndFnds and ConvtSecFnds, finished the week strongly.
USMrtgBndFnds led the fund types with an average 1.7% advance. With the Fed's winding down its mortgage-back securities purchases by the end of March and the likelihood that the Fed will be a seller of its $1.25 trillion portfolio, one would have thought that mortgage rates potentially would go up and prices down. Since the Fed's intentions are not a secret, the appetite of private mortgage investors must have grown while waiting on the sidelines.
The PrcNAVSprds[*], which typically move in the direction of stock prices, held to form with no exceptions.
CEF Winners and Losers: One of the CEFs with the greatest positive PrcNAVSprd for the week was The Cushing MLP Total Return Fund (NYSE:SRV). SRV share price advanced 5.9% versus a 2.2% decline in its NAV generating a positive PrcNAVSprd of 8.2%. Essentially, SRV was experiencing a price rebound from its 4.6 million public follow-on offering that closed this week. The stock is trading at a 28.2% premium with a quarterly annualized distribution yield of 10.1%.
This week's CEF with the one of greatest negative PrcNAVSprd was Pimco Income Strategy Fund (NYSE:PFL). PFL has commenced a transferable rights offering this week. (For details of the rights offering, see "Significant CEF Corporate Events" section below.) PFL's generated a negative PrcNAVSprd of 8.8% based on an 8.4% decline in its share price and a 0.5% advance in its NAV. The detachable rights are trading on the NYSE under the symbol "PFL.RT".
Economic & Earnings Outlook: (Click here [3] for next week's economic calendar; click here [4] for earnings announcements and estimates.)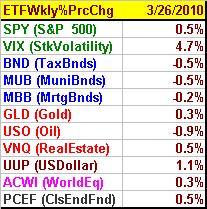 ETFs: (Click here [5] for ETF YTD sector performance.)
Insider Trading: March represented the second strongest month in the past 12 months for CEF insider activities.
Horejsi Group (Horejsi) continues to dominate CEF insider trading representing 69% of the monthly insider purchases. For the fourth week of March it added to its two earlier monthly positions in Boulder Growth & Income Fund (NYSE:BIF) and Boulder Total Return Fund (BTF). In the past two weeks it hasn't added to its position in Denali Fund (DNY).
Horejsi added 72,693 shares to its BIF position at an average price per share of $6.37 for a capital outlay of $462,833. Its aggregate capital commitment for the month has been approximately $2.5 million. Horejsi owns 33.1% of the outstanding shares.
It's highly likely that BIF will eventually execute a strategy similar to that of the Cornerstone funds. This strategy is to initiate a high return-of-capital distribution, "jacking up" the stock price and allow the insiders to begin dribbling out shares which they acquired at a significantly lower price.
Is this legal? Apparently it is. (See: "Insider Buying at BIF: A Case of Manipulation or Hallucination?[6]" (5/7/09).) This strategy has many elements of a "pump and dump" scheme used by "penny stock" promoters.
There were several recent significant individual purchases. Martin Cohen, Co-Chairman of Cohen & Steers & Steers Quality Income Realty Fund (NYSE:RQI) purchased 50,000 shares at an average price of $7.35 upping his holdings to 101,685 shares. Cohen & Steers Worldwide Realty Income Fund (RWF) was recently merged into RQI as of mid-March.
I would rate RQI as attractive: it is selling at a 14.8% discount, at a 5.1% yield and Mr. Cohen is thought of as thoughtful investor.
Rodney F. Dammeyer, a director of Van Kampen Muni Opportunity Fund (NYSE:VMO) and Van Kampen Select Sector Muni Trust (NYSEMKT:VKL), was a significant buyer of both CEFs. In the case of VMO, he had 9 separate filings acquiring 35,000 shares at an average cost per share of $7.35 for a capital outlay of $320,836. In the case of VKL, he acquired 11,000 shares in six separate filings at an aggregate purchase price of $133,486 ($12.00 average price).
Shares of both VMO and VKL are trading at an approximate 5.0% premium and at distribution yield of over 7.0% with taxable equivalent yield of over 11.0%.
(Click here for a hyperlink to the Joe Eqcome CEF Weekly Insider Report.)
CEF Distribution Announcements This Week: The following is a link to a table of CEF distribution announcements this week as well as the previous week's with yet expired ex-dividend dates. The list is not intended to be inclusive. (Click here for Weekly CEF Distribution Announcements.)
Significant CEF Corporate Events: Due to the tragic earthquake, The Chile Fund, Inc. (NYSEMKT:CH) announced its tender offer, which was anticipated to commence during the 1Q of 2010, will now commence on or prior to April 30, 2010. The tender offer will be for 25% of the Fund's common shares at a price equal to 99% of the net asset value per share.
PIMCO Income Strategy Fund (PFL) (formerly, PIMCO Floating Rate Income Fund) (the "Fund") announced 3/24/10 that it has commenced a transferable rights offering of additional common shares of the Fund (the "Offer"). The Rights are transferable and are admitted for trading on the New York Stock Exchange ("NYSE") under the ticker symbol "PFL.RT". The subscription period commences on March 24, 2010, and will expire at 5:00 p.m., New York time, on April 23, 2010, unless extended (the "Expiration Date").
The Board of Trustees of Rivus Bond Fund (NYSE:BDF) has approved the reorganization of The Hartford Income Shares Fund (HSF) with and into BDF (the "Reorganization"). The Reorganization has also been approved by HSF's Board of Directors. Each shareholder of HSF would receive shares of BDF equal in value to the shares of HSF held by that shareholder as of the closing date of the Reorganization.
CEFs Focus for the Week: Liberty All-Star Growth Fund (NYSE:ASG) continues to be the focus stock of the week. In addition to appearing attractive on a fundamental basis, an astute SeekingAlpha contributor, Gwailo, pointed out last week that, "ASG is another potential [CEF] piggyback on shareholder activism."
Gwailo further points out that on March 8, CEF activist investor, Phil Goldstein' Bulldog Investors filed a 13D [7] indicating an 8.6% ownership interest in ASG. Mr. Goldstein may be opposing a pending proxy vote on a new management agreement as a device to push the fund to open end status and thereby eliminating the discount.
Here's a recap of the fundamental points in support for ASG:
ASG is a multi-cap growth stock CEF that may get a "lift" from the second stage of the current stock market recovery.

It is a unique investment management structure as it employs independent institutional investment managers to separate investments in small, mid and large cap growth stocks.

It is trading at an attractive 12.1% discount to its NAV versus its historical discount of 5.9%;

It has a 6.4% distribution yield. While its distribution yield is based on a managed distribution policy of a 1.5% quarterly payout of NAV, on a cumulative basis, it appears that most of the distribution has been generated by capital gains.

ASG's current insiders are buying shares. Mark T. Haley, an insider, purchased an additional 10,000 shares at $3.73 per share upping his stake on March 11, 2010 to 22,288 shares.

Trading at a $3.75 per share, it allows retail investors an opportunity to buy a round lot (100 shares) for a total capital outlay of less than $4,000.
The caveats regarding the stock are: 1) it is a capital appreciation idea and could be volatile given its beta of 1.1, particularly if the stock market hits some turbulence; 2) its expense ratio is higher than its peer group when outliers are eliminated due to its multi-manager strategy.
---
[*] A positive PrcNAVSprd can be interpreted as negative because it typically signals a share price movement less favorable than the NAV. All things being equal, price and NAV should move in tandem. A price movement greater than the NAV may indicate the stock is overvalued relative to its NAV which in theory is the stock's intrinsic value. The opposite would be true for a negative PrcNAVSprd.

Disclosure: Author owns a diverse portfolio of CEFs that include BIF and ASG