I recently compiled my top 10 list of the best gold stocks of 2014, and a junior mining company called Midway Gold (NYSEMKT:MDW) made the top of the list. Midway was one of the few top picks of mine which does not actually have a mine in production yet. Instead, Midway is developing its Pan property in Nevada, with initial production expected by the end of 2014.
I label a gold stock as a "top pick" because I feel strongly that these stocks will outperform the benchmark Gold Miners Index (NYSEARCA:GDX) as well as the Junior Gold Miners Index (NYSEARCA:GDXJ), and, of course, the price of gold (NYSEARCA:GLD).
So, what is my criteria for a "top" gold stock?
- Miners who produce gold at low all-in sustaining cash costs, or development companies which have projects with very favorable economics (expected to produce gold at very low all-in costs).
- A company with a solid balance sheet and little to no debt to weather the ongoing price weakness of gold. A development company with debt can be a very risky situation, so I prefer development companies with little to no debt.
- Development project upside, big long-term potential from other projects for a second or third mine, joint ventures with major mining companies.
- Politically stable jurisdictions such as Canada and the USA are preferred.
- Potential takeover targets and a junior which is already partners with a major mining company.
Based on my criteria, I feel that Midway presents a very compelling buying opportunity at its current valuation, as the company works on getting its Pan mine into production this year.
Midway has a big chunk of cash on its balance sheet, has projects located in Nevada, has a solid, experienced management team, and has development projects which I feel have pretty big upside.
Here, I will try to convince investors that Midway Gold is a top gold stock to own in 2014.
Company Description, Share Structure and Balance Sheet
Midway Gold trades on the AMEX under MDW and on the Toronto Stock Exchange under MDW.TO.
The 3-month volume on the AMEX is 291,714, so the stock is more liquid than most other junior mining stocks of the same size. Sometimes, if I am writing about a stock that is very thinly traded on a US exchange but has higher volume on a Canadian exchange, I might recommend the investor purchase shares on the Canadian exchange. However, I am not worried in the case of Midway Gold.
*Description: Midway Gold is on track to bring its first million ounce project to production in 2014 - the Pan project. The company's assets are focused in Nevada, which is arguably the single best place to mine gold in the entire world.
The Pan project has very favorable economics and is a simple, open pit/heap leach project, expected to yield very low capital costs and strong economics, even with gold at $1,200 an ounce.
In addition to Pan, the company's first mine, Midway has a solid portfolio of projects totaling more than 5 million ounces of gold in the measured and indicated categories. In addition, Barrick Gold (NYSE:ABX) is currently partnering with Midway at the company's Spring Valley project, which holds more than 2 million ounces of gold. Barrick earned a 60% interest in Spring Valley and will earn another 10% with further development.
*Share Structure: Midway Gold has 130,878,372 shares outstanding, with 184 million shares fully diluted. With a share price of $1.03, this gives Midway Gold a current market cap of $134 million.
*Balance Sheet: As of Q3 2013 (September 30, 2013), Midway Gold had $58.3 million in cash, versus total current liabilities of $4.75 million. The company has no long-term debt.
Therefore, I estimate that Midway Gold has a current enterprise value of $75.7 million.
Why Midway Gold?
Here's why I think Midway Gold could outperform its peers in 2014:
*Pan: A Low-Cost Mine in Production in 2014
For a mining company's first mine, the Pan mine is as good as it gets.
- The Pan project, with a gold resource of 1.13 million gold ounces, is fully permitted and construction is underway with completion estimated for Q3 2014.
- Average annual production will be 81,000 ounces at fully-loaded all-in costs of just $824 an ounce. This would put the mine among the lowest all-in cost mines in the industry.
- The Pan project is a low cost, Carlin-style gold deposit mineable by shallow open pit methods and treatable by heap leaching, according to the company.
- A feasibility study was completed in November 2011. It shows the project is economical at a range of gold prices, with a Net Present Value (NPV) ranging from $123 million at $1,200/oz gold to $344 million at $1,900/oz gold. The IRR grows from 32% to 79% using the same gold price range (Both are after-tax figures).
- At $1,200 gold, payback is just 2.6 years. However, at $1,550 gold, payback is just 1.7 years and at $1,900 gold, payback is 1.2 years. Therefore, the project is highly leveraged to an increase in the price of gold.
- The mine is located near existing infrastructure, which decreases the company's overall capital requirements and lowers operating costs. This is a big reason why the economics are so favorable.
- Project CAPEX to production is just $99 million, which is very small for a project of this size. Many similar juniors have to spend hundreds of millions of dollars to get similar size mines into production. Again, the location of Pan is a big bonus for the company.
- Remaining finance for the mine is expected to be completed in the first quarter of 2014.
* Balance Sheet Strength
As mentioned, Midway has $58 million in cash and a market cap of just $134 million.
-For a junior mining company of this size to have such a large cash balance is a very special situation.
- Since the company needs $99 million to get into production, I estimate that Midway will need another $41-45 million. Midway has a number of options to obtain the remaining funds - either debt, equity, or a gold stream.
- If I were Midway, I would raise $20 million in debt and fund the remaining $20-25 million with a Net Smelter Royalty or a gold stream, instead of diluting shareholders. Either way, I don't think the company will have any issue acquiring the remaining funds, since the project has such favorable economics.
* Major Exploration Upside
- I think it is a huge plus that Midway can get Pan to production for around just $100 million. The project has big exploration upside with many underexplored targets, and the company can use the cash flow generated from production to fund this exploration.
- Pan has several drill targets ready and the project is open for expansion to the north and south, as the deposit is located on a huge plot of land, 3,700 meters long x up to 300 meters wide.
- The company feels that there are numerous targets for exploration, and I am really excited to see just how big the deposit can grow with further drilling.
* Gold Rock Project - The Pipeline
- The company plans for the Gold Rock deposit to become Midway's second mine. Gold Rock is located just 8 KM away from Pan and is expected to have similar economics - low CAPEX and low operating costs. However, the company feels that Gold Rock has the potential to be even larger and higher grade than Pan.
- Gold Rock already contains 310,000 ounces of gold in the indicated category (.74 g/t, higher grade than Pan) and 331,000 ounces in the inferred category (.58 g/t). The company plans to grow the resource with drilling and is currently developing a preliminary mine plan.
- Production is targeted for 2016, after Pan has already been in production for a few years and expanded. I expect that operating cash flow from Pan will fund the exploration and development of Gold Rock.
* The Right Management Team in Place
A junior mining company's management team is very important, as you want a team with a proven track record.
- CEO Kenneth A. Brunk Chairman, President and CEO, has a proven track record in the industry, with more than 40 years' experience. Brunk has built successful mines for major mining companies as well as junior mining companies.
Previously, Brunk has served with Newmont Mining as Senior Technical Officer, where he oversaw the company's Nevada mining operations. He was then named Senior Vice President of Newmont.
- Brad Blacketor is the Chief Financial Officer. Prior to joining Midway, Blacketor was CFO of Gold Resource Corporation, Bear Creek Mining Corporation, Metallica Resources Inc. and MinCorp Ltd.
- The Senior VP of Operations has more than 30 years of experience, the VP of projects has more than 40 years of experience, and the rest of the management team is also very experienced.
* Partnership with Barrick Gold at Spring Valley
- Barrick Gold is currently earning in to a Midway asset - the Spring Valley project, which contains 2.16 million ounces of gold in measured and indicated, and 1.97 million ounces in inferred.
- Barrick is the operator of the project as they completed expenditure of $38 million to earn-in 70% interest.
- Barrick has the option to carry the project to production. Midway would have to give up an additional 5% interest. However, Midway would still retain a 25% interest.
- This looks like a great situation for Midway Gold - the company can focus on its Pan and Gold Rock projects, while a major operator has them fully funded at Spring Valley.
* Technicals are Getting Very Strong
Most of my analysis of gold stocks is from a fundamental point of view, but I occasionally also do some technical analysis to try and identify patterns which are bullish.
You will see from the below chart that shares of Midway Gold just recently closed above their 200-day moving average of $.97, which is a very bullish sign.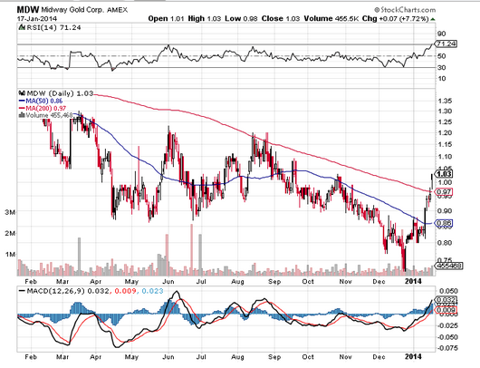 - You will also see from the graph that the Moving Average Convergence-Divergence (MACD) has turned positive. A bullish crossover occurs when the MACD turns up and crosses above the signal line, according to StockCharts.com.
- We also see a bullish centerline crossover, which occurs when the MACD Line moves above the zero line to turn positive.
- All signs are turning to a higher share price in the short term.
*The Valuation is Very Reasonable
- As mentioned, the market is only giving Midway Gold a market cap of about $130 million, which is the entire NPV of the Pan project. Therefore, you are getting a world-class asset in Nevada, but you are basically getting all of Midway's other assets for free.
- Midway Gold has 1.1 million ounces of gold at Pan, but an additional 641,000 ounces of gold at Gold Rock.
- For argument's sake, we will only these two projects to value Midway's gold ounces. So Pan and Gold Rock contain a total of 1.741 million ounces of gold.
The company has a current enterprise value of $75.7 million, as mentioned previously. Therefore, the market is valuing each of Midway's gold ounces at just $43.48 an ounce.
This valuation is cheap compared to both major mining companies, junior miners and gold development companies.
- For example, a similar company called Rubicon Minerals (RBY) is currently valued at $81 an ounce, according to Gold Miner Pulse.
- The market is currently valuing Lake Shore Gold (NYSEMKT:LSG) and its 7.5 million gold ounce resource base at $52 an ounce, according to my own estimates. Most major gold producers, such as Goldcorp (NYSE:GG), are valued at over $100 per ounce.
What are the Risks?
Even though I believe Midway is a great buy here, there are still some risks investors need to understand before making an investment.
- The main risk for Midway Gold is a drop in the price of gold. If the price of gold dips another $150-$200 an ounce, which is possible, then Midway could have trouble financing the remaining portion of financing. Gold at $1,000 or lower would greatly affect the economics of the Pan deposit.
- While Pan is projected to be a very low-cost operation, these are just estimates and there can be no guarantee that Midway achieves these costs.
- Operational risk: there is no guarantee that Midway will bring Pan into production without any problems. A number of things can go wrong at a gold mine, especially one that is not in production yet. Worker strikes, power failures, mill failures, etc.
Conclusion: Midway is a Buy
To conclude my thesis, I feel that Midway Gold presents a strong buy at current prices for the following reasons:
- Solid balance sheet
- Potential low-cost operation with low CAPEX required
- Excellent management team with proven track record
- World class mining jurisdiction
- Exploration upside and development projects with big potential
- Partnership with Barrick Gold and strong takeover target
What do you think about Midway Gold? Please comment below with your thoughts and follow me here on Seeking Alpha for future articles.
Disclosure: I have no positions in any stocks mentioned, but may initiate a long position in MDW, over the next 72 hours. I wrote this article myself, and it expresses my own opinions. I am not receiving compensation for it (other than from Seeking Alpha). I have no business relationship with any company whose stock is mentioned in this article.