Since going public in late 2013, shares of newest public social media issue, Twitter (NYSE:TWTR), are up more than 38% from their opening price of $45.10. During the same time, shares of LinkedIn (LNKD), the first social media company to go public, are up just 4%. There are three reasons why one of my favorite pairs trades right now is long LNKD and short TWTR.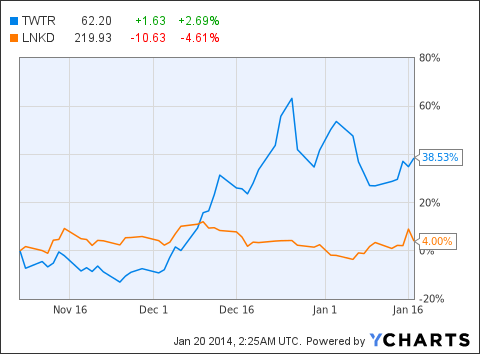 1. Twitter Lockup Expiration
Beginning in February, the lockup period will begin to expire for TWTR. The lockup period will fully expire in May. This is a critical development as 87% of shares are currently restricted due to the lockup. It is reasonable to expect some selling by insiders once the lockup if over. The result of this selling could result in significant pressure on TWTR shares. As SA contributor Tradevestor pointed out, all of the social media companies, Facebook (NASDAQ:FB), Groupon (NASDAQ:GRPN), Zynga (NASDAQ:ZNGA), and LNKD fell in anticipation of the lockup expiration. LNKD does not face a similar scenario. Due to this, I believe LNKD has less risk to the downside over the short term relative to TWTR.
2. LinkedIn To Enter China?
In a December 6 note, BMO Capital upgraded LNKD to outperform from market perform and raised its price target to $270 from $235. The main reason why BMO upgraded the stock is a belief that LNKD may be preparing to formally enter China. It is critical to note that LNKD is not blocked in China. Comparably, TWTR is blocked in China. Even if it wanted to, TWTR could not expand into China. Currently, LNKD is only available in English but already is rumored to have over 3 million Chinese users. Clearly, LNKD has major potential to capitalise on the Chinese market by rolling out its website in Mandarin. I agree with BMO in believing that LNKD will likely make an announcement about China at some point in 2014.
Any such announcement would serve as a catalyst sending LNKD shares surging. Just days ago, LNKD hired its first President of China Operations, Derek Shen. Of course, even if LNKD decides to enter China, implementation of a Chinese rollout in local form will not be easy and will take a number of years. For starters, the professional culture is quite different in China compared to the U.S. and Europe. An additional headwind is that there are already several professional social networks operating in China such as Ushi. Despite these challenges, I think it is highly likely that LNKD succeeds in China because it has the unique competitive advantage: being the leading professional social network in the developed world. This advantage cannot be overstated given the ever increasing theme of globalization. In short, the China opportunity is a major positive for LNKD compared to TWTR.
3. Business Mix
One major difference between LNKD and TWTR is reliance on advertising to drive profits. TWTR is almost solely reliant on advertising for revenue. Comparably, LNKD derives a significant portion of its revenue in the form of fees from both individuals and corporations for premium offerings. In my opinion, this is an advantage for a few reasons. Firstly, LNKD is less exposed to the swings in advertising spending that might impact TWTR. Over the past few years, advertisement rates have been falling while the number of advertisements has grown across the web.
Google recently reported an 8% decline in cost per click pay while the total number of paid clicks rose by 26%. As the amount of content continues to grow online, there will be significantly more advertisement inventory. At some point, the supply of advertisements will overwhelm the demand and, in my view, rates could plunge, as opposed to the current measured decline. In other words, I do not believe the demand for online advertising will increase at nearly the same rate as new content and thus new advertising availability. LNKD has significant business opportunities outside of advertising that provide the company with some diversification.
Conclusion
The social media sector is incredibly risky due to high valuations across nearly all social media plays including both TWTR and LNKD. For this reason, a pairs trade is a desirable way to play the sector. Due to the upcoming lockup expiration, lack of China opportunity, and dependence on advertising revenue I believe TWTR faces significant headwinds. Comparably, LNKD does not face an upcoming lockup; LNKD looks likely to enter China in 2014; LNKD is not solely dependent on advertising revenue.
Disclosure: I have no positions in any stocks mentioned, and no plans to initiate any positions within the next 72 hours. I wrote this article myself, and it expresses my own opinions. I am not receiving compensation for it (other than from Seeking Alpha). I have no business relationship with any company whose stock is mentioned in this article.