Vanguard Natural Resources (NYSE:VNR) is an energy limited liability company, which acts as a limited partnership for tax purposes (effectively an energy MLP without any IDRs or GP interest). You will have to file a K-1 for VNR. Its acquires and develops mature, long-lived oil and natural gas properties. It attempts to generate stable cash flows that allow for monthly distributions to its unit holders. The company attempts to increase its monthly cash distributions over time. Since its IPO (about 5 years ago), it has grown its distribution/dividend about 46%. The current dividend is $2.49 annually (or about 8.4%). VNR's properties are located in the Permian Basin in West Texas and New Mexico, the Big Horn Basin in Wyoming and Montana, the Arkoma Basin in Arkansas and Oklahoma, the Williston in North Dakota and Montana, Mississippi, and South Texas.
Prior to VNR's latest deal, it claimed proved reserves of 175 MMBoe (5.8 mmbtu/Boe * 175 million Boe = 1015 Tbtu = 1.015 Tcfe). VNR claimed an enterprise value of $3.2B at that time. This amounts to about $3.2/mcfe.
In VNR's most recent deal, it bought 87,000 gross acres (14,000 net acres) with internally estimated proved reserves of 847 Bcfe for $581 million from an unnamed source. This amounts to $0.69/mcfe of proved reserves. In other words, VNR may have managed to almost double its proved reserves with this one deal. Further, the reserves added through this deal cost only about one-fifth of the effective value (or cost) of previously-owned reserves based on VNR's enterprise value prior to the acquisition. Investors should look at this as a great deal.
This acreage is currently producing 113.4 mmcfe/d, with approximately 80% natural gas, 16% natural gas liquids, and 4% oil. The company expects the closing date of this acquisition to be January 31, 2014. The land is in the Jonah and Pinedale fields in the Green River Basin in Wyoming. There are approximately 2,000 producing wells and over 970 proved undeveloped drilling locations. There are also approximately 5,200 additional locations not booked at this time due to the expectation that they will not be drilled within a five-year period (as required by the SEC). 100% of the properties are non-operated, with an average working interest of 10%. The other partners are major operators Ultra Petroleum Corp. (NASDAQ:UPL) and QEP Resources Inc. (NYSE:QEP). These companies both have excellent technical reputations. This new deal brings VNR's proved reserves to about 1.9 Tcfe.
Some might think that the high percentage of natural gas in the "new deal" proved reserves makes them less valuable than VNR's reserves prior to this deal. There is some truth to this, as one Boe of natural gas is currently selling for about one-fourth the price of a barrel of oil. However, VNR's reserve mix as of December 31, 2012 was 60% natural gas, 28% oil, and 12% natural gas. This means that part of the previously-owned reserves is worth more at current prices. However, that difference might move the new reserves' relative cost to one-third or one-fourth the cost of the prior reserves (down from the strict Boe-based cost comparison of approximately one-fifth the cost). Regardless, the deal is still a great one; and investors should be encouraged.
The above goes a long way toward explaining the veritable who's who among institutional investors that comprise VNR's list of top institutional investors. These include: Bank of America (NYSE:BAC), Bank of New York Mellon Corp (NYSE:BK), California Public Employees -- CALPERS, Deutsche Bank AG (NYSE:DB), Goldman Sachs Group Inc. (NYSE:GS), JPMorgan Chase (NYSE:JPM), Morgan Stanley (NYSE:MS), Northern Trust Corp. (NASDAQ:NTRS), Royal Bank of Canada (NYSE:RY), UBS AG (NYSE:UBS), and Wells Fargo & Company (NYSE:WFC). The old saying, "100 Frenchmen can't be wrong", comes to mind. If you invest in VNR, you know you will at least be in good company. With deals like the most recent one, investors can only wonder why everyone isn't investing in VNR.
Some may worry that VNR has let natural gas become too big a part of its portfolio of reserves. However, this seems like a smart move in light of the building positive fundamentals for natural gas and the cheapness of the purchase price. First, the Farmers' Almanac has predicted a colder-than-normal winter for the US for the winter of 2013-2014. Thus far, that prediction has been dead on. In fact, the US has recently experienced a "polar vortex" in which arctic weather swept down from the north; and another polar vortex is expected later this week. The Nymex price of natural gas has climbed to $4.507/mmbtu as of this writing on January 22, 2014. In fact, natural gas prices have been trending upward since their bottom at about $1.90/mmbtu in the spring of 2012. This bodes well for any company with substantial natural gas production and reserves.
Last winter, an average winter, the price of natural gas rose about $1/mmbtu from late December 2012 through mid-April 2013. If it does that in a colder-than-normal winter this year, the price may approach roughly $5.50/mmbtu by mid-April 2014. This would be great for VNR's earnings. It is hedged; but not completely. Plus some hedges are two or more way collars.
Some may argue that one should not base one's investments on one cold winter. However, investors would not be doing that. VNR put together the table below of pluses for natural gas.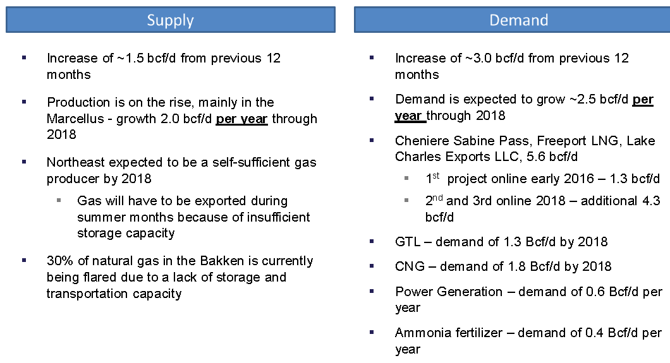 This looks promising for the long term for natural gas. However, this table represents a likely serious underestimate of the longer-term growth in natural gas demand. It barely scratches the surface of the US LNG (liquefied natural gas) export demand over the longer term. The following table from Devon Energy (NYSE:DVN) shows a more comprehensive list of the expected LNG export demand.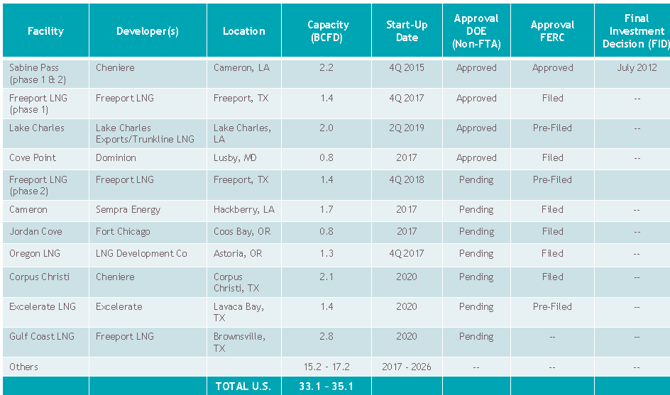 This table shows the US LNG export facilities under construction and in the planning phase. 15.2 Bcf/d-17.2 Bcf/d are expected to be in operation by 2020. 33.1 Bcf/d-35.1 Bcf/d are expected to be in operation by 2026. This should provide sustained US natural gas demand growth for many years.
In addition to the LNG exports, the US is also planning to export more natural gas via pipelines to Mexico. A Barclay's report estimates that exports to Mexico will increase from 2 Bcf/d in 2013, to 2.2 Bcf/d in 2014, to 3.5 Bcf/d in 2015, to 4.5 Bcf/d in 2016; and the growing demand is not expected to stop there. Earlier in 2013 Goldman Sachs forecast a jump in export capacity to Mexico to 4.8 Bcf/d by 2015. Splitting the difference, this likely means another 2+ Bcf/d in US natural gas exports by sometime in 2015; and it is already 2014 now. Again, the VNR table has not mentioned this as a new source of natural gas demand.
VNR's table also cites a likely increase in demand for CNG (compressed natural gas) and GTL (gas to liquids) of a total of 3.1 Bcf/d by 2018. However, this is under the present set of circumstances. If the US Congress ever passes a Natural Gas For Transportation Act, which is something it has attempted to pass in the past, this could spur a huge ramp-up in natural gas demand in a very short time. The power of the US government would then be behind the ramp-up.
The above fundamentals are very positive for VNR and natural gas. However, even without all of the above positive fundamentals, VNR has been doing well. In Q3 2013 adjusted EBITDA increased 25% year over year to $82.7 million. Distributable cash flow to common and class B unit holders increased 44% to $52.9 million year over year. Average production in Q3 2013 was up 45% to 35,250 Boe/d year over year. Including hedges, VNR realized an average natural gas price of $3.48/mcf compared to $2.47/mcf in Q3 2012. If VNR sees the same level of rise in average price obtained in Q3 2014, that will be very good for its business; and there is substantial evidence that makes that likely. VNR is a buy.
The two-year chart of VNR provides some technical direction for this trade.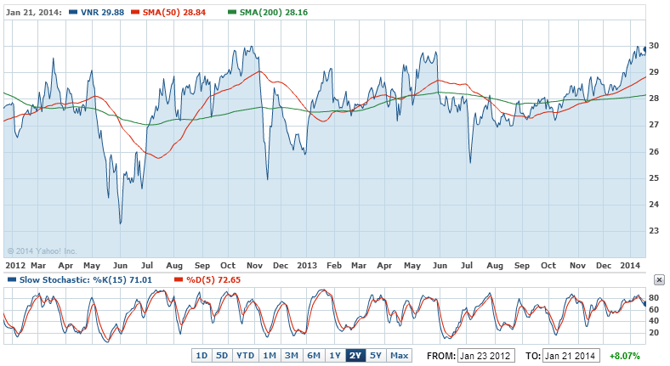 The slow stochastic sub chart shows that VNR is near overbought territory. The main chart shows that VNR has been consolidating sideways for the last two years. This could go on, or it could provide a good base for a move upward. The fundamentals cited above indicate a move upward from this point is much more likely than a move downward. The technicals substantiate this view.
VNR has a mean analysts' recommendation of 1.9 (a buy). It has a CAPS rating of five stars (a strong buy). The fundamentals and the technicals are both positive. VNR is a buy.
NOTE: Some of the fundamental fiscal data above is from Yahoo Finance.
Good Luck Trading.
Disclosure: I have no positions in any stocks mentioned, but may initiate a long position in VNR, over the next 72 hours. I wrote this article myself, and it expresses my own opinions. I am not receiving compensation for it (other than from Seeking Alpha). I have no business relationship with any company whose stock is mentioned in this article.