I recently wrote about where we are in the energy cycle compared to historical norms. One of the comments led me to look at drillers in a bit more detail. As can be seen from the chart below of the P/B cycle, the drillers still can get back to their average P/B ~4. The chart looks similar to '96 to me.
Click to enlarge: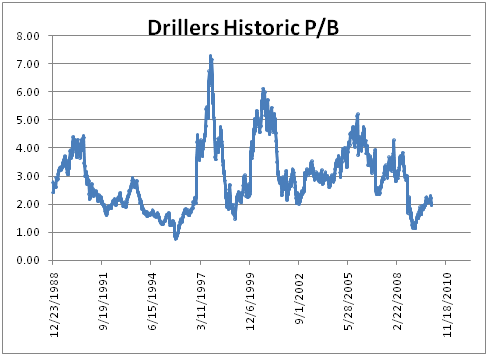 I've made my case for the Energy cycle in my previous article, I feel that we are early in this cycle, and you can read the article for more information. By the way, I would like feedback that is both pro/con so that I may capture something I'm missing.
One of the comments stated that they would like to get more information on sub sectors, so in this article I'm looking at the suppliers of rigs, with a focus on off shore rigs with Shell's recent announcement of a big find aside.
Overview
First I would like to give a brief overview as I understand the space; if anyone has experience in this area, I would like your input.
The offshore space includes Fixed Platforms, Mobile Storage vehicles, Tension Leg Platforms (TLPs), Floaters (semi submersible and submersibles), Jackups, Floating Production and Storage Offloading (FPSO) ships. There are numerous other vehicles as well but I will not go into those now.
Drillships

Benefits:

Can move quickly from site to site as needed
Can drill in deep water (water depth 3000m +)


Disadvantages:

Not a good candidate for rough seas (it would be interesting to see if there are any Drillships in the North Sea)
Capacity

(Source)
Semi-Submersibles

Benefits:

Can drill in (ultra) deep water 4000m+ (14,000 ft)
These are huge, can work in harsh environments

Disadvantages:

Large scale commitment, probably not used for exploration
Not as mobile

Jackups

Benefits:

Low cost compared to alternatives
High throughput is possible

Disadvantages:


Shallow water drilling (400 ft water depth)
More supply on the market leads to buyer power amongst customers

Jackups can drill up to 35,000 ft. but are not suited for deepwater drilling because they are limited to water depths of about 450 ft. This is due to the fact they these ships have their legs 'jacked up' and then plant them into the sea floor when they are ready to drill.
Semisubmersibles or 'floaters' can move to a drilling site, submerge pontoons which fill up with seawater and then semi-submerge the drill ship into the site. Since the ship is not physically in contact with the seabed it can operate in deeper depths than Jackups.
Analysis:
As I start this analysis, I myself don't know which is a better investment strategy. But my thought process is to look at the offshore drilling sector, what are its drivers, how do these drivers affect the Jackup and Floater segments and then pick my equities.
In terms of drivers, I'm going to focus on three areas:
Price – in this instance this will be dayrates of rigs.

Volume- this will be rig utilization and what is forecasted for rigs to go into contract

Growth- where is drilling going to commence and what type of rig is better situated.

Costs- in this case, I am going to look at how much their idled rigs cost the firm, cogs, and interest, for the sake of making this article readable in one sitting, I'm going put this in each company's analysis.
Investment Thesis:
Of the drillers, I am looking at the top two (Noble and Rowan) vs. the bottom two (Seahawk Drilling, Hercules Offshore). These are based on a quant screen that looks at historical financial and accounting values: A score below 5.5 is good, 1 would be a buy, and 10 would be a short. Based on what I find in terms of drivers, I will see if the quant screen and a brief analysis show a good stock pick.


| | | | |
| --- | --- | --- | --- |
| Symbol | Name | Analysts | Score |
| | Noble Corp. | 41 | 3.48 |
| | Rowan Cos. Inc. | 33 | 3.83 |
| | Helmerich & Payne Inc. | 23 | 4.31 |
| | Atwood Oceanics Inc. | 17 | 4.76 |
| | Transocean Ltd. | 43 | 4.90 |
| | ENSCO International | 37 | 5.07 |
| | Pride International Inc. | 34 | 5.31 |
| | Diamond Offshore Drilling | 35 | 5.59 |
| | Precision Drilling Trust | 34 | 5.90 |
| | Unit Corp. | 8 | 5.97 |
| | Nabors Industries Ltd. | 29 | 6.41 |
| [[PTEN] | Patterson-UTI Energy Inc. | 26 | 6.52 |
| PDC | Pioneer Drilling Co. | 10 | 6.55 |
| | Parker Drilling Co. | 6 | 6.66 |
| | Vantage Drilling Co. | 4 | 7.17 |
| | Union Drilling Inc. | 7 | 7.21 |
| | Hercules Offshore Inc. | 20 | 7.34 |
| | Seahawk Drilling Inc. | 5 | 7.55 |
Price
From Rigzone.com as well as company data, one can get the monthly dayrates for rigs. For Jackups and Floaters you can see how water depth is the key driver for revenue. As shallow wells are drying up (Hubbert /Peak Oil) new finds will be in harsh areas such as deep water.
Click to enlarge: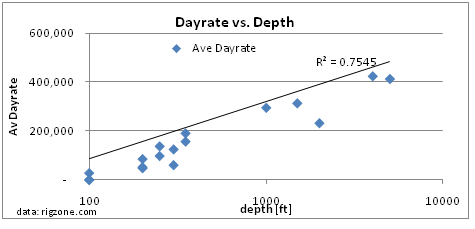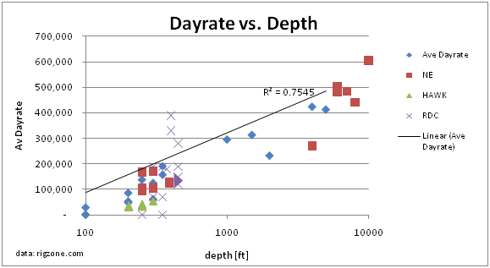 NE is able to command a premium compared to its peers not just in the shallow water (Jackups) but also with its semisubmersibles as well.
RDC is a pure play Jackup firm with its Gorilla lines commanding a premium in areas such as the North Sea. Those products seem to have a competitive advantage and it will be interesting to look into this a bit more.
HAWK was a spinoff from PDE and looks like HAWK's Jackup fleet is a bit older than its competitors. Most of their Jackups are cold stacked and those working are generating $30,000 - $50,000 dayrates. Their water depth is in the 200' – 300' range.
I didn't include HERO since they didn't publish their rates, what they did publish was whether their Jackups are working or not (cold stacked). Forty eight percent of HERO's Jackups are not producing, and 2/3 of their Jackups have a water depth of less than 200'. If you extrapolate their dayrates based on its competitors, HERO's Dayrate range would be between $15,000 - $50,000.
Data for these charts above was compiled from company websites and rigzone.com.
Click to enlarge: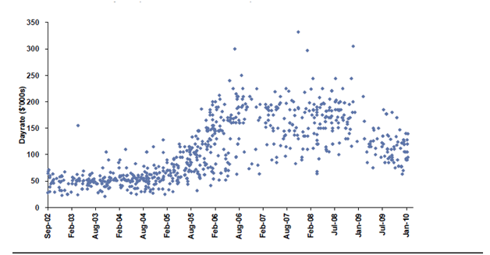 Source: ODS Petrodata

Dayrates are showing a slight rebound, companies like NE should be able to keep their premium pricing as NOCs and super majors come back with large finds/projects.
Volume
Volume- this will be rig utilization and what is forecasted for rigs to go into contract
Click to enlarge: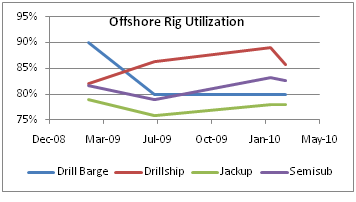 Source: Rigzone.
As can be seen in the chart above, Jackups are underutilized, primarily due to a large supply of Jackups and more exploration happening in deeper waters. Thus Drillships and Semis are leading the utilization rate - firms like RIG have been busy!
What will grow the demand for off shore drilling?
Growth
The picture below shows the number of active platforms in the Gulf of Mexico, as these sites dry up, one would guess that the next phase would be to move further out.

Click to enlarge: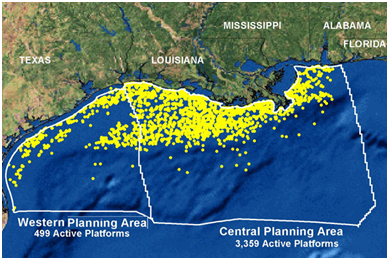 In fact on March 19th, 2010, Shell announced that they had a new discovery at 7,000 ft. The rig that drilled it was a Transocean semisubmersible (Deepwater Nautilus). The second picture shows roughly where this discovery was.
Click to enlarge: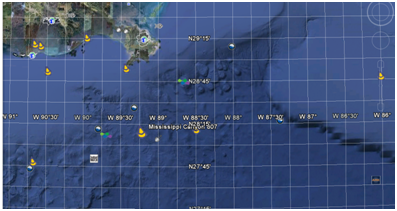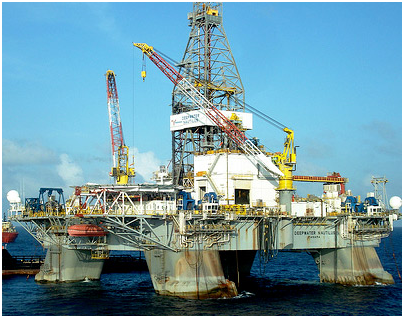 Deepwater Nautilus (RIG)
Some of the major finds lately in the Gulf of Mexico have been deep water (3000 m +) and according to Tony Hayward, CEO of BP :
There's a floor now of $60 to $70 a barrel.

If the oil price fell materially beneath that floor for any period of time,
investment in these new sources of supply would stop (deepwater and shale oil).
This has been backed up with GOM discoveries increasing as oil prices increased from their recent bottom in the late 90s.
Clearly the growth will be in the deepwater segment. That does not mean that the shallow water segment will dry up anytime soon, rather the demand is here and products that can work in this field are, whereas shallow water ships are cold stacked.
Catalysts:
I see a couple of catalysts that will move the sector:
Upgrades. With a large number of analysts covering it seems reasonable for upgrades to come as the cycle turns (NE though has a lot of strong buys, RDC has mostly holds).

Consolidation. With SII's buyout recently, companies in the $10B market cap could be buyout candidates.

Crude oil run up to $90 +.

Brazil, Gulf of Mexico, West Africa finds continue to be big and plentiful.
Risks:
One of my classmates stated that oil is hitting a technical head and shoulders pattern and should face some headwinds in the near future. The recent turmoil could be Greece/flight to quality of the USD, or could be more severe. I will address this in another article. But commodity price risk is a big risk.

NOCs like Pemex having strong negotiating power, they can try to drive down dayrates. I don't see this as a big risk.
So before I start the company analysis, I would feel comfortable with my screen results of NE, RDC as the top picks. In fact on 3/26/10, I put in an order for PUTS on HAWK ($20), sadly my price was too low and as the stock dropped 5% those puts went up in value by 20+%.
Next time… next time…

Disclosure: None yet. Will buy NE equity, puts on HAWK