"Compound interest is the eighth wonder of the world. He who understands it, earns it ... he who doesn't ... pays it."- Albert Einstein
I am continuing my search for the best investments for a Roth IRA account. In my search, I have stumbled across a number of intriguing investments which I feel present a compelling long-term buying opportunity.
My criteria are as follows:
- I have at least 30-35 years until retirement, so I am focused on buying very long-term investments - both stocks and ETFs - which I believe will outperform the market over that time period. Short-term fluctuations in the market make little difference, as long as the story remains the same.
- As mentioned previously, I love the idea of re-investing dividends every chance you get through a dividend reinvestment plan (DRIP). A DRIP allows you to purchase more shares without having to buy more shares in the open market and allows you to benefit from the powers of compound interest.
- A dividend re-investing plan also automatically dollar costs averages your positions over time, another powerful long-term investing strategy. You buy more shares when the stock price is down, and buy less shares when the stock price is up. Short-term market crashes or recessions should be seen as an opportunity to buy more shares.
-The company should have a history of share repurchases or buybacks. Share buybacks are a great way to increase long-term shareholder value, in my opinion, because it reduces the overall share count, which tends to lead to a higher earnings per share and higher value of the stock. Companies might also initiate a share buyback at a time when they think the stock is undervalued.
- I like companies that have a long-term track record of paying a steady dividend and increasing that dividend year after year. Realty Income Corp (NYSE:O) was highlighted in the first article of this series. Next, I highlighted Phillip Morris (NYSE:PM). I still feel those are two great long-term picks.
- I look for companies that have been around for some time and aren't going anywhere; companies which own a large part of the market share in their industry, but also have some opportunities to grow. For example, McDonald's (NYSE:MCD) and Coca-Cola (NYSE:KO).
Here are the first three stories in this series:
What are the Benefits of a Roth IRA?
As mentioned in previous entries, you invest post-tax money in a Roth IRA, unlike a 401K where you are investing pre-tax money. However, in a Roth IRA account your money is growing tax-free which gives you a big tax break at retirement. So, a smart strategy would be to start as soon as humanly possible, invest in dividend paying stocks or ETFs with a low expense ratio, then enroll them in a DRIP and watch your money grow tax-free.
Another huge advantage the Roth IRA has over a 401K is that you can select from a wide range of investments. One of my biggest issues with a 401K account is that you often have to select investments from a small choice of mutual funds, which often carry high expense ratios. In a Roth IRA, you can invest in almost anything.
However, if your company matches your 401K account, that is essentially "free money" and I still feel it is a good idea to contribute to your 401K. You should just be aware of what investments you are in, the expense ratio of your fund, etc.
Also keep in mind that with a Roth IRA, you are also allowed to withdraw your contributions without a penalty.
For full information and rules on a Roth IRA account, visit the IRS website.
Why Monthly Dividend Investments?
There is a slight advantage to owning a stock or ETF which pays a monthly dividend, as opposed to an equity which pays its dividend quarterly, semi-annually or annually.
*It is a fact that if your interest is compounded every month, you will end up with more money than if your interest was compounded just four times a year, twice a year or once a year.
Confused? Here is an example. Let's say you have two people (person A and person B) who have $20,000 to invest in a Roth IRA account. Both people wisely choose to re-invest their dividends. Both investments earn each person 10 percent annually for 30 years.
*However, person A owns an investment which pays dividends on a monthly basis, and person B pays dividends on a quarterly basis. Both investors do not add any more money to their accounts other than the initial $20,000.
*Person A: After 30 years at 10 percent interest a year, this investor's account is worth $396,747.99.
*Person B: After 30 years, also at 10 percent interest a year but compounded just 4 times a year, person B's account is worth $387,163,000.
So as you can see, the difference between both accounts is nearly $10,000, even though both investments returned exactly the same amount! The bottom line is that compounding your money monthly leads to bigger gains.
What if your dividends were only paid out and re-invested once a year? The same scenario would only leave you with $348,988.05!
*What if You Added Just $50 a Month? With $20,000 invested at 10 percent a year, and just $50 added per month, after 30 years your Roth IRA account would be worth $509,772!
See for yourself at Investor.Gov.
Again, the single best thing you can do is start today and get time on your side. Compound interest is extremely powerful, as Einstein said himself.
NOTE: I don't think this means you should choose one investment over another just because one pays dividends monthly and one pays quarterly. It is just another thing to keep in consideration when performing your due diligence when investing.
Also keep in mind that 10 percent annual gains are pretty good returns.
Top 3 Monthly Dividend Stocks for a Roth IRA
Here are my own personal three favorite monthly dividend paying stocks:
| | | | |
| --- | --- | --- | --- |
| Company | Sector | Market Cap (B) | Yield |
| Franco Nevada (NYSE:FNV) | Precious Metals | $6.61 | 1.6 |
| Prospect Capital (NASDAQ:PSEC) | Business Development | $3.1 | 11.8 |
| Vanguard Natural Resources (NYSE:VNR) | Energy | $2.31 | 9.1 |
#3 Franco Nevada Corporation
As you'll see above, Franco Nevada's dividend yield is the smallest on this list by a large margin. However, readers of mine know that I am a long-term believer in the upside in both precious metals and commodities as central banks around the world continue to debase their currencies. I suspect that we will see inflation take off in the coming years because of this, and Franco Nevada has the business model, assets and management team in place to capitalize on the upside.
Franco Nevada is a gold focused royalty and stream company which also owns a number of interests in platinum group metals, oil and other resource assets. The majority of the company's revenues are generated in North America.
As a precious metals and commodity streaming company, Franco Nevada has a significant advantage over commodity mining companies. The company is generating significant amounts of free cash flow (greater than 80 percent margins, according to the company) because of its fixed-cost structure.
Like its peers Silver Wheaton (SLW) and Royal Gold (NASDAQ:RGLD), Franco Nevada will provide an upfront cash payment in exchange for a royalty or a stream on a producing or developmental asset. Franco will then receive ongoing payments once the asset is producing, with no more capital required. This means the company is free from the risk of cost-overruns at mines and doesn't have to pay for exploration. That is a huge advantage over the typical mining company, which generally has to keep deploying capital to sustain its operations, explore to expand the mines resource, etc. Franco Nevada, on the other hand, still gets all the exploration upside at the projects they invest in.
The company has approximately 370 assets, with 44 in production, 33 advanced, and 155 in exploration. One reason why I like Franco Nevada over other royalty companies is because Franco has a significant amount of oil and gas assets - 137 in total - which does not include 160 undeveloped oil and gas interests!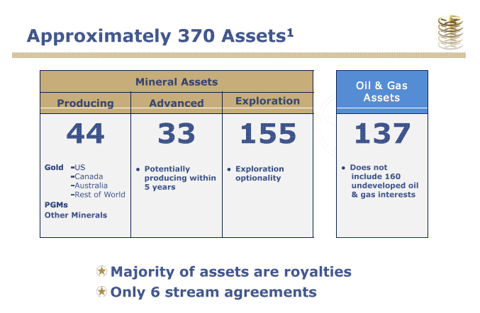 In total, Franco's revenue comes from gold (61 percent), platinum group metals (13 percent) and other (26 percent, which includes oil). The company's assets are operated by some of the best mining companies in the world, including Goldcorp (NYSE:GG), New Gold (NYSEMKT:NGD), Newmont (NYSE:NEM) and Barrick (NYSE:ABX).
In addition, Franco Nevada has working capital of $891 million, which I expect the company to put to work in the coming years.
While Franco currently has a yield of just 1.6 percent, you will see below that the company has increased its dividend each year for the past five years. The company went from paying just $.20 per year in dividends to more than $.50 a share in 2012. I expect this track record of dividend increases to continue.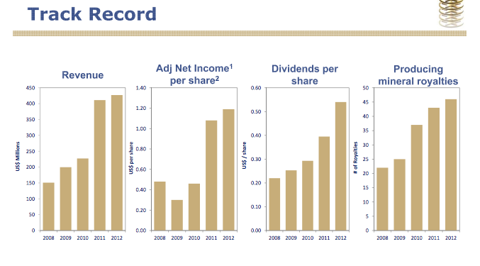 The company is very leveraged to the price of commodities and I see big appreciation potential. In the meantime, investors can receive that monthly dividend and re-invest it for more shares.
I will be writing a follow up article on Franco Nevada in the near future which goes more in-depth, so please check back for the article.
#2 Prospect Capital
Prospect is a business development company which provides money to middle-market companies and private equity for buyouts, acquisitions, recapitalizations, etc. As a BDC, the company pays little to no corporate income tax but is required to pay out at least 90 percent of its taxable income as dividends to investors.
Why Prospect? With a yield of more than 11 percent, the company is paying out a significant amount of dividends which can be re-invested and compounded monthly. While this limits the stocks appreciation upside, all the stock must do is maintain its value to ensure a gain of at least 11 percent for investors. When you re-invest these dividends each month, I think you will be surprised at just how fast the dividend grows.
* One reason why I really like Prospect over the long-term is that the company has positive exposure to rising interest rates. Interest rates have been at all-time lows and have nowhere to go but up, in my opinion.
Here are some things to consider:
- The company says that an increase in interest rates by 5 percent would "increase net investment income by $0.19 per share or $54.8 million for the remaining nine months in FYE 2014."
- The company focuses on secured lending, Continued focus on secured lending, with approximately 76 percent of the balance sheet as of Sept. 30, 2013, comprised of secured loans.
- Portfolio has "129 investment counterparties, representing significant portfolio diversity and risk mitigation."
- Portfolio is diversified across 33 industries.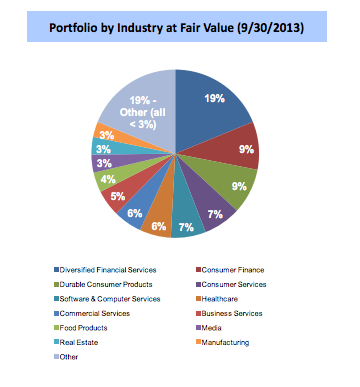 You will see from the below chart that Prospect Capital has returned .81 percent since late 2008.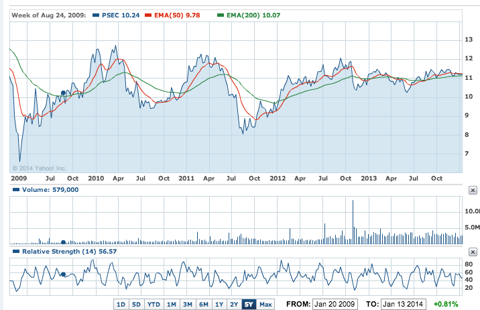 However, this does not mean that the stock has not returned any money to investors.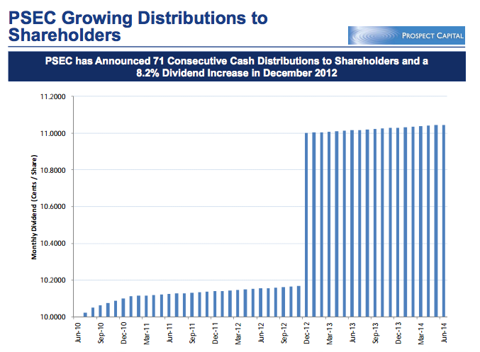 Prospect reported a 8.2 percent dividend increase in Dec. 2012.
The company used to pay out its dividend quarterly, until its switched to a monthly dividend in 2010.
Starting in June of 2010, Prospect began to pay out a monthly dividend of $.10 a share. Currently, the company pays out a monthly dividend of $.11 and dividends have been declared until June of 2014. The company will pay out the following amount in dividends in the coming months:

The stock has outperformed the Nasdaq, the DOW, the S&P 500 and just about every major index over the past eight years.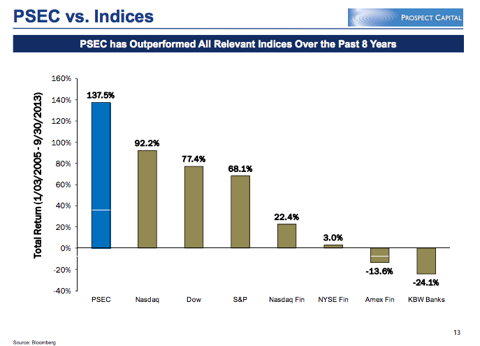 So if you have invested $5,000 in shares of Prospect Capital, you would own roughly 446 shares of the company. This would amount to approximately $49.197 in monthly dividends. Re-invest those dividends and you will own almost 5 more shares for the next month, increasing your total monthly dividend to $49.80.
I've plugged these numbers into a monthly dividend calculator. We are starting with 446 shares of Prospect Capital (worth nearly $5,000), assuming an annual yield of 11.2 percent, with a dividend growth rate of just 2 percent. The cost per share is the current price of the stock.
Under this scenario, with all dividends invested. How much would you have after 10 years?
- The total value after 10 years is $17,145.16 for a total gain of 242.93%.
- The total monthly income went from just $48 a month to $192.90 by the end of year 10.
Now let's use a longer-term, more conservative estimate. We will use the same amount of money, but we'll use a current yield of 10 percent, and no dividend increases at all.
"You started with $4,999.66 and ended up with $99180.25 for a total gain of 1883.74%. This was over 30 years so that makes your average annual gain 62.79%."
Of course, this assumes that the company continues to pay out a significant dividend for every year for 30 years. This is meant for informational purposes only, to show you the power of investing combined with compound interest. There are other risks to take into consideration.
Check out the numbers for yourself at Dividend-Calculator.com.
In conclusion, I like Prospect Capital for its dividend yield, track record of dividend payouts and increases, portfolio diversification, and positive exposure to rising interest rates.
#1 Vanguard Natural Resources
Vanguard is a company which focuses on acquiring and developing oil and natural gas properties in the United States.
Vanguard is another high monthly dividend paying stock, with a current yield of 8.4 percent. However, Vanguard is one stock which I feel also offers investors pretty good appreciation upside as it has considerable leverage and exposure to rising energy prices.
Since 2008, the stock has outperformed the S&P 500, returning 55.84 percent.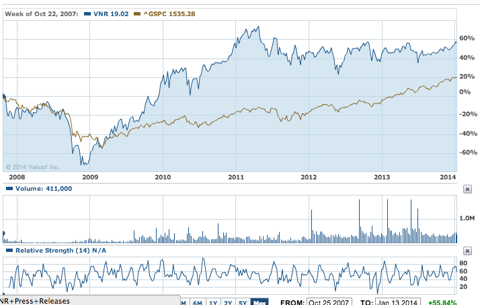 Dividend growth: the company has paid out the following annual dividends to shareholders since 2007:
2007 - $1.70
2008 - $1.89
2009 - $2.03
2010 - $2.10
2011 - $2.31
2012 - $2.40
2013 - $2.49
- In total, VNR has increased its distributions by 46 percent since its initial public offering in 2007.
- Average annual production (Boe/d) has increased a whopping 1,683 percent since 2007 - from 1,935 boe/d in 2007 to an estimated 34,500 boe/d in 2013.
- Proved reserved have increased 2,775 percent since 2007 - from 11 MMboe in 2007 to 316 million in 2014.
- The company has a diverse portfolio of assets in the United States, with low capital requirements to maintain cash flow going forward, according to the company.
- As you'll see in the chart below, the company's assets are diversified across the United States, with 1.9 Tcfe in proved reserves coming from nine different regions.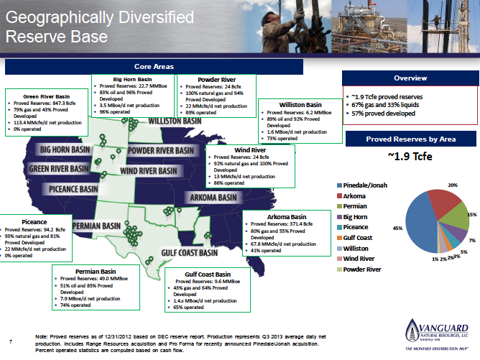 - The company is focused on acquired oil and gas properties with long life of production and development growth opportunities.
- I believe the company has less downside risk on oil and gas prices than other oil operators: Approximately 75 percent of oil production is hedged through 2015 at a floor price of $93.04 per barrel. Therefore, if we saw another recession in 2014 or next year in the United States where oil prices dropped considerably, Vanguard would be protected.
- 85 percent of expected gas production is hedged through the first half of 2017 at $4.61 per MMBtu.
- Management is committed to maintaining a long-term leverage of approximately 3X debt/EBITDA.
- Vanguard has a large amount of liquidity available for acquisitions. The company has nearly $900M in excess liquidity, according to the most recent corporate presentation.
I've only just scratched the surface on Vanguard Natural Resources and I intend to write an article in the near future which goes more in depth on the company's long-term prospects, so please follow me here on Seeking Alpha for more updates
Start Now, Invest for the Long Haul
In conclusion, I feel that the best thing a young investor can do right now is to simply just begin. Because of the powers of compound interest, the longer you invest, the more your investments will compound and dollar cost average themselves, leading to potentially much bigger gains over the long haul.
Also, keep in mind that dividend reinvestment programs allow you to purchase more shares without actually having to buy more shares in the market - saving you money on trade orders. At $8-10 a trade, this could be a very big amount of savings over a long time period!
These three monthly dividend stocks are just a few investments I like for a Roth IRA account. What are your top picks? Please comment below.
Disclosure: I am long PSEC, SLW, FNV, . I wrote this article myself, and it expresses my own opinions. I am not receiving compensation for it (other than from Seeking Alpha). I have no business relationship with any company whose stock is mentioned in this article.