Viacom's (NYSE:VIA) MTV, which revolutionized the music industry by airing music videos, has moved away from being a pure music destination to a channel that focuses on reality television and pop culture.
MTV has seen a drop in advertising revenue due to declining viewership; however, its subscriber fee has continued to see moderate growth. Below we highlight the significance of MTV for Viacom and why we expect MTV's subscriber fees to grow.
MTV Is 9% of Viacom's Stock
We estimate that MTV constitutes 9% of the $35 Trefis price estimate for Viacom's stock making it the second most valuable TV channel that Viacom owns after Nickelodeon. Viacom's TV channels in total account for over 60% of the company's value.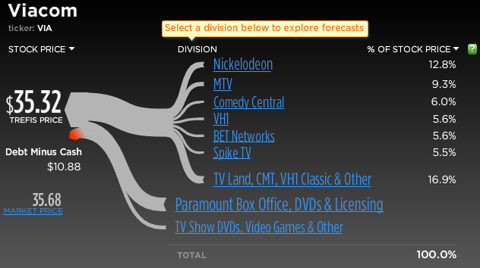 MTV's Monthly Subscriber Fee Expected to Grow
We estimate that MTV's monthly fee per subscriber has grown from $0.28 in 2005 to about $0.30 in 2009. This is the amount paid by cable and satellite operators (Time Warner Cable, Comcast, DirecTV) to Viacom for offering MTV as a channel to their subscribers. We expect moderate fee growth to continue, and expect MTV's monthly fee per subscriber to reach $0.37 by the end of Trefis forecast period.
We believe the following factors are important for how MTV's subscriber fee will grow:
1) Viacom's strong negotiating power over programming providers
Given the high demand for MTV, programming providers (Time Warner Cable, Comcast) will need to ensure access to its programming for customers. This increases the negotiating power of Viacom against the providers. We believe that Viacom can ensure subscription fee growth as long as it can maintain demand for MTV by providing quality content.
2) Multi-year contracts with cable, satellite and telecom operators ensure fee increase
Most multi-year contracts with carriers have a pre-decided and guaranteed multi-year fee increase. Even renegotiation of contracts can lead to one-time increases in the fee per subscriber.
3) Mixed content may limit MTV's pricing power
MTV has shifted its focus from being a pure music channel to a hybrid of music, reality TV and pop culture. Shows like X Effect and Cribs have made MTV very popular among teens, however at the expense of music fans. We believe that diversifying the channel content is not purely incremental in terms of subscribers, and may limit Viacom's pricing power as it loses some its music fans.
You can modify our forecast to see how changes in MTV's fee per subscriber can impact Viacom's stock.
For additional analysis and forecasts, here is our complete model for Viacom's stock.
Disclosure: No positions