Chevron (NYSE:CVX) is a top leaseholder and producer in the Gulf of Mexico. In 2014, three new deepwater GOM projects are due to come online. These projects have a combined total capacity of around 300,000 boe/day and are a critical part of the company's plan to boost production to 3.3 million boe/day by 2017. In that quest, 2014 will be a banner year for project startups. In addition to these GOM projects, Chevron's massive Gorgon LNG project in Australia is also scheduled to come online (max capacity 400,000 boe/day). These are bullish catalysts for the stock and could push it to $145 this year. If so, total returns (including dividends) will exceed 20%.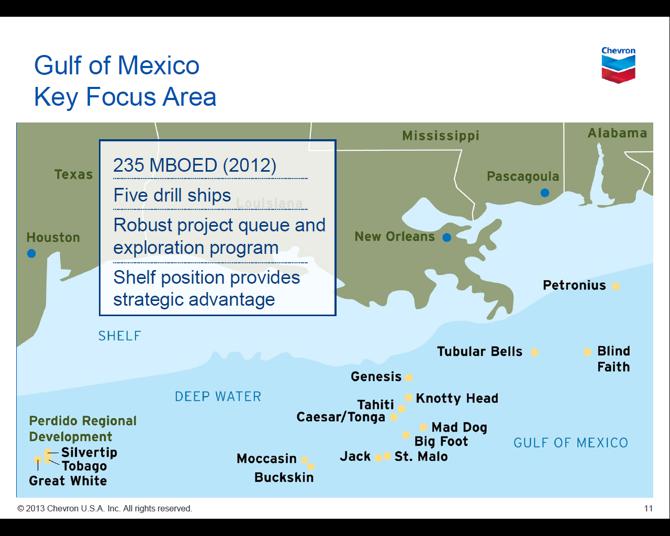 Those familiar with Chevron already know of the company's developments in the deepwater GOM. In 2012, the company produced 235,000 boe/day in the Gulf. Key producing assets include Tahiti and Blind Faith. With subsea wells in 7,000 feet of water, Blind Faith is Chevron's deepest offshore development anywhere in the world. Chevron is the operator of Blind Faith and has a 52.5% stake. Kerr McGee holds the remaining 47.5%. Total reserves have been put at up to 100 million boe. The semi-submersible facility has a maximum production capacity of ~45,000 bpd oil and 45 MMcf/d gas.
For 2014, production growth in the GOM will come primarily from three new big ticket projects:
Jack/St. Malo: 177,000 boe/day
Big Foot: 79,000 boe/day
Tubular Bells: 40-45,000 boe/day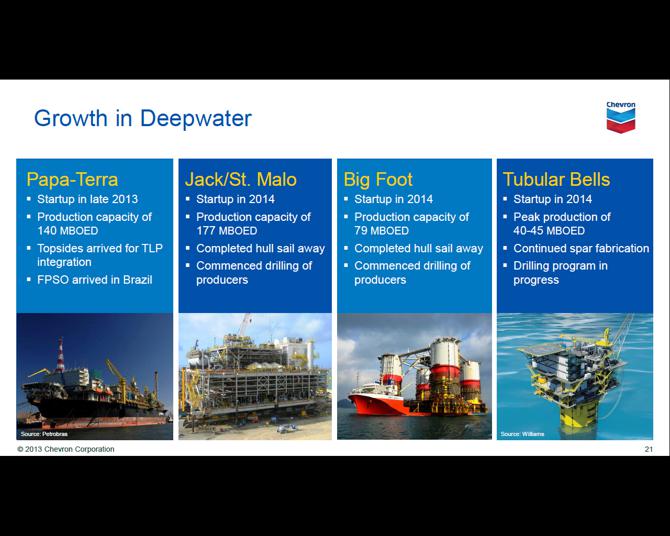 Note: Although Papa Terra is shown on the chart above, it is in Brazil, not the GOM. Papa Terra did indeed come online in November, 2013. CVX has a 37.5% interest while Petrobras (NYSE:PBR) holds the remaining 62.5% stake. Papa Terra has a max capacity of 140,000 boe/day.
Gulf Of Mexico Projects Starting Up In 2014
The Jack/St. Malo fields are huge - estimated at 500 million barrels of recoverable oil. The two sites are nearly 25 miles apart and are served by one floating production unit (FPU). The project will be comprised of three subsea centers tied back to the FPU hub facility. Subsea pumping is crucial to effectively producing at that depth and distance from the central hub facility. The subsea pumps for each drill center are powerful 3.5 MW units with an intake pressure of 13,500 psi.
The planned capacity of the project is 170,000 barrels of oil and 42.5 MMcf of natural gas per day. Startup is anticipated in the second half of 2014. Chevron is the operator of Jack and owns a 50% stake. Partners are Maersk and Statoil (NYSE:STO), each holding a 25% interest.
Chevron has a 51% interest in St. Malo. Other partners include Petrobras at 25%, Statoil (21.50%), with ExxonMobil (NYSE:XOM) and Eni (ENI) each having a 1.25% share.
The Big Foot development will utilize a dry tree Extended Tension Leg Platform with an on-board drilling rig. Big Foot is also planned to startup in 2014 and will have a production capacity of 75,000 barrels of oil and 25 MMcf of natural gas per day. Chevron discovered Big Foot in 2006 and is the operator of the field with a 60% interest. Statoil has a 27.5% stake and Marubeni Oil & Gas holds the remaining interest.
The Tubular Bells oil and gas field is estimated to contain recoverable reserves of more than 120 million boe. Once operational, the field is expected to produce 40,000-45,000 boe/d during peak production. Hess (NYSE:HES) is the operator of the field and holds a 57.1%. Chevron has a 42.9% non-operated interest in the field.
Combined, these three deepwater GOM projects equate to about 150,000 bpd of oil and ~35 MMcf of gas for Chevron (net).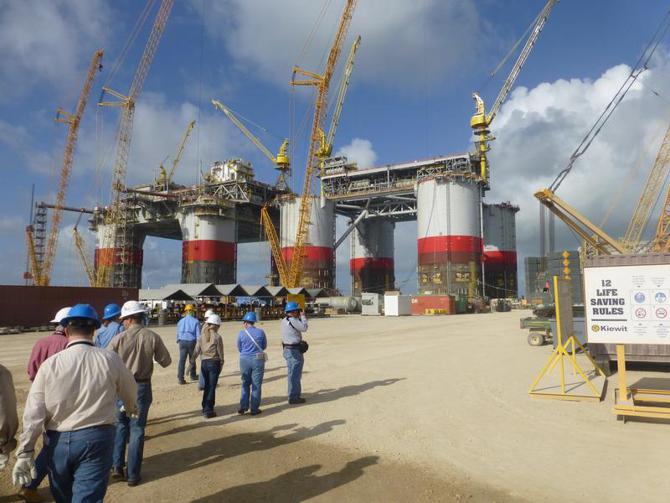 Jack/St. Malo Production Platforms
Potential For Significant Upside At Jack/St. Malo
Chevron Vice Chairman and EVP of Upstream had this to say about the Jack/St Malo fields during the Q2 2013 conference call (Seeking Alpha transcript here):
Remember, with the Jack/St. Malo we talked only of about a 500 million barrel type recovery for those two fields, and that was an 8% to 10% recovery rate. We are focusing on those technologies that can change that recovery rate and potentially raise it up to over 20%. And when you have the infrastructure in place already, that additional production and additional recovery is, frankly, very economic.
If CVX is successful in using technology to increase the recovery rate to 20%, that means the Jack/St. Malo fields' recoverables double to 1 billion barrels. That's huge. To achieve a higher recovery rate, Chevron is using single trip frac-packs, which not only save time, but apparently are doing a much better job of stimulating the reservoir. Kirkland had this to say during a 2013 analyst meeting (Seeking Alpha transcript here):
On one well, this single trip frac pack saved 50 days of rig time, a very significant cost savings given deepwater rig rates and the frac pack did a great job stimulating the reservoir. Testing was constrained by equipment but we saw rates of over 13,000 barrels per day. These sorts of technology breakthroughs could help us unlock the cost potential, improving recoveries and increasing the economics of our existing developments and our future developments like Buckskin and Moccasin.
You can read about single trip frac packs in this Halliburton (NYSE:HAL) case history titled How Chevron Saved 18 Days Per Well On 3 Deepwater GOM Wells.
Other techniques to increase recovery rates were discussed by Steven Thurston, Chevron VP of North America Exploration, during a keynote address at the Louisiana Gulf Coast Oil Exposition in Lafayette, LA last October. Thurston named seven technologies as helpful: advances in seismic data acquisition and imaging; drilling efficiency via dual-gradient drilling; completion technology including single-trip, multi-zone frac packs; in-well artificial lifts; sea-floor pumping; optimized water floods; and enhanced oil recovery. If CVX can raise recovery rates to 20% on Jack/St. Malo, it would be the equivalent of finding another 500 million barrels of oil.
Summary & Conclusion
Chevron had a decent 2013 - the stock was up ~13% for the year and when you tack on the dividend the total return was ~16%. 2012 was somewhat tainted by the never-ending publicity about the Ecuador lawsuit. The suit appears to be fraudulent litigation full of bribes and ghostwritten judicial orders. More recently the company issued a slightly disappointing Q4 interim update. However, investors should not underestimate the improvement in crack spreads during Q4 (over Q3) and how that can translate into hefty refining profits. Note also domestic natural gas prices were strong in the latest quarter and CVX is the #7 largest producer of gas in the lower-48.
However, things look bright for 2014. While all eyes seem to be on the massive 400,000 boe/day capacity Gorgon project (47.3% to operator Chevron), investors should not overlook Chevron's projects in the Gulf of Mexico. While these projects won't start up until the back end of the year, and they will take some time to ramp up, at full capacity they will deliver approximately 150,000 barrels of oil and ~35 MMcf of gas per day (net) to the company. That's big time production gains from just three projects. In addition, there appears to be significant upside to the Jack/St. Malo fields if CVX is successful at increasing recovery rates. With the flexibility of a central FPU hub at, it would appear the project could economically add fairly easily add additional capacity.
Chevron's stock has gone up roughly 10 points each year for the past 4 years ($80 to $120), so the growth rate of capital appreciation has slowed somewhat (see chart below). However, investors would be mistaken to focus on short-term weakness instead of on the long-term production growth projects coming online this year. The company should see 4%-5% production growth between 2014-2017, and 25% total growth through 2017. That will hit Chevron's target of 3.3 million boe/day by 2017.
Chevron trades at a near 25% P/E discount to Exxon (P/E=12.9) while paying a dividend yield almost 1 full percentage point higher. This valuation gap is not justified in my opinion and should narrow in 2014: CVX's P/E will rise as strategic long-term production growth projects come online.
S&P currently has a top 5-Star STRONG BUY rating on Chevron with a 12-month price target of $145. I concur. Chevron is a STRONG BUY.
Note: Chevron will hold its Q4 earning conference call on Friday, January 31 at 11am ET. You can access the call here.
Mkt Cap = $231.5 billion
P/E (ttm) = 9.8
EPS (ttm) = $12.23
Div (yield) = $4.00 (3.4%)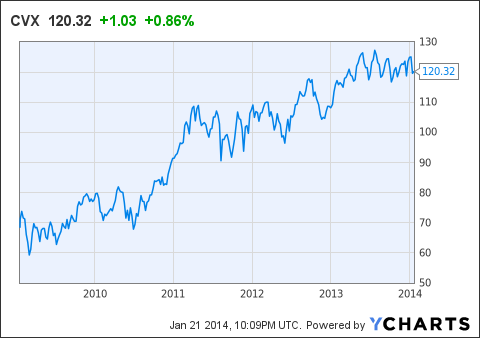 Disclosure: I am long CVX, STO, XOM. I wrote this article myself, and it expresses my own opinions. I am not receiving compensation for it (other than from Seeking Alpha). I have no business relationship with any company whose stock is mentioned in this article.
Additional disclosure: I am an engineer, not a CFA. The information and data presented in this article was obtained from company documents and/or sources believed to be reliable, but has not been independently verified. Therefore, the author cannot guarantee its accuracy. Please do your own research and contact a qualified investment advisor. I am not responsible for investment decisions you make. Thanks for reading and good luck!