Fusion-io, Inc. (NYSE:FIO) is a Utah based company operating in the industry of data storage devices. It was established in 2005 and was formerly known as Fusion Multisystems Inc. Fusion provides storage class memory platforms and storage solution portfolios based on its ioMemory technology with virtual storage layer (VSL) software. It offers direct acceleration, shared acceleration and virtualization acceleration products.
Direct Acceleration is provided by ioDrive, ioScale, and ioFX enterprise grade PCIe-products that leverage flash and are placed in x86 servers or workstations to directly accelerate locally hosted applications.
Shared Acceleration is provided by an ION Data Accelerator or ioControl software combined with ioMemory, VSL, and industry-standard servers. This enables flash memory acceleration to be deployed centrally and accessed by the many servers connected to this network.
Virtualization Acceleration software is specialized to transparently leverage flash resident in direct or shared environments by accelerating the storage demands of commercially available and open source application softwares.
Fusion primarily generates revenue through the sales of these memory products and support services. The majority of the company's revenue is generated from three customers; Facebook, Apple and Hewlett-Packard. They contributed 61% to the total revenue of the company in the fiscal year 2013. Fusion generates only 8% of its revenue from support services; the remaining 92% is generated through product sales.
Market Performance
Shares of Fusion are listed on the NYSE. The stock's performance has not been up to the mark as it shown a declining trend in 2013, with valuations decreasing by around 62% in one year. The table below summarizes the revenue and EPS position of the company.
Trends

 
 

Revenue in billions

 

2012

2013

2014(NYSE:E)

2015(E)

Revenue

359

432

382

458

EPS

(.05)

(0.36)

(0.29)

(0.13)

 
 
 
 
 
It is evident that Fusion did not perform well in terms of EPS in 2013; this is the primary reason behind declining stock prices. Moreover, the revenue is expected to shrink in 2014 as well and this is reflected in the current stock performance. Despite revenue growth in fiscal year 2013, the company posted a declining EPS because its OPEX increased by 42% as compared to 2012. The revenue is expected to recover in the fiscal 2015; the EPS will remain negative but the trend will be positive. All in all, the expected revenue decline and negative EPS are the factors affecting the valuations of the company.
Fundamental Analysis
The revenue and EPS trend of the company has been summarized in the table above. We will now analyze the uncorrelated behavior of revenue and EPS during the fiscal 2013.
Fusion's revenue grew by 20% in the fiscal year 2013 which was primarily because of the increased volume of products shipped during the year. This is a good sign as it indicates growth in the primary business activity of the company. Yet, somehow the company managed to post a declining EPS.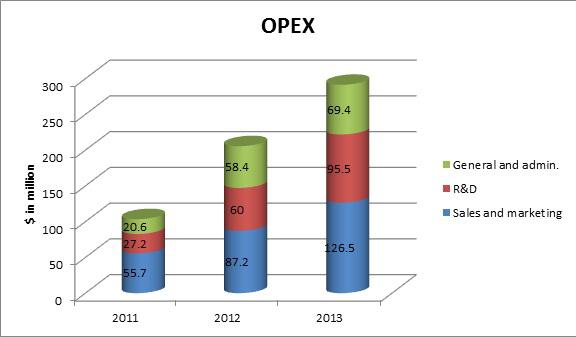 OPEX increased in the fiscal year 2013 and the expenses were recurring. This is an alarming fact as one can ignore nonrecurring expenses but recurring expenses will continue to put pressure on earnings and, hence, the company's performance. Analysis of the expenses reveals that the OPEX increased because of personnel hiring in the Selling & Marketing and R&D departments. The aggregated increase due to personnel hiring was around $60 million. General and administrative expenses also increased by 19% in the fiscal year 2013. The key take away from this cost analysis is that the company is keeping an eye on expanding its business; increase in personnel hiring supports this argument. However, the revenue in 2014 is expected to decline and these costs are fixed, so EPS will remain under pressure in the fiscal year 2014. If Fusion manages to increase its revenue beyond that point, the current expenditure may prove not be a bad thing after all.
Cash and Cash Generating Ability
Fusion has around $225 million in cash and the current ratio is 5.12 indicating the safe liquidity position of the company. A conservative estimate reveals that the company generates $14 million of operating cash flows on average. This is the cash the company can use for investing and financing activities. Fusion is not paying any dividends; hence there is no pressure on its cash from that front. This indicates that despite the current net loss, the company has the ability to grow in the future because of its solid cash generation; this is vital for any company as cash metrics are a true reflection of potential.
Future Prospects
Industry Prospects
The future prospects of the data storage industry, specially the solid state drive and the NAND flash industry, depend on numerous factors - the growth of smartphones and tablets along with the increasing penetration levels of internet users, the growing demand of real-time up to date information through different online apps and services, the need for data storage and management in a fast and efficient manner for a huge number of connected users, the need for big data analytics and the need for growing data centers. All these factors directly or indirectly affect the demand and growth of storage devices including SSD's and NAND flash drives. The winners in the storage industry will be the ones providing fast, reliable storage solutions with devices that have low latency.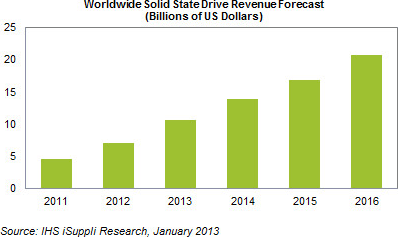 The growth of mobile and tablets is spurring the growth in cloud traffic which in turn is causing need for more data centers. Cisco forecasts that the global cloud traffic will grow at a CAGR of 35% during 2012-2017. Gartner predicts that data centers will grow at a CAGR 4% during the same period. These forecasts give a strong testimony to the storage industry having promising growth prospects in the coming years. Solid state drives market will grow to $7 billion by 2017 which is currently around $2.5 billion. Fusion has great growth opportunities and it can capitalize on them given that its storage products remain relatively fast, reliable and energy efficient.
Acquisitive Potential
Western Digital recently sealed a deal to buy Virident Systems Inc for $685 million. WD is seeking acquisitive growth in the SSD market in order to benefit from the growing potential of this industry. Its counterpart Seagate will not remain inert and the most suitable action for it may be the acquisition of a storage device business. Fusion-io is the most likely target given its efficient storage technology and its rivalry with Virident. Acquiring Fusion will put Seagate in a strong position to compete with Western Digital. Seagate's plan to increase its presence in the SSD market via acquisitions goes as far back as 2012. This is the reason, we believe, that the Fusion-io acquisition is likely to happen. Seagate is a large storage device company with a market cap of around $17 billion and it generated around $2 billion OCF (NYSE:TTM). Given these healthy performance indicators, the acquisition (if it goes through) will be beneficial for the growth of Fusion. The acquisitive potential of Fusion is the most important catalyst that will affect its valuations in a positive way.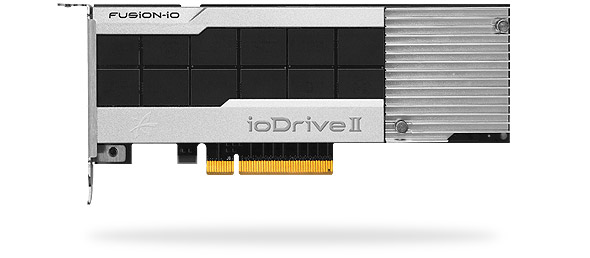 Technology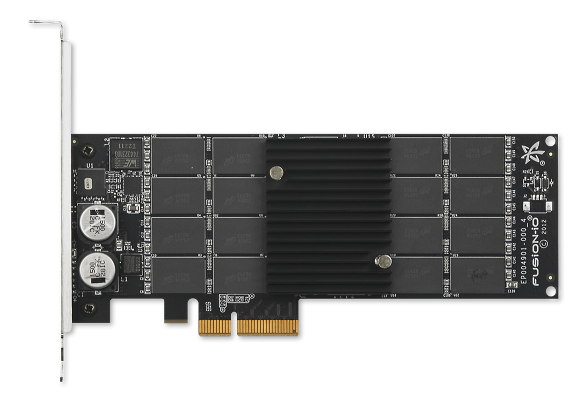 Fusion's ioMemory architecture creates a reliable tier of high-capacity low-latency memory leading to higher speed and greater capacity density. The company claims that the I/O performance of its ioMemory architecture is 200,000 times greater than an equivalent capacity mechanical spinning disk drive. It also claims that its architecture leverages flash memory media, which has up to 100 times the capacity density of dynamic random access memory (DRAM). Fusion's COO presented the architectural advantages of the company's memory solutions at the Credit-Suisse technology conference. Furthermore, the company is offering ioDrive and ioScale memory. ioDrive is performance oriented while ioScale can be used for cost sensitive applications. The option to choose between a high performing and a cost effective solution is beneficial to perspective customers, and hence a competitive advantage for Fusion. Exploring the ioScale memory reveals that the company successfully increased the amount of flash per controller, thereby decreasing costs by 50%.
Fusion recently released an ioTurbine caching software update that enhances performance and manageability for large-scale enterprise environments. "Powerful new caching algorithms redirect billions of operations from SANs to servers to make enterprise data centers more efficient" said Lee Caswell, Fusion-io Vice President, Virtualization Products Group. Mark Peters, senior analyst at the Enterprise Strategy Group says, "These latest updates from Fusion-io add significant breakthroughs for caching at scale to ioTurbine's real-world-tested solution, and extend its ability to not only deliver improved application performance but also work within constrained IT budgets". In short, this software update adds efficiency and cost advantage to Fusion's offerings.
Conclusion
Fusion has recently been facing challenges in increasing its revenues and the changes to the cost structure have made the earnings situation even worse. However, the increase in expenditure indicates that the company's management is expecting a growth in operations; fiscal year 2015's estimates are also indicative of revenue growth. Fusion has successfully generated substantial operating cash flows in the past and possesses the technology to be competitive. It also has reputable clients including Facebook and Apple and its OEM partners include big corporations such as HP and IBM. The risk of customers switching to other suppliers is always there but the competitive offerings, in terms of both price and quality, of Fusion are a barrier for the customers to switch suppliers. In our view, Fusion has a promising future ahead and the current valuations are not a true reflection of its business potential. Moreover, the acquisition of the company is very likely and the resources of Seagate combined with the competencies and product portfolio of Fusion make it a great long term investment opportunity.
Disclosure: I have no positions in any stocks mentioned, and no plans to initiate any positions within the next 72 hours. I wrote this article myself, and it expresses my own opinions. I am not receiving compensation for it (other than from Seeking Alpha). I have no business relationship with any company whose stock is mentioned in this article.
Additional disclosure: Equity Flux is a team of analysts. This article was written by our Technology analyst. We did not receive compensation for this article (other than from Seeking Alpha), and we have no business relationship with any company whose stock is mentioned in this article.