We've all heard the saying, "money doesn't grow on trees". I remember as a kid walking through the local toy store and asking my dad if I can have just about every toy I set my eyes on. The concept of money being finite was beyond the understanding of my years. Combine that with the paper feel of a dollar bill and a naive child may be confused by the saying. After all, if money is made of paper and paper comes from trees, why doesn't money grow on trees?
The phrase can be traced back to the late 1800's. According to www.knowyourphrase.com, the Statesville Landmark newspaper from 1891 contained the phrase "Money doesn't grow on trees here yet."
The meaning of the phrase is simple. A tree can be planted and with proper treatment (watering, sunshine, etc.) can eventually become self-sustaining. It takes little effort on our part for the tree to continue to grow and blossom. Money on the other hand, requires a greater amount of continuous effort in order for us to reap the benefits that it provides.
The reality is that what we call paper currency in the US is not actually made of paper. About 75% of "currency paper" is made up of cotton and the remaining 25% is made up of linen fibers. Now it all makes sense right?
Not exactly, as we wrote back in September 2012 (Read Article), money does grow on trees for the owners of valuable forest lands whose trees are used to make everything from lumber boards to diapers. An investment in Weyerhaeuser (NYSE:WY) at the time would have resulted in a total return of roughly 18%, which is not bad, but trailed the 28% return of the S&P 500 over the same period. Now that the housing recovery has materialized, the stock may have some more upside.
Different trees for different products
Not all trees are the same however. West Coast timber tends to have the highest values and is made up primarily of Douglas Fir saw logs. If money did grow on trees, these are the types of trees that would produce $100 bills. You see, saw logs are three times more valuable than logs that are only suitable for making pulp. And saw logs with premium diameters can be sold for twice as much as lower quality logs.
For Weyerhaeuser, EBITDA per acre owned on the West Coast is over $175. In fact, WY owns more acreage in the Pacific Northwest, where Douglas fir grows, than both Rayonier (NYSE:RYN) and Plum Creek (NYSE:PCL) combined. The recent acquisition of Longview added more acreage to Weyerhaeuser's West Coast portfolio than either competitor currently owns. West Coast timber now consists of over 40% of Weyerhaeuser's $11 billion asset portfolio.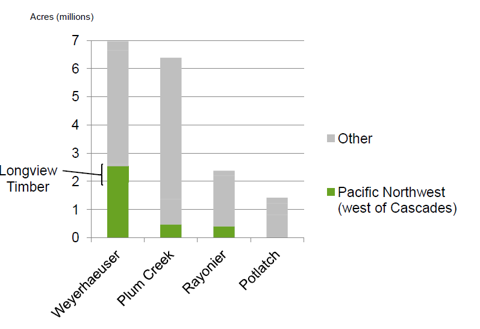 The other area of Weyerhaeuser specialization is in the fluff pulp area. Fluff pulp is used to make a variety of specialty products including Absorbent Pulp - diapers, feminine hygiene products, Cellulose Derivatives - lacquers, paints, etc., Construction Materials - textiles, insulation, fiber cement, Textiles - substitute for rayon, and Specialty Fibers - toothpaste, bandages, pet care, thickening agents.
These products are made from Southern Pine, the other big portion of Weyerhaeuser's portfolio. And even though EBITDA per acre for Southern Pine is below $60, the price of Southern Pine is expected to recover in the short-term.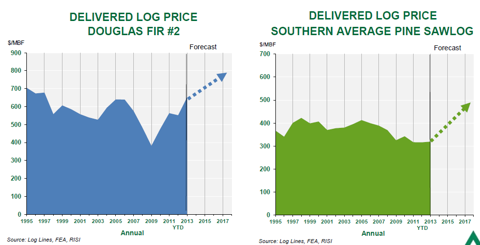 The following types of trees are those trees grown and harvested by Weyerhaeuser:
Douglas Fir - is a straight grained and resilient timber with high strength to weight ratio as well as quick availability and ease of use. Its light rosy color is set off by a remarkably straight grain pattern making it a premium building product specified by architects, engineers and builders for a wide range of construction applications. Douglas-fir is also valued for its dimensional stability and its high specific gravity which provides excellent nail-holding capability.
Spruce - Pine-Fir - is the name given to a combination of spruces, pines and firs that share similar characteristics and are found throughout the forests of Canada. SPF's high fiber strength, light weight and easy workability make it an excellent choice for house construction, trusses and home projects. SPF dimension lumber is kiln-dried to make it straight and dimensionally stable. Its clean, white appearance and small knots create an attractive look for interior projects. SPF is also a popular choice for remanufacturing into specialty items such as furniture, crates, pallets and moldings.
Hemlock Fir - used as a framing material for residential, commercial and industrial buildings, Hem Fir lumber is valued for its strength, versatility and ease of use. Hem Fir is light in color varying from a creamy, nearly white to a light, straw-brown color. Its fiber characteristics are ideally suited for the load-bearing and load carrying requirements of residential and light commercial construction, provide outstanding pressure-treating performance and offer exceptional wear resistance on high-traffic areas in outdoor applications.
Southern Pine - The southern pines have an unusual combination of wood properties that permits their use in a wide range of products. Dense southern pine is preferred in heavy construction, such as bridges, trestles, and dock works. Shortleaf and loblolly pines are used for construction where strength is not as important. Southern pine lumber shares with Douglas-fir the major market for laminated softwood timbers. Southern pines are the chief species used for wood pulp nationally.
The Housing Recovery
Recent data from the Census Bureau indicates that the housing recovery may be picking up momentum even as interest rates have risen. The seasonally adjusted rate for single home starts in November was 727,000 , 21% above the October rate and 26.2% above the November 2012 rate. In December, both the month to month and year over year comparisons weakened from the prior month's levels but it would be interesting to see if the severe weather throughout the US had anything to do with it. As the chart below indicates, the trend is certainly upward.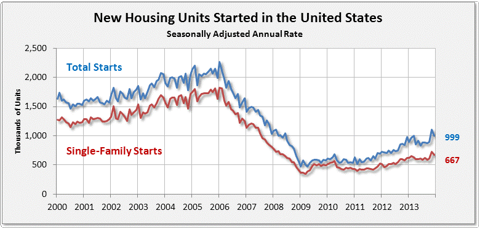 And forecasts look promising.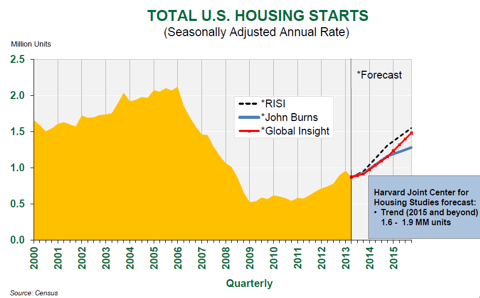 Further evidence of the housing recovery can be drawn from the demand for building materials such as Oriented Strand Board (OSB) and I-Joists.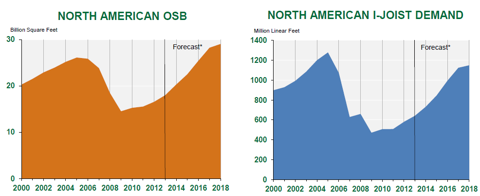 And finally, the performance of the homebuilders and average backlog growth of 17% shown in the following table are favorable factors for the industry.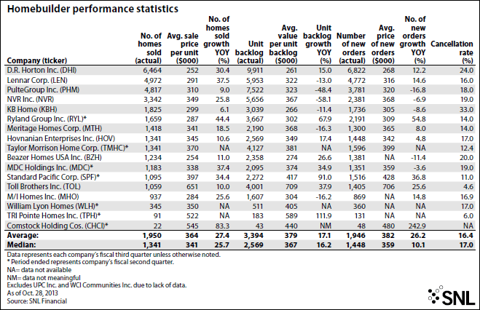 Emerging Market Growth
Emerging market growth is benefiting Weyerhaeuser in two ways. On the one hand, the demand for wood-based housing in countries like Japan, Korea, and China in particular will continue to drive demand for West Coast softwoods like Douglas Fir.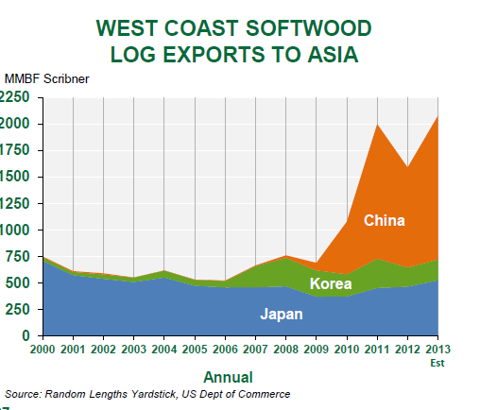 Secondly, the wealth creation currently underway in emerging economies is driving a secular change in the demand for certain goods and services. The expanding emerging economy middle class has been driving consumption of specialty products created from fluff pulp, such as tissue paper, disposable diapers, and absorbent feminine hygiene products. While fluff pulp consumption in North American is expected to remain at current levels through 2017, the demand outside of North America, Japan, and Europe, is expected to drive fluff pulp demand to over 6 million tons.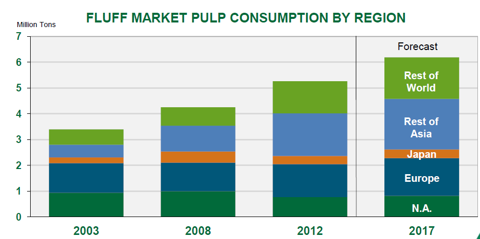 Financial Stability
WY is expected to continue to increase its dividend with a target payout of funds available for distribution of 75%. In 2011, the payout ratio actually exceeded the funds available for distribution, but in 2012, it averaged 86%, and is expected to be 80-85% in 2013.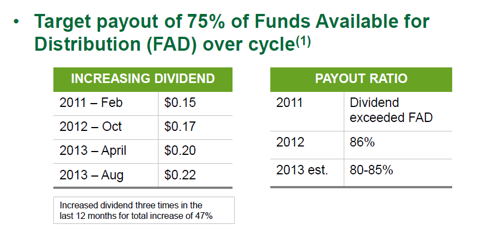 As of September 30,2013, WY had a cash balance of $900 million excluding $494 million designated for the purchase of Longview Timber LLC and repayment of debt assumed with the acquisition.
Financial metrics support continued stability, with ongoing EBITDA/Interest coverage of 4.7 times and a debt to EBITDA ratio of 3.0. Even after the acquisition and the additional debt raised, WY should maintain its investment grade rating. (Moodys Baa3). Furthermore, its maturity schedule is spread out with most large debt maturities occurring no sooner than 2020 or so.

Source: Morningstar.com
Risks
The primary risk to Weyerhaueser's business is the high reliance on housing. As interest rates increase, the demand for housing may slow, which would result in slower new housing construction and limit the upside expected in the stock. Even though the trend in housing is positive and despite the tepid results for December that may have been adversely impacted by weather, interest rate rises may reduce home affordability or otherwise slow the continued increase in housing activity.
Secondly, barriers to entry in the industry are relatively low and a competitor, such as Plum Creek or Rayonier can easily purchase assets in the attractive West Coast to compete more intensely with Weyerhaeuser.
Valuation
Funds from operations over the last 12 months ending 9/2013 was $1.14, giving Weyerhaeuser a trailing price/FFO of approximately 27x, which is in line with Plum Creek's 28x and a premium to the 17x Price/FFO for Rayonier. With its valuable west coast assets, we think the premium to Rayonier is warranted.
Analyst estimate 2014 FFO to be $1.41, with a high estimate of $1.68 and a low of $1.05.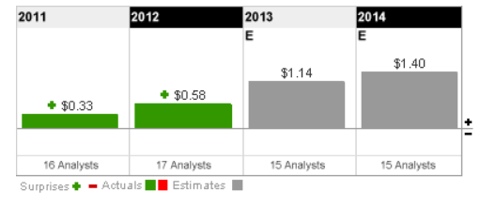 With no multiple expansion, that translates into a price range of $28.50 to $45.64, with an average price estimate of $38.31. Throw in a 3% dividend and you could potentially be looking at a 27% return.
Conclusion
As adults with monthly financial obligations and the need to work hard to satisfy those obligations we know and understand the "Money doesn't grow on trees" phrase. But participants in the timber industry will probably beg to differ. Not long ago, they had no basis to stand on during the housing crisis that occurred along with the financial crisis. But now that the housing market has begun to recover and prices of wood products have stabilized and started rising, a company like Weyerhaeuser and anyone invested in it can certainly argue, and with good reason, that money certainly can grow on trees.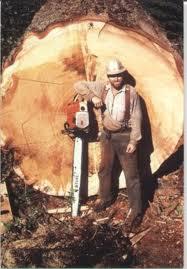 Source: Census Bureau, Weyerhaeuser Investor Relations, Morningstar.com, BusinessWeek.com
Other companies mentioned related to homebuilding sector: Toll Brothers (NYSE:TOL), KB Home (NYSE:KBH), Pulte Group (NYSE:PHM), D.R. Horton (NYSE:DHI), and Lennar (NYSE:LEN), NVR Inc. (NYSE:NVR), Ryland Group (NYSE:RYL), Meritage Homes (NYSE:MTH), Hovnanian Enterprises Inc. (NYSE:HOV), Taylor Morrison Home Corp. (NYSE:TMHC), Beazer Homes USA Inc. (NYSE:BZH), MDC Holdings (NYSE:MDC), Standard Pacific Corp. (SPF), M/I Homes Inc. (NYSE:MHO), William Lyon Homes (NYSE:WLH), TRI Pointe Homes (NYSE:TPH), Comstock Holding Cos. (NASDAQ:CHCI)
Disclosure: I am long WY, . I wrote this article myself, and it expresses my own opinions. I am not receiving compensation for it (other than from Seeking Alpha). I have no business relationship with any company whose stock is mentioned in this article.