It was at Roth capital's annual growth stock conference that I happened to sit beside Mr. Harry Cochran at a presentation and started to learn the story of SinoHub (AMEX:SIHI).
Supply Chain Management
Before I move onto details of this company, let's have a quick supply chain management introduction. Supply chain is a network that connecting business entities to move products and services. For example, Boeing (NYSE:BA) manufactures planes. However, Boeing doesn't manufacture every parts necessary for the plane. They manufacture some and buy some from other companies all around the world. So Boeing must have a mature system to source, purchase, and transport these parts from every corner of the world to the final assembly line. In the process, Boeing needs to reduce costs (transportation, inventory etc) and enhance efficiency. The whole network is called supply chain. More details can be found here.
SinoHub is a small company, so they started with the electronics industry (to be more precise, they focus on cell phone segment). Most consumer electronics such as cell phones are manufactured or assembled in China. There are also more and more domestic brands competing with global brands such as Nokia (NYSE:NOK) and Ericsson (NASDAQ:ERIC) in recent years. Most of these manufacturers are small and don't have its in-house supply chain management system. As the profit margin of cell phone manufacturing is pretty thin, those makers want to save as much as they can on purchasing. They also want to keep inventory as efficient as they can because the demand from end consumers change so quickly.
Company Overview
SinoHub was founded in 2000 and its most valuable asset is its online software system with a comprehensive database.
SinoHub's comprehensive database offers significant benefits to manufacturers, who can fully realize the benefits of leveraging common components across multiple projects. SinoHub combines information uploading, processing, query and services, such as fulfillment, import/export, logistics, bill of material management, Vendor Managed Inventory (VMI), financial information and customer inquiry services into one integrated solution.
This business model chart from the company's website is a good illustration: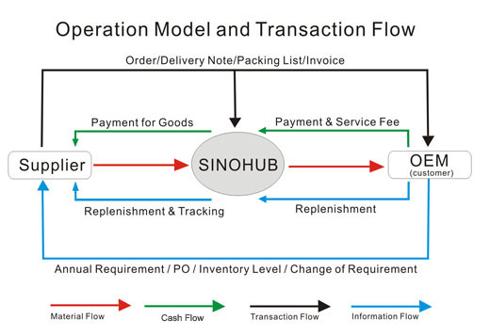 In addition to supply chain management, SinoHub also offers financial services and logistic services.
Financial services: SinoHub helps banks to discover product information, quality, value etc to make loan decisions. It also cooperates with banks to improve efficiency in inventory managmenet.
Logistic services: This segment offers Export/Import service, Warehouse service, and delivery service.
These two supplemental services along with the core supply chain management can offer the best supply chain management package for customers and help them save lots of money and time on sourcing, purchasing, import/export, inventory management, and transportation.
Competitive Advantages
Exclusive focus:

SinoHub has many years of experiences in the electronic components market in China. This knowledge is hard to replicate. It takes years to have similar database with price, quantity and leadtimes on more than 30,000 electronic components.

One-Stop service: SinoHub provides all the supply chain needs from procurement to logistics.
Growth Potential
China continues to be the manufacturing center of the world. There are thousands of small electronics product manufacturers in China. SinoHub can add more and more customers without too much fixed costs. They don't need to build plants, buildings. They just need to improve the database. The economies of scale is easy to be achieved.
SinoHub is also leveraging the knowledge in electronics component to electric cars.
The components will be used on electric vehicles are very similar to those used on other electronic products. SinoHub can easily expand into EV industry, which is expected to be a huge market.
Financial and Valuation
SinoHub will report earnings on March 31, 2010. At this moment, let's first look at its September numbers.
Current ratio is 3.1X, quick ratio is 2.7x. No long term debt. The debt coverage will be better with recent equity offering.
Revenue grows from 28.8 million in 2007 to 79.5 in 2008 and around 85 million in the first 9 months of 2009.
Current PE is 6.74x and PS is 0.68x.
With the growth potential and current valuation, I think this stock has much upside potential. Of course, I have also noticed that SinoHub has a large amount of accounts receivable. I would like to know more about their cash collection. Overall, I think SIHI is a good buy candidate. But don't put all your money in until its earning report on March 31.
Disclosure: Author holds a long position in SIHI