With oil prices on the rebound and natural gas prices having been strong in recent months we are seeing some of our oil and natural gas names come back to life after the recent downturn in equity prices. We have not been buyers of any particular type of energy company in recent months, but have purchased names such as BP (NYSE:BP) and PDC Energy (NASDAQ:PDCE) for clients as we saw value in those names. Our most recent purchase was PDC Energy after their disappointment in the Utica with issues on one well in particular as we think that will quickly be resolved.
Our outlook on oil continues to become more bullish as more and more evidence piles up to reaffirm our belief that 2014 is the year that tangible results begin to show up within the economy. The results from Norfolk Southern (NYSE:NSC) seem to highlight this thinking and the outlook provided by Freeport-McMoRan (NYSE:FCX) is the icing on the cake, even though the current results were weak.
We do want to point out to readers that natural gas prices are spiking with the weather that has hit the northeastern US and we are now seeing pricing well above $4.50/MMbtu as the storm brings in cold temperatures and over a foot of snow to the region.
Chart of the Day:
Palladium prices have continued to trade within the range we have highlighted the past few months, but with the economic news and bullishness creeping back into the commodity sector we think that the $750/ounce resistance level could very well be breached in the near future.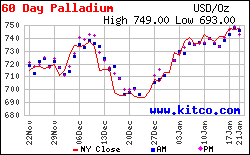 Source: Kitco
Commodity prices this morning are as follows:
Gold: $1,238.90/ounce, down by $2.90/ounce
Silver: $19.86/ounce, down by $0.01/ounce
Oil: $96.74/barrel, up by $1.77/barrel
RBOB Gas: $2.6645/gallon, up by $0.0439/gallon
Natural Gas: $4.648/MMbtu, up by $0.217/MMbtu
Copper: $3.3315/pound, down by $0.0195/pound
Platinum: $1,463.00/ounce, down by $9.50/ounce
Railroads
We have to admit that after the recent earnings from CSX (NYSE:CSX) and the weak results displayed there, we were more than a little worried about what Norfolk Southern would report this week. Well it turns out that CSX was an outlier as Norfolk Southern reported earnings that were solid.
Shares in Norfolk Southern are trading higher by about 6% and have hit a fresh 52-week high in today's session. The move is in response to the company beating the analyst consensus for EPS by $0.13 and also topping the revenue consensus by $30 million. Norfolk saw strong comps across the board, but like CSX the company did see a decline in the coal segment of their business - but only of 2%.
It appears that there is another leg up in Norfolk Southern shares after the most recent quarterly results.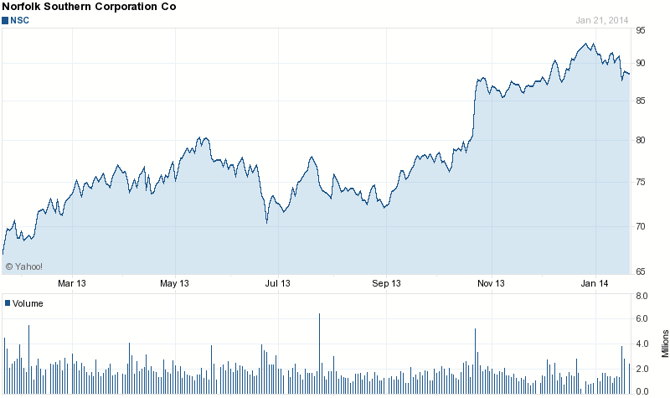 Source: Yahoo Finance
The numbers show strength in autos and materials used to build the economy so we view this news as extremely bullish and believe that it demands us to keep our foot on the pedal when it comes to our commodity investments.
Copper/Gold
One of our favorite commodity plays on the economy right now is Freeport-McMoRan due to their exposure to copper and the oil and natural gas sectors. We view gold as a kicker that should fare better once the economy is growing strongly and inflation fears creep back into the market, but until then the focus should be on Freeport-McMoRan's molybdenum production as the possible third commodity that could help push results higher.
We have not been buyers of Freeport-McMoRan shares leading up to the earnings, which were announced today, but after the report it is safe to say we will purchase exposure moving forward in one way or another as we were not as disappointed as we felt we could have been with the results. The earnings were down versus the comps, but the company did beat the analysts' expectations with an EPS beat of $0.06 when the non-recurring items are excluded. There was weakness in the company's reported revenue figure of $5.88 billion versus the expected $6.4 billion.
With production set to climb and the company forecasting higher copper prices we think that the $35/share level is an intriguing entry point. Cash flows are expected to be strong in 2014 and the company continues to explore the divestiture of non-core and exploration assets in order to pay down debt and clean up the balance sheet after recent acquisitions.
Disclosure: I am long PDCE. I wrote this article myself, and it expresses my own opinions. I am not receiving compensation for it (other than from Seeking Alpha). I have no business relationship with any company whose stock is mentioned in this article. PDCE and BP have been previously purchased for clients. FCX could be in the near future.