The Customer Relationship Management ((NYSE:CRM)) business made up an $18 billion market in 2012 growing at about 12.5% annually, according to Gartner. The big player is Salesforce.com (CRM) with a 14% market share, followed by SAP (NYSE:SAP), Oracle (NYSE:ORCL), Microsoft (NASDAQ:MSFT) and IBM (NYSE:IBM).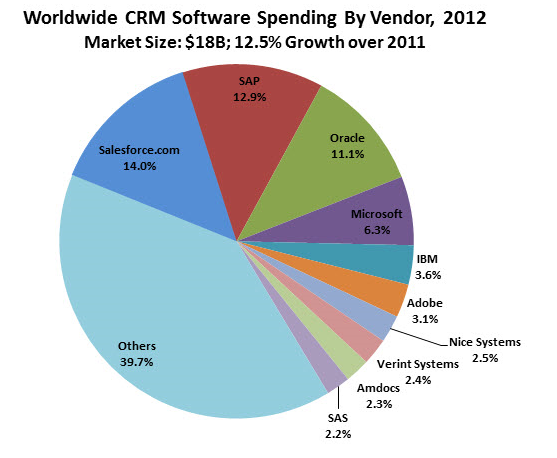 The top ten fastest growing CRM vendors included only one of the largest players - IBM - which grew at 39% in 2012 to reach $649 million in revenues according to the Gartner data.
On September 30, 2013 SYNNEX acquired IBM's CRM Business Process Outsourcing (BPO) unit for $505 million. The unit had sales of $1.2 billion and generated $120 million of EBITDA according to the release. If we are talking about the same IBM unit, the growth rate of 39% must have accelerated for it to be a $1.2 billion business 9 months after the end of 2012, but perhaps the two data points are not precisely similar. Regardless, it is pretty clear the IBM CRM business was both profitable and growing very quickly.
What is wrong with this picture?
SYNNEX pays $505 million for a $1.2 billion CRM business growing at a blistering pace and earning EBITDA at about 10% of revenues. The market puts a value on Salesforce.com of $37 billion for a business only three times larger than the IBM unit growing at a 25% pace and not earning anything to speak of. I may have it completely wrong, but either the CRM business unit of IBM reported by Gartner and the one sold to SYNNEX are different things or the gap in valuation between the market's valuation of Salesforce.com and what SYNNEX paid IBM for its unit is incomprehensibly wide.
I think the units are comparable, and while it seems SYNNEX paid a pretty good price to IBM for this business unit, the market's valuation of Saleforce.com is so far out of the ballpark of reality so as to deny sensibility.
IBM is not managed by fools. They sold this business no doubt because it did not meet their strategic vision for the future of IBM. They got a price from an arm's length sophisticated buyer after what could only have been a professional negotiation by informed parties.
The market valuation of Salesforce.com does not reflect such a negotiation. Instead it is a highly hyped momentum play led by a charismatic leader who sells his own stock into the market at what seems like every opportunity followed closely by his senior management team who play the same game, and then tell shareholders the "stock based compensation" expense (that is, the gains they are making at the expense of all other shareholders suffering dilution from the exercise) should be "added back" as an "adjustment" to come up with the earnings shareholders should use in putting a value on the stock.
Yahoo.com Finance reports that Salesforce.com insiders sold about $50 million worth of stock in the past 6 months, likely garnering more than the company will earn this quarter. But one insider did buy 200 shares. A contrarian I guess.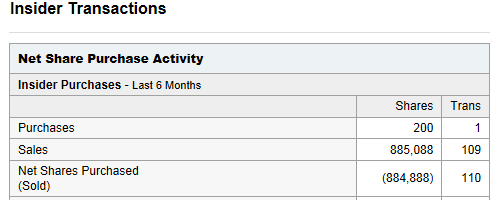 Salesforce.com is overvalued by a country mile. Investors who have bid the stock to a lofty $37 billion market value have only themselves to blame if it craters but those analysts who pile on with BUY or OUTPERFORM ratings should be held accountable for aiding and abetting when the chickens come home to roost.
I am short the stock.
Disclosure: I am short CRM. I wrote this article myself, and it expresses my own opinions. I am not receiving compensation for it (other than from Seeking Alpha). I have no business relationship with any company whose stock is mentioned in this article.