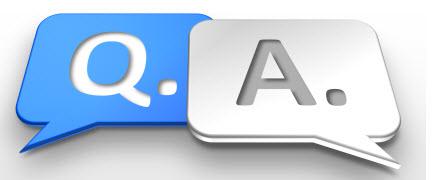 Dave Fry, Founder & Publisher of the ETF Digest interviewed John Del Vecchio and Brad Lamensdorf, Co-Portfolio Managers recently regarding Ranger Equity Bear ETF (NYSEARCA:HDGE). After the equity market's long sustained rally to unprecedented all time highs, many investors are looking for reasonable and effective hedging strategies for their long-only portfolio exposure. HDGE may be an effective tool to accomplish this in full, or in part, protecting investor portfolios against losses.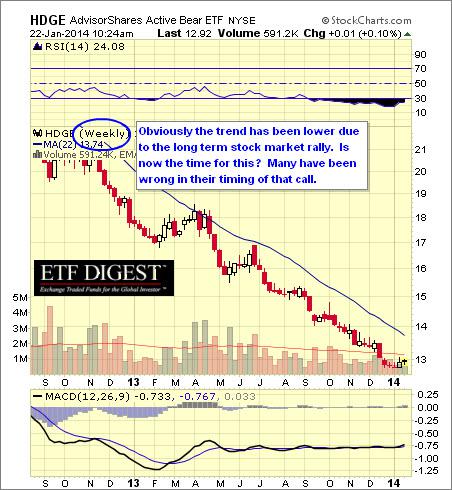 Dave: Let's get started by telling us about your backgrounds, please.
John: I started my career in the late 1990's during the "Internet Bubble" and began focusing on shorting stocks in 2000 when I saw that the advance in equity prices was unsustainable and that many of the companies going public were built on top of thin air. I went to work for Center for Financial Research and Analysis (CFRA) which made a name for itself using forensic accounting to identify companies with aggressive accounting that were masking a deterioration in their business. I then managed a short allocation for a family office to short technology stocks in 2002 before working with David Tice of the Prudent Bear fund for five years and ultimately landed at Ranger Capital Group managing a short only hedge fund that evolved into the AdvisorShares Ranger Equity Bear ETF (HDGE).
Brad: I started trading stocks when I was 13 years old. Being in Ft. Worth, TX afforded me the opportunity to interact with the Bass Brothers where I landed a job after graduating from the University of Texas. Much of my work was done on the technical side of the market and managing risk by building baskets of short positions are core longs in the Bass portfolios. I then co-managed a hedge fund called Tarpon, which had a successful run over several years and teamed up with John in 2009 as a strategist for the Ranger Short Only fund.
Dave: What's your overall strategy and implementation of it?
John: It's two-pronged. First, we look for companies that may be vulnerable to earnings misses or a reduction in guidance either through aggressive accounting or deteriorating fundamentals. We do this two ways. First, is quantitatively, where we've built our own earnings quality models that assess risk in areas such as revenue recognition, cash flow quality, earnings manipulation, and shareholder yield among other factors. We read the notes to the financial statements to find areas of questionable activity on the part of management as it relates to how earnings are being generated.
The number one factor would be the quality of a company's revenue recognition. There's a notion that revenue is hard to manipulate, but that is completely false. There's an entire chapter written about it in my book What's Behind the Numbers?
And, we use outside research to generate ideas or confirm what we're already seeing in a company's financials. Then we overlay with Brad's technical and views of the market
Brad: I look for companies that are undergoing "distribution" meaning that we want to see stocks falling on heavy volume and rallying on light volume. As much as possible we want to avoid "momentum stocks". Typically, stocks are already under pressure before they ultimately implode. So, we're looking for clues in the price and volume patterns. We also pay attention to the breadth of the market, investor sentiment, valuation, insider selling, and other market indicators. We build a portfolio around both fundamental and technical factors.
Dave: How do you decide how much exposure to take and when to cover a position?
Brad: Our overall exposure is dictated by general market conditions. For example, if the market is very overbought with excessive bullish sentiment and insider selling, we will want to be fully short and very aggressive in the types of stocks we select for the portfolio. On the other hand, if the market has suffered a material decline and investors are predominantly bearish, then we will look to scale back and raise cash.
John: On an individual stock basis, if our thesis is wrong we will cover no matter what. If our thesis plays out and Wall Street reduces their expectations and ratings such that they are aligned with our own thinking, then we will cover as well. We want to hold an opposing view rather than confirming view with Wall Street. Technically, if a stock is going against us we will tend to cover some of the position to wait for a more timely opportunity rather than adding to it and compounding a mistake. That said, we will leave some of the position on if it's compelling because no particular methodology is perfect.
Dave: Given the type of strategy you've outlined, what's the best way for someone to use HDGE?
John: I think there's several ways. First, use it as an insurance policy. Most people have insurance for their homes or cars but not their portfolio. Your house doesn't burn down every day but it seems like the 100 year storm has been hitting the stock market every five years or so in recent history. Obviously, hedging hasn't worked well in the last few years, but the thing with insurance is you'll never know when you're going to need it.
Second, use it as part of an overall asset allocation plan. More and more advisers are allocating to alternatives. Shorting stock should be part of that. Generally, alternatives are designed to provide higher returns with lower risk over time. This is especially useful in bear markets or markets that are not in powerful uptrends.
Third, use it as a timing device. If you're bearish, then you may want to add short exposure to your portfolio. If you're bullish, then take the position off.
Dave: So, how does this compare to major market indexes such as the S&P 500?
Brad: Well, we are not linked to any particular index. We are not an inverse fund. We are an actively managed short fund. So, we may short stocks among small, medium, or large cap stocks. In addition, we could short bonds if we wanted or volatility products. Through 2013 we have out-performed the inverse of the S&P 500 on both a market cap and equal weighted basis as well as the Russell 2000. However, there hasn't been a significant pullback in nearly 2 ½ years (of say 10% or more). Generally, our value add is in those time periods where the market pulls back hard and smaller and mid capitalization stocks fall more than the major indexes which are dominated by the largest companies.
Dave: As you say you're not an inverse fund, so what would be the advantages of HDGE over and inverse fund?
John: There's a couple of advantages, in my opinion. First, we do not use leverage. Leverage works until it doesn't. Then you blow up. Levered inverse funds are inherently flawed because they reset their exposure every day. They're designed to be held for one day. Bear markets don't occur in one day unless there is a crash. So, the volatility of the market kills levered funds over time.
The S&P 500 is market capitalization weighted and the top 100 companies are nearly 60% of the index weight and 45% of the total U.S. market capitalization. In a bear market do you want Second, when you short the S&P 500 you short the major companies of the market. to short Apple (NASDAQ:AAPL), GE (NYSE:GE), Exxon (NYSE:XOM), Johnson & Johnson (NYSE:JNJ), and Proctor & Gamble (NYSE:PG), or do you want to short companies that are not multi-national, have one product line, are aggressive in their accounting, or have deteriorating fundamentals?
When volatility increases - and it's typically much higher in bear markets - it benefits HDGE because there's less liquidity in the mid-cap stocks. They get hit harder. There's no "flight to safety" in non-blue-chips. These companies have less room to maneuver in tough environments as well. Johnson & Johnson has staying power. The same cannot be said for many other companies.
Dave: Your fees are higher than a typical ETF, what's the justification for that?
Brad: Shorting stock on an individual stock basis is much like a hedge fund type strategy. We priced the fund similarly to what is available in the actively managed space for this strategy. However, unlike mutual funds we do not have sales loads, redemption fees, and we have intra-day liquidity and options listed on the fund. The fund itself is highly liquid as our underlying positions can be added to or covered with relatively little trouble. And, we trade a lot of volume at a tight spread. So, if you need to get in or out quickly, it's typically not a problem. So, we provide a lot of benefits at pricing that is favorable to active short mutual funds.
Dave: As a final thought, what's your current market outlook and your positioning in HDGE?
John: We're aggressively bearish here. We are almost five years into this cyclical bull market and the typical duration since the 1920s is just under 40 months. So, the bull is long in the tooth. Obviously, that's hurt us over the past six months but no one can pinpoint turning points exactly.
We are not only fully loaded to the short side, but the beta of our portfolio is high. We anticipate a significant move to the downside in 2014 after nearly two and a half years of nothing.
Sentiment is far too bullish having reached levels not seen in years. Bearishness recently touched a generational low witnessed around the time of the 1987 crash. We track the Ned Davis Sentiment number which as pierced through 70%, a level that has never been profitable to own stocks. The volume in this bull market has been anemic at best. Profit margins are at peak highs for companies and revenue growth is lackluster. Companies have cuts expenses to the bone. The valuation of the market on a price / sales basis is at 30+ year highs, higher than the last two stock market implosions. The IPO market is the hottest since 2000 with a majority of companies losing money and the secondary market was the biggest on record. All of that is setting up for a disappointment somewhere.
While shorting stock hasn't been the place to be the last five years, that's in the past. It's important that investors look forward and protect their portfolios. Now is the time to seriously consider protection.
Dave: Thank you very much for your time.
Brad & John: Thank you, Dave!
Disclosure: I have no positions in any stocks mentioned, and no plans to initiate any positions within the next 72 hours. I wrote this article myself, and it expresses my own opinions. I am not receiving compensation for it. I have no business relationship with any company whose stock is mentioned in this article.