By David Russell
Hasbro (NASDAQ:HAS) has pushed back near an all-time high, and one trader is positioning for a correction.
optionMONSTER's Depth Charge tracking system Friday detected the purchase of 2,800 May 37.50 puts on the toymaker for $1.15 and the sale of an equal number of May 40 calls for $0.65 in a bearish combo trade. Volume was more than 20 times open interest in each contract.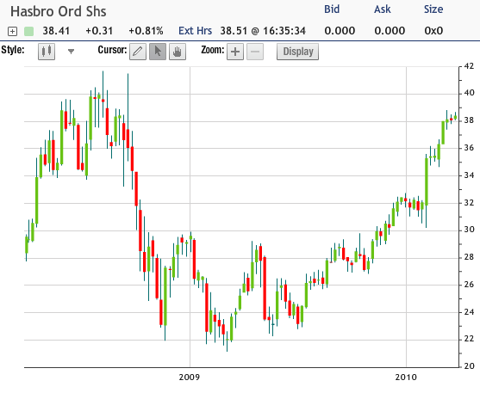 HAS rose 0.81 percent to $38.41 on Friday. The stock is up 20 percent since Feb. 4, when it gapped higher on better-than-expected fourth-quarter earnings. It also raised its dividend by 25 percent to $1 a year.
The gains have been slowing over the last month as HAS struggles to break through $38. Chart watchers may expect resistance at this level because it's where the stock gapped lower and then failed to rally back in August and September 2008.
Friday's option strategy is designed to simulate a short position in the stock. It will double the trader's money for every $0.50 that HAS closes below $37 on expiration. However, because of the short position in the calls, the position will lose money above $40.
The trade pushed overall options volume in HAS to 17 times greater than average.
(Chart courtesy of tradeMONSTER)