Guess (NYSE:GES) - designer, marketer and distributor of fashion apparel and accessories targeting a younger generation - has seen it share violently fluctuate over the past week amidst what I call a "Q4 retailer crisis" - emphasized by muted december sales from J.C. Penney (NYSE:JCP) and a miss from Sears Holdings (NASDAQ:SHLD), pounded by the miserable results from Best Buy (NYSE:BBY).
Yes - the retail sector is certainly being hated today. But is it fair that this hatred is necessarily applicable to companies like Guess? The article below is my assessment of things going on in the markets and what to expect when the Q4 earnings report rolls around.
Review:
I have most recently taken a stab at estimating Guess's third quarter earnings. While my overall thesis on the direction of share price movement post ER was correct, I certainly underestimated the size of the move: with shares now sitting at $29.17 (as of 01/17/14 close), almost 10% below the strike price of the $32 puts I sold short. Overall, Guess is down 1.5% over the past week, 4.5% YTD and a whopping 14% since before the Q3 earnings report. With the turnaround story that does seem to be coming into play, I think this sympathy treatment to larger players in the industry is unjust.
Differentiation:
Before looking into specific performance of the company, I think it makes sense to assess what makes Guess different from companies like Sears (SHLD), Kohl's (NYSE:KSS) or Macy's (NYSE:M). Guess is a brand that is sold in all of these retailers, as well as brick-and-mortar retailers' biggest enemy: Amazon (NASDAQ:AMZN). So what's the takeaway? The fact that Sears has not seen much foot traffic and dollar transaction is not in any way indicative that consumers didn't purchase Guess products elsewhere.
The Story To Date:
The numbers in Q3 did come in quite solid: the company beat on the bottom line, while pretty much matching top end expectations. The guidance was upbeat as well, with management raising the lower EPS estimate while guiding for slightly slower sales. Although analysts expected and even better guidance, I can't complain on company's ability to be accurate on at least per-quarter basis.
Nonetheless, shares have been in a steady and rapid decline since the Q3 announcement.
These past two weeks require special attention with shares down 7% in the timeframe. The retail tumble started with J.C. Penney's December Sales guidance on January 8th, followed through with Sears miss on the 10th and finally culminating in a 28.5% drop in Best Buy. Although Best Buy carries a much different product line, the miss certainly sent worries of consumer spending results this holiday season.
These stories drove the headlines, but there were two very positive news just as well. Firstly, Abercrombie & Fitch (NYSE:ANF) raised its guidance on January 9th, sending shares up 12%. Not a direct impact on Guess, but positive news flow from a close competitor were welcomed and supported by 3% pre-market gains for Guess; even though gains were mostly given up during the trading session. After all, success in competitor's business might actually be negative if caused by a market share shift, rather than increased consumer spend.
This theory was rebuffed by Guess's own management on January 14th, when the company reiterated it's topline guidance. Bottom line EPS guidance was also raised, suggesting either improved cost controls or higher than anticipated share repurchase activity. Shares spiked once again - a whopping 8%. Yet, with the price decline of the recent days - still in the same $30 per share range. Worse yet, Guess stock gave up all the pre-market gains during the trading session. After reaching $30.77 high, shares briefly touched $28.50 just two days later.
Is there a good reason for so much volatility? Certainly! At least one cause is a major insider sale of 1 million shares over a period of 3 days. Whether it's indicative of something really bad remains a question. After all, the insider still owns 5.7 million shares and insider transactions often happen independent of market dynamics. But what's certain is that for a company with 3-month average daily volume of 800K, this disposition created plenty of selling pressure; sufficient to negate all the positive beats.
With that aside and assuming there are no more reductions among other majority owners - what can and should be expected from Guess in the coming months?
The Technicals:
There are good things and there are bad things.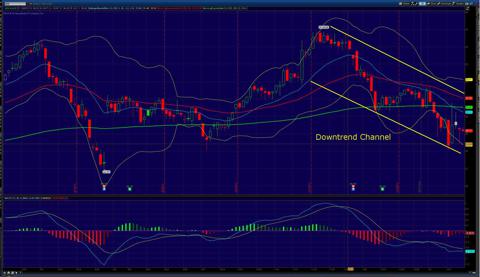 The daily chart is simple, we are in a downtrend; we knew that already. After all, the entire sector is suffering the Q4 fears. But that can easily reverse from a positive analyst note or a solid Q4 earnings report in February. Which I doubt will miss the just-updated guidance - with almost two months into the quarter and the high-revenue part of it (holidays) likely factored in by now. Further yet, imagine the scrutiny Guess management will face if the company misses and share price drops, all while the director dumps $1 million shares into phony strength?
But with Q4 out of the way, all of the attention will be on 2015 guidance. This is where my biggest concerns are, especially given the insider sale that we saw (yes - we can't discount the potential negative) and the MACD divergence that has formed on the weekly chart below: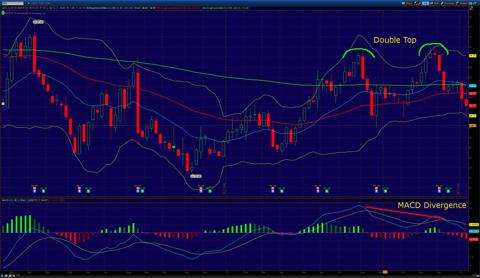 Finally - Expectations:
In the near term - I see quite a good chance of share appreciation as we approach the February earnings report. All the major news drivers are now finally out in public: we know retailers did bad, we know GES and ANF are able to maintain and raise its guidance and the insider sale is complete. Plus, the hourly chart is showing strength in the form of inverted head-and-shoulders and once again (now bullish) MACD divergence: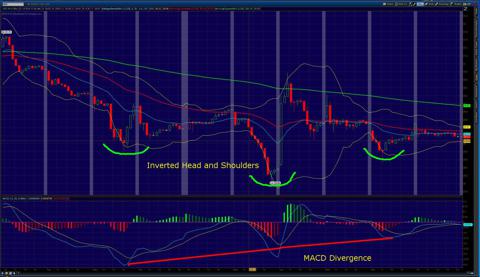 My take: I've seen this story with Guess before. Post-ER sell-off followed by pre-ER run-up. I believe that inverted head and shoulders above may indicate the beginning of the earnings run. I'm sticking with my short puts, confident the shares will touch $32 prior to Q4 earnings once the dust settles from the recent weeks' news. Whether I hold the shares into ER itself, most likely not. After all, the post-ER trend may repeat just as before.
With the scope of news publicly available, I see little downside below the $28 per share mark.
Disclosure: I am long GES. I wrote this article myself, and it expresses my own opinions. I am not receiving compensation for it (other than from Seeking Alpha). I have no business relationship with any company whose stock is mentioned in this article.