By Matt Darrah

My recommendation to buy Tetragon Financial Group (OTCPK:TGONF) does not follow my typical tenet of buying good companies with management teams who are wise capital allocators at a cheap price. But due to the attractiveness of the Company's valuation, I believe it represents an attractive investment opportunity.
Extremely Attractive Valuation: (1) stock price implies a 51% discount to the Company's fair value based on reasonable assumptions; (2) trades at 3.3x FCF or a 31% FCF yield
Relatively Strong Portfolio Performance in a Horrible Market for Lenders: (1) loan default rate of 6.5% compared to 9.6% for the overall market; (2) 32% of CLOs failing Junior Par Coverage Tests compared to 38% for the overall market; (3) 12.0% of loans rated CCC+ or below compared to 16.5% for the overall market
Market Seems to Be Punishing the Stock for an Out of Market Fee Arrangement the Company made with its Investment Manager at the Time of its IPO: (1) while I also don't like the fee arrangement, Management clearly disclosed the arrangement to shareholders, and I believe I can adequately predict its impact on cash flows; (2) future shareholders unlikely to be harmed from fee structure
Tetragon Stock Price Since IPO (April 2007)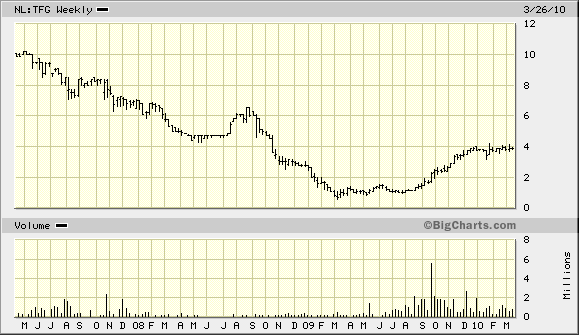 Source: BigCharts.com.

Company Overview
Tetragon Financial Group Limited ("Tetragon", "Company", or "TFG") is an investment company that was publicly listed on the Amsterdam Stock Exchange in 2007 (Euronext Amsterdam: TFG) (OTCPK:TGONF). The management team formed TFG to invest in the equity tranches of collateralized loan obligations ("CLOs").
CLOs borrow money and raise equity, and then use those funds to purchase bank loans. The CLO then uses the interest it earns on those bank loans to pay the interest its own debt, and whatever cash flow is left is sent to the equity holders. Basically, CLOs mimic banks, but instead of using depositors' capital to buy and originate loans, CLOs borrow money from investors. Typically, a CLO will borrow in multiple "tranches" of debt. The CLO is required to pay back the senior debt tranches first, and these tranches have more rights that protect them from losing money, which come at the expense of more junior tranches and the equity holders. Investors who want to avoid losses and are willing to accept lower rates of return buy the senior most debt tranches. Junior tranches and the equity holders take on more risk, but enjoy higher returns. A sample CLO structure is shown below.
Sample Collateralized Loan Obligation Structure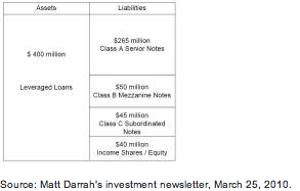 When the loans that the CLO holds perform according to plan, the assets generate enough cash flow to pay the required interest on the CLO's debt (senior, mezzanine, and subordinated notes) with the remaining cash flow being distributed to the equity holders.
As I said before, investors buying the senior tranches of debt first and foremost want their principal to be safe, and require that various tests are met to protect their cash flows when the loans do not generate the amount of cash flow planned. Two basic tests protect investors in these senior tranches: the overcollateralization test (O/C) and the interest proceeds (I/C) test. The O/C test measures the par value of leveraged loans to liabilities, but deducts certain assets from being used for the purposes of the test. Types of excluded assets primarily include loans that are rated below a certain level by S&P and/or Moody's. The I/C test evaluates available interest received from the CLO's assets to make interest payments on the debt issued by the CLO. CLOs are typically designed to first violate the O/C test during times of distress.
When a CLO violates one of these tests, it begins to "trap cash". Trapping cash means that the CLO stops distributing any cash to the equity and/or other junior debt tranches and begins to pay down senior notes on an accelerated basis. Paying down debt helps bring the CLO back into compliance, as lower debt levels mean that both ratios will improve as the qualified assets in the CLO will have to cover less debt, and there will be less interest burden on the CLO.
During the recent credit crisis, many CLOs violated these tests and thus began trapping cash. Investors who held the equity tranches of these CLOs stopped receiving payments as a result. In response, many of these investors began to trying to fire sell the CLO equity tranches, resulting in lower market prices for such assets.
TFG only invests in the equity tranches of CLOs, and thus has been severely impacted by the credit crisis.
However, TFG has performed better than many of its peers in terms of several key metrics including: (i) Loan Default Rates (% of loans that are not in compliance with their loan agreements), (ii) CLOs tripping an O/C or I/C test, and (ii) % of loans rated at CCC+ or lower by the rating agencies. This strong performance results from management's selection of seasoned CLO managers who were able to better weather the financial crisis.
Tetragon Portfolio Outperformance vs. Market on Key Metrics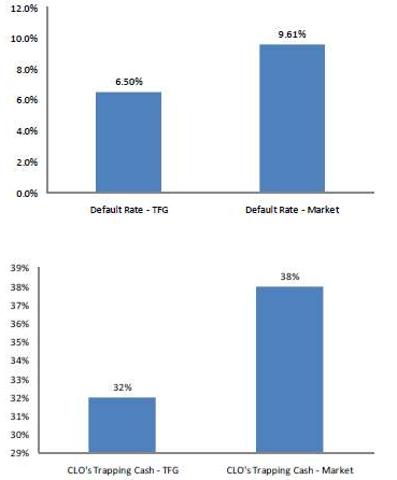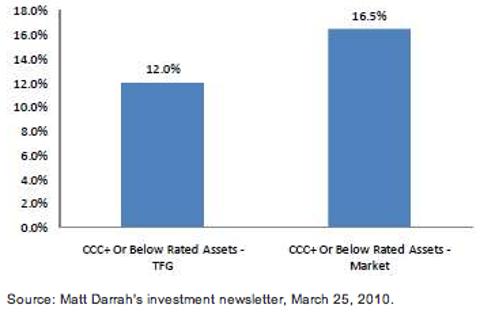 Valuation
Asset-Based Valuation
As of February 28th 2010, TFG held 68 CLO investments that management valued at $707MM. Additionally, the Company held $163MM of cash. Adding the CLOs and the cash together and subtracting out TFG's $13MM of liabilities results in a total value of $857MM or $6.91 per share.
Four major assumptions determine the value of a CLO: (i) default rate, (ii) recovery rate (% of par that the CLO will receive in final satisfaction of the claims on a defaulted loan), (iii) prepayment rate (% of loans repaid each year), (iv) reinvestment price (% of par the CLO is able to invest money it receives from prepayments), and (v) the discount rate used to value the cash flows resulting from assumptions (i) – (iv).
In my opinion, TFG uses appropriate assumptions to value the portfolio. Below is a summary of these assumptions.
Portfolio Valuation Assumptions Used by Tetragon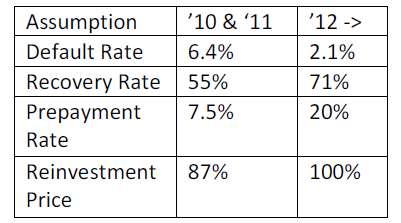 Source: Matt Darrah's investment newsletter, March 25, 2010.
The 6.4% default rate approximates the Company's current default rate, and assumes that will continue for two years. I believe this is unlikely unless there is a severe double dip recession. The default rate averages 2.4% for levered loans, so 2.1% appears to be an adequate assumption after 2011 given the draconian 6.4% assumption in 2011.
In 2009, recovery rates averaged ~40%, compared to the Company's 55% assumption for 2010 and 2011. I would expect recovery rates to increase more towards their 75% historical levels as the economy improves, and thus I think assuming 55% for 2010 may be too aggressive, but is offset by the fact that recovery rates will likely be higher in 2011. The 71% recovery rate in 2012 and beyond seems reasonable given the historical 75% recovery rate.
Prepayment rates currently average 14.3%, compared to the assumed 7.5%. A higher prepayment rate results in a higher valuation, as TFG is able to buy loans at today's attractive prices. Prepayments averaged 40% from 1997 – 2009 versus 20% assumed in TFG's model after 2011. I expect that the 20% prepayment rate can be achieved, as the high yield markets were not available to issuers during part of 2009, and thus the 2009 prepayment rates are understated. Note that many companies issued high yield bonds to repay their bank loans during 2009.
TFG's assumed reinvestment rate of 87% in '10 & '11 seems a little aggressive, but based on conversations with management, I believe that the lower value resulting from reinvesting at current market prices is offset by the higher current prepayment rates discussed above.
Further, the management team is essentially discounting these cash flows at 30% with a special balance sheet reserve called an Accelerated Loss Reserve ("ALR"). I believe a 30% discount rate represents an appropriate required return on risky CLO equity tranches. However, note the market values the Company's holding at 51% of the value determined by this model, which means the market is implying a much larger discount rate than 30%. Such a large discount rate gives me comfort that even if the assumptions described above are not met, my investment will not be impaired.
Note that while management chooses the assumptions to place in the valuation models, they must use standardized models produced by Wall Street Analytics to value each CLO investment owned, so management cannot manipulate the model beyond the assumptions they place in the model. KPMG audits the valuation and State Street, the fund's administrator, reviews the valuations too.
Cash Flow Based Valuation
Despite the fact that 42% of TFG's CLO investments trapped cash at the worst points of 2009, the Company's investments still generated $109MM of cash net investment income in 2009. This level of cash flow implies that TFG trades at 3.3x 2009 cash flow.
Summary of Cash Flow-Based Valuation Analysis

Source: Matt Darrah's investment newsletter, March 25, 2010.
Bear in mind that the Company has experienced a number of the CLOs that were trapping cash earlier in 2009 start to distribute cash to equity holders again. I believe that this trend will continue as the CLOs repay senior debt tranches to bring themselves back in compliance, and thus the normalized cash flow of this business is likely much higher than 2009 levels.
Positive Trend among Cash-Trapping CLOs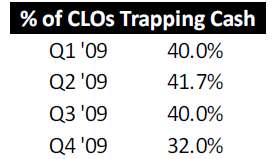 Source: Matt Darrah's investment newsletter, March 25, 2010.
Further, TFG will redeploy repaid loans at much higher interest rates given the current favorable market environment for investing in loans. Note that CLOs get to keep their historically low interest rates on debt tranches that were negotiated in 2007, which is very attractive to the equity holders.
Key Risks
A couple key risks could undermine my investment thesis. I believe they are primarily mitigated by the low valuation outlined above, but I will list other mitigating factors too.
Mark to Model Valuation
TFG uses a model based valuation technique that I cannot independently verify. However, I gain comfort that I am buying these assets at 51% of purported fair market value and 3.3x cash flow (note that the level of cash flow gives me some comfort that the assets are fairly valued).
Management Incentives Not Aligned with Long-Term Shareholders
A third-party asset management company, Polygon Credit, makes investing decisions for TFG, and receives a 1.5% base management fee on assets under management, and 25% of the fair value increase above a nominal hurdle rate each quarter. Unfortunately, the management agreement does not contain a "high water mark" clause. The lack of this clause means that despite the fact that TFG's assets have been tremendously written down, the Polygon Credit will still able to collect a performance fee when fair market value goes up in a single quarter. To give you an example of how this could be used to harm shareholders, Polygon could write down the assets to $1 by using very draconian assumptions about default, recovery, prepayment, and reinvestment rates, and then collect 25% of any valued it received above $1. Moreover, Polygon could simply continue this revaluation every other quarter to continual pick the shareholders' pocket.
While I believe that the fee arrangement is outrageous, I don't believe management is performing such tricks, nor do I believe that they will due to the oversight from their auditors and the lack of a historical tendency to do so. When few buyers existed for CLO equity in Q1 2009, TFG could have easily written the portfolio down to $150MM - $300MM based on the few comparable transactions completed in the market. Instead, the Company recorded the assets at $615MM, which seems much more realistic based on trailing cash flows received by the portfolio.
Further, this conflict does reduce the likelihood that management is inflating its mark to model valuations.
Potential Catalysts
Share buybacks and Dividends
TFG has been buying back shares below asset value at a rate of ~500k shares per month. Since TFG buys the shares below asset value, the purchases enhance the stock's value. The Company recently declared a $0.03 per share dividend for Q1 2010, which implies an annualized dividend
yield of ~3%.
Recent Acquisitions
TFG recently purchased CLO equity assets with a $39MM cost basis and a strong manager of $2.5Bn of CLO assets for only $3MM. Acquiring assets at these attractive prices appears very accretive, but perhaps more importantly, the acquisition adds a CLO manager to TFG's cash flow stream. Asset managers are much more stable generators of cash flow, as they collect fees on assets under management instead of being exposed to the volatility of asset values. Given that the Company owns the majority of the equity in many of its CLO investments, I wouldn't be surprised if TFG begins replacing underperforming CLO managers with its newly acquired one (who according to management is one of its top CLO managers in terms of performance through the credit crisis), which could provide a new, robust stream of steady cash flows.
The author of this article is Matt Darrah, Chief Investment Officer of MD Capital Management and contributor to The Manual of Ideas. Matt describes his background as follows: "I have been investing since 1998 (age 16) when I saved nearly all my money from working on my winter break from high school, and invested it according to the value investing principles I had read about in Warren Buffett's shareholder letters and books about value investing. After high school, I attended Southern Methodist University (SMU) in Dallas, Texas, where I graduated summa cum laude with a degree in finance. Post graduation, I worked in investment banking for two years (helping companies raise financing, buy other businesses or sell their businesses) before joining a private equity and debt investment firm, where I have worked for three years. My investing philosophy has been developed through my (i) insatiable reading of books written by and about prominent value investors and their investment philosophy, (ii) 11 years of public market investment experience and (iii) three years of private equity experience, where I have invested and/or manage over $625MM of investments in 6 companies."
The author has a long position in Tetragon Financial. This article is not a solicitation to buy or sell securities. This article may have been lightly edited for publication on The Ideas Report For Serious Investors. For full terms of use of this website, visit here.
Disclosure: Long TGONF.PK