The official launch of the Apple (NASDAQ:AAPL) iPhone products with China Mobile (NYSE:CHL) provided some interesting and surprising stats. China Mobile has long been coveted as a supplier for Apple considering it has the largest mobile user base in the world at around 750 million customers. Considering the lack of market share in China, it was shocking to hear Apple CEO Tim Cook discussing a 57% share of mobile browsing traffic in that country.
It is almost mind boggling that Apple could generate a market leadership in actual Internet usage considering the lack of direct phone sales in China due to not having China Mobile as a customer. Business Insider provided a recent chart showing that the global mobile web browser market share was roughly that same 57%, even though Android has an 80% market share of smartphones sold.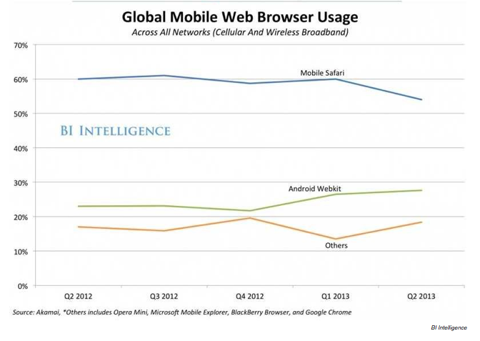 China Focus
While China is the third largest market for Apple revenue, the growth rate stalled out during 2013. The lack of a low-end phone from Apple and limited Internet speed led Chinese consumers to buy other smartphones. Interestingly, Cook called out those companies for focusing on making the most phones and not the best phones.
The below table from the Q413 earnings report shows that Americas revenue far outpaces the Greater China operating segment.

4G Network
While Apple was supposedly losing out to Samsung and local Chinese providers like Xiaomi Inc., the company amazingly maintained a market share leadership in actual web usage. With China Mobile building out a 4G network, the iPhone could become a huge seller, as users move beyond the low-end smartphones that probably worked decently on 3G or even 2G networks.
Beginning January 17, 2014, China Mobile began selling the iPhone 5s and 5c. The pre-order numbers were estimated at just over 1 million. While not overly impressive, the key will be a rollout of 4G services throughout 2014. By the end of the year, the China wireless giant expects to complete the rollout of more than 500,000 4G base stations, which will cover more than 340 cities with 4G service.
Conclusion
With 57% of the Chinese Internet browsing traffic, Apple is set up to benefit enormously from the new deal with China Mobile. The new 4G network should place a premium on the high-end phones that Apple provides especially considering the actual web surfers appear to prefer iPhones. All of the fears about losing customers to Android products continue to be the low-end users that are purchasing phones purely on costs alone.
The real possibility now exists that China revenue could eventually match that of the Americas in the future. In order to achieve that level, China revenue would need to increase $8-10 billion on a quarterly basis providing for a 20% increase in total revenue. With the stock trading at an extremely low earnings multiple, huge growth in China would provide a strong catalyst for higher stock prices.
Disclosure: I am long AAPL. I wrote this article myself, and it expresses my own opinions. I am not receiving compensation for it (other than from Seeking Alpha). I have no business relationship with any company whose stock is mentioned in this article.
Additional disclosure: The information contained herein is for informational purposes only. Nothing in this article should be taken as a solicitation to purchase or sell securities. Before buying or selling any stock, you should do your own research and reach your own conclusion or consult a financial advisor. Investing includes risks, including loss of principal.