Mid-cap stocks have done quite well during the last five years. One year return of the S&P MidCap 400 index is at 25.84%, this compared to 13.12% the average annual return for the last three years and an average annual return of 21.14% for the last five years.
A Ranking system sorts stocks from best to worst based on a set of weighted factors. Portfolio123 has a powerful ranking system which allows the user to create complex formulas according to many different criteria. They also have highly useful several groups of pre-built ranking systems, I used one of them the "Balanced4" in this article.
The "Balanced4" ranking system is quite complex, and it is taking into account many factors like; EPS consistency, technical analysis, valuation, profitability ratios and dividend information, as shown in the Portfolio123's chart below.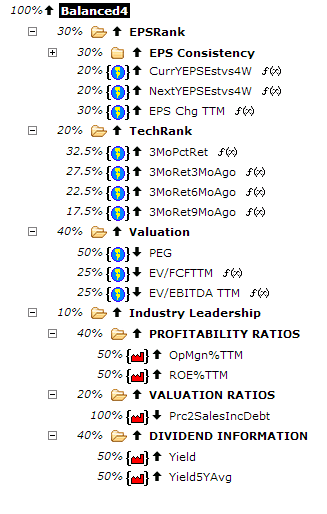 In order to find out how such a ranking formula would have performed during the last 15 years, I ran a back-test, which is available by the Portfolio123's screener. For the back-test, I took all the 7,014 stocks in the Portfolio123's database.
The back-test results are shown in the chart below. For the back-test, I divided the 7,014 companies into fifty groups according to their ranking. The chart clearly shows that the average annual return has a very significant positive correlation to the "Balanced4" rank. The highest ranked group with the ranking score of 98-100, which is shown by the dark blue column in the chart, has given by far the best return, an average annual return of about 23%, while the average annual return of the S&P 500 index during the same period was about 2.5% (the red column at the left part of the chart). Also, the second and the third group (scored: 96-98 and 94-96) have given superior returns. This brings me to the conclusion that the ranking system is very useful.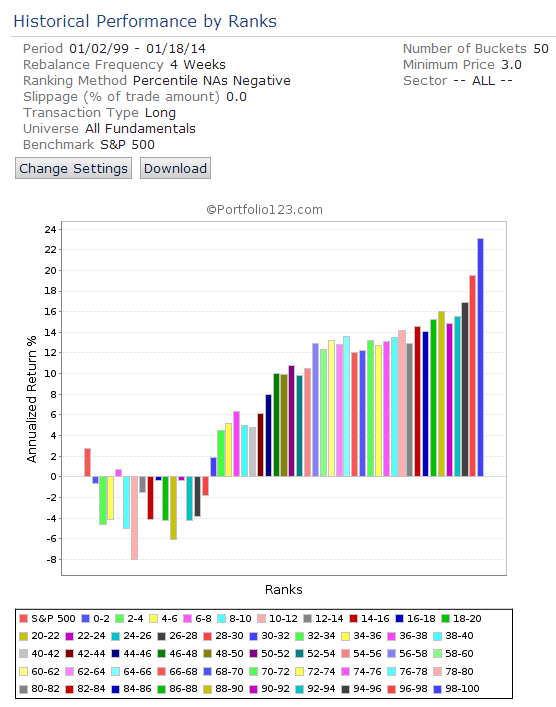 After running the "Balanced4" ranking system on the companies which are included in the S&P MidCap 400 index and pay a dividend with a higher than 1% yield, on January 21, before the market open, I discovered the ten best dividend stocks, which are shown in the charts below.
Since the first stock in the list, Alaska Air Group's (NYSE:ALK) stock has a current yield of only 1.02%, and most dividend investors are looking for higher yield, I describe in this article, the second stock of the list Packaging Corporation of America (NYSE:PKG).
| | | | | | |
| --- | --- | --- | --- | --- | --- |
| Rank | Ticker | Name | Last Price | Market Cap $million | Industry |
| 1 |   | Alaska Air Group Inc. | 78.51 | 5,468.30 | Airlines |
| 2 |   | Packaging Corp Of America | 64.93 | 6,367.94 | Containers & Packaging |
| 3 | (NYSE:PL) | Protective Life Corp | 52.54 | 4,127.70 | Insurance |
| 4 | (NYSE:SNV) | Synovus Financial Corp. | 3.68 | 3,577.81 | Commercial Banks |
| 5 | (NASDAQ:FMER) | FirstMerit Corp | 22.56 | 3,723.42 | Commercial Banks |
| 6 | (NYSE:SFG) | Stancorp Financial Group Inc. | 67.90 | 2,987.26 | Insurance |
| 7 | (NYSE:RJF) | Raymond James Financial Inc. | 54.05 | 7,543.06 | Capital Markets |
| 8 | (NASDAQ:HBHC) | Hancock Holding Co | 36.51 | 2,997.73 | Commercial Banks |
| 9 | (NASDAQ:GMCR) | Green Mountain Coffee Roasters Inc | 78.96 | 11,865.00 | Food Products |
| 10 | (NYSE:SMG) | Scotts Miracle-Gro Company | 62.17 | 3,854.54 | Chemicals |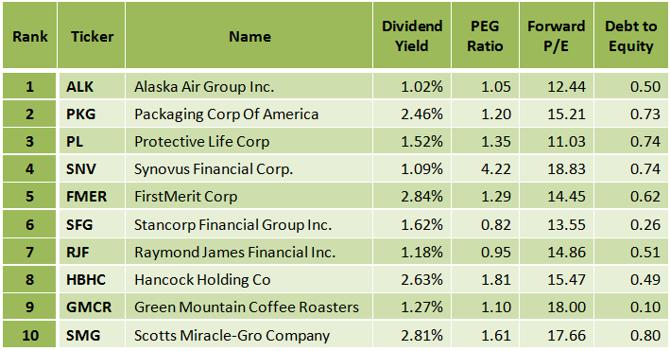 Packaging Corporation of America
Packaging Corporation's stock has risen 68.8% since the beginning of 2013; this compared to 28.9% rise of the S&P 500 index, and 39.0% rise of the Nasdaq Composite Index at the same period.
The Company
Packaging Corporation of America engages in the manufacture and sale of containerboard and corrugated packaging products for industrial and consumer markets in the United States. The company's corrugated packaging products include conventional shipping containers used to protect and transport manufactured goods, multi-color boxes, and merchandising displays that help to promote packaged product in retail locations. The company is the fourth largest producer of containerboard in the United States in terms of production capacity. Packaging Corporation of America was founded in 1867 and is headquartered in Lake Forest, Illinois.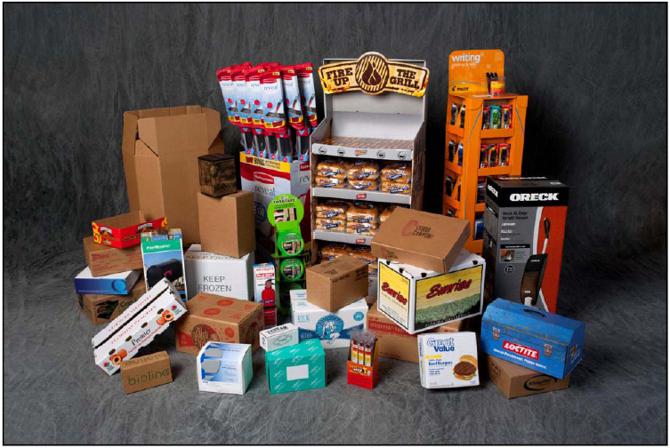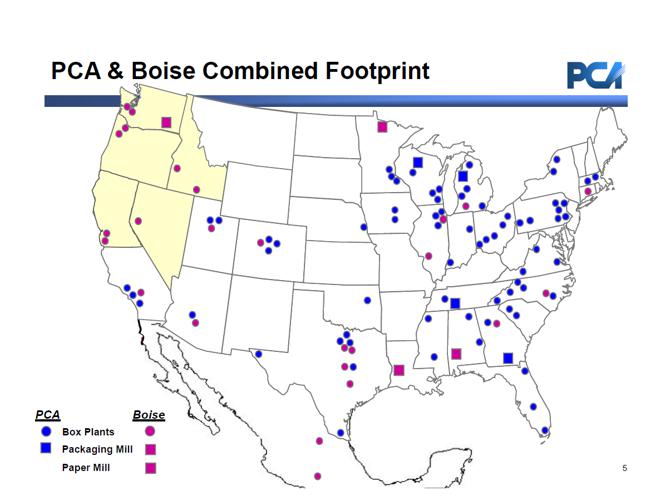 The Industry
Corrugated products plants tend to be located in close proximity to customers to minimize freight costs. The U.S. corrugated products industry consists of approximately 570 companies and 1,240 plants. Containerboard, which includes both linerboard and corrugating medium, is the principal raw material used to manufacture corrugated products. Linerboard is used as the inner and outer facings, or liners, of corrugated products. Corrugating medium is fluted and laminated to linerboard to produce corrugated sheets. The sheets are subsequently printed, cut, folded and glued to produce corrugated products. Containerboard may be manufactured from both softwood and hardwood fibers, as well as from recycled fibers from used corrugated and waste from converting operations in corrugated products plants. Kraft linerboard is made predominantly from softwoods like pine. Semi-chemical corrugating medium is made from hardwoods such as oak. The finished paper product is wound into large rolls, which are slit to size as required, and shipped to converters.
Valuation Metrics
The table below presents the valuation metrics of PKG, the data were taken from Yahoo Finance and finviz.com.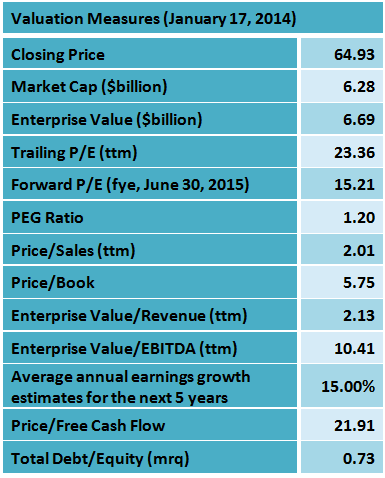 Although PKG's stock price has soared since the beginning of 2012, its valuation metrics are still not too high. The Enterprise Value/EBITDA is quite low at 10.41, and the average annual earnings growth estimates for the next 5 years is high at 15%.
Dividend
Packaging Corporation of America has been paying uninterrupted dividends since March 2007. The forward annual dividend yield is at 2.46%, and the payout ratio is only 49%. The annual rate of dividend growth over the past three years was very high at 35.87% and over the past five years was at 4.72%.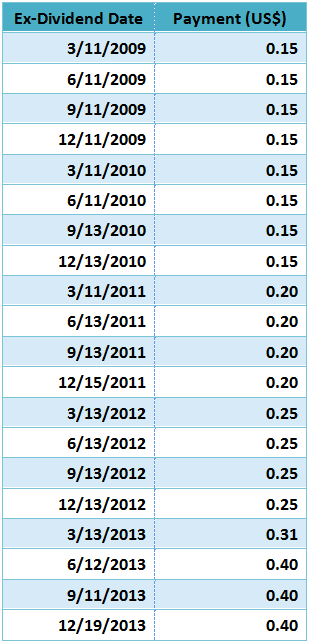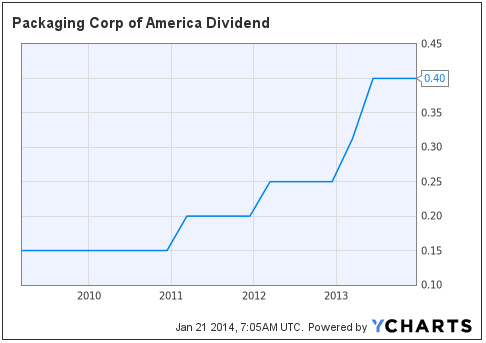 Competitors and Group Comparison
According to industry sources, corrugated products are produced by about 570 U.S. companies operating approximately 1,240 plants. Most corrugated products are manufactured to the customer's specifications. Corrugated producers generally sell within a 150-mile radius of their plants and compete with other corrugated producers in their local market.
According to PKG, its main competitors are International Paper Company (NYSE:IP), Georgia-Pacific (owned by Koch Industries, Inc.) and Rock-Tenn Company (RKT).
A comparison of key fundamental data between PKG and its main competitors is shown in the table below.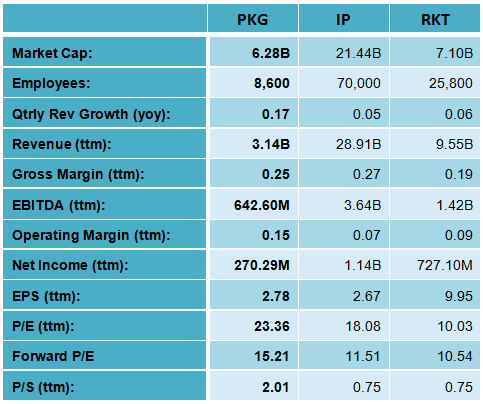 Source: Yahoo Finance
In regard to valuation metrics, Packaging Corporation of America's stock is more expensive than those of its competitors.
The tables below compare various PKG's parameters to its industry median, its sector median and the S&P 500 median. In some parameters of growth rates, margins, efficiency and return on capital PKG looks good, but its stock valuation parameters are inferior to the industry, sector and S&P 500, due to the strong rise in its stock price.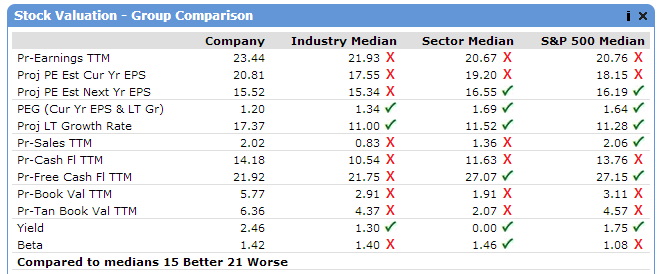 Source: Portfolio123
Latest Quarter Results
On October 14, Packaging Corporation reported its third-quarter financial results, which beat EPS expectations by $0.02 and beat on revenues. The company reported net income of $84 million, or $0.86 per share, which included an after tax charge of $3 million, or $0.03 per share, for costs related to the announced Boise Inc. acquisition agreement and a non-cash charge of $2 million after tax, or $0.02 per share, for changes to PCA's mill employee pension plan. Excluding special items, net income was a record $89 million, or $0.91 per share, compared to third quarter 2012 net income of $53 million, or $0.55 per share, which excludes debt refinancing charges. Net sales were a record $845 million, up 17% from third quarter 2012 of $723 million.
Next Quarter Results
Packaging Corporation will report its fourth-quarter year 2013 financial results on February 11. PKG is expected to post a profit of $0.89 a share, a 46% rise from the company's actual earnings for the same quarter a year ago.
Major Development
On September 16, 2013, Packaging Corporation of America and Boise (NYSE:BZ) announced that they have entered into a definitive agreement under which PCA will acquire all of the outstanding common shares of Boise for $12.55 per share in cash, for an aggregate transaction value of $1.995 billion, inclusive of $714 million of outstanding indebtedness of Boise.
On October 25, 2013, Packaging Corporation announced the completion of its acquisition of Boise. After the previously announced completion of the tender offer for all of the outstanding shares of Boise, PCA completed the second step merger under Delaware law, making Boise a wholly-owned subsidiary of PCA.
Technical Analysis
The charts below give some technical analysis information.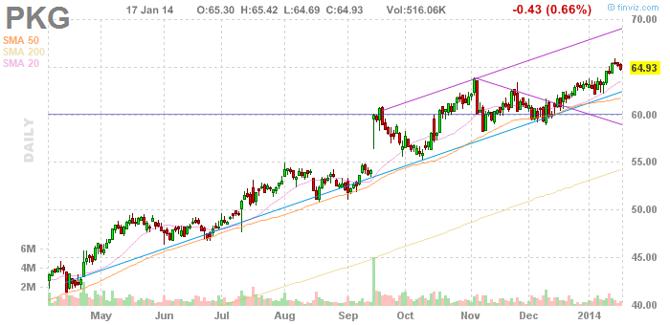 Chart: finviz.com
The PKG stock price is 2.38% above its 20-day simple moving average, 5.17% above its 50-day simple moving average and 19.73% above its 200-day simple moving average. That indicates a strong short-term, mid-term and long-term uptrend.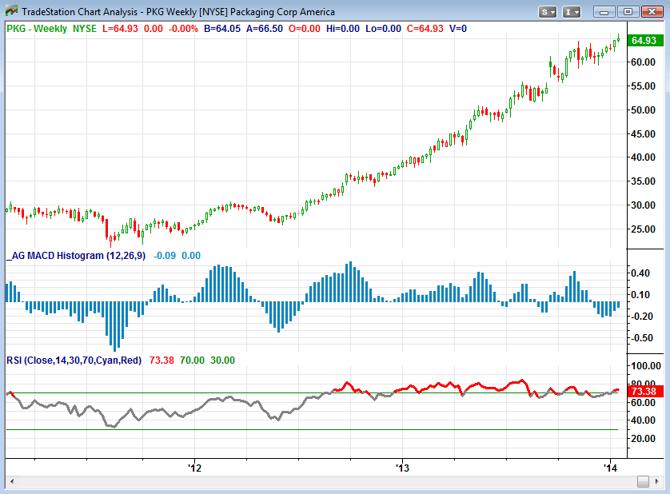 Chart: TradeStation Group, Inc.
The weekly MACD histogram, a particularly valuable indicator by technicians, is at -0.09 and ascending, which is quite bullish (a rising MACD histogram and crossing the zero line from below is considered an extremely bullish signal). The RSI oscillator is at 73.38, which is considered overbought condition.
Discussion
I consider the acquisition of Boise for $12.55 per share in cash, which was completed on October 25, 2013, very positive to Packaging Corporation of America. The two companies offer complementary products, and there are also significant cost savings through operating expense synergies. PKG expects to achieve $105 million of cost synergies over three years, and projects that the combination will be immediately accretive to earnings.
PKG's sales have been gaining momentum, fueled by strong end-market demand and customers' acceptance of industry-wide price hikes, and its earnings growth prospects are strong.
The company has been paying uninterrupted dividends since March 2007. The forward annual dividend yield is at 2.46%, and the payout ratio is only 49%. The annual rate of dividend growth over the past three years was very high at 35.87% and over the past five years was at 4.72%. I consider that besides dividend yield, the consistency and the rate of raising dividend payments are the most crucial factors for dividend-seeking investors, and PKG's performance has been impressive in this respect.
Conclusion
Since PKG's stock has run up strongly over the last two years, it trades at a meaningful premium to the peer group average. In my opinion, an investor should wait for some weakness before entering to a long-term investment in this stock.
Risk
According to Packaging Corporation of America, imbalances of supply and demand for containerboard could affect the price at which they can sell containerboard and corrugated products, and as a result, could result in lower selling prices and earnings. Furthermore, the intensity of competition in the containerboard and corrugated packaging industry could result in downward pressure on pricing and volume, which could lower earnings and cash generated from operations.
PKG is subject to, and must comply with, a variety of federal, state and local environmental laws, particularly those relating to air and water quality, waste disposal and the cleanup of contaminated soil and groundwater. As a result, the company may incur significant environmental liabilities with respect to both past and future operations.
Disclosure: I have no positions in any stocks mentioned, and no plans to initiate any positions within the next 72 hours. I wrote this article myself, and it expresses my own opinions. I am not receiving compensation for it (other than from Seeking Alpha). I have no business relationship with any company whose stock is mentioned in this article.