As far as the major classes of commodities go, grains tend to be the forgotten stepchild. We hear about crude oil and precious metals such as gold nearly every day, but for some reason, grains, those most basic of economic inputs, are all too often neglected in financial news.
But when it comes to using commodities to diversify your portfolio, you can't beat grains.
The Case For Grains
The whole point of diversification is to provide exposure to varied and diverse markets so as to reduce your overall risk. Therefore, you should naturally demand that whatever commodities you invest in for the purpose of diversification have very little to no correlation with an otherwise broadly diversified stock portfolio.
It's here where grains excel. Below we've compared the continuous front-month prices of the five major grains traded on the Chicago Board of Trade—corn, oats, rice, soybeans and wheat—with the SPDR S&P 500 ETF (NYSEARCA:SPY), which tracks the S&P 500, the world's favorite benchmark for diversified stocks. The following charts show the correlations between the two from January 2004 to March 2010. (A quick review: "R_Squared" indicates the degree to which the change in one factor—in this case, a grain commodity's price—can be explained by the change in the other; here, the value of SPY.)
Corn
Correlation type: Positive
R_Squared: .01609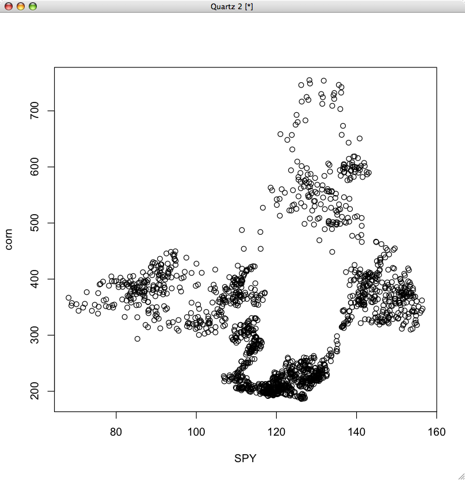 Oats
Correlation type: Posiitive
R_Squared: .1683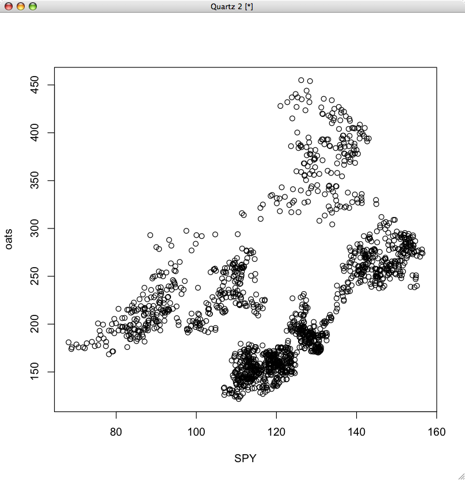 Rice
Correlation type: Positive
R-Squared: .00213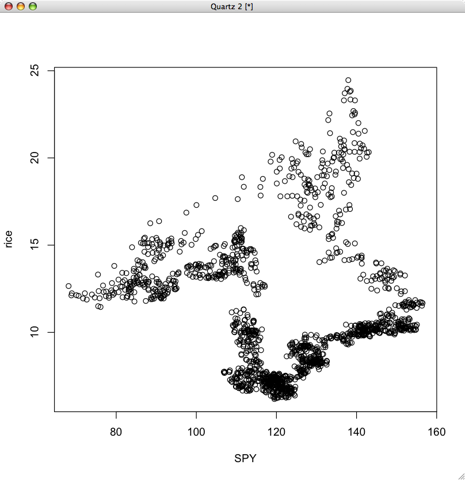 Soybeans
Correlation type: Negative
R_Squared: .003888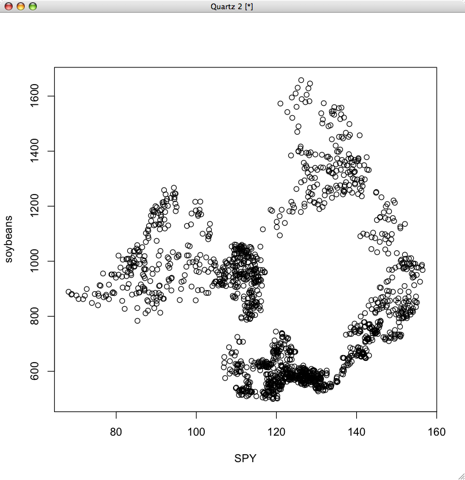 Wheat
Correlation type: Positive
R_Squared: .08604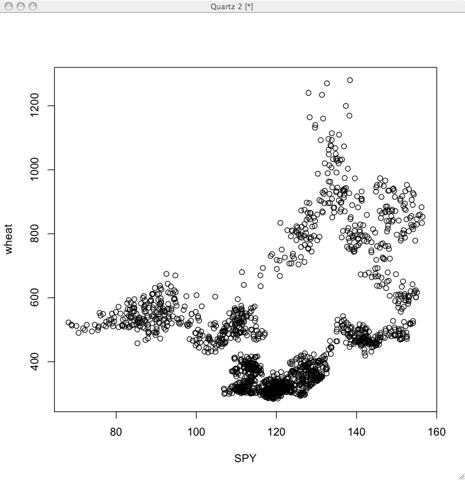 As you can see, the price of pretty much every grain classification has functionally ZERO correlation to the price of the broader domestic stock market. For those seeking true portfolio diversification, this is a fantastic result, as it means that grains prices have little effect upon, nor are they affected by, the overall stock market.
Depending upon one's risk tolerance, obtaining exposure to grains might mean owning several specific futures contracts, or taking a position in a broad-based commodities ETF. The benefit of the former is direct exposure to the market without some of the pitfalls of broad-based ETFs, including equity risk for stock-based funds and reduced returns in rollover periods during contango for futures-based funds. But since futures are not feasible to hold for many individual investors, a diversified ETF may be the way to go for most investors.
One such popular fund is the PowerShares DB Agricultural Fund (NYSEARCA:DBA), which holds a basket of 11 futures contracts dominated by grains. Although live cattle is the index's largest individual holding, together corn, soybeans, wheat and Kansas City Wheat make up 35.84 percent of the portfolio. The rest of the index is divided among other top-performing ag futures, including sugar (11.33 percent), coffee (11.14 percent) and cocoa (10.45 percent).
But investors would do well to be careful. Other ag-focused funds, such as the Dow Jones-UBS Agricultural Subindex Total Return ETN (NYSEARCA:JJA), have serious volume issues, which could hamper liquidity. Be sure to do your research before investing in any of these funds.
One additional note: Keep in mind that a lack of correlation to the broader market does not, by any means, imply a negative correlation; that is to say, if the stock market goes down, any and all of these grains may do the same, or move up, or sideways. In that sense, exposure to grains is not a hedge against the stock market as much as a way to simply broaden the total exposure for your invested capital.