The share price of Michael Kors (NYSE:KORS) has experienced a significant run-up of 45% over the past 12 months. At the current $79 level, I believe the stock remains a compelling buy due to the following reasons:
Strong growth potential in Europe - In the most recent quarter, KORS generated 101% sales growth in Europe, which significantly exceeded the overall sales growth of 39%. Given that 1) KORS' current business footprint in Europe (approximately 10% of total revenue) is considerably less than North America (89%) and 2) sales of luxury goods in Europe represents about 38% of the global sales, management expects the region will become a $1B market for the company over the next 5 years. Based on management's estimated $350M sales in Europe for 2014, the sales target implies a growth potential of 286% in about 5 years.
Solid prospects in the US market - Goldman Sachs in a recent research note estimated that the US handbag market will likely double over the next 3 years given that the market currently remains in its developing stage. KORS is well-positioned to capitalize on the trend owing to its solid store presence and brand reputation in the market.
Solid execution - KORS's reported revenue and EPS have consistently beaten consensus revenue and EPS estimates over the past 8 consecutive quarters, demonstrating management's strong ability in executing growth plans and honor their financial guidance (see charts below).


Positive market sentiment - The consensus revenue, EBITDA, and EPS estimates for 2014 and 2015 have steadily trended up over the past 12 months, indicating market's growing confidence in the company's growth prospects (see charts below). Of the 21 analyst ratings complied by Thomson One, there are 15 buy ratings and above.



Compelling valuation - At $79, the stock is trading at 13.7x forward EV/EBITDA multiple and 24.7x forward P/E multiple, which may look lofty on an absolute basis. However, I am of the view that KORS' current valuation is indeed attractive given the following:
By comparing the company with three different comp sets (i.e. core comparable, global apparel and accessories, and high-growth peers), we are able to see that KORS' growth potential and profitability are tremendously above its peer averages. Despite the fact that the stock's EV/EBITDA and P/E multiples are trading above par, after factoring in the company's superior long-term EPS growth potential, the stock has the lowest PEG ratio at 0.88x, suggesting the current valuations are not expensive at all if the growth prospects were considered (see charts below).
Core Comparable

Global Apparel and Accessories

High-Growth Peers

From a historical standpoint, the stock's current EV/EBITDA and P/E multiples are trading near the low end of their 3-year historical ranges, which can be explained by the growth slowdown over the period (see charts below). However, given that 1) the company has managed to improve profitability over the period as reflected by rising return on capital and EBITDA margin; 2) the EBITDA margin is expected to trend steadily at the current level which is markedly higher than the historical levels in 2011 and 2012; and 3) the valuation multiples have dropped to the extent that the stock's PEG ratio is the lowest among the comps, I believe a further valuation downside is limited going forward assuming everything else being equal.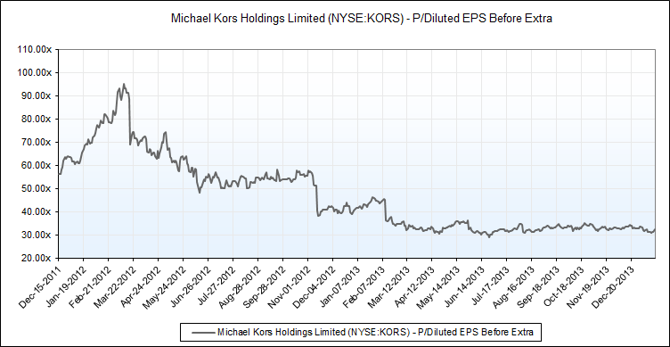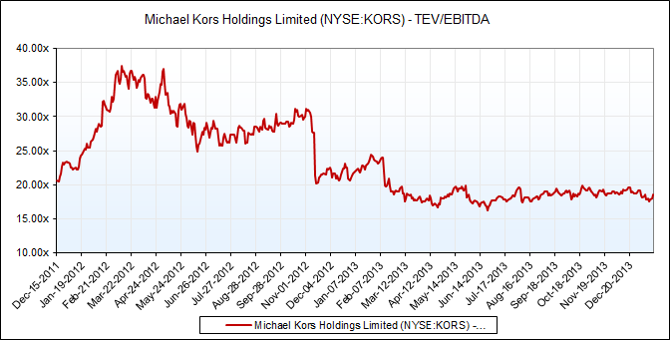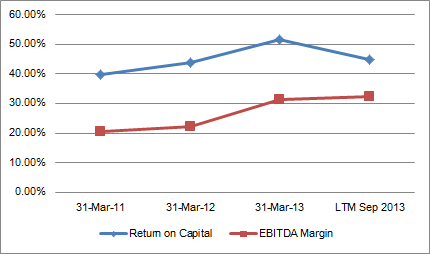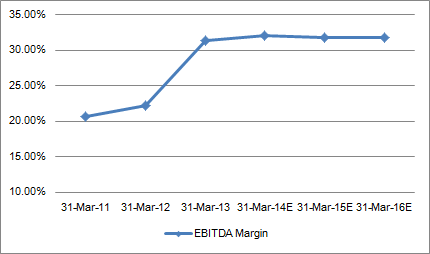 As such, I expect KORS' further upside will be driven by near-term catalysts such as continued above-expectation financial performance attributable to the US and European growth. Over a longer term, I believe the company's current initiatives including development of in-house ecommerce platform and Asia expansion will pay off and may bring an incremental upside potential. In addition, the investment's margin of safety has improved substantially as valuation drops to a somewhat "normalized" level. Hence, KORS should deserve a buy rating.
All charts are created by the author except for the consensus estimate tables, which are sourced from S&P Capital IQ, and all financial data used in the article and the charts is sourced from S&P Capital IQ unless otherwise specified.
Disclosure: I am long KORS, . I wrote this article myself, and it expresses my own opinions. I am not receiving compensation for it (other than from Seeking Alpha). I have no business relationship with any company whose stock is mentioned in this article.