ServiceNow's (NYSE:NOW) bread and butter service is IT Service Management (ITSM). Its ITSM product is so much better than the competition that NOW is acquiring new customers rapidly all over the world, many in the Global 2000 (Enterprises with over 5000 employees). However, ITSM is a relatively small industry. NOW's monster market cap of around $10 billion developed from the expectation that its platform will become a one-stop shop for all IT and non-IT service automation.
What investors need to ask themselves is, do the majority of ServiceNow's customers want to pay for other services besides ITSM, and how much, on average, would they be willing to pay?
Many ServiceNow Clients Don't Want To Pay For Platform Apps
As ServiceNow mentioned often in its 2013 conference calls, many of its customers upgraded their ServiceNow usage to beyond traditional ITSM.
In the Q213 conference call, ServiceNow's CEO, Frank Slootman, sums up the strategy:
As I said during the prepared remarks, the expansion beyond the IT organization really comes from the observation that the IT service model can be very quickly repurposed and adapted to other areas. So it's not terribly hard for HR organizations to build a service model on the ServiceNow platform because it's so analogous to what goes in IT organizations, same for travel and legal and procurement and finance facilities. You name it. All the service relationships that exists in the enterprise are suitable for the ServiceNow platform. Often going also external as well, either customer-facing, partner-facing, facing audiences outside of the perimeter of the enterprise itself.
Orchestration and Discovery are upsells that ServiceNow has been selling for several years. However, these upsells have generated little revenue for ServiceNow, which is why the company still won't even report how much revenue it makes from them.
In October of 2013, ServiceNow made the leap to start charging its customers to make applications on its platform. This is called "Createnow", which provides tools to make it easier to make applications. Before, ServiceNow allowed the use of the platform and Createnow for free. How will ServiceNow's customers react to being charged for a service that was free before?
To get some color on how well ServiceNow is selling "Createnow", I interviewed Jeff Brooks, a Research Director in IT Operations Management at Gartner (NYSE:IT). Gartner is arguably the most respected objective research and analysis company on technology today. If stock price is any indication of a company's success, check out Gartner's stock. It rose a whopping 40% in 2013. On "Createnow" Mr. Brooks said:
I can tell you that since the new pricing came out, I have not been asked to review one net new deal with that on it. But I have seen those who are getting ready to renew are upset that ServiceNow charges for that. What that says to me is, if they saw that platform as the ability to automate and create as so important to their business, wouldn't they gladly pay for it? We don't see that happening. And, better yet, now that they divide it, at some point they are going to have to show that they now have revenue that they attribute to the platform.
The following is Gartner's latest Platform as a Service (PAAS) magic quadrant: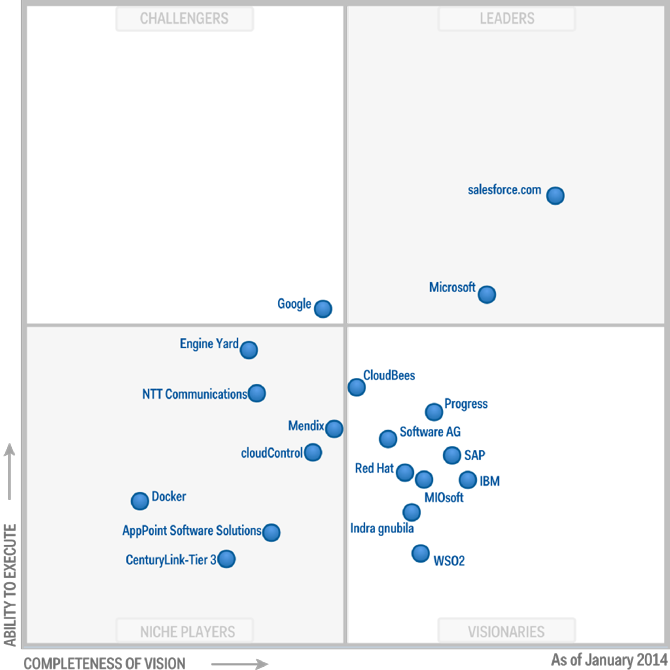 Salesforce and Microsoft's Azure are the leaders, with Google as a challenger. Notice that ServiceNow didn't even get on this quadrant. I asked Mr. Brooks, shouldn't ServiceNow at least be considered a "niche player"?
"Nope," answered Mr. Brooks, "ServiceNow doesn't belong on that quadrant. That wasn't my notes, that was my colleague Yefim's (Natis) work. Yefim is our PAAS guru. Other researchers at Gartner have found similar data that I have on ServiceNow."
Darroll Buytenuys, the President of SAManage, who is impressed by ServiceNow's ability to disrupt the ITSM market, doesn't think ServiceNow would belong on the PAAS magic quadrant. He said:
I would suggest that ServiceNow wouldn't clamor to get into this magic quadrant, they want to separate themselves. ServiceNow's approach is different than a typical PAAS.

The ServiceNow approach is: does this application have to do with the automation of service requests, and can the requests be satisfied by a powerful workflow engine? If it can be satisfied with that kind of workflow engine component, the easiest way to build it is to develop it within ServiceNow rather than have an IT department and a bunch of developers make it from the bottom up.
Mr. Buytenuys also stated that "I'm excited about ServiceNow's success and we're following its lead. But if I was an investor, I'd probably short the stock."
The Evolution Of ITSM Today
The Big 4 Legacy vendors, HP, IBM, BMC, and CA, are still rapidly losing their ITSM business. Their clunky on-premise solutions that are 20 years-old technology are hard to use. ServiceNow has had so much success because its ITSM product is very easy to use and has great solutions. There are other innovative ITSM cloud companies like Frontrange, Cherwell, and SAManage, but they don't target Global 2000 companies like ServiceNow does. ServiceNow rapidly gained many customers in the Global 2000 in 2013, and will no doubt acquire many more deals in 2014.
I interviewed various people involved with IT Operations to get a sense of what is going on in the industry.
Said an IT Manager at a bank in the Global 2000:
We are with Remedy and there are challenges with the product. The maintenance is tough, you need skilled people to maintain it. We're on-premise. BMC does have a cloud product but it's inferior to the on-premise as it sacrifices functionality.

In May or June of 2013 we checked out ServiceNow and we liked what we saw. It's a good product, and easier to manage than these legacy apps, but our concerns were the pricing, it's aggressive. We host the whole BMC infrastructure internally, our internal costs are pretty high, so we did the full financial analysis and, depending on your assumptions, the business case isn't cut and dry one way or the other. We'd negotiate for a discount. ServiceNow costs $100 per month per user.

At that point our management said they'd think about it. They made a $1 million investment in BMC a few years ago so they didn't want to turn their backs on that. But now they're talking to ServiceNow salesreps again.
Said Jon Temple, the CEO of Frontrange:
We see a large migration from BMC to Frontrange. And they are still today the market share leader in ITSM but their customers are leaving BMC in droves, and there are a number that are benefiting from that, like Servicenow and Frontrange, so we're all picking from the dying carcass of BMC.
Mr. Brooks stated:
ServiceNow is taking market share from BMC and CA, yes they are taking market share - from one small piece of the IT Operations Management space. But many aren't abandoning their investments with HP, IBM, BMC, and CA - they are augmenting them with ServiceNow.
ServiceNow's Total ITSM Market
Jeff Brooks says that the ITSM industry is $1.5 billion. But he did give leeway to that number due to unknown growth in IT in emerging countries like China, so we'll say that the ITSM industry is about $2 billion.
Many experts say that half of the ITSM market is on-premise hosting, and it will stay that way for many years.
Mr. Temple asserts:
There is no-one in the market aside from ServiceNow who says that on-premise is going away from service management. I agree with a lot of what ServiceNow says, but that isn't one of them. There are a lot of circumstances around service management that makes on-premise here to stay. All the industry pundits will tell you that in a steady state of maturation, service management is only going to be 50% in the cloud, and 50% will be on-premise. We've seen clients that went from Frontrange, and left to ServiceNow, and now are back to Frontrange again. It depends on the data you want to protect, there are many who want to take a break from the cloud.
Since ServiceNow isn't on-premise, that cuts out half the ITSM market to put ServiceNow's total market at about $1 billion. Since ServiceNow's customers range from the mid-market to Fortune 500 companies, that means its maximum market is about 80% of that, or $800 million.
ServiceNow is estimated to finish 2013 with about $410 million in revenues. The vast majority of that is from ITSM, so ServiceNow can probably squeeze another $200M out of that market, but that's probably about it. Since it's a single-tenant platform, each one of ServiceNow's customers has its own instance in its data-centers. A single tenant platform structure requires a lot more maintenance and personal attention from the vendor, which is why ServiceNow has small margins. Its Q413 gross margins are about 65% and operating margins are about break even.
Some ServiceNow Customers Are Shopping Around
Three different people whose business it is to find out what's going on in the IT industry: Jon Temple of Frontrange, Jeff Brooks of Gartner, and Matt Selheimer of ITinvolve, all told me that they have come across several ServiceNow customers that are up for renewal and decided to sign up only for ServiceNow's one-year subscription, rather than its three-year subscription. Since all three came upon this information, it's very likely to be true.
Mr. Temple said:
With service management, IT budgets are running 2-3% of revenue. Already, for most companies, 98% of their annual IT budget is gone. Most don't have the discretionary operating expenses to afford a cloud application like Servicenow.

There are a lot of ServiceNow clients that if they are renewing, if they came off a 2 or 3 year contract, they are only going for a 1 year contract while they look at other options in the market.
Here is a case study of a company that went from Frontrange, tried ServiceNow, and then returned to Frontrange again. The study says the Australian company, Sedgman, switched back to Frontrange because:
As it drilled down, Sedgman began looking for a cost-effective alternative to its ServiceNow cloud-based service desk. ServiceNow had more functionality than Sedgman could really use, and the monthly fees were adding up fast. Sedgman needed to rightsize its service desk solution.
It seems as though Sedgman didn't need all the extra apps that ServiceNow offered. It just wanted a solid, cloud-based IT service desk for a better price than ServiceNow, and it found that with Frontrange.
Are ServiceNow's Workload Automation Tools Unique?
Mr. Brooks doesn't think so. He says:
For me, ServiceNow is an IT service desk tool, that's about the extent of it. What I've found is clients are buying ServiceNow's service for its ITSM tool. The use of an ITSM tool that the HR might use for ticketing, that's been around for 15 years, there's nothing new there. And lots of vendors are providing that. For works automation, what the tools do is automate the process, but the actual automation for completing the tasks is what many tools dont do, and that's the differentiator between the bigger IT operations management tools from vendors like BMC and CA, and from what ServiceNow has.

I'm working with some of my colleagues to do a real brief survey for top requests on what people have. So we are asking HR, and project portfolio management (PPM), facilities, case management, and asking is there anything more that they want service desk to do. But facilities, case management, HR, they have been doing that for very many years. People are using much less robust tools than ServiceNow to accomplish these things. It's good that ServiceNow is able to do this, but it's not unique.

I don't believe companies are coming to get ServiceNow because they have HR needs, I think they are telling HR, hey ServiceNow has a tool for tracking tickets and service requests, why don't you use it? And HR says, "sure, we'll use it, why not".

The problem for me, is if you buy into the messaging "there's nothing that ServiceNow can't do". Sure, but I could tell you that with Excel, there's nothing I couldn't do with Excel. But what is it at the end of the day? It's a spreadsheet, and that's what people buy it for. Can I use it to create pivot tables? Can I write macros? Can I create forms? And if you buy into that, what can't you do with it? And if I hook it into sharepoint, I can do with it a lot of things that ServiceNow can do. People have taken their Remedy installment and use it to create custom workflows and templates. What's interesting is why everyone believes ServiceNow about it, but not the other vendors. But what separates ServiceNow is it's really good at selling it. Because for me, it's no different than the other vendors in the space. But the other vendors aren't hard-selling them trying to expand the usage to other things. But ServiceNow gets props for going out and pushing that.
Conclusion
Will ServiceNow eventually grow into its valuation? I think it's possible if it can get a lot of Global 2000 companies to heavily use its platform outside of ITSM and outside of IT in general. But it is too soon to tell how well it will be able to monetize its platform. ServiceNow's management tell a very compelling story and clearly some of its customers are responding well to the platform, as Frank Slootman describes in the conference calls. But investors are not going to have much visibility until ServiceNow actually reports numbers on platform upsells. Now that ServiceNow is specifically pricing ITSM and the platform separately, it will have to reveal some hard numbers later this year, most likely in Q214. Until then, the market cap has gotten ahead of itself, because we don't know for sure if ServiceNow really will get the results it says it will or if it's just telling a story of how it wants things to be.
Disclosure: I am short NOW. I wrote this article myself, and it expresses my own opinions. I am not receiving compensation for it (other than from Seeking Alpha). I have no business relationship with any company whose stock is mentioned in this article.