Gilead Sciences (NASDAQ:GILD) is on a roll. In December, the FDA approved Sovaldi and last week the European Commission granted marketing authorization to the paradigm shifting hepatitis C medication.
Approximately nine million people in Europe are infected with hepatitis C virus. Add those to the estimated 3.2 million Americans suffering from chronic hepatitis C and you can see why the company has confidently forecasted that it could generate $225 million in Sovaldi sales in Q1-2014.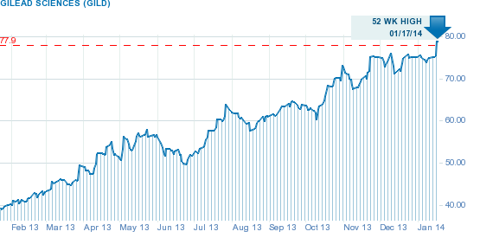 Gilead's shares started 2013 at $38 and ended the year at $75, a stellar performance that doubled the money of all those who entered Gilead at the beginning of the year and stayed patiently with the company till the end. In January, the company added another 4% of upside to its shareholders.
Gilead is a rare breed, a large-cap pharma that behaves like a small-cap growth stock, offering investors healthy growth with the safety of a well-developed product portfolio and a rich R&D pipeline. That might be one of the main reasons why fund managers love it.
Gilead shares delivered 97% return to investors last year which leads to the billion dollar question: Can Gilead deliver such an outstanding performance in 2014 or is it time to take some profit?
Current Valuation
| | | | | | |
| --- | --- | --- | --- | --- | --- |
| Ticker | P/E | P/S | P/Book | EPS | Mrkt Cap |
| GILD | 51 | 12 | 13 | 1.6 | $120 Billion |
At a current price to earning ratio of 51 and a price to sales ratio of 12 Gilead shares seems rather rich with Sovaldi's potential spectacular sales possibly already factored in.
However, the company seems to have the wind in its sails and if the current year does not deliver any negative surprises we could be looking at another stellar year in 2014.
Prospects
Sovaldi has many factors working in its favor including a high cure rate, a reduction in treatment time, plus the elimination of the need for interferon injections in many cases.
Gilead has priced Sovaldi at $1,000 per daily pill which translates to $84,000 for the 12 weeks of treatment recommended for most patients, and $168,000 for the 24 weeks needed for a hard-to-treat strain of the virus.
In the U.S., Sovaldi comes with a copay assistance program enabling eligible patients to pay only $5 per pill and in Europe most countries' social security systems take care of reimbursing the drug's cost.
Gilead is also seeking to expand its hepatitis platform with Ledipasvir, a direct-acting inhibitor of the hepatitis C virus NS5A protein, which the company is seeking FDA approval for.
Gilead has also submitted a new drug application for Idelalisib, a highly selective oral inhibitor of phosphoinositide 3-kinase delta protein which is critical for the activation, proliferation and survival of B lymphocytes.
Idealisib could be approved this year and become a first in a new class of therapies for the treatment of indolent non-hodgkin's lymphoma with potential peak annual sales of over $700 million.
Gilead has another potential megablockbuster in development with simtuzumab, a humanized monoclonal antibody designed for the treatment of fibrosis, for the treatment of liver cirrhosis due to non-alcoholic steatohepatitis.
Flying Like A Dutchman
Invoking a sailing metaphor carries certain consequences for fundamental analysts. Gilead might have the winds in its sales but its up to the pilots at the helm to win the race.
There has been an unexpected management reshuffle recently with Kevin Young, the company's commercial chief, saying sayonara and leaving his team to soldier on alone with the Sovaldi launch.
So far, Gilead has reminded us of the Flying Dutchman, the legendary ghost ship immortalized by Richard Wagner. The $100 billion question now is: Would it be able to make port?
We believe that if the Pilot rides the current share price crescendo to a safe harbor and shift focus, Gilead might just hit a home run. We usually get paid handsomely to deliver such advice but will consider this one a free bonus reward for the legendary team:
"Eli Lilly (NYSE:LLY) is currently valued at less than half Gilead's value John and its shareholders might value your visionary zeal."
Bottom Line
Gilead could continue to be a top performer this year and its shares could outperform the broader market again. However, it is unlikely to double your money again in 2014.
If you are not easily scared from heights keep on believing and you might be handsomely rewarded. If cash is super important to you, take some profit at the current high and try to re-enter in a trough during the year.
Disclosure: I have no positions in any stocks mentioned, and no plans to initiate any positions within the next 72 hours. I wrote this article myself, and it expresses my own opinions. I am not receiving compensation for it (other than from Seeking Alpha). I have no business relationship with any company whose stock is mentioned in this article.