A year-long battle over health care reform kept their ETFs in check, though not due to the proposed regulations and possible restrictions. Wall Street simply hated the uncertainty. Once the political cloud lifted, however, many began picking medical device makers, biotech and brand name pharma as market out-performers.
So here comes the next wave… financial reform. Considering the systemic breakdown of 2008, the Bernie Madoff scandal and the class warfare of Wall Street versus Main Street, it's a bit surprising that Congress waited until 2010. Nevertheless, there's plenty of "how-to-fix-the-system" ideas on the table.
Some changes are more likely to be implemented than others, however. And for investors, one needs to consider… Which financial ETFs could get slammed? Which may actually get a helping hand?
Under consideration for the time being is a new financial services agency for consumers. This agency might regulate consumer loans from mortgages to auto, and it might also take on the credit card industry. In my estimation, that'd probably be a "headwind" for the biggest of banks and the largest of credit card companies.
Granted, Dick Bove, supposedly the best bank analyst on the Street, is gaga over Citigroup (NYSE:C). The government is supposedly setting Citigroup free. And many think this is a good thing, although I wonder if the government selling all of its shares alongside an end to "too big to fail" won't give Citi shares a case of heartburn.
(Incidentally, Bove called the 2008 Bear Stearns bailout an opportunity of a lifetime for bank stocks, causing immeasurable pain for anyone who believed, like Bove, that the financial crisis was over. It was only the beginning.)
So I would be more hesitant to jump on the KBW Bank Index (NYSEARCA:KBE) at this point. Trusting the largest banks is better accomplished through PowerShares Financial Preferred Stock Index (NYSEARCA:PGF). Here you get an 8% annualized income stream distributed monthly, regardless of reform. And you don't have to worry about the volatility of common stock.
Perhaps the most daunting ETF investment in the financial space would be SPDR KBW Capital Markets (NYSEARCA:KCE). Both Repubs and Dems may see value in the support of curbing derivatives, short-selling as well as leveraged trading. This may hurt Goldman Sachs (NYSE:GS) and Morgan Stanley (NYSE:MS).
On the flip side, regional banks have enough problems, and few politicians want to make it tougher on the little guys. Not only are small banks being shut down, not only do they have the most exposure to commercial real estate woes, regional banking could receive direct/indirect assistance to make it through the ongoing real estate crisis. If any part of the financial ETF complex stands to do well in the face of increased financial regulatory reform, it'd be KBW Regional Banks (NYSEARCA:KRE).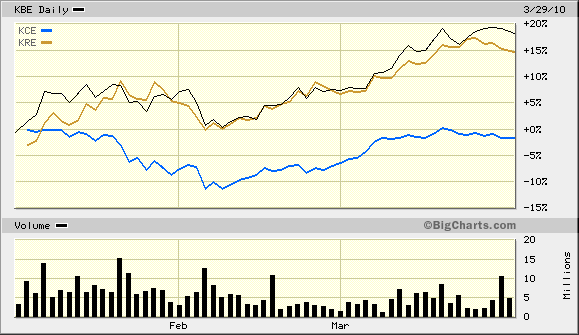 Disclosure: ETF Expert is a web log ("blog") that makes the world of ETFs easier to understand. Gary Gordon, MS, CFP is the president of Pacific Park Financial, Inc., a Registered Investment Adviser with the SEC. The company and/or its clients may hold positions in the ETFs, mutual funds and/or index funds mentioned above. The company does not receive compensation from any of the fund providers covered in this feature. Moreover, the commentary does not constitute individualized investment advice. The opinions offered herein are not personalized recommendations to buy, sell or hold securities. Investors who are interested in money management services may visit the Pacific Park Financial, Inc. web site.