Netflix (NASDAQ:NFLX), among a group of much hyped internet companies such as Amazon (NASDAQ:AMZN) and Facebook (NASDAQ:FB), continues to excite investors despite a complete absence of meaningful profitability and an almost comical valuation. The company delivered fourth quarter results on January 22, 2013 and shares are trading 18% higher in after-hours trading. They are now hovering just under $400 and set to mark a new all-time high in today's trading session.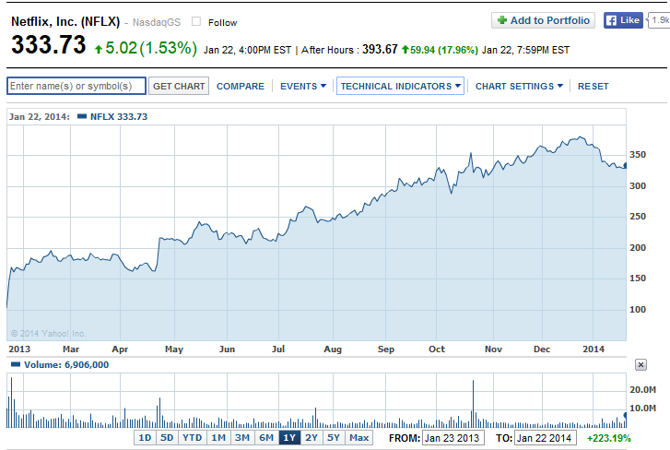 Were quarterly results really that good?
US segment
Netflix presented strong subscriber growth in the fourth quarter and nearly all excitement of the bullish investor community is based on Netflix's subscriber metrics. Netflix added 2.33 million domestic subscribers in the fourth quarter. This comes after the streaming company presented net additions of 1.29 million in Q3 2013, 0.63 million in Q2 2013 and 2.03 million in Q1 2013. Total US members in the fourth quarter 2013 stood at 33.42 million which compares to 27.15 million a year ago (growth of 23.1%). Paid members jumped to 31.71 million in the most recent quarter: An increase of 24.5% over last year's member count of 25.47 million.
International segment
Net additions in Netflix's international business also increased sequentially. Net additions rose to 1.74 million vs. 1.44 million in Q3 2013, 0.61 million in Q2 2013 and 1.02 million in Q1 2013. Y-o-y net additions declined 3.9% from 1.81 million a year ago though. Total members were reported at 10.93 million vs. 6.12 million a year ago (an increase of 78.6%) while paid member count increased 98.8% to 9.72 million.
Earnings beat
Most notably, Netflix delivered an EPS of $0.79 per share which compares against $0.13 a year ago and against analyst estimates of $0.66 per share (an earnings beat of 19.7%). In addition, revenues have grown as well: Quarterly revenues increased from $945 million in Q4 2012 to $1,175 in Q4 2013 (up 24.3%).
If focusing on subscriber and revenue growth would be sufficient for company valuation, it is easy to see why Netflix surged on yesterday's results. However, the company lacks meaningful free cash flow profitability and earnings are still relatively low compared to revenues.
Free cash flow valuation
Netflix presented Q4 2013 revenues of $1.2 billion but only a negligible free cash flow of $5.2 million (trending down for two consecutive quarters from $13 million in Q2 2013) and a net profit margin of 4.1%. Total 2013 Non-GAAP free cash flow also is negative (again) at $16.3 million.

Free cash flow projections
In my initial short article about Netflix in October I estimated that Netflix will deliver a total 2013 operating cash flow of $96.4 million (Netflix realized: $97.8 million) and a free cash flow to equity of $285.0 million (reconciled: $247.8 million, see below). While my operating cash flow estimate was quite good in hindsight, higher than expected acquisition costs for Netflix's content library as well as higher capital expenditures caused my free cash flow estimate to be off by about $38 million.
I have updated my free cash flow valuation model for the reported 2013 cash flow figures and adjusted my operating- and investing cash flow estimates for 2014 upwards.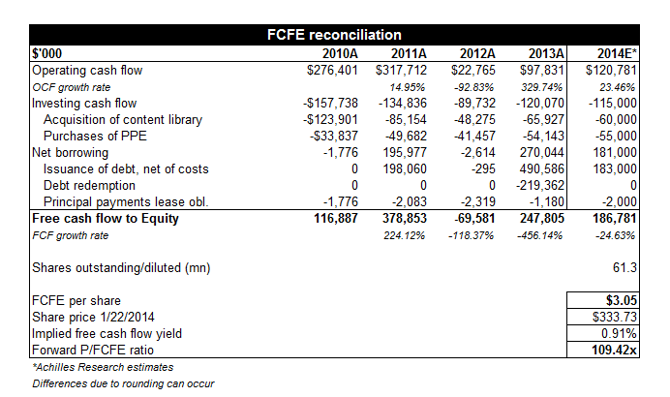 Taking into account the updated cash flow figures, I estimate that Netflix can earn $186.8 million in free cash flow to equity in 2014 or about $3.05 per share. The resulting forward P/FCFE multiple stands at 109 which is about as ludicrous as the forward P/E multiple of 84.
Applying the free cash flow to equity per share estimate of $3.05 in a discounted cash flow model (equity cost of capital 10%, generous terminal growth rate of 5.5%) yields an intrinsic value of $74.01 per share. The estimated intrinsic value is 78% lower than the current share price of Netflix.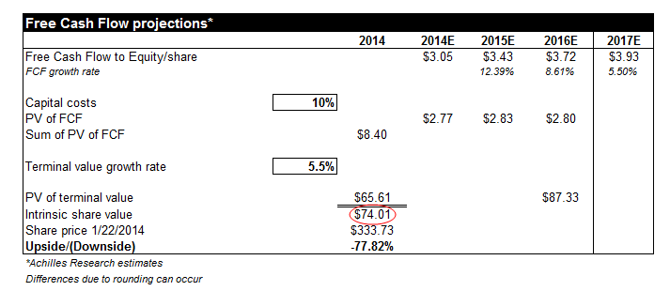 Conclusion
I firmly stand by my assertion that Netflix is in sky-high bubble territory. For now, the bubble keeps inflating as witnessed by Netflix's strong after-hours surge. However, share price growth is driven by speculators not investors. Such speculators concentrate on subscriber metrics way too much and neglect basic valuation metrics such as earnings or free cash flow. Booking $1.2 billion in revenues this quarter and achieving a free cash flow of $5 million is a really dismal performance. Add to that two sequential declines of low-level free cash flow and nose-bleed free cash flow- and earnings multiples. Netflix's current profitability and historical cash flows do not justify the outlandish multiples in the market. Investors should also realize that the valuation multiples from above are based on yesterday's closing price of $333.73 and today's surge in pre-market quotes will only add to the massive overvaluation we already see. Short Netflix on overhyped subscriber figures and unsustainable valuation.
Disclosure: I am short NFLX. I wrote this article myself, and it expresses my own opinions. I am not receiving compensation for it (other than from Seeking Alpha). I have no business relationship with any company whose stock is mentioned in this article.