My father first began working on Wall Street in 1938 as a runner, after growing up in Brooklyn during the Great Depression. One of his favorite quips was, "You know, even until the 1960s, the only worthwhile question you could have asked a broker was, 'What did you do for your people around the time of the Crash (1929)? Did you get them out?'
His active investment career spanned about 60 years, but his experiences during the Depression - especially around money - made a deep impression on him. He revered people who gave good, investable information and he despised charlatans. Later in his career, he would even put them in jail.
The Depression and its aftermath had seared the public conscience in the 1930s - especially regarding stocks, stockbrokers and trading (there were no Schwab or discount brokers back then). Putting money into the market was seen as dangerous and foolhardy. How could you trust Wall Street after what had happened? Twenty-five years had gone-by (1964), but the mistrust was still there.
The Roaring 20s with its fortune-hunting paper boys (I struck it rich in a day!) had morphed into a decade of severe deflation, credit constraints and high unemployment. The financial few that did well in the 1930s were often viewed as harpies or sharks, living off the loss of others. Mistrust of the financial world was rampant. Probably the best portrayal of this mistrust was Lionel Barrymore's Mr. Potter in "It's a Wonderful Life."
But during this time of bitter sentiment, a great investment opportunity was also taking place. However to see it, you would have had to cut through the fog like a knife.
And I think we're going through something like this today.
I am a financial writer, and I write amidst the loss and skepticism that's occurred after the 2006 real estate bust and 2008 Financial Crisis. This mindset is very pervasive, and data is filtered through it like a tea bag. If I could put it into a sentence, it would be something like this, "Something bad's gonna happen to you very, very soon."
Or its corollary, "They're all liars you know..." (and with a wave of the hand insert the government, the Federal Reserve, analyst comments, investment outlooks, data sheets and charts, etc. You might also include the SEC, the National Association of Realtors, JP Morgan, and other big banks).
The attitude precedes the presentation, and as Paul Simon says in the Boxer, "A man hears what he wants to hear, and disregards the rest."
What is being disregarded is the new investment possibility before us; one that is rising out of the ashes of the domestic real estate market.
Remarkably "cheap" companies went on sale during the Financial Crisis (Ford for a $1/share, Bank of America for $2) and there were similar bargains in the homebuilder sector at the 2011 valuation low: Hovnanian (NYSE:HOV) and Standard Pacific (SPF) for 60 cents/share; Pulte Homes (NYSE:PHM) and Brookfield (NYSE:BRP) for $3/share, KB Home (NYSE:KBH) and Lennar (NYSE:LEN) for $5/share, D.R. Horton (NYSE:DHI) for $6/share. And the list goes on.
And when these companies were available at these prices, the bearish outlook concerning them was universally praised and the stocks were shunned. That is why I began writing about this sector 18 months ago. I can see that we are in the early innings of a long recovery.
So I thought I would make a presentation in pictures of what's actually occurring in the real estate market today.
1) How do the homebuilders and suppliers feel about the direction of their industry? The best in 8 years.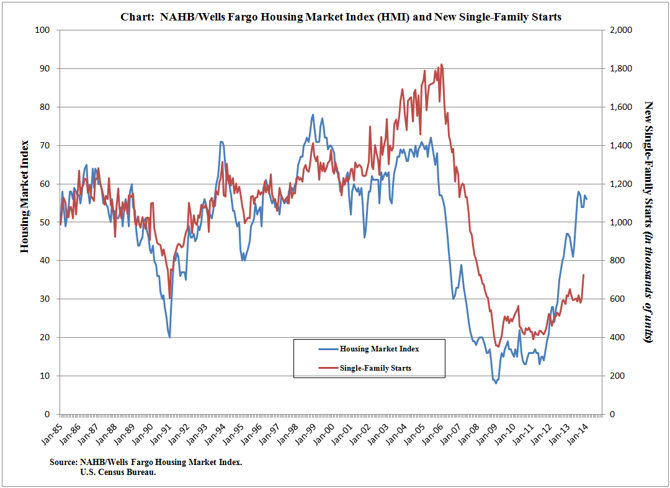 2) How affordable are homes today when compared with renting? Not as good as 2011-12, but one of the best times in 30 years.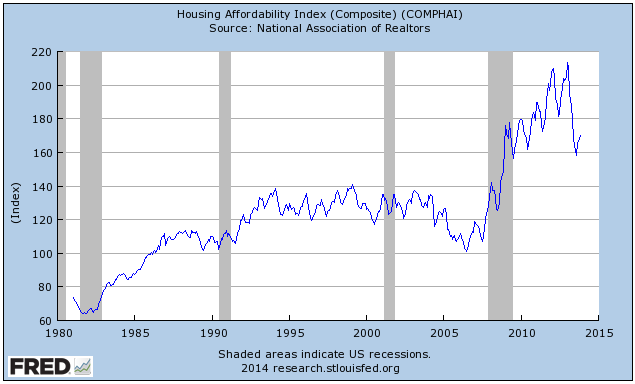 3) What are Household Financial Obligations as a percent of Disposable Personal Income - can families afford to buy a home? Families are the most deleveraged in 35 years.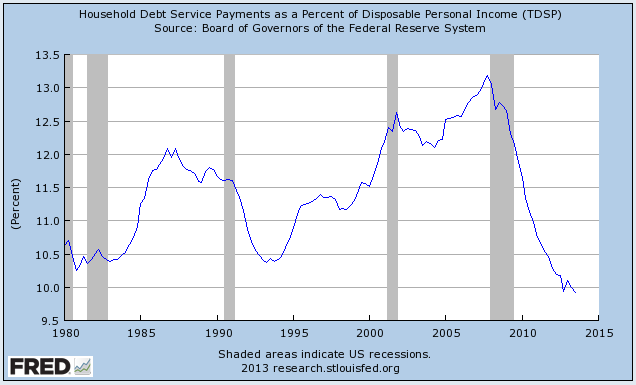 4) How affordable is a mortgage today? Except for 2012-13, the cheapest in 50 years.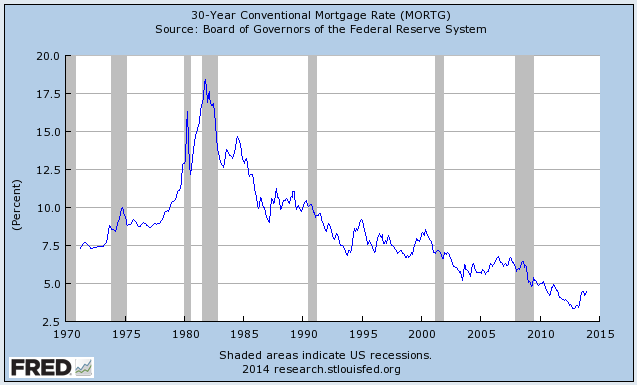 5) Is a newly-built home a good investment? Median selling prices have risen 23% in the last 2 years, and are now at all-time highs.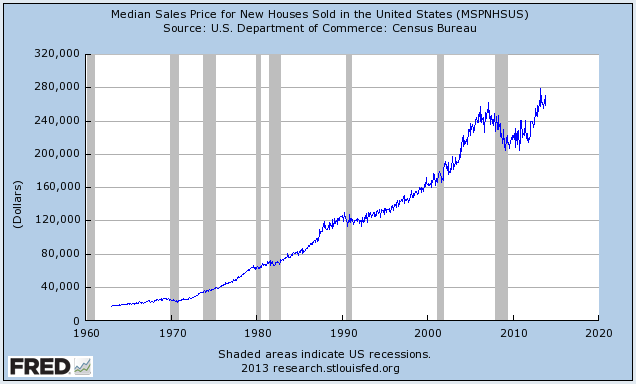 6) The U.S. population grows about 1.2% per decade (census period), approximately 30 ML births in this decade. Are there enough new homes (inventory) in construction to meet this growing demand? After doubling in 2011-2012, the number of new homes for sale remains the lowest in 50 years.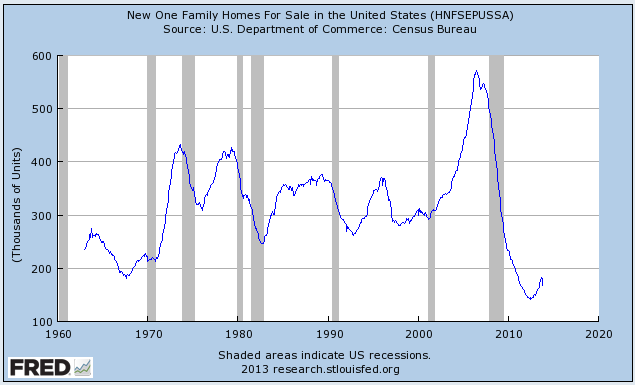 7) How is the economy doing on a macro level, i.e., durable goods? Nearing all-time highs.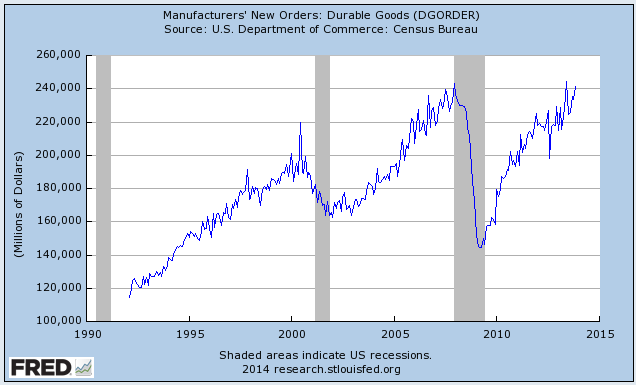 8) What about consumer goods? All-time highs.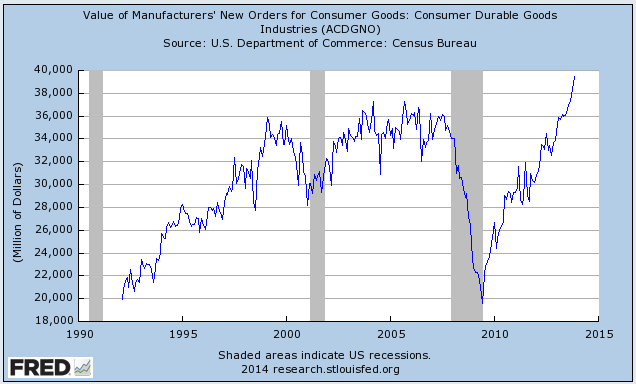 9) Inflation? Near the lowest level in 30 years.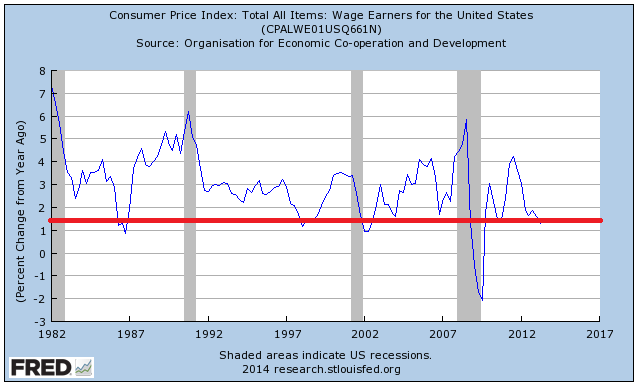 10) Percent of Unemployment? It has dropped 35% in 5 years.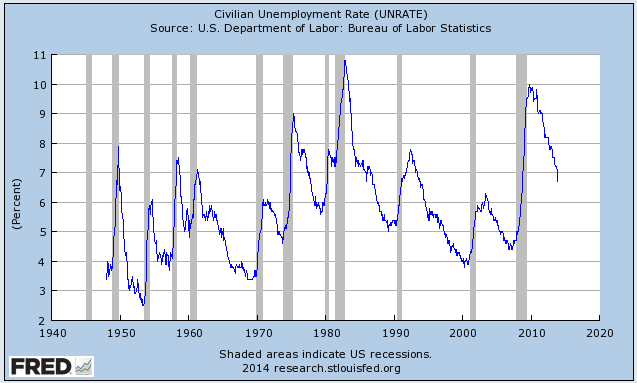 11) Civilian employment to population ratio. Is the economy growing enough jobs to keep pace with population growth? It is treading water. But this chart (along with the CPI inflation chart mentioned previously) has also kept the Federal Reserve's low interest rates in place, which stimulate housing.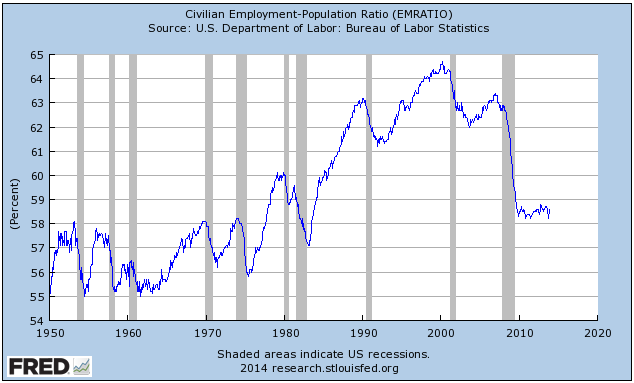 10) How about the homebuilder stocks? Near 5-year highs.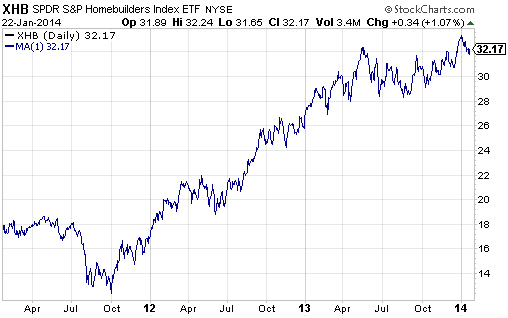 11) Mortgage REIT(s)? Near Financial Crisis lows; but rising thus far in 2014.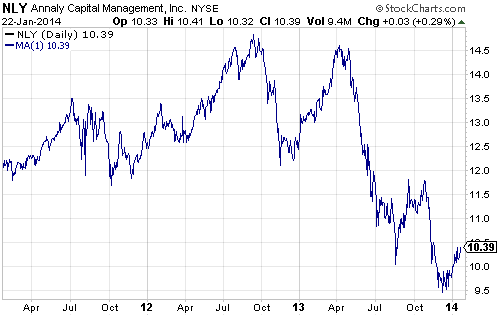 In conclusion, I think investors would be well-served to put aside the psychology of loss that often pervades the housing outlook, and embrace the idea that life goes on - with better run companies and better decision making. New opportunities are indeed presenting themselves.
Disclosure: I am long BRP, NLY, WMC. I wrote this article myself, and it expresses my own opinions. I am not receiving compensation for it (other than from Seeking Alpha). I have no business relationship with any company whose stock is mentioned in this article.