Editors' Note: This article covers stocks trading at less than $1 per share and/or with less than a $100 million market cap. Please be aware of the risks associated with these stocks.
On Sunday, January 12, 2014, I arrived in San Francisco, CA for the annual JP Morgan Healthcare Conference, as well as the parallel Biotech Showcase and OneMedForum Conferences. This was the eighth year in a row that I made the trip to San Francisco for these events, which are a must-attend for serious healthcare investors.
During my three days in San Francisco, I conducted 25 one-on-one meetings with various managements of small and mid-cap biotechnology and specialty pharmaceutical companies. Below are some "notes" from five of these meetings. (I have also shared my notes from Day 2 and Day 3.)
LabStyle Innovations Corp. (NASDAQ:DRIO): Meeting took place with Oren Fuerst, PhD, Chairman and Erez Raphael, CEO
Meeting with the team at LabStyle was of particular interest for us because the company announced only a few days before that the 510(k) application for the Dario device was filed with the U.S. FDA. It was interesting timing on LabStyle's part, because the exact same day the company filed the application, the U.S. FDA put out draft guidance for the industry on self-monitoring blood glucose test systems for over-the-counter use. We asked management how much they had a "heads up" on the new draft guidance before they filed the application for Dario and they told us they were well versed on the requirements and that there were no major surprises in the draft guidance versus what they expected, and filed upon.
Management told us they are expecting to hear back with questions from the agency in around 90 days, and will edit and resubmit the application based on the FDA's feedback. That was refreshing honesty from LabStyle management, essentially telling us they expect that there will be at least one round of back-and-forth with the FDA prior to final approval. We note the Dario application, which was recently made available in the UK, New Zealand, and Australia, was filed as a Class-1 medical device, and should receive clearance in the next few months. We are hoping for U.S. full device clearance by the end of 2014.
We got our first hands-on look at Dario during our meeting, and what we've concluded in the past remains true -- this is a very sleek and elegant device. However, the one knock that we hear often from investors is, "Why would anyone pay for that?" Of course, everyone that asks us this question sees Dario and assumes it is going to be very expensive compared to cheap, dumb glucometers. Well, we have confirmed with management that the Dario device will be free (yes, free) and that the company plans to make its money through selling test-stripes, the software platform, and blinded data monetization.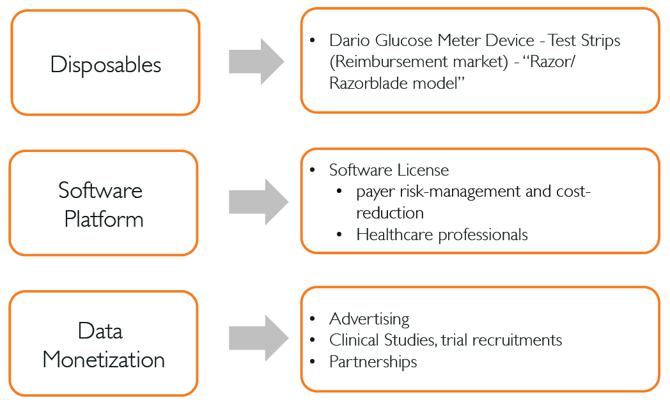 We've written in the past about Dario and the ecosystem the company plans to create around the device. The test strips will retail for around $0.50 per strip, which is similar to other competing test strips retail for prior to insurance reimbursement. LabStyle will probably wholesale the strips to suppliers for $0.25-0.30 per strip, and with a cost to product around $0.10 per strip, still leaves ample profit for the company.
The company plans to monetize the software platform by selling add-on services and entering into licensing agreements with insurance companies and healthcare professionals who provide services to diabetic patients. LabStyle plans to monetize the data it collects by offering advertising for clinical studies and forming partnerships with clinical research organizations focused on diabetic patients. We note the information LabStyle collects is encrypted on the user's phone and on LabStyle's server, so there is no HIPAA or confidential information violation. That is the first question we asked when management outlined their plans for "data monetization." All-in-all, we think the market remains confused about LabStyle's potential, and that creates opportunity in our view. The company's investor presentation is worth a look to help explain the story.
Acadia Pharmaceuticals (NASDAQ:ACAD): Meeting took place with Uli Hacksell, PhD, CEO, Dr. Roger Mills, MD, EVP & CMO, and Terrance Moore, EVP & CCO
Always good to see the guys from Acadia Pharmaceuticals - hands down one of the best turnaround stories in biotech from late 2012 to today. Eighteen months ago, Acadia's stock was trading at $1.50 per share and not many people even knew the company was still working on pimavanserin, let alone thought it had a chance to succeed in its third Phase 3 trial for Parkinson's disease psychosis (PDP). It was after meeting Acadia's team face-to-face in January 2012 that we wrote our "Third Times A Charm" article on the company. After last year's meeting with Acadia, we came away with a sense that management was looking to convince the FDA to allow them to file based on the results from the -020 study, along with safety and subset analysis from the two previous failed -012 and -014 studies. This is something that came true in April 2013.
With Acadia's stock up 429% in 2013, we weren't expecting much new information from our meeting, but you never know! What seems true about pimavanserin is the more we learn, the more it reinforces our belief that this will be a very big drug for Acadia. Results from the -020 study recently published in The Lancet held up well to peer-review. Acadia's market research shows that 30-50% of Parkinson's patients will develop psychosis over the course of the disease, and there are limited treatment options that don't impact motor function. The -020 study enrolled only patients with severe disease, but Acadia believes that pimavanserin use in the real world may start earlier in less severe patients, potentially halting the progression of psychosis in the Parkinson's patient from the start. The clean safety and toxicology profile of pimavanserin should allow more aggressive and earlier-stage use in our view. Management is currently conducting drug-drug interaction studies with pimavanserin as one of the final necessary steps prior to filing the NDA later this year. Manufacturing and CMC work is also progressing on plan.
Acadia also recently began a Phase 2 study with pimavanserin in Alzheimer's disease psychosis (ADP). Management is particularly excited about this ADP opportunity. The 200-patient Phase 2 ADP study mirrors the successful design Phase 3 -020 study, and includes a brief psycho-social therapy prior to randomization to help reduce placebo response. The study is being conducted through a large network of research care homes established as part of the National Institute for Health Research (NIHR) Maudsley Biomedical Research Unit in the United Kingdom. The primary efficacy endpoint is the Neuropsychiatric Inventory - Nursing Home (NPI-NH) scale to measure psychosis (hallucinations and delusions), agitation/aggression, and sleep/nighttime behavior.
Acadia is also starting to talk about the commercialization of pimavanserin. This is a market the company knows well, having conducted three large Phase 3 studies at over 100 centers around the country. We think 75 full-time representatives should be an efficient number to promote the drug in the U.S. Ultimately, we think Acadia expands its pipeline to include another Parkinson's product, but it's a bit early to start writing on as to what makes the most sense, although we've got our best guesses no doubt. Our financial model assumes Acadia launches the drug in early 2016. In the end, we think pimavanserin is a blockbuster product, and that makes the stock an attractive core-holding for biotech investors.
Cytomedix, Inc. (CMXI): Meeting took place with Martin Rosendale, CEO, Steven Shallcross, CFO, and Dean Tozer, Corporate Development.
It was good to sit down with Cytomedix so recently after the final payment decisions have been put into law by the Center for Medicare & Medicaid Services (CMS), with regards to payment regulations for the Hospital Outpatient Prospective Payment System (HOPPS) and the Medicare Physician Fee Schedule (PFS). For reference, we provide a link to the full news publishes to the federal register below:
- CMS-1600-FC: Revisions to Payment Policies under the Physician Fee Schedule, Clinical Laboratory Fee Schedule and Other Revisions to Part B (PDF: 3.6MB / 1369 pages).
- CMS-1601-FC: Hospital Outpatient Prospective Payment and Ambulatory Surgical Center Payment System (PDF: 2.6MB / 1281 pages).
We believe these new payment rules dramatically enhance the commercial viability of Cytomedix's AutoloGel (autologous platelet-rich plasma) for the treatment of chronic wounds, including diabetic foot ulcers, venous leg ulcers, and pressure ulcers. For example, under the new classification in HOPPS as a Level-2 skin substitute (APC-0327), AutoloGel will be reimbursed at an average rate of $411 per treatment encounter. This is roughly a five-fold increase from the proposed $83 per treatment encounter under the proposed rules that came out earlier in the year that incorrectly classified AutoloGel as a Level-2 debridement product, and a greater-than five-fold increase over the average reimbursement under HOPPS of $74 in 2013. We believe this represents approximately 60% of the Medicare market for the treatment of chronic wounds.
What we learned at our meeting with management is that AutoloGel, reimbursed at $411 average per treatment, is a highly profitable product to both Cytomedix and the hospital outpatient facility or physician's office. We believe Cytomedix was previously selling AutoloGel "at cost" in 2013, which was around $74. Assuming Cytomedix looks to provide around $100 in profit per use to the facility or physician's office, that means they can wholesale AutoloGel around $311 and still capture 70% gross margin. Assuming roughly six treatments to heal a wound, along with two rounds of debridement, AutoloGel should provide over $1,300 in gross profit to Cytomedix and over $1,000 in gross profit to the facility or physician to heal a wound. It's a whole new ballgame for the company in 2014.
Management told us the registry programs required for Coverage with Evidence Development (CED) are also on track at Cytomedix. By the end of the year, management expects to have roughly 1,000 patients enrolled in all four programs combined. The company currently has nine sales representatives out in the field promoting the product, with a goal of 30 by the end of the year. We went back and looked at the magnitude of business that Advanced BioHealing (ABH) was doing with Dermagraft in 2011 prior to its acquisition by Shire Pharmaceuticals. ABH had Dermagraft sales near $150 million annualized at the time of the deal, with about 100 full-time representatives. That equates to around $1.5 million per rep. If Cytomedix can match even half that efficiency, with a goal of 30 reps in the field at year-end 2014, Cytomedix could be doing $15 million in revenue with AutoloGel in 2015. That's an incredible ramp!
In August 2013, Cytomedix partnered its Angel Concentrated PRP system by licensing the rights to Arthrex, Inc. in return for $5 million in cash and future low-teens royalties (we model 13%). We think this was a wonderful transaction for Cytomedix, and one where the market really hasn't come to grips with the potential upside Arthrex, Inc. brings to the table. For example, based on analysis of previous quarterly reports, we believe Angel delivered around 15-20% net margin to Cytomedix. On sales of around $8 million over the trailing twelve months, that's a net profit of $1.2 to $1.4 million. At 13% royalty, all that needs to happen for Cytomedix to have essentially made a good decision here is for Arthrex, Inc. to do around $10 million in Angel sales. That's only $2 million more than Cytomedix was doing itself, promoting with 10 contract sale representatives.
Arthrex, Inc. has over 1,500 sales representatives! Arthrex, Inc. also has the potential to package Angel with its existing bone marrow aspirate cell suspension products, its BioCartilage® matrix, its Autograft osteochondral repair system, or its existing PRP autologous systems. Arthrex, Inc. is going to turn Angel from an $8 million product to a $40-50 million product in our view. The royalties to Cytomedix are going to dwarf the previous sales in a few years. This was an amazing transaction by the company to reduce costs and drive the top-line, and investors have completely missed it.
Finally, we touched briefly on RECOVER, the company's Phase 2 clinical trial studying ALD-401 for the treatment of stroke in middle cerebral artery. Early in 2014, Cytomedix put out a press release noting that enrollment has been completed for the study and that data is expected in May 2014. The previous goal was to enroll 100 patients in the study, but management believes that with only 48 enrolled, the statistical powering assumptions still hold. RECOVER is 90% powered to detect a 0.8 drop in modified Rankin scale from baseline to recovery at 90 days.
Data from RECOVER in May is a major catalyst for Cytomedix. If it is positive -- meaning the primary endpoint hits and delivered a >0.8 reduction in mRS at 90 days post treatment - the shares skyrocket. We think they could hit $2.00 on the news. Any reduction vs. the same procedure and we think the stock still doubles in value. No reduction - a complete failure -- and we think the stock still goes up in value because that means Cytomedix will probably be done spending money on Aldagen. That's right; we think no matter what happens in May 2014, the stock goes up. The value for AutoloGel and Angel supports 100% of the current valuation. Investors are getting ALD-401 completely free. In fact, we think RECOVER has negative value because it costs money that Cytomedix could be spending on AutoloGel. It's a no-brainer in our view.
Titan Pharmaceuticals (NASDAQ:TTNP): Meeting took place with Dr. Marc Rubin, MD, Chairman, Sunil Bhonsle, President, and Katherine Beebe, PhD, EVP and Chief Development Officer
I had an informal lunch meeting with the management team from Titan Pharmaceuticals. The company wasn't presenting at any of the events and was only doing select meetings with analysts and investors prior to receiving final guidance from the U.S. FDA on a path forward for Probuphine following the complete response letter in April 2013. As a reminder, Titan held a Type-C meeting with the U.S. FDA on November 19, 2013 in an effort to better understand the issues of the CRL more fully, and to review and discuss data with the agency. In late December 2013, Titan announced that it had essentially found a path forward with the agency that revolved around experienced sublingual buprenorphine patients that are "stable" on 8mg of drug daily. This is in contrast to the original application, which called for use of Probuphine in opioid addicts starting therapy on Suboxone.
We asked management about how long patients take to stabilize on a constant dose of Suboxone and they answered, "About 3-4 months." We then asked what percent of patients stabilize at 8mg versus 12-16mg, and the conclusion was that it was at least half, maybe higher. So although we believe the FDA's guidance effectively relegates Probuphine to maintenance therapy, it should not have a materially negative impact on sales of the drug. In fact, we think once approved, addiction medicine doc will probably still use Probuphine at a similar rate to how we predicted prior to the complete response letter, or in around 5-10% of all their patients. In essence, we see the narrower label as having only a minor impact on peak sales.
What remains true is that Titan will need to conduct another Phase 3 trial with Probuphine prior to re-filing the application. Unfortunately, management was unable to really provide good guidance on the details for this study, only that it will not be as large as the PRO-806 study (in terms of patients) but may take a similar time to enroll fully because of patient selection. Speed of enrollment in a clinical trial is always a good assessment of the market opportunity and sales for the drug, so we'll keep an eye on this. We remind investors that data from PRO-806 has been both published and presented for peer-review.
Three things remain clear to us that investors should note. The first is that Titan got screwed by the FDA (that's our professional opinion). The company demonstrated in two Phase 3 clinical trials and two Phase 3 extension trials that its drug works. Titan was granted priority review on the application and the agency's own Advisory Committee recommended approval of the drug in March 2013. But what's done is done. The second is that Braeburn remains committed to the development of Probuphine. Braeburn now owns 9.65 million shares at an average price of $0.96 per share. That's 10.9% ownership. The third is, that despite the fact that Braeburn will pay for the upcoming Phase 3 trial, Titan will still need to raise cash prior to Probuphine approval. We think Titan has cash to get to early 2015. They are going to need added cash to support operations into 2016, we estimate to the tune of around $8-10 million. That being said, we think there is almost no chance that Braeburn lets Titan run out of cash, or at the very least, raise capital in the open market. Instead, we think Braeburn will double-down on its investment in Titan, seeking to bring its ownership level closer to 20% by the end of 2014. For Titan investors, this is the most shareholder friendly path forward, and we think could be a prelude to an outright acquisition of Titan by Braeburn following Probuphine's final approval in about two years.
Neuralstem, Inc. (NYSEMKT:CUR): Meeting took place with I. Richard Garr, JD, CEO and CFO
We had a great meeting with Richard Garr at Neuralstem. The company is firing on all cylinders in terms of both moving the product candidates forward in clinical trials and executing on its business model. The stock price has certainly responded well to the progress. Shares are up 165% over the past twelve months and 39% over the past month. Earlier in the year, the company was able to secure $20 million in a registered direct offering with a small group of institutional investors. It was an impressive transaction because Neuralstem closed the deal without having to solicit interest via a public offering (meaning no calling around asking for money) and the shares were placed into all institutional accounts (no retail accounts or brokers involved). Really good stuff!
We met with Neuralstem on January 13, 2014, so the first topic of discussion was news that morning that the first patient had been treated in the company's Phase 1/2 clinical study with NSI-566 at BaYi Brain Hospital in Beijing, China. The trial is designed to assess if a one-time treatment with NSI-566 through direct intracerebral injections helps improve motor function following an ischemic stroke. Management is particularly excited about the design of the trial, with the first Phase 1 part of the trial seeking to enroll 18 patients in an open-label, dose-escalation protocol. Once safety and dose escalation is complete, the trial will expand to a Phase 2 single-blinded protocol in 100 patients. Patients will be randomized 1:1 to physical therapy plus NSI-566 or just physical therapy, with assessment at four months after surgery. Management thinks if the data are positive from the Phase 2 portion of the trial, the company's China subsidiary, Suzhou Neuralstem Biopharmaceuticals, may be able to commercialize the drug in China quickly thereafter. That would be an enormous opportunity for the company.
Progression in the company's Phase 2 ALS trial with NSI-566 continues into the third cohort. The company is dosing up to 200,000 cells in 20 injections for this third cohort. We believe dosing in this cohort will be completed by the end of February 2014, allowing expansion into the fourth and fifth cohort, with the fifth cohort being the primary efficacy study in which patients are dosed in both the cervical and lumbar spine with up to 40 injections at potentially 300-400,000 cells per injection. The trial is progressing rapidly from initiation in September 2013, and the first two cohorts are already starting to report out data. We remind investors that this trial is an open-label design, so there are no compliance or protocol violations being breached with these types of patient blogs (amazing the amount of misinformation here). We expect the company to file to receive 'Breakthrough Therapy' designations for NSI-566 in ALS in 2014.
In spinal cord injury, Neuralstem expects the first patient to be treated in the U.S. in the next few months. Neuralstem is currently finalizing IRB approval. Keith Tansey, MD, PhD of the Shepherd Center has been announced as the principal investigator, and the surgeries will be done at the University of California, San Diego. The trial protocol calls for enrollment of eight patients with T2-T12 complete thoracic injury (ASIA-A complete paralysis) one-to-two years post-injury. Patients will get six injections of NSI-566, with the first four patients getting 100,000 cells per injection followed by the next four patients getting 200,000 cells per injection. The primary endpoint is safety and toxicity, but secondary measures will include graft survival measured by MRI, ASIA level, SCI motor function level, sensory and evoked index measures, and things like bowel and bladder function. Neuralstem plans a second spinal cord injury trial in Seoul, South Korea with partner, CJ CheilJedang, in acute injured patients, which will start during the first half of 2014.
We concluded our meeting with Neuralstem touching briefly on NSI-189. Investors have been waiting for the data since the trial completed in the fourth quarter 2013. We asked management what the reason for the delay in announcing the result was and as it turns out, the company added several new MRI assessments to the protocol after final dosing to measure changes in hippocampal volume. The 24 patient Phase 1b study with NSI-189 is primarily a safety study, but secondary measures of depression, suicidal thoughts, and hippocampal volume will be assessed. Neuralstem added additional MRI readings to the data collection in order to better understand the characteristics of the drug.
At this point, it is difficult for management to predict not only when the data will be released, but exactly what the press release will contain. The principal investigator is Maurizio Fava, MD of the Slater Family Professor of Psychiatry at Harvard Medical School and Executive Vice Chair of the Department of Psychiatry at Massachusetts General Hospital. Management tells us that Dr. Fava is, "Going to want to publish the data," so Neuralstem cannot release too much information to investors prior to publishing of the report. So all we can say at this time is - be patient. The interesting thing that we learned, however, is that Neuralstem is already planning a Phase 2 study - so read into that what you wish.
Previously management told investors that they planned to get the data from Phase 1b and then out-license the drug. As it turns around, raising $20 million in cash provides Neuralstem with added flexibility to push NSI-189 forward on its own. Although investors may have hoped for a deal post Phase 1b, we note that upfront payments for post-Phase 2 assets usually average double or triple the value for post-Phase 1 assets.
Disclosure: I have no positions in any stocks mentioned, and no plans to initiate any positions within the next 72 hours. I wrote this article myself, and it expresses my own opinions. I am not receiving compensation for it (other than from Seeking Alpha). I have no business relationship with any company whose stock is mentioned in this article.