Editors' Note: This article covers stocks trading at less than $1 per share and/or with less than a $100 million market cap. Please be aware of the risks associated with these stocks.
On Sunday, January 12, 2014, I arrived in San Francisco, CA for the annual JP Morgan Healthcare Conference, as well as the parallel Biotech Showcase and OneMedForum Conferences. This was the eighth year in a row that I made the trip to San Francisco for these events, which are a must-attend for serious healthcare investors.
During my three days in San Francisco, I conducted 25 one-on-one meetings with various managements of small and mid-cap biotechnology and specialty pharmaceutical companies. Below are some "notes" from five of these meetings. (I have also shared my notes from Day 1 and Day 3.)
ARCA Biopharma (NASDAQ:ABIO): Meeting took place with Dr. Michael Bristow, MD, PhD, CEO and Patrick Wheeler, CFO
Shares of ARCA Biopharma have had a good run in the past few months as the company prepares to initiate its landmark clinical trial with bucindolol called GENETIC-AF. GENETIC-AF is a Phase 2b/3 clinical program that will study bucindolol in a double blind, head-to-head, active comparator study versus metoprolol (sold as Toprol XL by AstraZeneca) in patients with atrial fibrillation (AF). In December 2013, the U.S. FDA approved the investigation new drug application to start the trial. In early January 2014, the agency then approved the companion diagnostic being used in the trial to test patients for the genetic variant that the company believes predict individual patient response to bucindolol.
We learned a few interesting things from our meeting with management. The first is that investors will get a sense of whether or not bucindolol is working in GENETIC-AF well before the expected top-line results of the study in late 2018. That's because GENETIC-AF is a Phase 2b/3 design and has a built-in data safety monitoring board (DSMB) review scheduled after the first 200 patients have been enrolled and on drug for six months. When that happens, which we expect to occur early 2016, the DSMB will look at the 100 patients enrolled in the bucindolol arm and compare them to the 100 patients enrolled in the metoprolol arm and determine if there is separation in favor of bucindolol. Specifically, the trial is designed to show a 25% reduction in the primary endpoint of the study, time to recurrence of symptomatic AF after electrical cardioversion, or death, compared to the active metoprolol control.
Based on published literature and the Toprol XL prescribing information, we are expecting a 40-50% reduction in cardiovascular mortality and worsening heart failure in the metoprolol arm. Based on the β1 389 Arg/Arg genetic subtype results from BEST, ARCA's previous Phase 3 trial with bucindolol, the drug showed a 74% reduction to placebo in event-free survival. To clear DSMB review, the bucindolol arm must show a 25% reduction compared to metoprolol, or around a 60-65% reduction in the primary endpoint. If the results show that, not only does the DSMB allow expansion into the Phase 3 portion of the study, increasing enrollment from 200 to up to 620 patients, but the 200 patients already enrolled also get to count toward the Phase 3 analysis. So in essence, investors get an early look at the data and ARCA gets to stack the deck for the Phase 3 with 100 patients they already know are in its favor. Plus, the Phase 2b/3 design eliminates any protocol or design change risk between a more traditional separate Phase 2 and Phase 3 pathway. That's good stuff!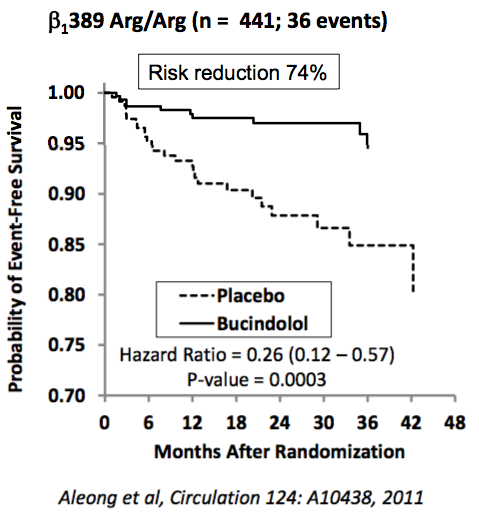 We also spoke extensively about the intellectual property protection for bucindolol. Yes, the composition of matter patent on bucindolol has expired, and some believe this creates issues for the company. But it is pretty clear after our talk with management that three pharmacogenetic patents the company has been granted are rock solid. U.S. Patents 8,093,286, 8,080578, and 7,678,824 each claim the use of a genetic test evaluating β1 389 and/or α2c deletion polymorphism status for determining whether a patient is a suitable subject for bucindolol treatment. The approved label will undoubtedly reflect the restrictions being used to select the patients for the pivotal clinical trial. Therefore, a generic firm seeking to market bucindolol would unquestionably be infringing these patents that have been granted on novelty and non-obviousness use claims.
We think bucindolol will maintain exclusivity until at least September 2029 based on a 20-year patent life and an expected 5-year Supplemental Protection Certificate from the above patents. Data protection (similar to Hatch-Waxman) in the EU lasts for 10 years, with a bonus of one year for a significant medical advance. Therefore, we think ARCA will have at least 10 years, if not longer to market bucindolol if approved around 2019 or 2020. We see no issues with intellectual property for ARCA. In fact, if approved, we think big pharmaceutical companies will be eager to follow ARCA's path on creating pharmacogenetic patents for their drugs nearing patent expiration. Personalized medicine will be a big trend in the coming years because of the pathway ARCA biopharma is pioneering with bucindolol.
Dara Biosciences Inc. (DARA): Meeting took place with Dr. David Drutz, MD, CEO, and Chris Clement, President and COO
It was a great meeting with DARA Bio, but we'll cut directly to the chase and say right up front - there was no update on the status of the pending orphan drug application for KRN5500. We've covered this topic several times in 2013, and our most recent article can be found on Seeking Alpha, so there's not much more to say on the subject. We spent the majority of the meeting talking about the recent sales force and product expansion and the company's now six commercial assets in Soltamox, Gelclair, Bionect, Binosto, Ferralet 90, and Aquoral. Below is a fantastic slide from the company's investor presentation showing how DARA plans to leverage these six products into becoming a big player in the oncology and supportive care specialty pharmaceutical market.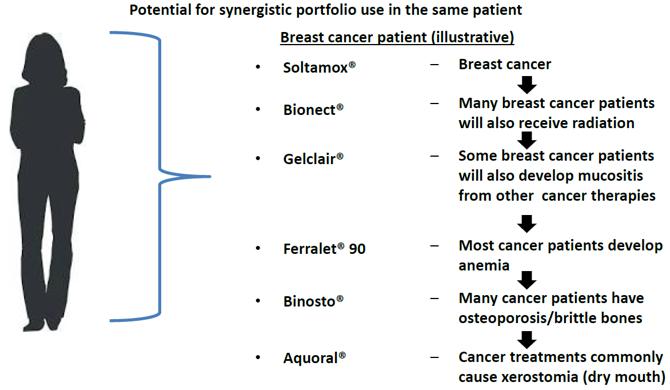 Management told us the sales force expansion has been completed and the 20 new representatives should be in the field by the end of January 2014. The company spent much of December training and educating the new reps. There will be a national sales meeting in February 2014 to officially kick-off the new campaign. Throughout 2013, DARA had only five reps and three products. We expect that a four-fold increase in sales reps and a two-fold increase in product offerings will dramatically help drive the top-line in 2014 and beyond.
We believe DARA's stock remains attractively valued. Revenues in 2012 were non-existent. For 2013, we model revenues at $0.35 million, again…pretty low. However, based on the recent sales force expansion and the three new products DARA is now co-promoting from Mission Pharmacal, we think DARA can do over $2.0 million in revenues in 2014 and $10 million in revenues in 2016. DARA's market capitalization is only $22 million right now. If our modeling holds, the stock should be trading at over $1.00 by year-end 2014, and that is based solely on the six current marketed products and has no value for KRN5500. We think orphan drug designation on KRN5500 could triple the market value of the company. A licensing partner will probably be announced soon after the FDA's decision. Our conclusion is that investors can buy DARA now and get both an emerging specialty pharmaceutical story at a reasonable price, and a Phase 2b drug in KRN5500 for free.
Omni Bio Pharmaceuticals (OTCPK:OMBP): Meeting took place with Bruce Schneider, PhD, CEO
We were really looking forward to our meeting with Bruce Schneider at Omni Bio Pharma. We like the work that Omni is doing, but our biggest concern to date has always been the cash position. Before we get into the details of the meeting, investors may want to familiarize themselves with the Omni Bio story. Below is a quick summary from our most recent report:
Omni Bio Pharmaceuticals is focused on the discovery and development of novel applications of the endogenous anti-inflammatory protein alpha-1-antitrypsin (A1AT), and on the development of novel and more conveniently dosed versions of the A1AT molecule. A1AT deficiency is a homozygous genetic disorder resulting from abnormal production of A1AT that affects an estimated 100,000 individuals in the U.S. In the absence or low levels of circulating A1AT, proteases such as neutrophil elastase break down the connective tissue fiber elastin that contributes to the elasticity of the lungs. This results in respiratory complications such as emphysema or chronic obstructive pulmonary disease (COPD) in adults and hepatic cirrhosis in children. Severe A1AT deficiency is treated by the IV administration of plasma-derived A1AT (p-AAT). Remarkably, in the era of recombinant insulin, clotting factors, and monoclonal antibody products, all of the currently available A1AT replacement therapy products are derived from pool human plasma (p-AAT).

There are four manufacturers of p-AAT worldwide, Grifols, Baxter, CSL Behring, and Kamada. The two largest products we found are Grifols' Prolastin-C, with sales at an estimated $500 million and Baxter's Aralast-NP with sales at an estimated $60 million. Thus, we estimated the total market for p-AAT is around $600-700 million on a global basis. Omni Bio is developing a recombinant A1AT product would have several important advantages over the currently available plasma-derived products. Firstly, it would avoid the potential risk of infection inherent in the use of pooled plasma-derived products. While the currently available products are extensively treated to reduce the potential for viral contamination, the potential for contamination by unknown and unrecognized pathogens remains an important risk. Secondly, the cost of manufacturing would be greatly reduced due to the ability to avoid the complex, multi-step procedure needed to isolate A1AT from pooled donor blood. The expense of the current process arises from the very modest concentration of A1AT in human plasma, as well as the extensive procedures needed to reduce the risk of pathogen contamination. And finally, a recombinant product could be designed to incorporate structural modifications that provide improved properties, such as a more extended serum half-life.
We've been keeping a close eye on Omni Bio since we first identified the name back in April 2013 (see our Seeking Alpha article for a detailed overview of the story). We think the company's Fc-AAT molecule has the potential to be a game-changer in this market; not only for replacement therapy in patients with A1AT deficiency, but also in expanding the use of the A1AT molecule into new areas of therapeutic treatment such as Type-1 diabetes, GvHD, and gout. Interest in p-AAT for Type-1 diabetes has been gaining steam over the past few years, but use is limited by supply. Omni Bio is supporting several independent studies, and Kamada, one of the largest p-AAT suppliers, is doing clinical studies in Europe in this regard. Omni Bio owns the intellectual property to expanding indications with p-AAT. But it is with the Fc-AAT formulation where we see the biggest potential. This is the kind of molecule we think has the potential to qualify for 'Breakthrough Therapy' designation by the U.S. FDA.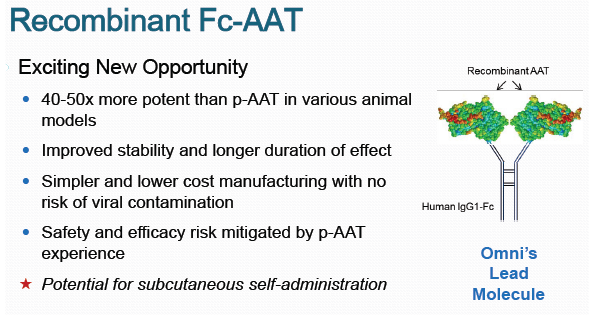 As noted above, funding as always been an issue. Management tells us they are finally nearing securing funding to complete the necessary preclinical development. Delays in funding probably stem from questions about the intellectual property of the new molecule. However, the company has been active lately filing and receiving new use patents. And the company tells us a new composition of matter patent should be issued shortly. We believe this may be the final hurdle to securing long-term funding at Omni Bio. Below we present a slide from management's investor presentation highlighting the plans to move forward once funds are secured. This is definitely a name investors should put on their radar. A recombinant AAT molecule is a potential blockbuster in our view. Omni Bio could easily be a "ten-bagger" given the current market value of only $10 million.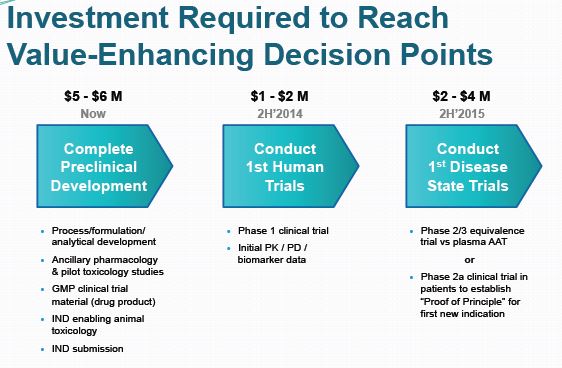 Pozen Inc. (NASDAQ:POZN): Meeting took place with Dr. John Plachetka, Chairman & CEO, and William Hodges, CFO
Pozen's stock has done very well over the past twelve months, up 51% - and that does not count the $1.75 per share special cash distribution paid on December 30, 2013. When including that payment to shareholders, Pozen returned nearly 100% in 2013.
We did our best to pry from management some information about the discussions the company had with the U.S. FDA in November 2013 around the pending PDUFA for the company's PA "safer aspirin" product. As a reminder, Pozen announced in November that the FDA requested a teleconference to discuss the new drug application for PA-325/40 and PA-81/40. Late last year, Pozen announced that the FDA had extended the PDUFA goal to April 25, 2014 to allow Pozen to conduct a comparative Phase 1 pharmacokinetic study. Although this study has yet to be listed on ClinicalTrials.gov, management was able to share some of the details with us at the meeting.
The study will compare the dissolution of the 40mg immediate release omeprazole component between PA-325/40 and PA-81/40. Pozen did the initial pharmacokinetic work for the drug on the PA-325/40 compound and the FDA wants to be sure that the characteristics of PA-81/40 are similar. Given that PA-325/40 contains 325mg of aspirin compared to only 81mg of aspirin for PA-81/40, the surface area of the 40mg omeprazole component differs between the two formulations. Management tells us that the initial pk curves between the two compounds do differ slightly, but that the overall characteristics should be similar enough (usually the FDA gives a window of ±20% on these types of things) to sail through review with no issues. Thus, we believe PA will be approved in late April 2014. We remind investors that Pozen licensed the U.S. rights of the drug to Sanofi in September 2013 in return for $15 million in upfront cash and future cash milestones and royalties on sales. Approval and launch of the product nets Pozen another $20 million combined milestone.
We think PA is a $250 to $300 million product in the U.S. Pozen management expects Sanofi to put forth a "first class" effort with PA, piggy-backing off the success in this area by the company with mega-blockbuster Plavix. In our view, the future for Pozen remains very bright given the pending launch of PA around the middle of 2014 and the recent acquisition of Vimovo by Horizon Pharma. When we asked Dr. Plachetka, "What's next for Pozen," his response was, "Continue to return cash to shareholders!"
We've done some initial modeling on what Pozen will look like with PA on the market and a reinvigorated Vimovo selling at Horizon (see below). We think Pozen could generate as much as $60-70 million in free cash flow starting in 2017. Based on the current share count, with equates to over $2.00 in potential free cash flow per share earmarked for future cash distributions.

At the current stock price, these dividends would equate to a 20-25% yield. You can't find that kind of "high-income yield" anywhere in the market! Pozen's stock should be trading at $12 per share based on the future projected cash flows and return of capital to shareholders. Now we understand there is a discount based on the fact that PA has yet to be approved and Horizon has yet to demonstrate it can grow Vimovo; but we think both caveats are low hurdles to overcome. We also note that our modeling above has Pozen paying taxes starting in 2017. Our assumptions could be increased by 1/3rd if Pozen decides to sell to a tax advantaged organization, similar to what the company did when it monetized the Treximet royalty to Canada's CPPIB Credit Investments in November 2011. That sales price of Treximet royalty for $75 million was around 35% higher than we factored in our DCF model due to tax implications.
Cipher Pharmaceuticals (CPHMF): Meeting with Larry Andrews, CEO, and Norm Evans, CFO
We had another good meeting with Cipher Pharmaceuticals. Cipher shares are up 142% over the past twelve months, but down 21% from the highs in September 2013. The high in the stock was put in on September 16th, three days before U.S. distribution partner for Absorica, Ranbaxy Labs, announced it had received a Paragraph IV certification from Watson Labs for a generic Absorica. We wrote previously on this subject, noting that the panic that ensued after the announcement created a unique buying opportunity in the shares because the most likely outcome from Watson's abbreviated new drug application has no material impact on our price target. In fact, we believe that Cipher and Ranbaxy, having recently filed an injunction lawsuit back against Actavis plc, the parent corporation of Watson, will keep Absorica exclusive until 2020 or 2021.
Absorica prescriptions took a bit of a breather in November 2013 (see below). We don't know why, although we have heard that they bounced back strong in December 2013. Perhaps it was because October 2013 was extraordinarily strong. Regardless, the overall trend with Absorica looks fantastic and we believe Cipher could be collecting up to $30 million in royalties from Ranbaxy by 2016.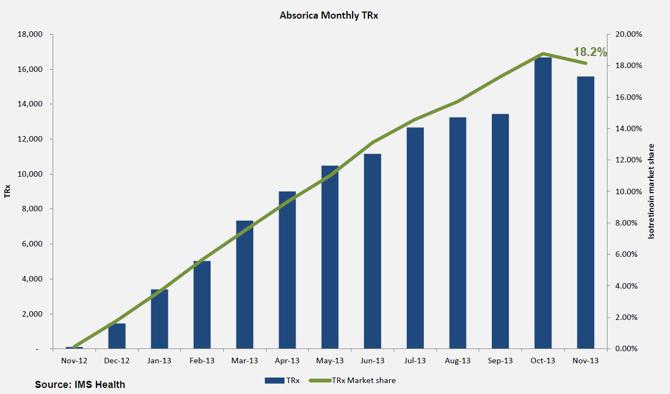 In Canada, Cipher recently launched Epuris, an identical product to Absorica, with six full-time and one part-time sales reps. We think Epuris has $6 to $8 million sales potential in Canada. We anticipate Cipher filing the Canadian new drug submission for Betesil Patch during the second half of 2014. Ultimately, Cipher will look to expand its product offerings in Canada through product in-licensing or acquisitions. We believe Cipher exited 2013 with roughly $23.5 million in cash. The company should generate around $4.0 million in cash during the first quarter 2014, and recently netted a $5.0 million sales milestone from Ranbaxy in January 2014. This puts cash at the end of March 31, 2014 projected to be north of $31.0 million. With a clean balance sheet, that leaves plenty of room for future deals. Management continues to execute well and we believe the stock remains attractively valued.
Disclosure: I have no positions in any stocks mentioned, and no plans to initiate any positions within the next 72 hours. I wrote this article myself, and it expresses my own opinions. I am not receiving compensation for it (other than from Seeking Alpha). I have no business relationship with any company whose stock is mentioned in this article.