By Craig Bowles
Starbucks Corp. (NASDAQ:SBUX) is slated to report 1Q 2014 earnings after the bell on Thursday, January 23. The earnings release is expected at approximately 4:05 p.m. EST with a conference call to follow at 5:00 p.m. that is webcast through Starbucks Investor Relations.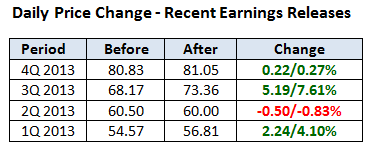 Outliers & Strategy
Key measures:
Earnings Per Share: Starbucks typically reports a "clean" number that is comparable to consensus estimates. The current Street estimate is $0.69 (the high end of the company range of $0.67 - $0.69). (Source: Yahoo! Finance).
Revenues: Revenues are seen rising 13.2% y/y to $4.30 bln.
Adjusted Earnings Per Share Guidance (2Q 2014): The current consensus is $0.56. Analyst expectations were $0.61 three months ago.
Adjusted Earnings Per Share Guidance (FY 2014): The current estimate is $2.65, so this is at the high end of company guidance of $2.55 to $2.65.
Starbucks' CEO Howard Schultz sold $45 mln worth of stock when shares were at record highs in late November just after announcing a stock buyback of 25 mln shares.
Starbucks is compared to major coffee retailers with quarterly results possibly impacting Dunkin' Brands Group (NASDAQ:DNKN), Green Mountain Coffee Roasters (NASDAQ:GMCR) and new entry McDonald's (NYSE:MCD).
Starbucks shares have a 1-day average price change on earnings of 2.8%. Also, the index futures are more apt to be impacted by surprising results from Starbucks as one of the momentum leaders of the S&P 500.
Recent News
01/21: Goldman Sachs removed Starbucks from their Conviction Buy List and lowered their price target to $86.00 citing concerns around same store sales trends in the U.S., according to a post on StreetInsider.com.
01/07: Credit Suisse initiated coverage on Starbucks with an Outperform with a price target of $96.00, according to a post on StreetInsider.com.
01/02: Wells Fargo pointed out recent sales weakness for Starbucks coffee if pods (single serving containers) are excluded but notes the Thanksgiving holiday could have affected sales, according to a post on StreetInsider.com.
Technical Review
Starbucks shares have moved up 9x during this bull market through three large upsurges, so it would seem logical for the 200-day MA (near $71.50) to at least get tested again similarly to what followed previous large moves. The stock has come off 10% from the recent all-time highs while the S&P moved up 2%, so some negatives may already be priced into Thursday's earnings release. Should earnings fail to meet the high end of Street estimates, it's a bit of an elevator shaft down to $72 before technical support shows up. Conversely, a strong report and outlook pushing the price above $77.25 starts to break into resistance and possibly spur short covering. (Chart courtesy of StockCharts.com)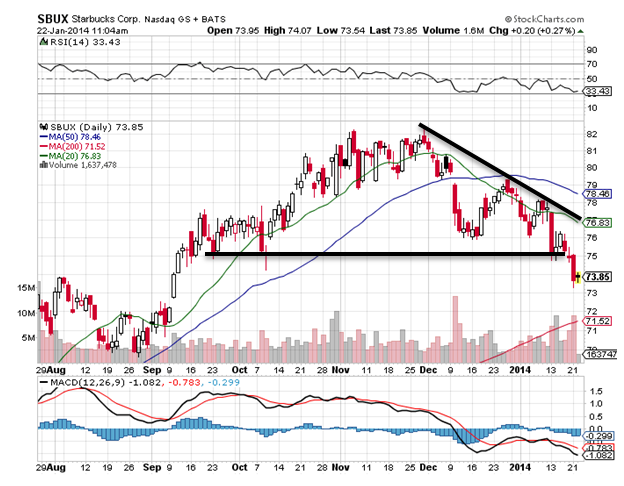 Summary
Starbucks share price has been weighed down recently by news of increased competition, and insider selling. Goldman helped push Starbucks below technical support with their downgrade off the Conviction Buy List. The company has been beating estimates by 2-3c recently, so the current 1Q would probably have to come in above the high end of forecasts of $0.71 for an upside reaction from the stock. 2Q analyst earnings expectations have been reduced but are still above company guidance despite expectations of revenue growth slowing from over 13% to 12%. 2Q guidance would need to see the lower end above $0.61 for a surprise. The stock price doesn't need much of a push to drop closer to $70. Stronger guidance would certainly be a well-timed needed surprise.
DISCLAIMER: By using this report, you acknowledge that Selerity, Inc. is in no way liable for losses or gains arising out of commentary, analysis, and or data in this report. Your investment decisions and recommendations are made entirely at your discretion. Selerity does not own securities in companies that they write about, is not an investment adviser, and the content contained herein is not an endorsement to buy or sell any securities. No content published as part of this report constitutes a recommendation that any particular investment, security, portfolio of securities, transaction or investment strategy is suitable for any specific person.
Disclosure: I have no positions in any stocks mentioned, and no plans to initiate any positions within the next 72 hours. I wrote this article myself, and it expresses my own opinions. I am not receiving compensation for it (other than from Seeking Alpha). I have no business relationship with any company whose stock is mentioned in this article.