Editors' Note: This article covers a stock trading at less than $1 per share and/or with less than a $100 million market cap. Please be aware of the risks associated with these stocks.
Human papillomavirus (HPV) is a DNA virus that establishes productive infections only in keratinocytes of the skin or mucous membranes. Most HPV infections are subclinical and will cause no physical symptoms. There are, however, a subset of subclinical infections that will become clinical and cause benign papillomas, or cancers of the cervix, vulva, vagina, penis, oropharynx and anus.
HPV infection is, in fact, the main cause of cervical cancers. There are dozens of HPV genotypes that are transmitted sexually, where HPV types 16 and 18 cause 70% of cervical cancers. In addition, there are two oncogenes (E6 and E7) of HPV that promote tumor growth and malignant transformation. Controlled expression of modified E6/E7 in vivo represents a promising approach to stimulate the immune system to recognize the cancerous cells that containing E6/E7 proteins and kill them.
Advaxis (NASDAQ:ADXS) and Inovio Pharmaceuticals (NYSEMKT:INO) are both racing to develop the first immunotherapy vaccine for cervical cancers. In this article I will compare the differing technologies, clinical trials, pipelines and partnerships, and financial status.
1. Vaccine Technologies
The following table compares the vaccine technologies employed by two companies.
| | | |
| --- | --- | --- |
| | Advaxis | Inovio |
| Vaccine Name | ADXS-HPV | VGX-3100 |
| Antigen | Single antigen: E7 | Four antigens: E6/E7 of both HPV-16 and HPV-18 |
| Vector | Plasmid | Plasmid |
| Delivery | Attenuated Listeria monocytogenes | Electroporation |
| Route | Intravenous | Intramuscular |
| Post Treatment | Antibiotic administered to clear up infection after treatment | |
At first glace the two most advanced vaccines look very different though they have virtually identical goals using similar constructs. In particular, they both use a plasmid to express HPV oncogenes E6 and/or E7 but the delivery method differs. Advaxis uses attenuated live bacterium infection, while Inovio has developed an optimized electroporation device.
Advaxis takes advantage of L. Monocytogenes' intracellular infection of antigen presenting cells (APCs). Ideally this may illicit stronger immune responses to the engineered E7 antigen. The plasmid in L. Monocytogenes encodes a fusion protein sequence including a fragment of the LLO (listeriolysin O) molecule joined to the antigen of interest. The fusion protein is secreted from the bacterium directly into the cytoplasm of the infected APC. Of course, the disadvantages of this approach are the potential complications and risks of a live bacterial infection.
Inovio's electroporation of purified plasmid DNAs is straightforward and the immune responses could be more clearly triggered. In addition, Inovio can easily mix multiple plasmids, where VGX-3100 contains plasmids that encodes the E6/E7 sequences of either HPV-16 or HPV-18.
2. Clinical Trials
The following table compares the most advanced clinical trials of the respective vaccines that have been completed.
Advaxis

Inovio

Vaccine Name

ADXS-HPV

VGX-3100

Stage of Completed Trial

Phase II

Phase I

Year study completed

2012

2010

Targeted Patients

Indian women with recurrent/refractory cervical cancer who have failed cytotoxic therapy.

Precancerous cervical dysplasia.

Trial Design

Two arms: vaccine alone; vaccine + cisplatin. Single Course infection. No placebo arm.

Dose-escalating study to test safety and immunogenicity.

Number of patients

110

18

Primary Endpoint

Overall Survival (OS)

Safety

Efficacy

9-month survival: 46% (51/110)

12-month survival: 36% (39/110)

18-month survival: 28% (31/110)

Additional cisplatin did not make difference.

100% of study participants reported antibody positivity to at least two vaccine antigens and 78% of the subjects showed T-cell responses to at least one vaccine antigen.

Safety

Predominately cytokine-release syndrome -- Grade 1/2

transient, non-cumulative that respond to symptomatic treatment or self resolve (<3.0% related SAEs)

No vaccine-related serious adverse events. Mild-moderate injection site reaction.
Both companies have claimed successful trial results. Advaxis is preparing for two phase III trials after securing a partner, whereas Inovio is conducting a phase II randomized trial. Until Inovio releases phase II data, it is hard to compare the efficacy of the above two vaccines. ADXS-HPV targets advanced cervical cancer as a second line therapy, while VGX-3100 does early precancerous stage to prevent its deterioration. The different disease stages really limits the direct comparison.
That being said we can look at the first phase II trial of cervical cancer immunotherapy so that we are better prepared to compare the efficacy with the phase II data of VGX-3100.
One of my initial concerns is why the phase II clinical trial of ADXS-HPV was done in India. In particular, how similar are the women in India compared to the United States? After communicating with the company, it is clear that the management believes that India is one of the most suited countries to study cervical cancer as both states have the same genotypes of HPV. In addition, India has a high prevalence of cervical cancer, therefore there was access to a large number of patients with recurrent cervical cancer (approximately 134,420 women are diagnosed with cervical cancer in India versus 12,340 in the US). As a result of the HPV vaccination programs available in the US, the prevalence and incidence of cervical cancer in the US is low.
In general, Advaxis demonstrated activity across multiple strains of high-risk HPV. Of those samples that could be analyzed, the majority of patients were infected with the same strains as patients in the US - (namely 16 and 18 but patients also presented with HPV high-risk strains 31, 33 and 35).
It was interesting that the addition of cisplatin had no effect on overall survival. Management reasoned that these patients already had chemotherapy in their previous lines of therapy and progressed despite treatment with surgery, chemotherapy, radiation and various combinations. We would therefore not expect to see any additional effect with cisplatin in these patients who are very likely refractory to chemotherapy (in general).
3. Pipelines and Partnerships
Both companies are leveraging their immunotherapy platforms to deepen their pipelines. They actually have considerable overlap. The following pipelines are directly copied from their respective websites.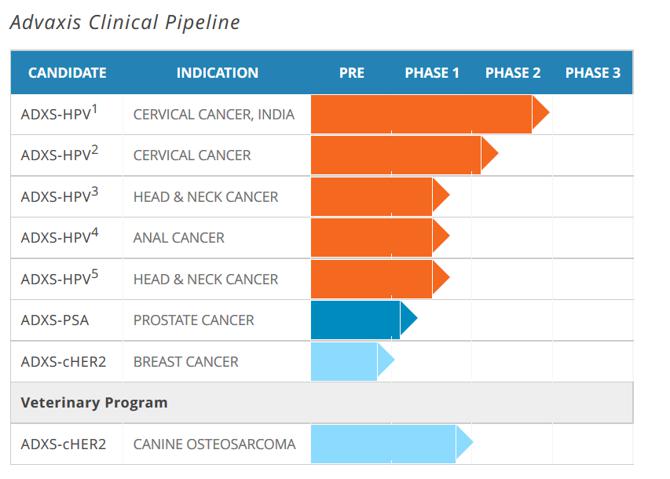 In December, 2013, Advaxis licensed development and commercialization of ADXS-HPV in Asia to Global Biopharma Inc, a Taiwanese company. This week, the company announced another licensing agreement for India and key emerging markets with Biocon Ltd, the Indian largest biotechnology company. The company has not yet found a partner for its two phase III trials.
Inovio Clinical Pipeline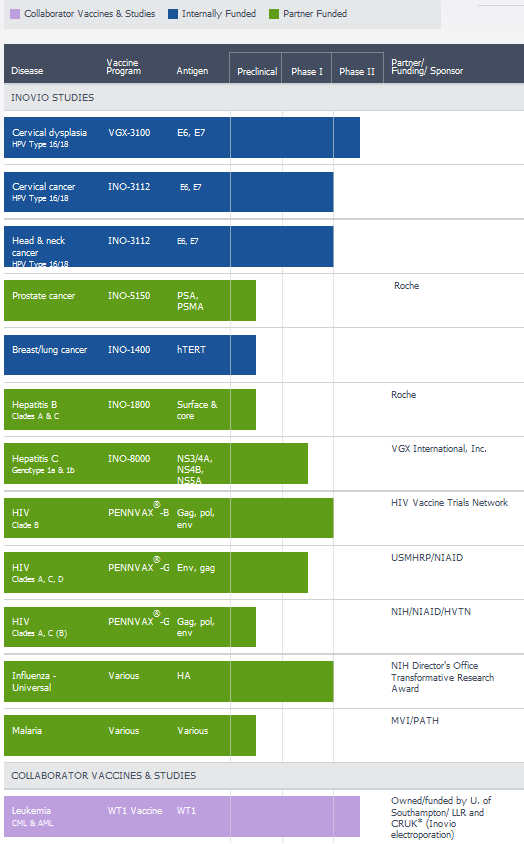 In addition to cancer therapeutic vaccines, Inovio has a deep pipeline of preventive vaccines for infectious diseases, which may testify the versatility of electroporation using purified plasmid DNAs. Also noted is the partnership with Roche and others. The partnership and a wide spectrum of vaccines as both preventive and therapeutic drugs may explain the nearly 10-fold difference in market valuation of these two companies.
4. Financial Status
Market data are as of January 17, 2014.
| | | |
| --- | --- | --- |
| | Advaxis | Inovio |
| Share price | 5.33 | 2.56 |
| Market Cap | 63M | 533M |
| Cash | ~$20M | ~$40M |
| Debt | 3.6M | 0 |
| Latest Financing | Oct, 2013, raised $23M after issuing new shares at $4/share plus warrant. | Mar, 2013, raised $15M after issuing new shares at $0.55/share plus warrant. |
Both Advaxis and Inovio are early in their cervical cancer programs. The clinical data are preliminary but promising. While cancer immunotherapy is an important and exciting area of development, the investment thesis presented here is speculative. Not only are these lead programs still early but this is a difficult therapeutic area as the failure of Allovectin, another plasmid DNA drug of Vical Incorporated (NASDAQ:VICL), demonstrated. You can add to that list the failed phase II clinical trial of ICT-107, a dendritic cell (DC) vaccine, of ImmunoCellular Therapeutics (NYSEMKT:IMUC).
It appears that investors are more enthusiastic with Inovio's electroporation platform given the difference in market capitalization. That being said, Advaxis' L. monocytogenes delivery system is really unique, which presents an intriguing risk/reward investment at these levels.
Disclosure: I have no positions in any stocks mentioned, but may initiate a long position in ADXS over the next 72 hours. I wrote this article myself, and it expresses my own opinions. I am not receiving compensation for it (other than from Seeking Alpha). I have no business relationship with any company whose stock is mentioned in this article.