We have not budged on our longer range outlook for $5.00 natural gas prices made back in November and prices could continue to rally above this level in February based on the extremely cold weather, we continue to forecast. For weeks we have been second guessing computer models due to the warm blocks you see on the map below. We are in a situation right now that the cash market in New York City (one example) has soared to the highest level in history and with more frequent cold and snow, (NYSEARCA:UNG) has seen the biggest weather related move up, in years.
This block over the Arctic will also act to bring Europe their first real cold snap of the winter and may be noted, later in the heating oil, distillate market and various option and bull and crack spreads, discussed several weeks ago.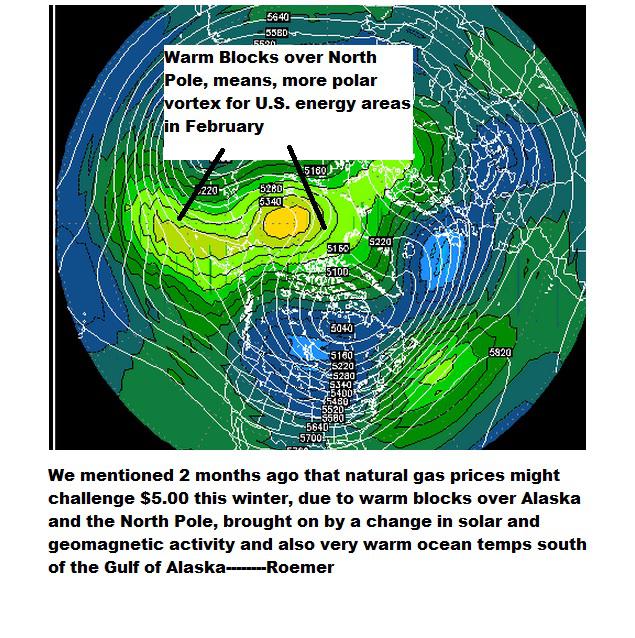 Source of Map--WSI
While worries may mount about some of the wells in the Gulf Coast possibly freezing this week, another factor that needs to be entered into the equation for natural gas, is the drought in California. Hydro power usage may be sharply curtailed, and the alternative is natural gas. Read this article.
Heavy Short Position in Wheat. Major Longer Term Down-trend, but Some World Weather Issues to Watch
While wheat prices have been in a major longer term down-trend, some short term concerns may exist about some freeze damage to wheat in the southern soft-red belt where snow is lacking. Bitter cold in Russia could cause a bit of market talk, though most areas have snow cover. Also to watch will be the very warm China weather, in which wheat will have limited snow cover and be subject to winterkill later this winter, if the pattern changes. While I cannot say we are going into a longer term bull market in wheat at this point by any stretch of the imagination, some short term concerns may exist around the world.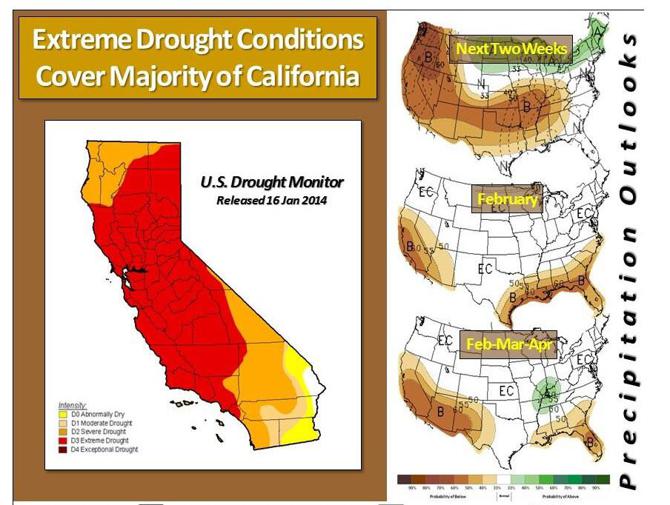 Does Big Time U.S. Cold Mean the Global Warming Issue is Dead?
In a nut-shell, absolutely not, in my opinion. It's true that changes in geomagnetic and solar activity might act to curtail some of the rapid warming that has occurred the last 50 or so years. If we have weaker and weaker solar activity in the years ahead, this may act to mitigate the problem. But CO2 levels continue to increase and the oceans are absorbing more and more of it. Don't tell people in Australia that global warming no longer exists. Even with the record cold U.S. winter in some areas, last year was still the top 3-5 warmest in 110 years continuing a longer term trend, globally.
Drought in parts of New South Wales and Queensland has to be watched in coming months, as without rains the next few months, this might affect wheat plantings. For now, the main concern might be for the cotton crop. However, a good part of cotton in Australia is irrigated though irrigation levels could run low.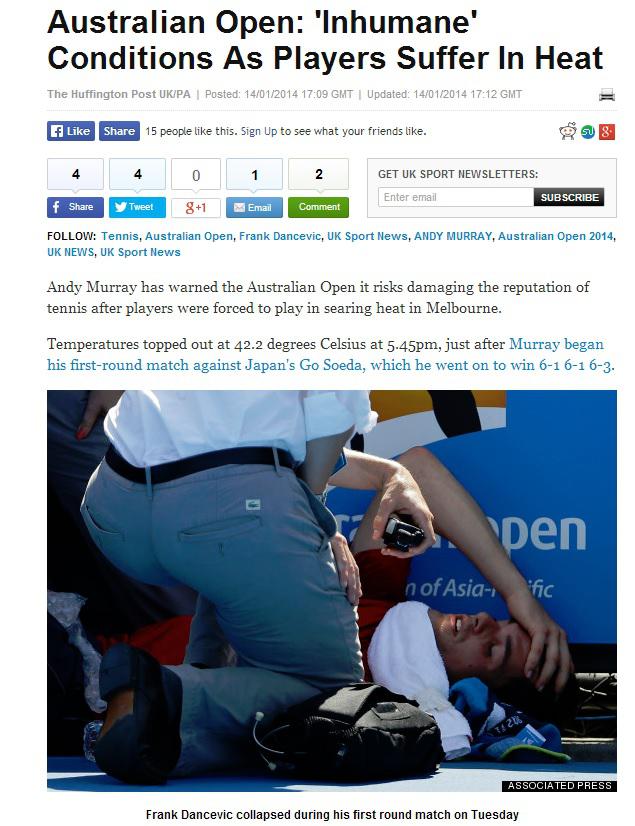 Disclosure: I have no positions in any stocks mentioned, and no plans to initiate any positions within the next 72 hours. I wrote this article myself, and it expresses my own opinions. I am not receiving compensation for it (other than from Seeking Alpha). I have no business relationship with any company whose stock is mentioned in this article.