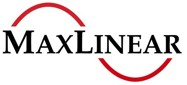 Last week two telecom IPOs were offered to the market – each showing strong gains out of the gate. The transactions were indicative of a healthy IPO market with plenty of liquidity, and while that can change in a heartbeat, for now the environment looks technically strong for these new issues.
Today, I want to take a closer look at MaxLinear Inc. (MXL) which was priced Wednesday at $14.00. The book was jointly managed by Morgan Stanley (NYSE:MS) and Deutsche Bank Securities (NYSE:DB) in a deal which provided underwriting commissions of $6.3 million. The stock was well accepted by investors who immediately sent the stock up 33% in its first day of trading to close at $18.70. The positive traction is likely giving private equity companies such as The Blackstone Group (NYSE:BX) additional confidence as they prepare additional offerings which could quickly hit the US exchanges.
Part of the appeal for the MXL deal is that the majority of shares being sold to the public were primary shares. This means that the proceeds went directly to the company which should be helpful in providing the financial ability to continue to generate growth. According to the prospectus, MXL will use the cash for "working capital" and possibly for future acquisitions. I would prefer to see a bit more information on how this capital could be put to work, but since the company has shown strong historical growth, I'm willing to give them the benefit of the doubt for the time being.
MaxLinear is a "fabless semiconductor company" which designs chips that allow devices to better receive wireless television signals. The majority of the company's sales have been in Japan where it appears that MXL has a lock on the mobile handset market. In the last four quarters, the company has seen sales increase by 49%, 13%, 107% and 96% (using year over year comparisons).
In addition to the handset market, MXL is increasing its product offering to include chips that enable devices to receive wireless signals for more traditional television viewing. These products are anticipated to go in cable boxes, digital televisions, PC's and notebooks. While the handset market continues to provide stable cash-flow, these new markets are expected to drive the growth in future quarters.
When we say that MaxLinear is "fabless" it simply means that the company does not have its own manufacturing facilities. This can be both a business strength as well as a liability. During the financial crisis, many firms struggled under the weight of the debt used to build large manufacturing plants. For several solar companies, the decision to expand manufacturing capacity at the wrong time turned out to be fatal. So MaxLinear's decision to outsource the manufacturing process gives the company better financial flexibility to be able to focus on research and development and growing other parts of its business.
But the flip-side of this coin is that if the economy improves to the point where it becomes difficult to negotiate contracts with outside manufacturers, MXL could see its costs rise exponentially. The laws of supply and demand can easily come back to bite the firm if it is not accurate in its long-term projections of customer demand and its need for manufacturing capacity.
After staging a positive IPO transaction, MXL has largely been biding its time and trading within a relatively close range. This week we will begin to see some patterns developing and from a trading perspective, it will be interesting to see what opportunities set up. Due to the success of the IPO transaction, it appears demand is in control at this point and I would recommend trading from the long side initially. A pullback closer to the IPO price would provide a welcome entry point and risk can be carefully managed by placing a stop slightly below the $14.00 IPO price.
On the other hand, if MXL were to break higher – crossing $19.50 – a higher-risk breakout setup might be in order. The risk is higher in this type of trade because there is less of a defined floor that would be supported by the underwriting team. When buying above $19.50, traders should look to use a stop where they would exit the position if MXL trades back into its current range.
Fundamentally, it is very difficult to set a fair valuation for the stock. This is because MXL is just crossing the line where its revenue overcomes fixed expenses and the company is starting to show a positive profit. There are many variables which could cause MXL to ramp up its profitability sharply over the next two years, or possibly cause it to over-extend and lose value for investors.
So for today, it is important to determine who is trading this vehicle and what these traders are looking at. Currently, MXL is being largely held by growth stock investors who currently appear willing to give the global economic rebound the benefit of the doubt. As long as these investors continue to provide liquidity and are willing to pay speculative prices for future growth, MXL should stay in a positive trend. But when the tide turns and growth investing falls out of favor, MXL will likely be hit with distribution – and at that time it might make sense for us to set up a short position. The stock is dynamic – positive for now – and offers swing traders ample opportunity for profits.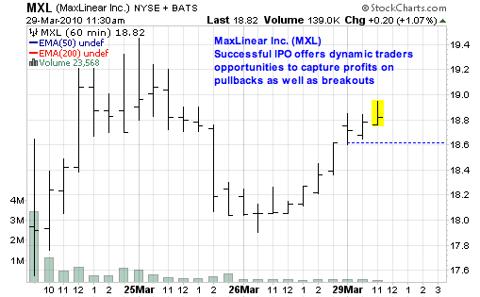 Full Disclosure: Author does not have a position in any stocks mentioned in this article.