Click here for part 1.
Most of us will not buy any copper or platinum today, but we will eat. That situation is a truism for the entire world, not only for today but for every day. That reality makes Agri-Commodities unique among commodities.
While large harvests occurred across the Northern Hemisphere this past Fall, those grains will not remain in the bins indefinitely. Already the USDA has reduced the ending inventory estimate, August 2014, for corn. Where did that corn go? The world starting "eating" it the day after it was harvested.
Investors tend to fixate on the price of corn as the Street thinks it understands that grain. (It does not.) But, the world of Agri-Commodities is far larger than simply corn. In our research, we track the prices of 16 Agri-Commodities in an attempt to measure the price trends in that sector.
In the graph below the line of red circles is the percentage of our list of Agri-Commodities that have positive price trends. Line of gray squares is the percentage of those Agri-Commodities that hit new 90-week price highs in the indicated month.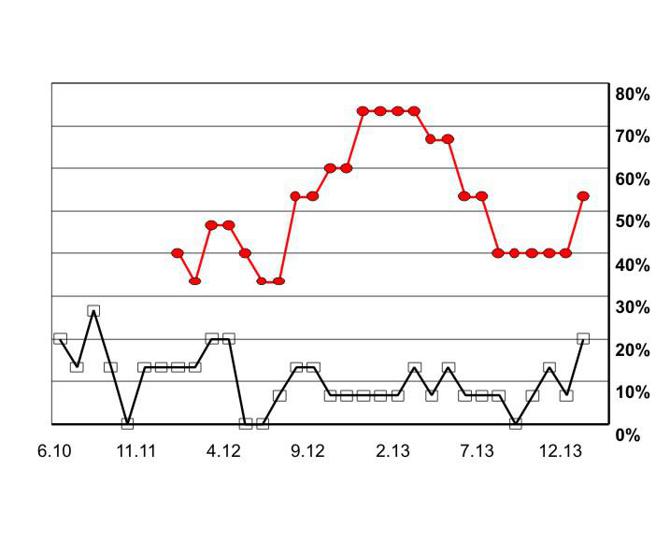 As can be observed in the above chart, the percentage of Agri-Commodities with positive price trends had been running about 40% and recently moved up to 50%. That is a significant improvement in trends. At the same time, the number of Agri-Commodities making new 90-week highs rose to three, oats, beef and feeder cattle.
In the chart below, the green line is our Agri-Food Price Index. As that index reflects more completely the global consumption of Agri-Commodities, it is probably superior to most popular indices of Agri-Commodities. With the bottoming of corn prices and the improving price strength in other Agri-Commodities, as shown above, another stochastic-based buy signal occurred. High on that index is about 250, right axis, and the Agri-Food Price Index is likely to make a new high in the months ahead.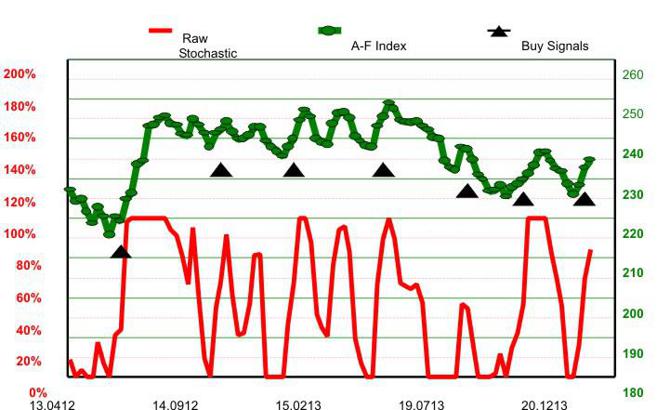 The agri-Industry is now operating in an environment where overall prices have a generally positive trend, volumes will be strong due to the good Fall 2013 harvest in the Northern Hemisphere, and physical demand is again the dominant force. Continued over emphasis on supply side of Agri-Commodities demonstrates the outdated view on Agri-Commodities held by the Street. In the year and decades ahead, demand will dominate as the income of consumers in China and the developing world rises faster than the ability of the world to increase Agri-Food production.
Given the trends developing, a number of companies are likely to benefit from the situation described above. With beef prices at a record high and a continuing lack of feeder cattle in the U.S., JBS (OTCQX:JBSAY) will benefit by being the world's largest animal protein company. Additionally, the world is to experience an ongoing situation where demand pressures supply of animal protein over time that will be beneficial to all animal protein producers.
Other companies stand to benefit in 2014 from current trends and the longer-term demand-dominated world of Agri-Foods. They do not face the possible loss of 80% of their customers in the years ahead as Facebook (NASDAQ:FB) might according to some researchers. People will eat whether or not they join a social networking site. The list includes, but is not limited to (ranked by preference), Wimar (OTCPK:WLMIY), AGCO (NYSE:AGCO),Bunge (NYSE:BG), Deere (NYSE:DE), Agrium (NYSE:AGU) and Zoetis (NYSE:ZTS). All of these, and others, should be held in an investor's portfolio.
Disclosure: I have no positions in any stocks mentioned, and no plans to initiate any positions within the next 72 hours. I wrote this article myself, and it expresses my own opinions. I am not receiving compensation for it (other than from Seeking Alpha). I have no business relationship with any company whose stock is mentioned in this article.