In my line of business I have the opportunity to see some very good and sometimes great deals across all industries. A few months back an interesting mobile application company called Mobli was introduced to me via a business partner. Mobli allows you to share photos and unlimited duration videos.
It didn't seem like anything special at first....but it is turning out to be a company Facebook (FB) should buy. This is a private company which will most likely be acquired by a public company in the future. In researching FB on how they are monetizing the mobile platform it became clear that the greatest opportunity and threat is in mobile.
FB clearly realizes this as it was about ten months ago when they purchased Instagram for $1.01 billion in cash and stock. The most amazing part of the buyout...from an investment standpoint... was the venture capitalists who invested $50 million into the Instagram Series B funding. Why? Sequoia Capital, Thrive Capital, Greylock Partners, Benchmark, Baseline Ventures was reported to have invested the $50 million at a $500 million post money valuation in April of 2012. In less than a few weeks they doubled their money. That is the type of return every Seeking Alpha reader can only dream about. It also shows how desperate FB was in finding a mobile solution.
Examining SEC Filings
In reading over Facebook's most recent quarterly filing I focused exclusively on the mobile side of the business. The findings were rather interesting:
Mobile MAUs. We define a mobile MAU as a user who accessed Facebook via a mobile app or via versions of our website such as m.facebook.com, whether on a mobile phone or tablet, during the period of measurement.

Worldwide mobile MAUs increased 45% to 874 million as of September 30, 2013 from 604 million as of September 30, 2012. In all regions, an increasing number of our MAUs are accessing Facebook through mobile devices, with users in India, Brazil, and the United States representing key sources of mobile growth over the third quarter of 2013 as compared to the same period in 2012. There were 254 million mobile MAUs who accessed Facebook solely through mobile apps or our mobile website during the month ended September 30, 2013, increasing 102% from 126 million during the same period in 2012. The remaining 620 million mobile MAUs accessed Facebook from both personal computers and mobile devices during September 2013. While most of our mobile users also access Facebook through personal computers, we anticipate that the rate of growth in mobile usage will continue to be the primary driver of our user growth for the foreseeable future and that usage through personal computers may be flat or decline worldwide, including in key markets such as the United States and other developed markets in Europe and Asia. This is in part due to our focus on developing mobile products to encourage mobile usage of Facebook.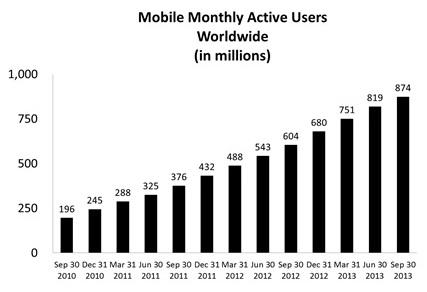 What is particularly disturbing for FB is that 254 million out of the 874 million mobile users accessed Facebook exclusively on a mobile device. That is 29% of the entire FB mobile monthly active users worldwide. The growth of mobile only users is at 102% while the total number of all mobile users have grown 45%. The future challenges are laid out in the quarterly report even further:
We expect our ability to grow advertising revenue will become increasingly dependent on our ability to generate revenue from ads displayed on mobile devices. …Our advertising revenue could be adversely affected by a number of other factors, including:

differences between the pricing of our ads displayed on personal computers and mobile devices;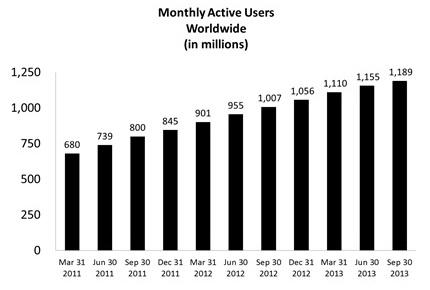 We can work the math backwards and see that the total monthly active user base is 1.189 billion people. Subtracting out the 874 million mobile users the total monthly user base of "computer only" users represent 315 million or just 26.4%. If we pick a previous period such as March 2011 the number of "computer only" users represented 57.6%.
The writing is on the wall and FB investors need to pay attention. If Facebook loses the mobile platform battle the company will have a tough time maintaining its dominant position in social media. Which means FB stock will not be trading at almost 139 times trailing twelve month earnings.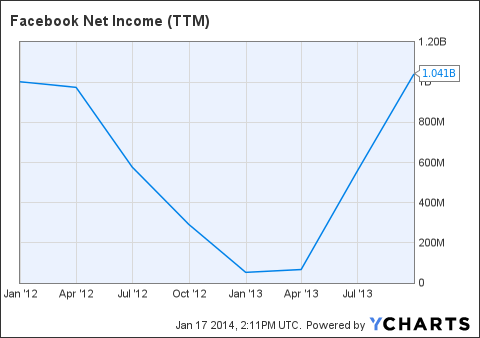 FB Net Income (TTM) data by YCharts
Don't take my word for it. The following are Facebook's own statements in the most recent Q:
If users increasingly access Facebook mobile products as a substitute for access through personal computers, and if we are unable to continue to grow mobile revenues or successfully monetize mobile users, or if we incur excessive expenses in these efforts, our financial performance and ability to grow revenue would be negatively affected.
What About Instagram?
Wasn't the buyout of Instagram supposed to "fix" Facebook's mobile issues? Again we go back to FB's own words:
... in August 2012, we acquired Instagram and since the acquisition, we have been focused on user growth and the users' experience. We just recently announced plans to begin showing ads on Instagram in the United States and we cannot assure you that these ads will generate meaningful revenue for our business. In addition, if we fail to successfully close or integrate any acquisitions, integrate the products or technologies associated with such acquisitions into our company, or identify and address liabilities associated with the acquired business or assets, our business, revenue, and operating results could be adversely affected. Any integration process may require significant time and resources, and we may not be able to manage the process successfully
In November it was reported that Facebook offered to buy Snapchat for $3 billion dollars. Why spend $3 billion on Snapchat when the Instagram acquisition was supposed to be the holy grail? I think that FB is doing everything it can to use its highly valued stock in buying mobile assets with tremendous growth. Facebook seems to have thrown in the towel realizing they need to acquire versus building the mobile solutions.
To keep things in perspective the Instagram purchase only represents .7% of FB's current $141 billion market cap. Even at $3 billion Snapchat is just 2.1% of FB's total value so that deal although expensive was not very dilutive. In my opinion Facebook should buy whatever they can get their hands on as long they can maintain their dominant position in social media.
Meet Mobli
Let's go back to the company that was introduced to me a few months ago. I thought that Mobli was a cool photo and video sharing app. What did get me interested was the fact that the "Wolf of Wall Street" Leonardo DiCaprio and "Spider Man" Tobey Maguire were investors in the $4 million dollar round of funding in October 2011. The thought of going to cool events with some A-Listers seemed exciting. However, being a value oriented investor means not paying premium multiples.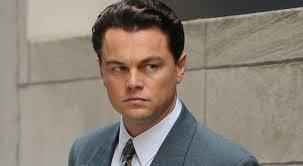 I cannot divulge what the pre-money valuation was that Mobli wanted in its most recent funding but it was....very premium.
Then I saw the news that in November of last year Carlos Slim, the world's second richest man worth over $70 billion, invested $60 million into Mobli's recent round of funding. Slim is also the owner of America Movil S.A.B. de C.V (AMX) which is the world's fourth largest mobile network operator and the dominant operator in Latin America.
Mobli is the first third-party app that Slim's telecom giant América Móvil is connecting to its 60 million smartphone subscribers in Latin America. That means AMX handsets will have Mobli integrated into the phone.
AMX has a total of 246 million mobile subscribers and will be moving as many of the remaining 186 million customers onto smartphones over time. The potential for growth is even greater as Mobli will be a big beneficiary of this move from "dumb phones" to smartphones in Latin America.
Latin America
According to Web analytics firm ComScore, Latin Americans spend an average of 10 hours a month on social media sites, twice the global average. The region's Internet population is the world's fastest-growing, up 12% in a year to more than 147 million as of last March. For Facebook, Latin America is the world's fastest-growing region, with an annual increase of 88% as of June 2012.
It should not come as a surprise that a month after the Carlos Slim investment, Facebook's Instagram shut off Mobli's access to their API. Previously, for over 18 months Mobli users could upload their Instagram content to their Mobli feeds with one click. So now the mobile competition between Instagram and Mobli is center stage.
Conclusion
Instagram with 150 million active users currently trumps Mobli's 12 million users. However, since being acquired by FB in April of 2012, 128 million new users have been added to Instagram. FB had a tremendous role in increasing Instagram users with its built FB audience.
Mobli is now going on its own hyper growth trajectory with Carlos Slim and América Móvil as the catalysts. The more successful Mobli is the worse it is for Facebook and vice versa. The mobile platform is a zero sum game and that may be all the more reason to use FB stock in gaining a dominant foot hold in Latin America.
Disclosure: I have no positions in any stocks mentioned, and no plans to initiate any positions within the next 72 hours. I wrote this article myself, and it expresses my own opinions. I am not receiving compensation for it (other than from Seeking Alpha). I have no business relationship with any company whose stock is mentioned in this article.