Yesterday, we entered a position in Mosaic Co. (NYSE:MOS). So far, the stock has not been the gem China Automotive Systems (NASDAQ:CAAS) was last week, but we still have some time to go before this one needs to be sold. Last I checked it was at 59.90, which puts us down about 0.66%. We are continuing to hold, and I think tomorrow will be a big day for MOS.
Today, we are looking towards an Overnight Trade of the Day that I think has some big potential to make a jump tomorrow in the discount store sector.
Overnight Trade of the Day: Dollar General Corp. (NYSE:DG)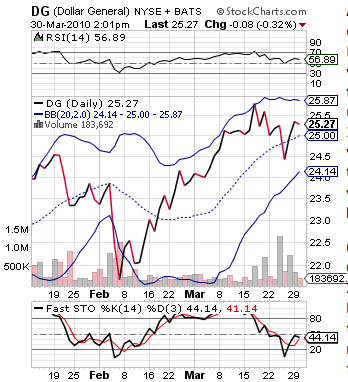 Analysis: I have been a huge fan of the discount stores for quite some time. My first long term trade of 2009 was in Family Dollar (NYSE:FDO), which worked wonders for me over a four-month period. These companies came under some hard times towards the end of 2009, especially in the ultra-discount sector with dollar stores and wholesale sellers. Yet, they seem to be bouncing back strong in 2010 with reinvested free cash flows and some better efficiency.
One relative newcomer to the NYSE is Dollar General Corp. (DG), which had its IPO back in November of 2009. DG is expected to report earnings of 0.43 EPS tomorrow. The company saw the potential of the economic markets as a chance for it to gain market share, increase its revenues, and it has improved its stock just under 10% in its handful of trading. The company will be reporting their second earnings as a public company, and I think they should be pretty solid. Dollar General's closest competitors are Dollar Tree (NASDAQ:DLTR), Family Dollar, and Fred's (NASDAQ:FRED). Dollar Tree just reported some extraordinary numbers this for their Q1 of 2010, hitting an EPS of 1.52, which was over 100% better than one year prior. The company took off towards the end of 2009 and beginning of 2010. We have seen similar success from Family Dollar, Wal-Mart, Big Lots, and nearly every portion of the discount sector other than wholesale.
This type of success has given me a lot of confidence around Dollar General. Another tidbit of information that I like to examine before making any Overnight recommendations is how many times an industry has been upgraded versus downgraded in one month. In the past month, there have been seven upgrades to only one downgrade for the discount sector. That sort of pattern shows that many analysts see the potential in this market.
Potential and actuality are two different things. Yet, potential often means overpricing, anticipatory buying, and stocks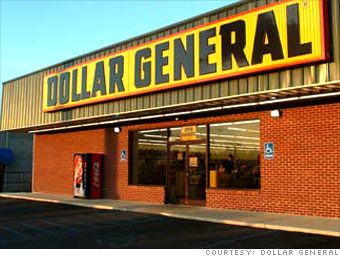 thathave gotten away from themselves. Dollar General, however, has not gotten away from itself by any means. The stock has seen a 10% increase over the past couple months, but it has been healthy sustained growth. In the past two weeks, the stock has seen a 5% decline, as well. The company has had a pretty narrow trading range of $22-$25 since its release. Its Bollinger bands have narrowed around the current price, and it is definitely ready for a breakout.
DG has good beta and enough trading volume to allow it movement. The company is expected to report earnings that are definitely shattering quarter-over-quarter, but the pattern of being able to do so from other companies is definitely there. I think we can expect big things. Additionally, the stock needs to just continue to attract attention. A nice quarter or even modest one will allow the company just to gain market interest, which is good for the price if things were good that attracted buyers.
Get in today, and let's make some money. Make sure you exit within the first couple minutes of tomorrow's open.
Entry: We are looking for an entry of $25.10 - $25.20.
Exit: We are looking to exit within minutes of tomorrow's open for whatever loss or gain we can accrue.
Stop Loss: None.