We think recently-public Aramark (NYSE:ARMK) represents a compelling way to capitalize on the trend of institutions increasingly opting to outsource food and support services, and see shares outperforming as investors begin to appreciate the company's favorable market position in a growing market as well as the operating leverage inherent in its business. With shares trading at a material discount to food and uniform services peers - currently at 7.7 times our 2015 EBITDA estimate vs. a 9.1 multiple for its peers - we think there is almost 40% upside in ARMK shares as we see no reason for the company to trade at a discount, particularly as recent investments in IT systems and restructuring actions have the potential to bring margins in-line or potentially above peers. We think the main catalysts to drive the share price higher are (1) increased investor appreciation of the business model and its growth opportunities, which will come through increased sell-side coverage and hearing from management at conferences and on its earnings conference calls, (2) more color on the restructuring actions it has taken as we think they have the potential to drive margins, and (3) solid execution in its first year as a public company.
Aramark is a leading global provider of food, facilities, and services to education, healthcare, business and industry and sports, leisure, and corrections clients worldwide. It is the 2nd largest company in the North America food and facilities services and uniform services markets based on sales in 2013, and is a top 3 participant in most countries in which it has significant operations. Its operations are divided into three segments: (1) Food and Support Services (NYSE:FSS) North America (69% of sales); (2) FSS International (21%); and (3) Uniform (10%). By end market, business and industry is its largest customer group (41% of sales), followed by education (26%), healthcare (17%), sports and leisure (12%), and the corrections market (4%). ARMK was previously acquired in 2007 by a consortium of private equity investors for $8.5bn and IPO'd this past December 12th for an initial price of $20 per share.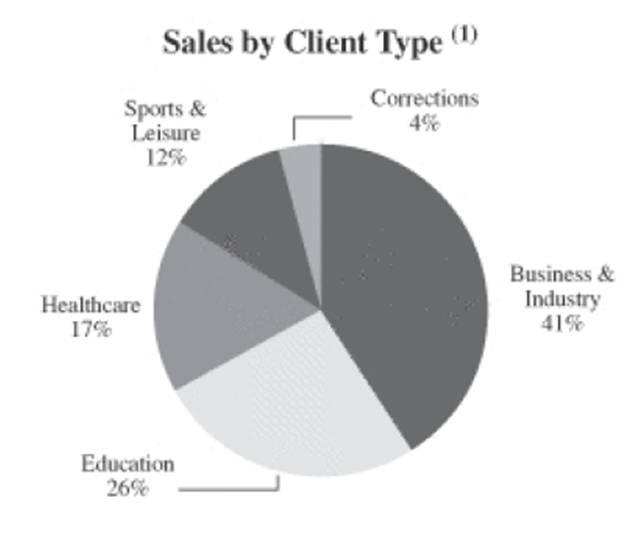 ARMK operates in large and highly fragmented markets, with the five largest companies in food and support services accounting for just 9% of the market, which management estimates to be ~$900bn in total size. ARMK faces significant competition from local, regional, national, and international companies, as well as from institutions that decide to provide the services themselves. In Food and Support Services, ARMK competes primarily against Compass Group plc, a publicly traded British company with a ~$26.5 billion market cap, Sodexo SA, a publicly traded French company with a ~$15 billion market cap, Danish company International Service Systems, Delaware North Companies, Centerplate, and Elior SA. In Uniforms, ARMK competes against Cintas (NASDAQ:CTAS), Unifirst (NYSE:UNF), and G & K Services Inc. EBITDA margins for its Food and Support Services peers range from 6.5% to 8.9%, while Uniform peer margins range from 13.2% to 18.9%, which compares to Aramark's 8.3% EBITDA margin in fiscal 2013.
According to an IBISWorld Report, ARMK's end markets are expected to grow at a 2.6% annual rate over the next five years. Importantly, only 50% of the market opportunity is outsourced, suggesting ARMK has the potential to outgrow the market through increased outsourcing penetration. Management believes there is substantial potential to win business from customers who currently provide these services in-house, particularly as more and more customers seek to lower costs and focus on their core businesses. Within its core North American market, ARMK is focused on growing in the education and healthcare sectors, which (1) are underpenetrated at only 30% outsourced and (2) are increasing as a percentage of GDP. Outside North America, the company also operates in select, high growth emerging markets in Asia and South America, where GDP growth is significantly higher and outsourced services penetration is much lower.
We see sales growing in the mid-single digit range over the next few years, as overall market growth is augmented by institutions increasingly opt to outsource to providers like ARMK rather than manage its own services in-house. Additionally, ARMK expects to increase penetration within its existing customer base as currently only 11% of its customers use its food and facilities services, suggesting even a slight increase in cross-selling could be a material revenue and profit driver. Lastly, while not included in our model currently, we think sales could be further bolstered through bolt-on acquisitions. Management anticipates further consolidation in the market and could use its scale and operating know-how to achieve synergies and lower the effective cost of the acquisitions.
On the margin front, we expect volume leverage to be a powerful driver of margin improvement, with EBITDA margins improving from 8.3% in FY2013 to 9.4% by 2015 (Note: Our EBITDA differs from ARMK's adjusted EBITDA definition primarily because we do not exclude stock option expenses in our calculations). While volumes are the biggest driver of the expected margin improvement, we'd highlight that the company took ~$110mn worth of restructuring-related charges in FY2013 and disclosed in its S-1 that it was investing in its IT systems capabilities, suggesting margin leverage could be an upside surprise in future periods.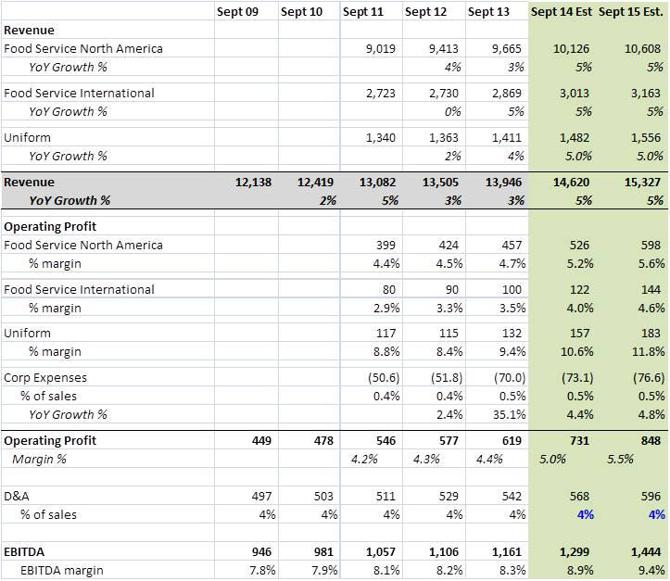 At ~$25, ARMK is trading at 7.7 times our fiscal 2015 EBITDA estimate, which compares to its peer group average of 9.1 times. Our price target of $34 is based on ARMK trading at parity with peers, with its multiple expanding during the year as investors get more comfortable with the business and management's ability to execute.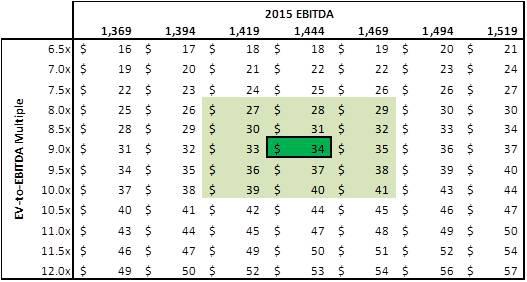 One key negative is leverage, as ARMK currently carries a significant amount of debt (~$5.4 billion) and maintains a debt-to-EBITDA ratio of just under 5 times. Offsetting this, however, is that the company has no significant maturities until 2016 and the business generates a healthy amount of cash, with free cash flow averaging ~$300 million annually over the past five years, suggesting the company can handle a high level of debt has the ability to de-lever organically over time.
Disclosure: I have no positions in any stocks mentioned, but may initiate a long position in ARMK, over the next 72 hours. I wrote this article myself, and it expresses my own opinions. I am not receiving compensation for it (other than from Seeking Alpha). I have no business relationship with any company whose stock is mentioned in this article.