As costs have increased and margins are expecting to decrease, oil and gas majors including Royal Dutch Shell (NYSE:RDS.A) (NYSE:RDS.B) have released their first profit warnings in years. As this weakness is being felt by major E&P companies such as Chevron (NYSE:CVX) and Exxon Mobil (NYSE:XOM) any drop in pricing will be an excellent opportunity to add to or create a long-term buying opportunity.
Why profit warnings
On January 17th Royal Dutch Shell presented their Q4 / full year update. Within the article they note several factors contributing to the weak quarter:
profit margins on products from Shell's refineries continued to be under pressure in Asia, Europe and Australia.
maintenance expenses in gas-to-liquids plants in Qatar.
security issues in Nigeria causing pipelines to shutdown.
The outcomes from these issues will be reflected in lower results in both Upstream and Downstream businesses compared with the full year 2012.
Also contributing to the above factors, some of their current assets are struggling. The Kazakh oil-field that cost $30 billion is at least 8 years overdue. According to Talking-Biz News "Shell wrote down more than $2 billion last year, the value of its shale assets in North America. Sea ice and an oil-rig crash hurt an Arctic exploration project after an investment of more than $4 billion."
Oil Price estimates
Adding to the issues listed above, the EIA has estimated that oil prices will remain volatile but stagnant over the next few years. In 2014 WTI crude oil is projected to average $93/bbl while in 2015 estimates are that WTI averages around $90/bbl. There will be many variables that create volatility over the next few years. As the chart below indicates WTI could range from ~$120.00 to ~$80.00 per barrel.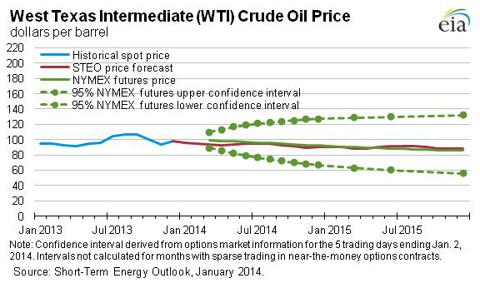 Chart sourced by the EIA
Why Royal Dutch Shell?
The above issues are contributing to weaker margins over the next year or so, but if an investor has a timeline longer than that, the next year or so could provide some significant buying opportunities.
Currently Royal Dutch Shell, pays a solid yield of 5.10%. Future cash flows are expected to be slightly lower than anticipated with the price of oil being slightly depressed but with global consumption on the increase the demand will continue to be there.
Company Strategy
As highlighted in the company's long-term strategy, the company is set to deliver "$175-200 billion of cash flow from operations excluding working capital movements for 2012-2015." This is based on Brent crude remaining at approximately the same level as 2013.
This cash will be used to finance the investment programme of $120-130 billion which is 10-20% higher than 2008 - 2011 levels and support the dividend.
The Upstream business has a target to reach an average production of some 4.0 million boe/d by 2017-2018, which is 21% higher than 2012.
Global consumption Oil
As the price of oil is expected to average just over $90.00 in the next 2 years global consumption is expected to continue to grow.
According to the EIA, global consumption grew by 1.2 million bbl/d in 2013. The organization expects global consumption to grow by a similar pace of 1.2 million bbl/d in 2014 and increase to 1.4 million bbl/d in 2015, exceeding 93 million bbl/d by the second half of 2015.
Valuations
In the section below, I will use a couple of different methods to find a valuation of the stock price. In this section, I will use the EV/ EBITDA to assess if the stock is over or undervalued compared to the industry average, the Discounted Cash Flow valuation model and forward P/E ratios to estimate the current value of each share.
EV/EBITDA = Enterprise Value / Earnings before interest, Taxes, Depreciation and Amortization
In the next section, I will use the EBITDA to calculate the EV/EBITDA. The adjusted EBITDA takes into account foreign exchange and share-based payment expenses. The EV/EBITDA ratio is one of the most commonly used valuation metrics, as EBITDA is commonly used as a proxy for cash flow available to the firm. Integrated oil and gas stocks typically have an EV/EBITDA ratio that trades in the 4.0x to 5.0x trading range.
Enterprise Value or EV = Market Capitalization + Total Debt - Cash and Cash Equivalents.
EV - $221.590 billion + 37.078 billion - 14.278 billion = $244.390 billion
EV = 244.390 billion
EBITDA = 59.365
EV/EBITDA = 4.11
As the Integrated oil and gas sector often trades in the 4.62 trading range, an EV/EBITDA ratio of 4.11 indicates at current levels the stock is trading just under fair value compared to other companies in its sector.
Discounted Cash Flow
I believe using the Discounted Cash Flow valuation model for Royal Dutch Shell to be fair because DCF analysis can help one see where the company's value is coming from and one can generate an opinion based on that.
Even though there are variations in calculating this formula, this model is based off of a terminal value of $274.266B and a WACC of 5.12%. The terminal value $274.266B is based off of the company trading at 4.62x EBITDA which is the EV/EBITDA value for the industry. At this point in the market, using the valuations above, I have concluded Shell's current value to be $83.80 per share.
As of January 20th, Royal Dutch Shell's stock was trading at $70.59. Using the Discount Cash Flow Formula, this indicates the stock is trading at a 18.75% discount to today's price.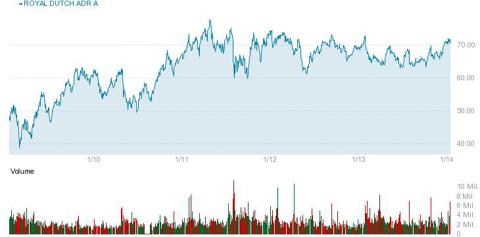 Strategy
As the company is expecting to have a weaker Q4 report, any volatility in the price could provide an excellent buying opportunity. I believe if you added a position here and waited for the "bad news" or the overall market to bring the price down, this would be an excellent time to invest in a company with excellent overall fundamentals a great business model and trading at a cheap valuation.
Conclusion
Over the past nine months, Shell's stock has been relatively flat. As the company is expecting to have a weaker Q4 report, I believe any pullback in price is a buying opportunity. Even though the company is expected a weak Q4, the overall business looks strong from a long-term point of view. Even though the next year or so could be quite volatile, the company pays a nice 5.04% yield to wait for conditions to improve. At current levels using the Discount Cash Flow Formula, I have calculated that Royal Dutch Shell is currently trading at a 18.75% discount to today's price.
Disclosure: I have no positions in any stocks mentioned, but may initiate a long position in CVX, RDS.A, XOM, over the next 72 hours. I wrote this article myself, and it expresses my own opinions. I am not receiving compensation for it (other than from Seeking Alpha). I have no business relationship with any company whose stock is mentioned in this article.