Eagle Rock Energy Partners, L.P. (NASDAQ:EROC) develops and operates oil and natural gas projects, gathering systems and processing plants. It is set up as a master limited partnership or "MLP" which offers tax advantages and a very generous yield for shareholders. This company recently decided to reduce the quarterly distribution from 22 cents to 15 cents, and this resulted in a significant pullback in the stock. These shares were trading around $7.50 in October, but it has since dropped to about $5.90 per share. As a result, this stock appears undervalued and it yields about 10%.
Eagle Rock has a midstream division which owns natural gas gathering and processing assets in four natural gas producing regions, including: the Texas Panhandle, East Texas, Louisiana, South Texas and the Gulf of Mexico. This midstream division has approximately 8,134 miles of pipeline, 20 processing plants with around 787 MMcf/d of plant processing capacity. Eagle Rock's upstream division includes projects in several regions within the United States, including: Southern Alabama, Mid-Continent, Oklahoma, Arkansas, the Texas Panhandle and North Texas, and the Permian Basin. Its upstream properties are comprised of: 559 gross operated productive wells, 1,249 gross non-operated wells and it has proved reserves of 350 Bcfe, with a composition breakdown of about: 56% natural gas, 22% crude oil, and 22% natural gas liquids.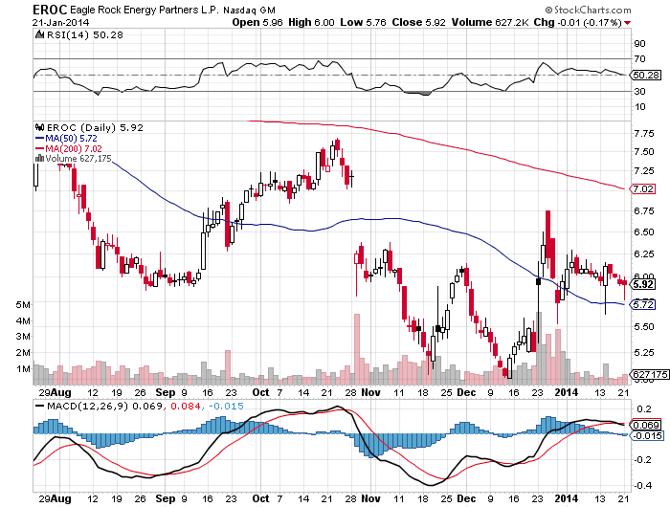 As the chart above shows, this stock has seen volatility in recent months and a sharp pullback from the highs of about $7.50, which was set in October. More recently, the shares spiked to about $6.75, on news that Regency Energy (NYSE:RGP) would buy its midstream assets for roughly $1.3 billion. This deal is expected to close in the second quarter of 2014 and it will allow Eagle Rock to focus on upstream operations. This transaction will give Eagle Rock more flexibility and financial strength. Now that the excitement over the deal has calmed down, the shares are back to about $6 which gives investors another buying opportunity for this high-yielding stock. Here are a few points to consider:
1) The need for a dividend reduction was not a surprise to anyone who reviewed the financial reports in recent quarters. The good news is that the downside risk of a dividend cut is now out of the way and it appears to be more than priced into the stock. In addition, recent earnings results and comments by management indicate that the quarterly distribution of 15 cents per share is sustainable. For the third quarter in 2013, the company reported adjusted EBITDA of $62.8 million. This represents an increase of approximately 12% when compared to the $55.9 million reported for the second quarter of 2013. It also reported cash flow of $24.9 million, which is an increase of approximately 10%, when compared to the $22.8 million reported for the second quarter of 2013. Management also made these positive comments in regards to the new distribution policy: "Distribution coverage was approximately 1.05x for the third quarter of 2013, and management expects coverage to increase over the next several quarters."
2) With the shares in the $6 range, the 15 cent per quarter dividend (or 60 cents on an annual basis), the stock yields about 10%. Furthermore, the next payment is expected to occur in early February so investors who buy in now could potentially see the stock rebound in January and then look forward to being paid the next dividend in February.
3) Eagle Rock shares could also have upside in a takeover situation: There has been a significant amount of merger and acquisitions activity in this sector and this company could be more valuable than the market realizes. A recent article highlights the potential Eagle Rock has in a takeover situation. Even though the midstream assets are being bought, the rest of the company could also be attractive. The article states:
"This presents a very compelling buyout thesis for the partnership, however. Theoretically, Eagle Rock could court multiple suitors: E&Ps for its producing assets and pipeline companies for its midstream assets. The biggest weakness in the midstream story is its fee-based revenue, but we've already seen impressive turnarounds in that arena. Consider that PVR Partners-a recent buyout story itself-managed to increase its fee-based revenue from 30% to 80% in just three years."
4) Top analysts see upside potential in the share price. A November 16, 2013, report from S&P analysts (which was released after the cut in the payout) sets a 12-month price target of $8 per share for Eagle Rock. Consensus price target estimates are even higher at $8.85 per share. With this stock just about $6 now, investors could see upside of over 30% in capital gains alone if the S&P $8 target is reached, and more if consensus price targets of $8.85 are reached. Most analyst targets are based on where the stock is expected to go in the next 12 months, so 2014 could be a great year when you combine the yield of 10% and upside in the share price.
The potential downside risks investors should consider in the MLP sector include a reduction in the distribution, but that has already occurred with Eagle Rock Energy Partners and it has been priced in now. With a reduced but more conservative payout and improving financial results, the risks of any further cuts appears limited. Other risk factors are typically a decline in the price of natural gas or oil, however, with the U.S. and global economy showing slow but steady growth, this risk appears limited for now. In fact, natural gas prices have been rising in recent weeks which could boost financial results for Eagle Rock in the current quarter. With potential downside risks appearing limited and with an opportunity to buy the shares before the next dividend payment in February, this stock is one of my top buys right now.
Here are some key points for Eagle Rock Energy Partners
Current share price: $5.92
The 52 week range is $5.01 to $10.52
Annual dividend: 60 cents per share which yields about 12%
Data is sourced from Yahoo Finance. No guarantees or representations
are made. Hawkinvest is not a registered investment advisor and does
not provide specific investment advice. The information is for
informational purposes only. You should always consult a financial
advisor.
Disclosure: I am long EROC, . I wrote this article myself, and it expresses my own opinions. I am not receiving compensation for it (other than from Seeking Alpha). I have no business relationship with any company whose stock is mentioned in this article.