The Senate Starts Asking Questions
In the world of being a Herbalife bear, we haven't had too many good days over the last year. We've watched Herbalife run up over 100% in the last 12 months and have endured countless insults and vitriol from those defending the company. I got squeezed out once and reloaded my short heading into 2014 around $78-$80. Today, on the other hand, was a pretty good day.
This morning, after cashing out from Netflix's (NASDAQ:NFLX) earnings beat and subsequent price movement, a little instant message bounced through onto my desktop from an old investing friend who shares my discontent for Herbalife (NYSE:HLF).
"HLF!!!", it simply read.
Interested, I checked the ticker. Down 13% on no news. "How much longer until the headline hits?" I asked myself. I took a look at the intraday chart - something's going on.
- source Yahoo!)

I sat back and sipped my coffee.
Then, this, from Reuters:

Jan 23 (Reuters) - Massachusetts Senator Edward Markey is asking for more information about the business practices of nutrition company Herbalife, which has been accused of running a pyramid scheme by prominent hedge fund manager William Ackman.

Markey sent letters to the Securities and Exchange Commission, the Federal Trade Commission and to Herbalife itself to try an obtain more information, his office said in a news release on Thursday.
I sat back in my chair, thinking about all of the insults I've endured over the past year from Herbalife longs and distributors. Most recently, when I defended Daniel Ravicher's lawsuit against the company amidst longs cheering a "victory" that in essence, had no material substance to it.
All of this after longs and bulls were claiming that China's recent probe into Nu Skin (NYSE:NUS) had absolutely nothing to do with the U.S.'s decision of if they should look into the Herbalife business model. The comments to my article about the Nu Skin debacle looked like this: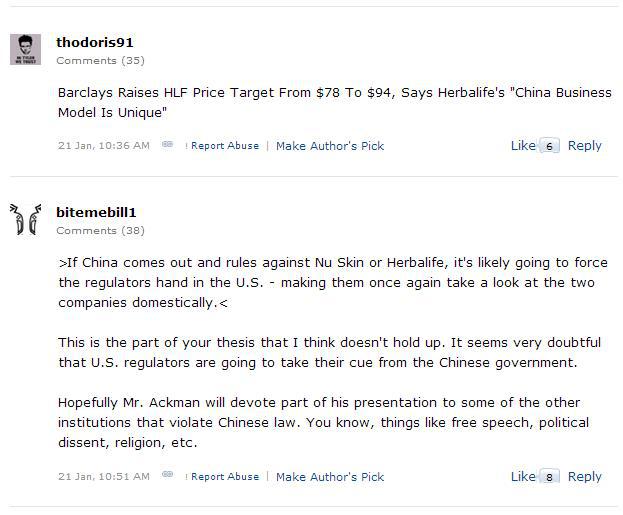 So, it's looking like the China situation may have catalyzed more questions arising in the U.S. Again, I stated in my last article that Ackman's original thesis in 2012 served the correct purpose - it started to get eyes on the situation.
Now that the world knows about the controversy, the fundamentals will govern the rest. Herbalife is going to have to face reality, eventually.
Meanwhile, Ackman is Reloading
Reports have surfaced that Ackman will be making a presentation next month to try and push the point that Herbalife is acting illegally in China. It was reported by the NY Post days ago:
Hedge fund activist Bill Ackman plans to make a presentation next month that he claims will lay out evidence that Herbalife likely operates illegally in China, The Post has learned.

The date and place of the presentation --which he first hinted at in a recent investor letter - is not yet set, sources familiar with Ackman's strategy said.

The Ackman development comes as shares of Herbalife and other multilevel marketing companies got pummeled Thursday on news that the Chinese government said it is investigating claims in a state-run newspaper that a second multilevel marketing firm, Nu Skin Enterpristry.
Additionally, on January 17th, some interesting options activity was observed by the guys at CNBC.
On Jan 9th, somebody bought 25,000 January 15' $50 puts. On the 10th, presumably the same buyer came in for 20,000 more puts.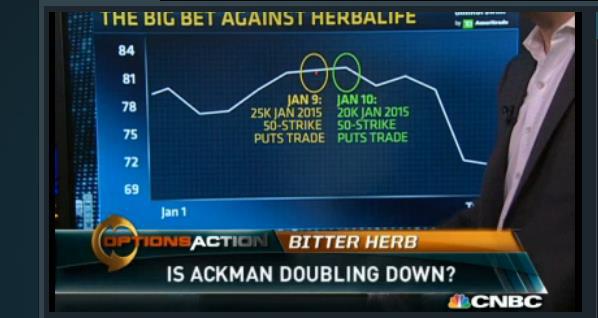 Could it be Ackman, or potentially another investor? How many people out there can afford to pay $30+ million in premiums?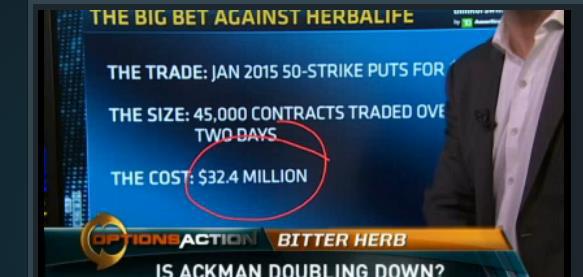 Whomever it was, those trades represent 4.5 million shares of Herbalife - all off about $7 bucks today - and that premium is basically paid for already.
Reality Will Set In, Eventually
Herbalife is off its lows of the day, bouncing back up to the $65 area. The stock seems to know how to dodge bullets pretty well, but it's still down from the low $80's when the year started. The reality of the situation is:
We now have a U.S. Senator starting to ask questions about Herbalife's business model - a model that fits all 7 of the SEC'd guidelines on what consitutes a pyramid scheme.
Someone bought 4.5 million shares worth the put options just weeks ago. If it's not Ackman, Ackman may have just picked up a new best friend.
Herbalife stock is off 20% for the year so far.
I'm reiterating my bearish sentiment on Herbalife going forward and think the company remains at a risk of total loss eventually. The issue is not going away, and when people start to pile on, Herbalife is going to have a lot of tough questions to answer that they've been avoiding.
Herbalife is currently off $8.51 and trading at $65.02.
Disclosure: I hold Herbalife short, and own both puts and calls as part of a spread.
Disclosure: I am short HLF, . I wrote this article myself, and it expresses my own opinions. I am not receiving compensation for it (other than from Seeking Alpha). I have no business relationship with any company whose stock is mentioned in this article.