Background
I like to open each year on Seeking Alpha with a report on my public demonstration Dividend Growth Portfolio [DGP]. I keep it out in the open so that people can see how one person (me) executes a dividend growth strategy and what its results are.
This portfolio is my antidote to the many predictions and recommendations that are made in the investment media for which no follow-up is presented at a later time. The DGP, in contrast, contains no recommendations, but rather simply shows how an actual real-money real-time portfolio is working out in real life. All decisions have been made in real time along the way. It is not a hypothetical nor cherry-picked portfolio selected with 20-20 hindsight. It has been managed in real time with real money since its inception.
I created the DGP in 2008. I wish that I had created it sooner, but that's when I really got into dividend growth investing. The DGP now has more than 5 years under its belt. I know that some readers are going to compare my results to alternatives, so let me make the start date clear: It was June 1, 2008, meaning that its beginning values are the closing prices on May 30, 2008, which was the last day of trading in May that year. The portfolio ran for 7 months (not 6) in 2008 and has been running continuously since then.
The DGP is in an account at E*Trade. I created it out of an old aimless portfolio, and that's why it has a strange starting value of $46,783 on June 1, 2008. You may recall that early 2008 was not a great time to start a new stock portfolio. Later in the year, or ideally April 2009, would have been a lot better. But starting it during a bear market has turned out to have the educational advantage of showing how dividends help a portfolio recover from even a major market skid.
I never present the DGP as the best or as a model. It is simply an example. I do not suggest that anyone exactly follow my trades, and in fact I have turned down numerous requests for an "alert" service. I would much rather that individuals learn for themselves the principles and practices of dividend growth investing if they are interested in it.
No new money has been added to the portfolio since its inception. I accumulate dividends and reinvest them when they reach $1000. Not adding new money keeps the portfolio a pure demonstration of the power of dividend increases and dividend reinvestments.
The DGP's Objective
It is important to emphasize the primary goal of this portfolio. It is to produce reliable growing dividends. In the words of its Constitution:
The goal of the Dividend Growth Portfolio is to generate a steadily increasing stream of dividends paid by excellent, low-risk companies. The numerical target is for the portfolio to deliver 10 percent yield on cost within 10 years of inception. I am more interested in the ability of this portfolio to produce income than its sheer size.
This objective is different from the one that some readers think I ought to have, which would be to accumulate the most wealth possible. That is an understandable goal for many investors, but it is not the goal here. This is an important distinction, because the goal influences not only the type of securities that this portfolio contains, but also how it has been managed throughout its life.
The 10% yield on cost [YOC] target can be translated easily to dollars. Stating the goal another way, it is to have the dividend run-rate be $4678 by June 1, 2018. These are two ways of saying the same thing.
Income Performance
With 2013 in the books, this portfolio had a terrific year. Dividends received in 2013 exceeded 2012's by 18% to $2582, and its YOC increased from 4.7% to 5.5%.
Here's the year-by-year progress of the DGP's dividend growth, first in graphical form and then in a table.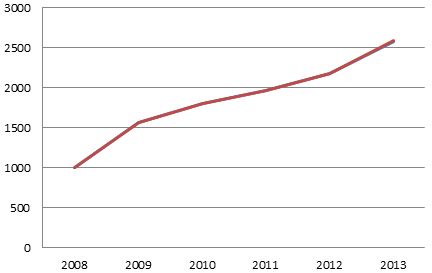 | | | | | |
| --- | --- | --- | --- | --- |
| Year | Dividends Received | Yield for the Year | Yield on Cost | Increase from Prior Year |
| 2008 (7 months) | $ 998 | 2.1% | 2.1% | NA |
| 2009 | $1568 | 4.3% | 3.4% | 57% |
| 2010 | $1799 | 4.3% | 3.8% | 15% |
| 2011 | $1960 | 4.0% | 4.2% | 9% |
| 2012 | $2179 | 3.8% | 4.7% | 11% |
| 2013 | $2582 | 4.4% | 5.5% | 18% |
| 2014 (projected) | $2769 | 3.9% | 5.9% | 7% |
| 2018 Goal | $4678 | | 10.0% | |
The last line in the table states the goal. Mathematically, yield on cost rises steadily, because the "original price" in the equation yield on cost = dividends / original price is fixed at $46,783. Each year's percentage increases in dividends and YOC are identical.
The following graph shows both the actual and goal lines out to 2018.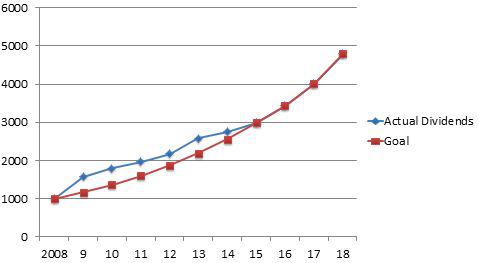 In this chart, I created the red goal line by using an online CAGR (compound annual growth rate) calculator to compute the annual values along a line that would connect the known dividends received in 2008 to the known goal in 2018. It turns out that the required rate of growth is about 17% per year, compounded.
Over the past year or two, the ability to project a sensible goal line has become more apparent and valuable to me. (Frequent commenter "chowder" emphasizes this aspect often.) You will note that the red goal line curves upward. That is the way that compounding numbers always appear. The curvature results from the accelerating effect of compounding, so it differs significantly from straight-line growth.
You will also note that the blue actual line is also curving upwards through 2013, reflecting that my own dividend growth has been compounding. From this graph, I am on track to meet the portfolio's goal by 2018. In fact at the moment, the portfolio appears to be ahead of the pace needed to meet the 10-year goal in 2018.
The blue actual line shows a 2014 projection that appears to be flattening. The projection is based on E*Trade's Income Estimator. That is a tool that assumes that all known dividend rates will continue unchanged through 2014. Thus it actually underestimates 2014's probable income for three reasons:
Companies will increase their dividends. Dividend increases to be declared during 2014 are not included yet in the Estimator's projections.
Additional shares purchased with reinvested dividends will pay dividends themselves. Until the new shares are purchased, the Estimator does not know about them.
Other changes may be made to the portfolio, such as swaps into higher-yielding stocks, that will increase the dividend stream. Again, these changes are not known to the Estimator until they are made.
By the end of 2014, I expect that the actual line will not have flattened out, but instead it will continue the curvature upward. By the end of the year, I anticipate that the DGP will have registered another double-digit dividend increase from 2013.
Because no new money is added to the DGP, all of the progress toward the goal comes from dividend increases, dividend reinvestments, and portfolio management. With compounding, a 17% CAGR is entirely achievable. The actual increase in 2013 was 18%.
Changes in 2013
On my website, I track this portfolio each month. Here is what happened in 2013.
In February, 2013, I did some trimming and rebalancing to comply with my new maximum position size limit of 15% (down from 20% in prior years). McDonald's (NYSE:MCD) and PepsiCo (NYSE:PEP) were both over that size limit. Both were also somewhat overvalued, and I had profits in both. So I decided to trim them and use the proceeds to further diversify the portfolio. I selected Darden Restaurants (NYSE:DRI) and Omega Healthcare Investors (NYSE:OHI). Both had higher yields than the stocks I was trimming. Therefore the transactions provided an immediate boost to the DGP's dividend stream.
I also made two dividend reinvestments. In March, I purchased shares of Lorillard (NYSE:LO), and in August I picked up some Philip Morris (NYSE:PM). Both were new stocks for the DGP, thus increasing the portfolio's diversification, and both additions obviously increased the dividend stream.
Through the end of 2013, the portfolio has generated more than $11,000 in dividends, and all of that money has been recycled back into the portfolio through reinvestments. For my shopping list, I always use the current edition of Top 40 Dividend Growth Stocks. The particular stock for reinvestment is selected based on current valuations, yields, company quality, and portfolio needs. Some positions have been added to, while other positions were started through dividend reinvestments. The portfolio currently has 17 positions, up from 10 when it started.
Looking Ahead to 2014
I have already made my first dividend reinvestment for 2014: I purchased about $1000 worth of Microsoft (NASDAQ:MSFT) a few days ago. As 2013 turned into 2014, I was right at the $1000 mark in accumulated dividends. I decided to wait to make my purchase until I had completed work on the new edition of Top 40. MSFT is a new position, the 17th stock in the portfolio.
Based on dividend run-rates, I expect to make two more reinvestments in 2014. I love reinvesting, because I have fun investigating and narrowing down the stocks that I will buy. I also know that each purchase will enhance the dividend stream.
As always, I will try to pick the best opportunities available at the time, taking into account the portfolio's needs and the valuations of the candidates. I now have several positions that are pretty small, so I may add to a couple of those rather than purchase new names. Long-term, though, I will continue to seek more diversification. The Constitution calls for a portfolio size of 20-25 stocks.
Intel (NASDAQ:INTC) is on special watch. They failed to increase their dividend "on time" last August, meaning that their dividend is frozen. That triggered one of the Constitution's selling guidelines, which is to "seriously consider" selling any stock that freezes its dividend. (You can read the portfolio's full Constitution here.)
My current thought is to see what happens with INTC's next dividend announcement, which should be coming shortly. I have a small profit in the stock, and it does pay a good yield (about 3.5%), so I have felt OK to wait to see what they do. Clearly, the company is not as committed to a regular program of dividend increases as I thought they were when I bought it.
Stocks in the Portfolio
| | | | | |
| --- | --- | --- | --- | --- |
| Company | Yield | Entered Portfolio | Shares | % of Portfolio |
| Alliant Energy (NYSE:LNT) | 3.9% | 2010 | 131 | 10% |
| AT&T (NYSE:T) | 5.5 | 2009, 11 | 67 | 3 |
| BHP Billiton (NYSE:BBL) | 3.8 | 2012 | 32 | 3 |
| Chevron (NYSE:CVX) | 3.3 | 2008 | 30 | 5 |
| Darden Restaurants | 4.3 | 2013 | 66 | 5 |
| Hasbro (NASDAQ:HAS) | 3.1 | 2012 | 52 | 4 |
| Intel | 3.5 | 2012 | 161 | 6 |
| Johnson & Johnson (NYSE:JNJ) | 2.8 | 2010, 11 | 95 | 13 |
| Kinder Morgan Energy Partners (NYSE:KMP) | 6.6 | 2008 | 55 | 6 |
| Lorillard | 4.4 | 2013 | 25 | 2 |
| McDonald's | 3.4 | 2008, 09, 11 | 77 | 10 |
| Microsoft | 3.1 | 2014 | 27 | 1 |
| Omega Healthcare | 6.1 | 2013 | 123 | 6 |
| PepsiCo (PEP | 2.7 | 2008 | 107 | 13 |
| Philip Morris | 4.5 | 2013 | 12 | 1 |
| Realty Income (NYSE:O) | 5.6 | 2008 | 170 | 10 |
| Shaw Communications (NYSE:SJR) | 4.3 | 2012 | 87 | 3 |
You can see the wide variance in proportion among the positions. When I started the portfolio in 2008, it had 10 equal-weighted positions. The unequal-weighted positions that you see are from opportunistic buying and selling, price changes and dividend reinvestments over the years.
I do not routinely rebalance this portfolio. I will redress imbalances that exceed the maximum size guideline (15%), but I do that as they appear, not on a set schedule.
I can see myself further reducing that maximum size guideline (to 12% or 10%) at some point in the future as the number of positions in the portfolio grows. If I lower it, a couple of positions may need to be reduced again.
In dividend growth investing, you can get similar results from many stocks. So I have come to see diversification as reducing risk without reducing rewards. (Obviously, I do not buy into conventional thinking on risk-reward tradeoffs in investing. I lean more toward Ben Graham's margin-of-safety principles.)
Total Performance
As stated earlier, the mission for this portfolio is focused on income. I accomplish this by collecting what I call "dividend rights" that come stapled to the shares that I buy. Without those, the only way to realize the value of shares would come from trading them to unlock their worth.
That said, I do track total paper return, partly because I want it to be competitive with the market as a whole, and partly because readers are always interested. The year-end total value of the portfolio was $70,485, or +51% since its inception. That value increased 19% in 2013, trailing the S&P 500's returns for the year. SPY, an ETF that tracks the S&P 500, gained 32% in 2013 with dividends reinvested.
Of course, I like to think of total returns over longer time frames. Although the DGP "lost" to the S&P 500 in 2012 and 2013, it remains ahead over the life of the portfolio.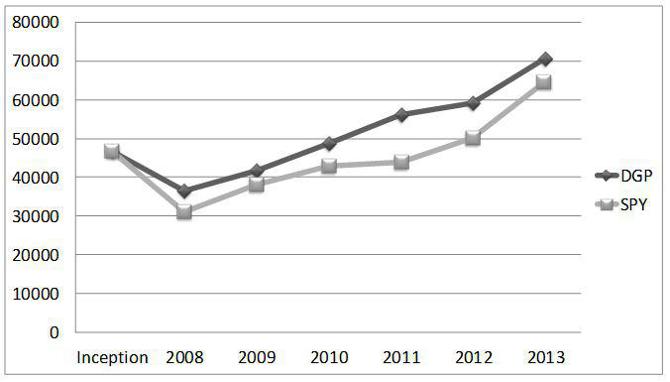 I am fully aware that there are dividend ETFs, such as SDY, that have delivered greater total return since the DGP began. However, the mission of the DGP is to generate reliable and increasing dividends. Its current yield is about 4.0%, compared to SDY's current yield of around 2.2%. Furthermore, SDY's distributions have not been reliable in terms of amount or growth. According to figures that I compiled, SDY held its distribution flat in 2011 compared to 2010; then dropped it in 2012 compared to 2011 by delaying what would have been the 4th payment into 2013; and then made 5 payments in 2013. (Some sources show that SDY skipped a payment in 2009, but a call to them confirmed that they made four payments in 2009.)
Disclosure: I am long BBL, INTC, LO, OHI, T, CVX, JNJ, MCD, PEP, DRI, KMP, MSFT, PM, HAS, LNT, O, SJR, . I wrote this article myself, and it expresses my own opinions. I am not receiving compensation for it (other than from Seeking Alpha). I have no business relationship with any company whose stock is mentioned in this article.