By: Anthony M. Wile Global Research Analyst
Global Market Strategy Team J.P. Morgan Funds
Overview
Given a potentially inaccurate assessment of labor force participation, the Federal Reserve may be missing the mark on their current economic projections, which increases the potential for policy error going forward.
Assuming the natural rate of unemployment is at the low end of Fed projections, the Fed can lower forward guidance thresholds without spurring an acceleration in inflation. However, if not addressed in an effective and efficient manner, short-term yields could suffer interim volatility.
If the natural rate of unemployment is higher than the Fed expects, the unemployment rate will most likely breach a level that could accelerate wage growth and inflation, which could diminish the effects of forward guidance on long-term yields and cause tighter financial conditions.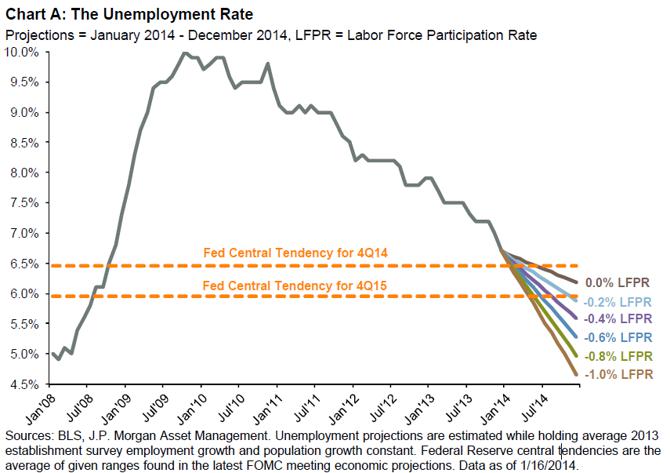 While overall job growth has been weak since the recession, the labor market has tightened more than the Fed had expected in 2013. Averaging 182,000 in non-farm payroll growth, the unemployment rate fell sharply by 1.2% to 6.7% on the back of a falling labor force participation rate (LFPR). More importantly, the decline was well ahead of the Fed's original timetable as outlined by Ben Bernanke during his press conference following the June 2013 Federal Open Market Committee (FOMC) meeting. For investors, a repeat of the Federal Reserve's missed estimates this year could be a cause for concern as future monetary policy is dependent on the Fed's economic projections.
While there are many unknowns, one aspect is certain: the unemployment rate cannot sustain another year similar to 2013 and not fall through the Fed's currently expected ranges. As shown in Chart A, which assumes 2013's average establishment survey employment growth and household population growth, any decreases in labor force participation would cause the unemployment rate to fall below the Fed's central tendency for 2014. Notably, if 2013's 0.8% fall in participation is repeated, the unemployment rate will rest below both the Fed's estimates for 2014 and 2015 and equal the Fed's current forecasts for long-term unemployment. Simply put, the Federal Reserve may be missing the mark on its current economic projections, which could increase the possibility for policy errors and volatility in financial markets later this year.
Debating Why the Labor Force is Shrinking: Cyclical or Structural?
While the Fed significantly underestimated 2013's fall in the unemployment rate, it is not certain we will see a similar decline in 2014. However, it is important to know how the FOMC is forming its expectations. As December's FOMC minutes highlighted, there is significant debate around explanations for why the work force is shrinking. Regardless, as Chart A indicates, if the Fed expects continued improvement in employment growth in 2014, it must also expect flat-to-increasing labor force participation in order to hit its unemployment targets. This would most likely be accomplished through a cyclical rebound in labor force participation.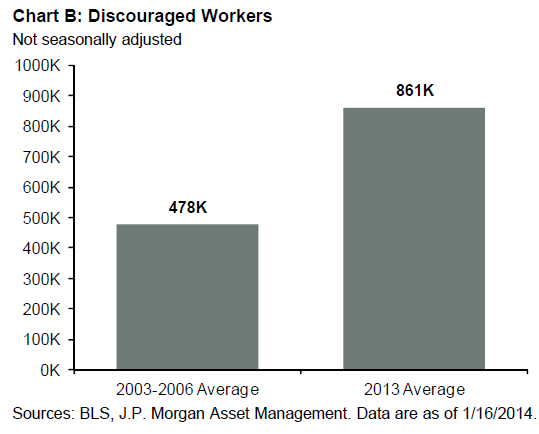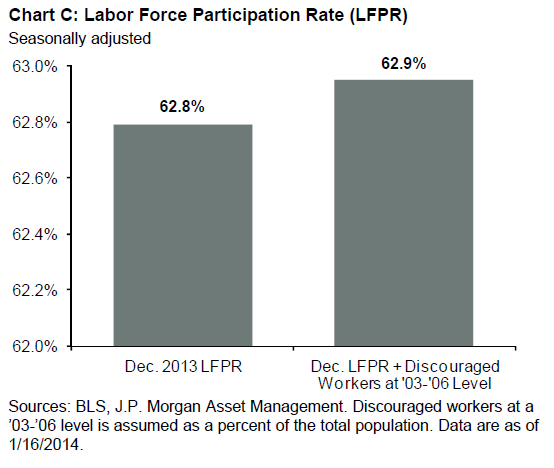 There are a few reasons to question whether cyclical factors will, in fact, help boost participation. As Chart B depicts, discouraged workers, or workers who have chosen to leave the labor force due to a lack of job prospects, remain significantly elevated above pre-crisis levels. If the labor market continues to improve, this should stimulate discouraged workers to re-enter the labor force in search of employment. Nevertheless, discouraged workers remain a very small fraction of the total labor force. As shown in Chart C, assuming discouraged workers dropped to 2003-2006 levels-reflecting workers rejoining the labor force-this would increase the labor force participation rate by a mere 0.1%.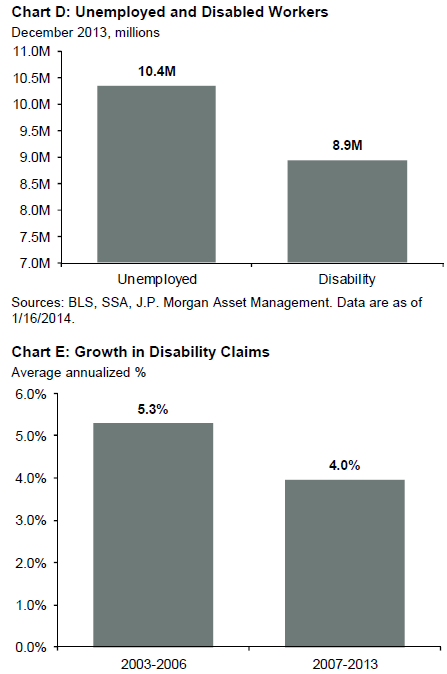 Another source of a cyclical rebound in participation could come from individuals receiving disability benefits. Over the last 10 years, the number of workers who have stopped looking for jobs after claiming disability has increased 3.1 million to 8.9 million, just shy of the total number of unemployed as shown in Chart D. However, while it is certainly possible that a portion of disabled workers may be claiming disability in light of poor job prospects, the underlying data suggests this may not be the case.
As shown in Chart E, the growth in disability claims has actually decelerated during the recession and recovery relative to the prior three years. This would indicate the rapid growth in claims experienced in the past decade is indeed structural and, as a result, we would not expect a meaningful rebound in labor participation from disabled workers returning to work.
Nevertheless, structural factors are likely to remain persistent headwinds for further increases in labor force participation. Indeed, recent findings by the Philadelphia Federal Reserve (1) indicate the participation rate has been driven downward solely by individuals retiring since the start of 2012, not discouraged workers. While this is largely due to baby boomers retiring and will continue to be a force in the years ahead, cyclical factors, such as further increases in household net worth, could accelerate this trend as more boomers find themselves financially able to retire.
In addition, extended unemployment benefits expired in 2014, leaving 1.3 million people without unemployment insurance. Active job search is a condition for receiving unemployment benefits and, without the need to fulfill this condition because the benefits expired many of these individuals may leave the labor force altogether, further reducing the measured unemployment rate. While Congress is debating whether to reinstate an extension to benefits, these unemployed workers could still leave the work force in the months ahead because they have abandoned hope of finding jobs. From our estimates, this alone has the potential to lower the participation rate anywhere between 0.1%- 0.5%.
Potential Outcomes and Market Implications
While the future path of the labor force participation rate is uncertain, there may be more structural headwinds than cyclical tailwinds. Moreover, combined with the potential for increased employment growth in 2014, the unemployment rate seems poised to fall through the FOMC's expected levels this year. Although a declining unemployment rate is clearly a long-term positive for the economy, the implications for financial markets are more dependent on where structural unemployment, or the unemployment rate that tends to spur an acceleration in inflation, currently resides.
First, the natural rate of unemployment could be lower than the Fed's estimates, which currently range from 5.2% to 5.8%. If this is the case, a falling unemployment rate should not increase inflation, or more importantly, wage growth, as significant slack in the labor markets would still remain. However, as financial markets react to an unemployment rate falling faster than expected and start pricing in for earlier-than-expected interest rate increases, the Fed's forward guidance will become pivotal in convincing markets that interest rates will indeed be held lower for longer. Unfortunately, with employment reports published monthly and FOMC meetings held every six weeks, the potential for yield volatility remains high in the interim. Even though short-term yield spikes should have a muted effect on the U.S. economy, emerging markets could suffer volatility as carry trades unwind-a situation that investors experienced in the months leading up to the Fed's tapering. (For further analysis on the relationship between short-term yields and emerging markets, please see Andres Garcia-Amaya's recent paper, Tapering on its own is meaningless... to emerging markets.
Second, and more problematic, natural unemployment could be at the high end of Fed expectations. In this scenario, the unemployment rate will most likely breach a level that could accelerate inflation and wage growth. While this is a positive for spending and consumption, it may cause interest rate expectations to move forward considerably, potentially putting an overly dovish Fed in a difficult position regarding monetary policy and tightening financial conditions. Given potential tightening in both short and long rates, the Fed may choose to calm U.S. and emerging markets while deciding to still hold rates low and tolerate higher inflation. However, this could diminish the effectiveness of the Fed's forward guidance on long-term yields, which are more important for long-term economic growth, as investors demand higher nominal rates in order to compensate for increasing inflation.
Unfortunately, estimates of the potential unemployment rate range widely due to difficulties in estimation. While it is possible to hit the Fed's long-run 5.2% to 5.8% central tendency estimates this year as the economy gains traction, there are arguments that support a higher level for natural unemployment. Secularly, as the baby boomers continue to retire, younger generations, which have higher structural unemployment rates than older cohorts, will represent a greater share of the labor force. Moreover, the recession may have increased the structural unemployment threshold as the number of long-term unemployed remains significantly elevated despite a falling unemployment rate and stronger employment growth. In theory, these workers slowly lose essential skill sets and human capital the longer they remain unemployed, making it more difficult to find jobs. While any estimate of structural unemployment should be approached with a high degree of doubt as forecasts are very flawed, a simple approximation can be seen in Chart F, which highlights a slight increase in the level since the recession and is consistent with theories outlined earlier.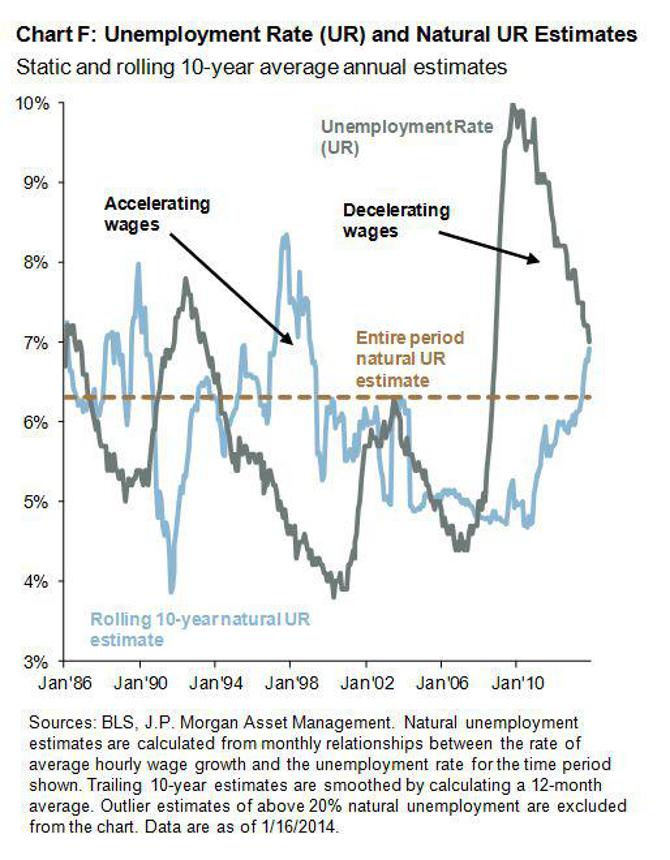 Where to now?
Whether the natural rate of unemployment rests above or below Fed projections is unknowable. However, for investors, it is important to focus on the facts. Employment growth accelerated during late 2013 and most forward indicators point to continued strength this year. Furthermore, as baby boomers are only beginning to retire, structural headwinds for labor force participation will continue to persist. As experienced in 2013, these forces have the potential to lower the unemployment rate far quicker than expectations, which may increase the probability for policy errors in the year ahead.
Investment implications
A falling unemployment rate should be a tailwind for equities, specifically within the cyclical sectors. However, although a slight headwind for fixed income generally, increased potential for Federal Reserve policy error could introduce additional volatility in rate markets going forward.
For more of our insights, please visit: http://bit.ly/1gfcKfM
DISCLOSURES:
Any performance quoted is past performance and is not a guarantee of future results.
Diversification does not guarantee investment returns and does not eliminate risk of loss.
Opinions and estimates offered constitute our judgment and are subject to change without notice, as are statements of financial market trends, which are based on current market conditions. We believe the information provided here is reliable, but do not warrant its accuracy or completeness. This material is not intended as an offer or solicitation for the purchase or sale of any financial instrument. The views and strategies described may not be suitable for all investors. This material has been prepared for informational purposes only and is not intended to provide, and should not be relied on for, accounting, legal or tax advice. References to future returns are not promises or even estimates of actual returns a client portfolio may achieve. Reference to specific securities, asset classes and financial markets are for illustrative purposes only and are not intended to be, and should not be interpreted as, recommendations. Any forecasts contained herein are for illustrative purposes only and are not to be relied upon as advice or interpreted as a recommendation. J.P. Morgan Asset Management is the marketing name for the asset management business of JPMorgan Chase & Co., and its affiliates worldwide.
JPMorgan Distribution Services, Inc., member FINRA/SIPC
MI-MB-Unemployment
© JPMorgan Chase & Co., January 2014
Disclosure: I have no positions in any stocks mentioned, and no plans to initiate any positions within the next 72 hours.
Business relationship disclosure: This article was written by Anthony Wile, Research Analyst, J.P. Morgan Funds. This article was submitted on his behalf via the J.P. Morgan Funds' Seeking Alpha profile. Anthony Wile is long (NYSEARCA:SPY).