Natural gas prices have continued their rally today after another drawdown in storage was reported for the last week and cold temperatures and snow continue to hit the northeastern United States. Also within the energy complex we see that WTI Crude prices are higher after a modest rise in inventories occurred. The quick move higher in oil does have us a bit worried that maybe we have seen too much too fast as far as returns are concerned. The fact that oil equities have not fully participated in the move higher also speaks volumes so we do find ourselves in a bit of a limbo state. We think we head higher long-term, but recognize that there might very well be a leg down in the short-term after this recent price action.
Although we can understand playing the US Natural Gas Fund (NYSEARCA:UNG) to gain short-term exposure to the upside, we would refrain from being long the United States Oil ETF (NYSEARCA:USO) as we think there is better value at this point in oil equity names.
Chart of the Day:
Natural gas prices are now at 52-week highs. Earlier today prices nearly hit $4.95/MMbtu in trading, but there has been some profit taking since. We wonder if today's intraday high will be the high water mark.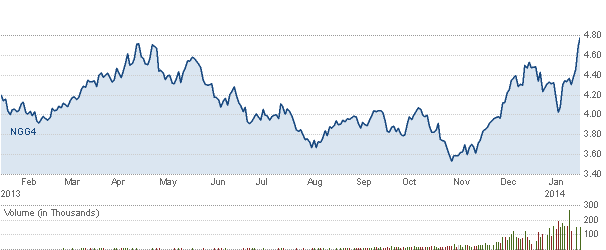 Source: CNBC
Commodity prices this morning are as follows:
Gold: $1,260.50/ounce, up by $21.90/ounce
Silver: $20.035/ounce, up by $0.196/ounce
Oil: $97.62/barrel, up by $0.89/barrel
RBOB Gas: $2.6704/gallon, down by $0.0067/gallon
Natural Gas: $4.792/MMbtu, up by $0.10/MMbtu
Copper: $3.289/pound, down by $0.048/pound
Platinum: $1,464.80/ounce, up by $2.40/ounce
Natural Gas Names Getting Attention
With natural gas prices having risen almost an entire $1/MMbtu in the last few weeks from their low to intraday high investors have begun to seek exposure to the commodity via some equity names. The speculation happens each time that natural gas prices surge but with the supply overhang and excess production we have been hesitant to seek dry natural gas names out for the sake of playing momentum.
We think this name goes higher long-term, but for those looking to establish a position we think the coming pullback would be a better time to do so than at current prices.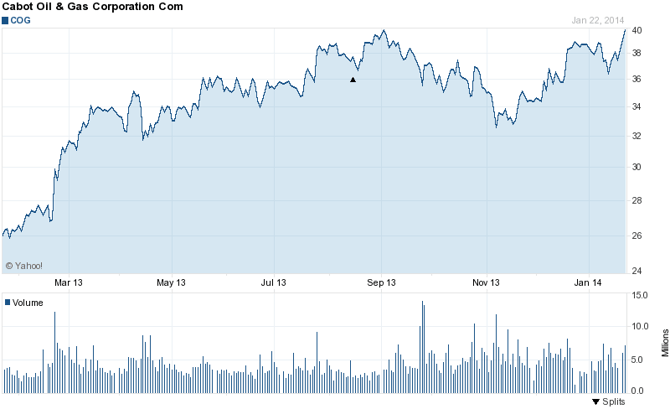 Source: Yahoo Finance
Now although there are some names we like very much, such as Cabot Oil & Gas (NYSE:COG) and Rex Energy (NASDAQ:REXX), there are other names which we believe are merely trading tools and probably not worth the risk at this point. Cabot Oil & Gas and Rex Energy are both growing production in the Marcellus Shale, a formation which has extremely low production costs and one of the last dry natural gas formations where it makes sense to continue to drill and produce as much as possible. We also like the liquids exposure that Rex has been able to add via their Utica acreage which they continue to develop. The bottom line here is that both companies have low cost production and continue to grow that production at very healthy rates. Two important factors we have discussed in detail over the years that make companies great investments.
But not all explorers are created equal and times do change companies, with EXCO Resources (NYSE:XCO) being one of those names. EXCO has indeed undergone some significant changes over the past year but will have to wait for the benefits of those moves to fully materialize over the next couple of years. Many still remember this as a way to play dry natural gas during rallies and because of this we think that the recent rally is to be sold, not to mention that there is some resistance at the $5.50/share level that could force the stock lower, as is already happening today.
There is a lot that the company has done that we like, but it will take time for those moves to pan out. Short-term it looks like there is more pain ahead and we do wonder about the dividend issue.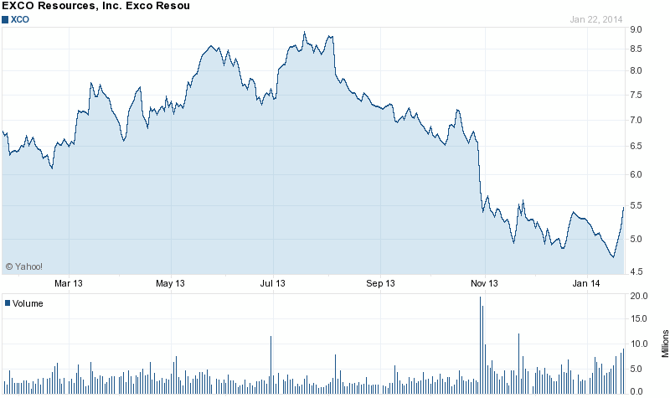 Source: Yahoo Finance
Right now we would not be buyers of any of the natural gas names due to the big moves higher on the back of the natural gas rally. What is lost on many investors is that the pricing for natural gas which is moving strongly higher is the spot price, not long-term pricing. Another point being missed is that most of these companies have the vast majority of their production hedged and benefit little, if at all, on these moves higher in natural gas pricing. So there is no need to chase these names, but if one must get exposure then we recommend sticking to the quality names and preferably those with exposure to extremely low cost natural gas production and higher margin production from natural gas liquids, condensate and oil.
For those already holding trading positions in the lower quality names as a speculation that a cold winter would happen this year, it might very well be time to take profits. We would if we owned the lower quality names, even if a dividend was paid.
Disclosure: I have no positions in any stocks mentioned, and no plans to initiate any positions within the next 72 hours. I wrote this article myself, and it expresses my own opinions. I am not receiving compensation for it (other than from Seeking Alpha). I have no business relationship with any company whose stock is mentioned in this article.