"What are the companies worth? Eventually, this is what it comes down to. It's not enough to buy a share in a good idea, or even a good business. You must buy it at a reasonable (or, hopefully, a bargain) price."
Howard Marks, "Bubble.com" - January 3, 2000
Finding bargains in today's market has become a more arduous task than in recent years past, especially in promising growth markets like Human Capital Management ("HCM") where cloud-based providers have the potential to completely alter the landscape of this multi-billion dollar industry.
Saba Software (OTCPK:SABA) ("Saba" or "the Company") is a cloud-based provider of next-generation HCM solutions for some of the largest and most successful organizations around the globe. Saba is an intriguing high-quality growth story with an attractive recurring revenue business model, but an ongoing restatement of financials since 2012 has led to delisting from the NASDAQ, delayed SEC filings, management turnover, and a significantly reduced valuation relative to the broader industry. Saba Software's ongoing accounting restatement should be drawing to a close in coming months, with a resolution opening the door for NASDAQ relisting.
The accounting restatement has been a dark cloud hovering over Saba, but in reality the Company appears to have a thriving business with strong growth prospects. With the stock trading at a 50% discount to peers, I believe investor concerns are more than adequately reflected in the share price and a resolution of pending issues should lead to a significant upward revaluation of the stock. As legacy issues are put to bed, the company may also come into play, and recent transactions in the space suggest 90% upside.

Disclaimer: Saba Software is listed on the OTC Pink Sheets and is a thinly traded stock. Limit orders should always be used. While I believe the stock to be significantly undervalued, there is some complexity to the story. As always, you are encouraged to conduct your own due diligence.
Company Overview
Saba Solutions, founded in 1997 in Redwood Shores, CA, is a global leader in cloud-based talent management solutions. The Company partners with organizations to transform the way they work by enabling the continuous learning, engagement, and development of everyone in their "people network" including employees, partners, and customers. Through the Saba Cloud Platform, the Company delivers learning, performance, succession, career development, workforce planning and compensation solutions that incorporate modern technologies such as social, collaboration, mobile and gamification. The Company currently supports over 31 million users from 2,200 customers across 195 countries and in 37 languages.
"The New World of Work"
As those readers that are business owners or senior decision makers can attest to, organizations today are striving to "do more with less" in an environment of high business expectations and an evolving global economy. Dramatic shifts in technology, globalization, demographics and regulation and changing the way that businesses, employees and customers coexist. While in the past companies needed only to focus on employees within their organization, today's global workforce increasingly includes strategic partners or joint ventures, outsourced and contracted work, and open-sourced talent.
It should come as no surprise that traditional talent management solutions are proving to be increasingly inefficient, as old methods of goal tracking and performance evaluation fail to solve for today's increasingly complicated work environments. According to a recent World at Work survey, 58 percent of HR leaders gave their performance management system a "C" grade or worse.
Modern Solutions to a Classic Problem
"We were impressed with the learning solution Saba provided, as well as the speed and skill with which it was implemented."

-Procter & Gamble

"The Saba platform is helping us optimize our efforts in corporate learning and paying good returns for Hitachi Data Systems."

-Hitachi
Saba Solutions offers organizations ways to solve their workforce challenges through the Saba People Cloud, the firm's social enterprise platform. This platform combines the best ideas from traditional learning and talent management and integrates them with one of the most advanced social collaboration platforms available. It is an open, cloud-based environment built to develop and engage all participants in a client organization's people network.
The Saba People Cloud allows customers to create people profiles that capture not only formal data such as performance scores, skills, and talent indicators, but also informal information such as content contribution, expertise and experiences, and participation in community discussions. It also helps model the value chain, allowing employees, customers, partners and suppliers to connect and collaborate on the same social enterprise platform.
With organizations increasingly turning to SaaS and cloud-based solutions which recognize the new ways that companies, employees and customers coexist, Saba Software is well positioned to capitalize on this secular growth opportunity.
Industry Consolidation and Valuation
According to research by International Data Corporation, the Human Capital Management ("HCM") industry is on pace to eclipse $11 billion in worldwide revenue by 2016, up from $7.5 billion in 2011. With that said, it should come as no surprise that tremendous investment dollars have been spent in recent years by big enterprise in acquiring key cloud-based players in the burgeoning human capital management industry. Some of the more transformational deals have been:
December 2011 - SAP (NYSE:SAP) acquires SuccessFactors for $3.4 billion
Valuation: 8.1X EV/LTM Revenue
February 2012 - Oracle (NYSE:ORCL) acquires Taleo for $1.9 billion
Valuation: 5.8X EV/LTM Revenue
December 2012 - IBM (NYSE:IBM) acquires Kenexa for $1.3 billion
Valuation: 3.8X EV/LTM Revenue
Another headline transaction was the widely anticipated initial public offering of WorkDay (NYSE:WDAY). The deal priced with an implied valuation of 17X EV/LTM Sales, and investors proceeded to bid shares up 72% in the first day of trading. The stock is currently up roughly 93% since the IPO.
These valuations are indicative of broader investor demand not only for cloud-based HCM companies, but SaaS providers as well. Small-cap SaaS stocks are generally valued around 6X EV/LTM Revenues, although valuations can be substantially higher (Workday is valued today at roughly 37X EV/LTM Revenues).
Stock Price Performance: Trailing 3 Years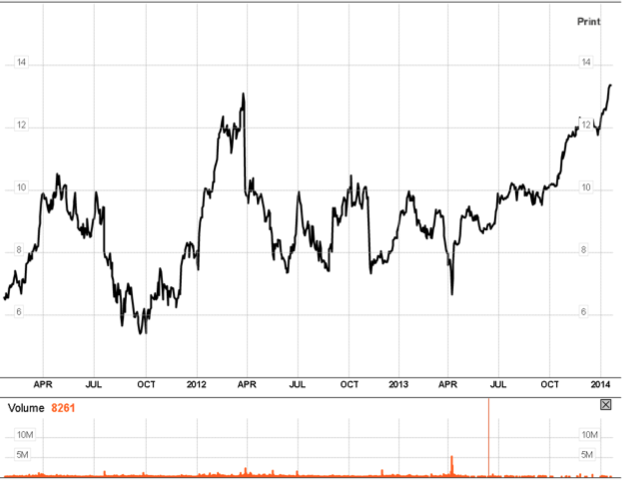 Source: Bloomberg
A Brief History of Saba's Accounting Snafu
Before looking at Saba in context of financial performance and valuation, it's critical to review several key events in the company's history. Going back to 2011, Saba seemed to truly be hitting its stride; revenues topped $116 million on the heels of a strong learning management software market and increasing adoption of the recently launched Saba People Cloud. The Company was making strong progress towards its transition to a recurring revenue subscription model, and there was strong investor awareness in this space as M&A speculation ran high leading up to the takeovers of SuccessFactors and Taleo.
On March 28th, 2012 the Company announced that it would delay filing its Form 10-Q pending a review of several transactions that had taken place in months prior. This was initially assumed to be a minor accounting issue, and on June 9th, 2012 the Company announced that it had identified a mere $271K in revenues that had been improperly recorded. The implication was that this would have little to no impact on the Company's bottom line; rather, the issue was more from the timing of revenue recognition. However, two months later the Company announced that it was extending its accounting review to include financials from 2010, 2011, and the first half of fiscal year 2012.
The ongoing accounting review prevented Saba from filing its results with regulators in a timely manner, something that is absolutely required to be listed on the NASDAQ or NYSE. After several non-compliance letters from NASDAQ Global Markets, Saba was delisted from the NASDAQ on April 9th 2013 and has since traded on the OTC Pink Sheets.
In December 2012, the Company's CFO Elaine Kitagawa resigned. Three months later, CEO and Founder Bobby Yazdani stepped down. Saba subsequently named Shawn Farshchi as CEO and KPMG as its new auditor. Mr. Farshschi formerly served as COO for Coremetrics, which was eventually sold to IBM in 2011.
Business Fundamentals Appear Solid
Due to the ongoing accounting restatement, which precludes Saba from formally reporting its financial results, the Company reports only select financial results on an interim basis. These reports indicate that core business momentum remains strong and the Saba People Cloud is experiencing exceptional market acceptance. During its most recent release on January 21st 2014, CEO Shawn Farshchi issued the following statement:
"I am extremely pleased with our strong business momentum and the pace of our product innovation... Cloud bookings during the first half of fiscal year 2014 hit a record high, as new Cloud bookings grew 63% in the second quarter of fiscal year 2014 over the same quarter in the prior year. Enterprises continued to select Saba as their partner of choice deploying our innovative technologies to address their Talent Management needs. We have over 20 issued or pending patents for our key technological advances such as machine learning, gamification, and domain partitioning, and our latest innovations include Recruiting@Work and The Intelligent Mentor."
Some excerpts from the most recent interim report include:
Cloud renewal rates remained in excess of 90% for the first half of fiscal year 2014.
85 new Cloud customers were added in first six months of fiscal year 2014 including BT, Telstra, Nokia Solutions Network, Mitsubishi Fuso Truck and Bus, Marvell, and Fairchild Semiconductor.
Cash and cash equivalents were $23 million and total debt was $63 million at November 30, 2013.
Cash used from operations was $11 million for the first six months of fiscal year 2014 ended November 30, 2013
Overview of Financials
Prior to the accounting restatement in 2012, management offered revenue guidance of $130-$133 million for fiscal year 2012. This would represent an 11-14% increase over the $116.7 million posted in the previous year. While investors wonder whether or not the accounting restatement will have a material impact on previously reported results, it's important to mention that the initial transaction which set in motion the broader review - $271K worth of identified revenue bookings - represented less than 3% of 2011's top line revenues. While it is a matter of speculation until the review is completed, my view is that the restatement will wind up having very little impact on previously reported results as the issues seem to be timing of revenue recognition, rather than more serious issues such as fraud.
After extensive review of interim financial reports, I believe the most likely scenario for Saba is that top-line revenues have grown at 13-14% per year since 2011, based on the strength of new client bookings and high retention rate (~90%). This would put 2013 revenues in the $148-$150 million range, although it is highly possible that this estimate proves conservative when results are reported.
Valuation
As previously mentioned in this article, SaaS stocks with similar market caps and profitability generally trade around 6X EV/LTM Revenues although there are many instances of names trading in the high double digits. Perhaps more importantly, there are examples of very similar cloud-based HCM names being acquired at 4-8X multiples by strategic buyers.
At today's share price, Saba is valued at 3X EV/LTM Revenue (using above 2013 estimates). This represents a considerable 50% discount to SaaS peers and a 25-60% discount to multiples paid by recent buyers in the space.
This valuation discount is clearly warranted considering that the company is trading on the Pink Sheets and hasn't filed a formal financial report since 2011. However, management has indicated in recent interim reports that it is looking to issue restated financials in the coming weeks or months and bring the matter to a close as soon as possible. Ultimately the resolution of the financial restatement is a necessity for Saba to regain credibility with the investing community as it will not only provide clarity on the company's financial condition, but also open the door for NASDAQ relisting.
My view is that the resolution will lead to a sharp repricing in SABA shares, as it appears the company will prove deeply undervalued to SaaS peers. Given my baseline view that revenues come in around $148-$150 million for fiscal year 2013, I believe shares will likely approach a 5.5X EV/LTM Revenue multiple, which still represents a ~10% discount to SaaS peers and the midpoint of recent cloud-based HCM transaction multiples. I believe this is warranted based on Saba's recurring revenue, subscription based business model, blue-chip clientele, high client acquisition and retention rate, and attractive positioning in the HCM industry.
Upside risks to this analysis include 1) Higher than anticipated 2013 revenues, 2) Higher than anticipated valuation multiple, 3) improved net debt profile.
Downside risks to this analysis include 1) Lower than anticipated 2013 revenues, 2) Unanticipated negative repercussions of accounting restatement, 3) Failure to achieve higher valuation multiple, 4) higher than anticipated net debt profile.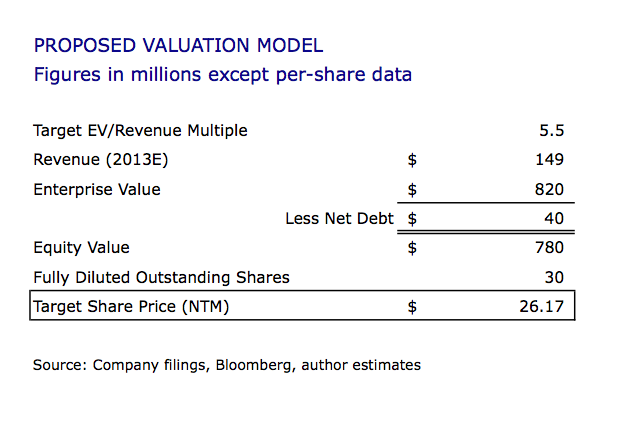 Modeling in an estimated $148-$150 million in fiscal year 2013 revenue, I believe the resolution of pending financial restatement in the coming months could lead Saba shares to reprice at a 5.5X EV/LTM Revenue multiple. This translates to roughly $26 per share, a 90% premium to their current price of $13.75.
The Bottom Line
For investors who are looking for a high upside play with a near-term pending catalyst, Saba Software is an intriguing name with strong long-term growth prospects. The Human Capital Management industry is in a transformational state, with cloud-based providers like Saba offering modern solutions for the challenges facing today's businesses. While the absence of detailed financial reports makes modeling the company's financials a challenge, recent interim reports suggest that business momentum is indeed strong and assumptions for top line growth in the mid teens may prove conservative. Management is pushing for the accounting restatement to be completed in the coming months, which I believe will lead to shares repricing sharply higher.
Safe investing...
Disclosure: I am long SABA. I wrote this article myself, and it expresses my own opinions. I am not receiving compensation for it (other than from Seeking Alpha). I have no business relationship with any company whose stock is mentioned in this article.