Exchange traded funds tracking developed markets, broadly speaking, have been duds to start 2014. And yes, much to the chagrin and surprise of many market participants, that list includes some U.S. and Japan ETFs.
The broader emerging markets complex has continued its 2013 bearishness in 2013, but there are pockets of strength among single-country ETFs, several which come courtesy of the formerly controversial PIIGS nation. Last week, it was noted that Italy was, to that point, the top-performing G7 equity market this year.
Regarding country-specific ETFs, the Global X FTSE Greece 20 ETF (NYSEARCA:GREK) has impressed. Remember that GREK is now an emerging markets fund because that is how index providers classify Greece. Equally as important, GREK could be ready to deliver further upside.
"GREK is currently finding support at the rising 10-day moving average after a big volume breakout," notes Deron Wagner of Morpheus Trading Group. "The breakout was from a bullish three-month consolidation, on volume that was about double its weekly average."
Worth noting is the fact that as an array of developed and emerging markets have seen their equity markets struggle to start 2014, Greek equities are in the midst of their best start to a year since 1994.
For as well as GREK has recently performed (the ETF is up 4% to start the year), Greece is far from a risk-free market and a little of that risk comes with its status as a developing nation. Citing senior bank officials, Kathimerini reports that 45% of companies operating in Greece today are saddled with such deep debt burdens and assorted other problems that they have no legitimate shot at recovery.
On the other hand, Greek equities are still viewed as inexpensive and the Athens Stock Exchange General Index closed just below 1,270 last Friday, meaning it would have to more than double to reclaim its September 2009 highs.
Global X FTSE Greece 20 ETF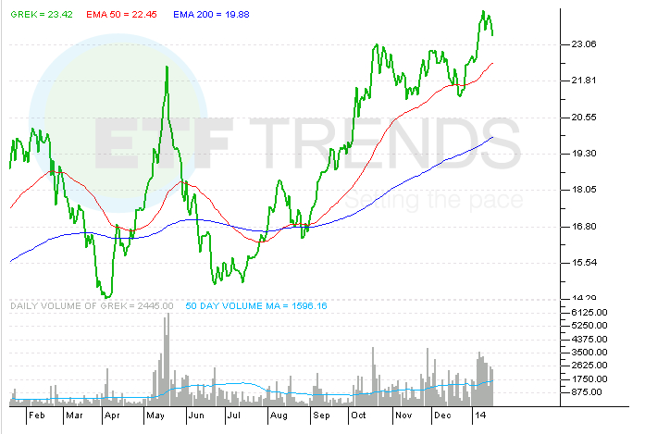 ETF Trends editorial team contributed to this post.
Disclosure: I have no positions in any stocks mentioned, and no plans to initiate any positions within the next 72 hours. I wrote this article myself, and it expresses my own opinions. I am not receiving compensation for it. I have no business relationship with any company whose stock is mentioned in this article.