With earnings season getting underway in earnest this week we look at the value of stocks in the technology sector and what to watch out for from the big players.
Within the report we discuss:
Whether we are seeing a tech bubble with price gains outpacing earnings
Which stocks may be overvalued heading into earnings season
What the reaction to Intel's earnings report reveals about investor expectations
Specific indications traders are watching for from companies such as Apple and Facebook
With Google (NASDAQ:GOOG) trading above 1,000 and the NASDAQ Composite back above 4,000 some have been asking if tech stocks are in a 1999-style bubble once again. While that doesn't appear to be the case the strong gains of the last year mean that expectations have risen dramatically and some stocks could be vulnerable if they don't deliver.
The technology sector is not in a bubble but selected stocks have been getting really pricey.
P/E Chart
NASDAQ 100 P/E Ratio

Quarter

2008

2009

2010

2011

2012

2013

2014

1

23.54

17.53

21.84

18.73

16.96

17.78

21.41

2

23.39

22.23

17.43

16.32

16.07

18.29

3

19.88

26.54

18.07

14.63

17.54

19.65

4

15.23

25.01

18.96

14.69

16.79

21.86
Source: CMC Markets, Bloomberg LP
Over the last two years, the valuation of technology stocks in the marketplace has been steadily increasing with the P/E multiple for the NASDAQ 100 index rising nearly 50% from 14.6x in late 2011 to 21.8x by the end of 2013.
A higher multiple means higher expectations have been built into stocks but this does not mean that there is a new tech bubble out there. Although the P/E ratio is at a two-year high, valuations remain lower than they were in 2009 to early 2010.
P/E multiples also remain low relative to the year-end values of the last decade like 42.1 in 2001, 36.2 in 2003 and 31.2 in 2006.
Although the overall technology sector does not appear to be overvalued, it is possible that some specific companies may be more richly valued than others and potentially more vulnerable. There also could be shares that are undervalued relative to the sector with the potential to catch up. We shall look more closely at specific situations in the next few sections.
Comparing Company Valuations
Looking Backward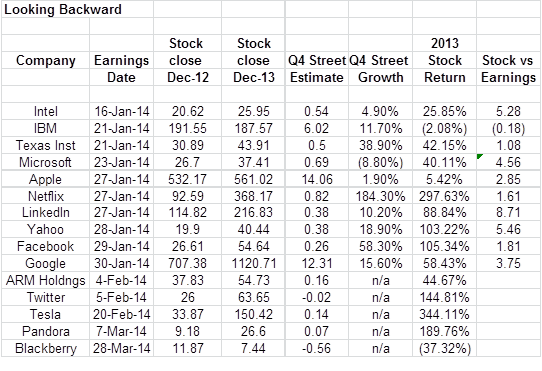 Source: CMC Markets, Bloomberg LP
2013 was a banner year for technology stocks with six or 30% of the fifteen stocks in the table above more than doubling and another four or 20% posting gains in the 40-60% range. These gains all outpaced the 26.5% return the Dow Industrials delivered for the year.
The highest climbers on the year were Netflix (NASDAQ:NFLX), Pandora (NYSE:P) and Tesla (NASDAQ:TSLA), but their vulnerability going forward depends on how much of the price gains were supported by business growth. In the case of Netflix, a 297% gain in the stock was partially supported by a 184% gain in earnings, so the stock rose by 1.6x the amount earnings rose.
With the exceptions of IBM (NYSE:IBM) and Texas Instruments (NASDAQ:TXN), many technology stock price gains outpaced earnings growth by a wide margin, particularly LinkedIn (LNKD), which saw the price rise over 8x what its earnings rose while Intel (NASDAQ:INTC), Yahoo (YHOO) and Microsoft (NASDAQ:MSFT) posted share gains around 5x earnings growth over the same period. The higher the multiple, the more expectations grew over the year, and the more management may need to deliver this year to maintain enthusiasm.
Looking Forward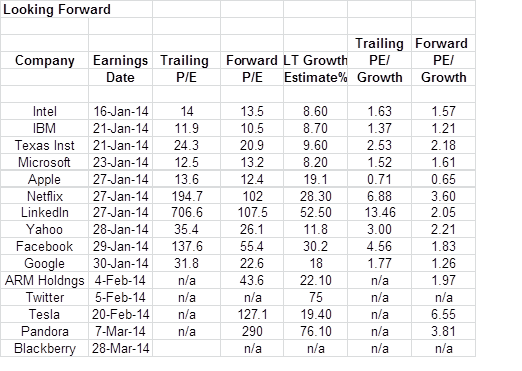 Source: CMC Markets, Bloomberg LP
Stock markets are forward-looking with share prices and valuations driven by expectations of future earnings. Generally speaking, traders tend to pay more for higher growth so companies growing more quickly should command a higher multiple on average. To compare how much the street is paying for a stock relative to its growth we can use the P/E to Earnings Growth (or PEG) ratio. With 1.0 being the benchmark level (P/E = growth rate) we can see who has attracted the highest expectations and could be vulnerable if they fail to deliver on these expectations.
The highest PEG ratio by far on forward earnings (right column in table above) is Tesla which explains some of the high volatility following last quarter's report over guidance and reports of car fires. When valuations are high, traders tend to be quicker about heading for the door and asking questions later. Pandora and Netflix also have high PEG ratios suggesting that they both need to back up their promise with profitable growth numbers to justify their valuations.
LinkedIn and Facebook (NASDAQ:FB) have high trailing P/Es and lower forward P/Es which also means that they need to continue delivering growth or could be vulnerable.
Apple (NASDAQ:AAPL) has the lowest PEG ratio which enabled it to withstand the disappointing iPhone 5c launch. It continues to recover from its 2012-13 selloff. A number of other big caps also have relatively reasonable valuations (PEG ratios less than two) including Google, Intel, Microsoft and IBM.
What do Technicals Tell Us?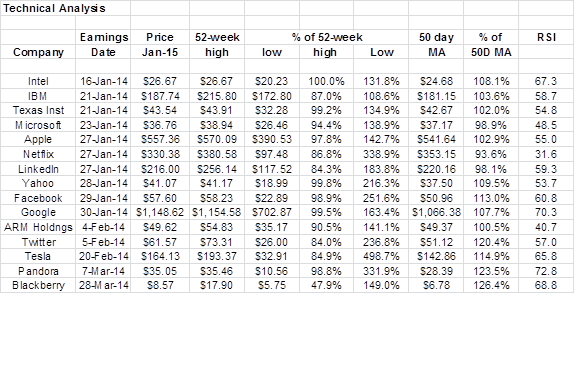 Source: CMC Markets, Bloomberg LP
Technical factors indicate to traders how much the shares have moved recently and if traders may be looking toward the earnings reports for an opportunity to enter or exit positions.
Stocks rallying into an earnings report suggest growing expectations while drops ahead of a report suggest falling expectations. Stocks currently trading within 5% of their 52-week high and carrying rising expectations include Yahoo, Apple, Pandora, Google, Facebook, Intel and Texas Instruments. These could be vulnerable should they fall short of expectations.
On the other hand, Twitter (NYSE:TWTR) and Tesla have had big corrections in recent weeks and are trading closer to 85% of their 52-week highs. This means that expectations have been easing but also may indicate that downtrends are already underway.
Looking at how far a stock has moved above or below moving averages can also indicate which have perhaps moved too far in the short term and could be getting due for a move back to average. Currently 10 of the 15 stocks analysed are trading within 10% of their 50-day average. BlackBerry (BBRY), where new management is on a honeymoon with the street is currently trading the farthest above its 50-day average, followed by Pandora and Twitter.
The RSI indicator gives an impression of how quickly a market has moved up or down in recent sessions and if a market is overextended and due for a potential reversal. Ten of the fifteen names studied are within the 35-65 range. Stocks above 65 and potentially overbought in the short term include Google, Intel, Pandora, BlackBerry and Tesla, while the only stock below 35 and potentially oversold in the short term is Netflix.
The bottom line heading into earnings season:
Despite the heady gains of the last year, the technology sector does not appear to be back in bubble territory. That being said, some specific stocks do appear to be richly valued or overextended technically, so we could see profit taking against some reports and there is a risk of big selloffs against earnings disappointments.
Generally speaking the companies that emerged as the biggest winners in recent months including Netflix, Pandora and Facebook rank among those who really need to deliver a positive quarter. Twitter and Tesla have been volatile in both directions of late and have the potential to be actively traded in the days around their reports.
On the other hand, many of the leaders of the last decade and largest cap companies appear to be relatively reasonably valued although this would not necessarily insulate them from a broader market retreat.
What does Intel's earnings tell us about trader sentiment?
Intel's earnings report was lackluster at best. EPS of $0.51 missed the street by a penny while sales came in slightly above expectations. For 2014, the company guided for no sales growth $52.7 billion same as 2013.
The street took this neutral report as a modest disappointment, sending the shares down 4.1% in early post-report trading. This suggests that expectations for this earnings season remain high and that companies who can't deliver on earnings or guidance may find themselves punished.
Some things traders may be looking for from specific companies.
Apple
Success of new products iPhone 5s and iPad air over the holiday season.
Indications on how the launch of Apple products with China Mobile is going so far and how much of the company's 700 million subscribers they expect to pick up this year.
BlackBerry
Insight into new management's plans going forward following last year's failed product launches, failed company auction and the big management house cleaning.
Yahoo
The company's interest in Alibaba and the upcoming delayed IPO has captured a lot of attention from the street. What about the company's core business and turnaround under CEO Meyer?
Facebook
Is the company's mobile advertising growth still accelerating?
Is it really losing teenagers and does that make a difference for where the business is heading?
Twitter
This is Twitter's first earnings report as a public company, as with Facebook, scrutiny is likely to be particularly high.
A number of analysts have downgraded the stock or initiated with bearish ratings on concern over valuation relative to other technology stocks.
Will Twitter's results be able to justify its huge post-IPO rally or will it continue to drift back to Earth?
How does the company plan to grow revenues from here, when does it expect to be able to turn a profit?
Netflix/Pandora
Can their subscriber growth rates justify the massive share gains of the last year?
How much market share do they have and how much do they expect to steal away from traditional cable and media? Are they a competitive or complementary service?
Microsoft
How is the integration of Nokia going? What are its plans for taking on Apple/Samsung?
How has the new Xbox fared over the holiday season, particularly in relation to its main competition the new PlayStation?
Tesla Motors
The company recently reported that auto shipments in Q4 exceeded its guidance by over 20% sparking another big rally and increase in earnings expectations.
How growth in sales translates into bottom line growth could have a significant impact on trading.
Are there any potential production constraints to meeting or beating future production goals like the availability of parts?
How is the company addressing the problems that led to recent battery fires?
What are the prospects for Tesla's business in China this year?
To date, finding demand for its cars has not been an issue what is it doing to keep this going?
Disclosure: I have no positions in any stocks mentioned, and no plans to initiate any positions within the next 72 hours. I wrote this article myself, and it expresses my own opinions. I am not receiving compensation for it. I have no business relationship with any company whose stock is mentioned in this article.