Shares of Alamos Gold (NYSE:AGI) have been under pressure of late after the company announced positive 2013 full-year results, but gave lower production guidance for 2014 at slightly higher costs.
Alamos had previously been a stock which had outperformed the Gold Miners Index (NYSEARCA:GDX). However, the stock is tanking below $10 a share, during a time when other gold equities have soared.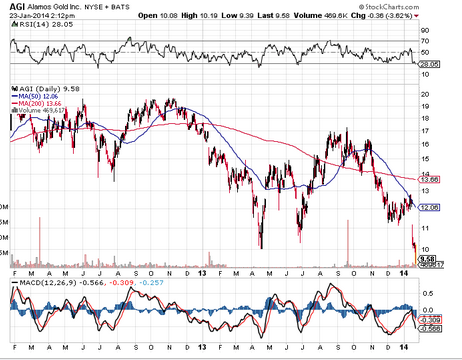 So is Alamos Gold a buy here on the price dip? Here, I will give my thoughts on the current situation.
Company Description and Overview
Alamos Gold is a mid-tier gold producer, operating the low-cost Mulatos Mine in Mexico.
- The company also has a number of exciting development properties, including the recently acquired Esperanza Gold Project, which is expected to produce more than 100K ounces of gold annually, at very low cash costs (estimated below $500). Initial capital costs to get Esperanza to production are $114 million, which is very reasonable.
The company also owns the Ağı Dağı and Kirazlı gold development projects, located in Çanakkale Province on the Biga Peninsula of northwestern Turkey.
- Kirazli needs an initial $146.1 million of pre-production CAPEX but is expected to produce 99,000 ounces of gold and 601,000 silver ounces a year, with total cash costs in the range of $500 - $515, according to the Pre-Feasibility. Initial production is estimated for 1H 2015.
- Ağı Dağ is a bigger project, expected to produce 143,000 ounces of gold a year. However, the pre-feasibility shows higher cash costs of $611 an ounce and pre-production capex of $278.3 million. Production is not expected until 2017.
- Clearly, Esperanza and Kirazli are the more attractive projects as they require a combined $260.1 million in pre-production CAPEX, but will add at least 200,000 ounces of gold production to Alamos at low cash costs.
2013 Production Results and 2014 Guidance
For full-year 2014, the company produced 190,000 ounces of gold in 2014 and sold a record 198,200 ounces at a total cash cost per ounce of approximately $500.
- The Company anticipates producing between 150,000 and 170,000 ounces of gold in 2014 at cash operating costs of $630 to $670 per ounce of gold sold, excluding royalties.
Here is the company's explanation:
"The lower gold production planned for 2014 relative to 2013 is primarily attributable to the lower budgeted grade for the mill feed of 5.3 g/t Au in 2014 due to the transition to Escondida Deep and San Carlos in 2014, as well as a lower budgeted grade stacked on the leach pad of 0.85 g/t Au in 2014 compared to 1.07 g/t Au in 2013."
Including royalties and assuming a $1,250 gold price, the company says that total cash costs are expected to be between $700 and $740 per ounce of gold sold and all-in sustaining costs are expected to be between $960 and $1,000 per ounce of gold sold.
"The higher cash operating cost guidance for 2014 compared to 2013 is attributable to four factors: the transition to higher cost underground mining to supply high grade ore to the mill; a lower budgeted grade for the mill feed of 5.3 g/t Au in 2014; a higher waste-to-ore ratio; and the transition to contractor mining at Mulatos." (Source: Jan. 16 news release)
This is obviously not good news as the company will be producing less gold at higher costs, during a time when the price of gold remains weak.
Alamos Valuation
- The company has $410 million in cash and no debt. With a current market cap of $1.22 billion, this gives Alamos an approximate enterprise value of $810 million.
- If we use the higher end of the guidance in production and lower end of costs for 2014, Alamos would produce 170K ounces of gold at all-in costs of $960. This would leave the company with EBITDA of $49.3 million, at a gold price of $1,250.
- Based on these figures, this means Alamos has a 2014 EV/EBITDA of 16.4, which is a little high.
- Alamos has a total gold resource base of 6.55 million ounces, in addition to 2.985 million in the inferred category, and roughly 45 million silver ounces in all categories.
- Based on these figures, the market is currently valuing Alamos' gold resource base at $82.2 an ounce, which is about the average for the gold sector:
Aurico Gold (NYSE:AUQ): $111
Goldcorp (NYSE:GG): $142
Osisko Mining (OSKFF): $121
New Gold (NYSEMKT:NGD): $75
Kinross Gold (NYSE:KGC): $71
(Figures according to GoldMinerPulse.com)
Dividend in Jeopardy and a Change of Strategy in Store?
Alamos currently pays a semi-annual dividend of $.10 per common share, giving the stock a yield of around 2 percent.
The company's most recent dividend on Sept. 30, 2013, represented the company's 8th consecutive semi-annual dividend paid to shareholders. In total, the company says they have paid a total of $71.1 million in dividends to shareholders over the last four years.
The company could consider suspending or cutting its dividend to conserve cash and preserve its balance sheet, or to use the cash for exploration and acquisitions, a move which the team at IAMGOLD (NYSE:IAG) recently made.
I believe suspending the dividend could be a wise move, as it gives the company more flexibility for acquisitions, but the market will most likely not like the news.
$410 Million in Cash Can be Spent Wisely
I believe that Alamos needs to focus on putting its cash balance to work for accretive acquisitions.
The company should try to buy out a small junior mining company that is already in production, adding immediate ounces and cash flow to its production profile and its resource base.
For example, Primero Mining (NYSE:PPP) recently announced its acquisition of Brigus Gold (BRD), a deal valued at $220 million, adding a 100,000 ounces a year mine in Canada with a development project nearby.
I feel that there are many potential targets for Alamos, including a number of Canadian miners like Lake Shore Gold (NYSEMKT:LSG) and St. Andrew Goldfields (OTCQX:STADF).
I feel that there are also a number of exciting development projects in West Africa, specifically, Burkina Faso.
Two projects which stand out to me in Burkina Faso are RoxGold's (OTC:ROGFF) Yaramoko project (98,300 ounces annual production, total cash costs of $530/oz with just $93.8 million pre-production capital, according to PEA),and True Gold mining's Karma project ( 97,000 oz Au/year production average, intial capex of $131.5 million, according to Feasibility study).
Conclusion
I am holding off on buying shares of Alamos Gold, for now. I want to see the company make more acquisitions and I feel that there are currently much better opportunities out there in the gold sector. I will re-visit the company in 2014.
Disclosure: I have no positions in any stocks mentioned, and no plans to initiate any positions within the next 72 hours. I wrote this article myself, and it expresses my own opinions. I am not receiving compensation for it (other than from Seeking Alpha). I have no business relationship with any company whose stock is mentioned in this article.