By Summit Roy
There is historical precedent for enormous natural gas moves when inventories get too low.
Natural gas prices have rocketed higher in recent days as traders become increasingly concerned that the coldest winter in decades in the U.S. may push inventories to critically low levels. The latest forecasts from the NOAA show no respite for the eastern half of the U.S. in particular, which accounts for most of the country's heating demand.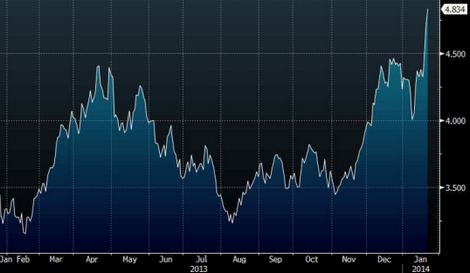 Analysts have been furiously cutting their projections for end-of-season natural gas storage levels, with most now anticipating them to trough below 1,400 billion cubic feet. However, some are even speculating that storage levels could drop below 1,000 bcf if cold temperatures persist into February or March.
Inventories last fell that low in 2003, when they bottomed at 654 bcf. At the time, prices spiked from nearly $5/mmbtu in January 2003 to almost $12 by the end of February.
Coincidentally, prices are just below $5/mmbtu today, which is the highest point in 2 ½ years. If prices surpass $5, that will put them at the highest level in four years. As recently as November, prices were trading as low as $3.38; thus they are up more than 40 percent in less than three months.
Anyone who purchased natural gas over the last several months has made handsome returns. But is it too late to get in?
Certainly, if inventories continue to plunge, natural gas may continue to rise. Aside from a direct investment in futures, the easiest way to get exposure to the gas rally is to buy the United States Natural Gas Fund (NYSEARCA:UNG), which holds near-month natural gas futures contracts. UNG is up almost 10 percent over the past three sessions.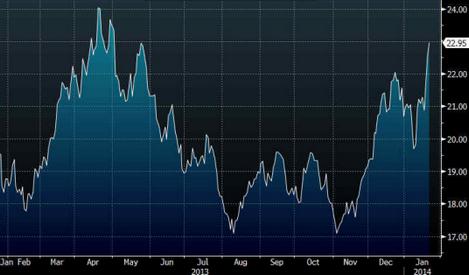 t
Another option is to buy the First Trust ISE-Reverse Natural Gas Index Fund (NYSEARCA:FCG), which invests in a basket of natural gas producers. Gains in the fund have been far less impressive over the past few months, though they are up more than 6 percent in the last three sessions.
Natural gas equities tend to respond to longer-term price expectations; thus it may take a period of sustained higher prices for FCG to spike.