Qualcomm, Inc. (NASDAQ:QCOM) should face increased competition during 2014 in the wireless 4G LTE baseband market, but new device launches indicate that Qualcomm remains the LTE chipmaker of choice by some of the world's leading mobile-device makers, such as Samsung (OTC:SSNGY), Sony (NYSE:SNE), Apple (NASDAQ:AAPL), and LG (LQEAF).
While QCOM does not have a dominant IP portfolio in 4G, for the foreseeable future, the overwhelming majority of 4G handsets will be compatible with 3G technologies, which enables QCOM to collect a higher royalty rate. But Intel (NASDAQ:INTC) will provide competition in the processor space and there is scope for Samsung to increase its vertical integration. That said, Qualcomm's ability to integrate application processor and baseband functions should fend off a host of competitors in the years to come.
QCOM's near term revenues growth rate may slow and the near term profitability may moderately deteriorate, but the company and industry dynamics remain favorable. Said differently, the pie is growing, and while QCOM may earn a smaller portion of the total pie in the future, the slice for QCOM and its investors should be more than satisfying.
Recent Developments
Qualcomm is scheduled to report first quarter fiscal 2014 earnings on Wednesday, January 29, 2014.
QNX and Qualcomm announced that the companies would implement support for the high-performance video and graphics capabilities of Snapdragon Automotive Solutions in the QNX CAR Platform for Infotainment.
The Chinese government handed out 4G licenses, which boosts demand for Qualcomm's 4G solutions.
Goldman Sachs expects Qualcomm to report above-consensus results when it reports on CQ4, which is likely based on educated guesstimates.
Qualcomm is rumored to have scored design wins in the Samsung Galaxy S5, but there is no word on the Galaxy Note IV.
Business Summary
Qualcomm, Inc. develops digital communication technology called CDMA and owns intellectual property applicable to products that implement any version of CDMA including patents, patent applications, and trade secrets. The integrated circuits and licensing segments account for almost 100% of total revenues. Qualcomm is highly leveraged to growth markets in Asia with ~80% of total sales coming from China, South Korea, and Taiwan.
So, while the 10-year average revenues growth rate of 20% is impressive, Qualcomm's base growth rate is higher than a developed-market oriented company's base growth rate. As revenues rose, profitability suffered. This is something that I will pay attention to when QCOM reports its results. Right now, profitability is excellent, but for me, it needs to stay above 20%. However, EBITDA is trending higher on a sequential basis.
The cash ratio increased to 2.88 from 2.28 at the end of the June quarter, while the current ratio increased to 3.75 from 3.18. There was a substantial amount of excess liquidity. There was no debt reported on the balance sheet and the financial leverage ratio was 1.26. QCOM has a superior liquidity and solvency position. The company could take on debt to lower its cost of capital and use excess cash for share repurchases and dividends.
Cash flow from operations is trending higher and QCOM does not use much cash for capital expenditures, which leaves a substantial amount of FCF. FCF increased 64% in fiscal 2013, which followed a 9% increase in fiscal 2012. QCOM could easily continue to ramp its share purchases and dividends. Within a 5-year to 10-year window, QCOM could be returning $10 billion of capital annually.
QCOM is likely to maintain its leadership position in 4G, because of the Qualcomm Snapdragon 805, through the first half of 2014. During the back half of 2014, Intel is planning to release its Cherry Trail and Moorefield architectures. Intel's architectures are stated to be coming in at 14nm, which could give Cherry Trail and Moorefield a technological advantage. For now, QCOM maintains the advantage in the smartphone and tablet markets, but it is wise to remain on the lookout for Intel design wins. Additionally, Broadcom (BRCM) and Nvidia (NASDAQ:NVDA) could score design wins at Qualcomm's expense.
Management's FY14 guidance is for below trend growth. They are calling for high single digits revenues growth with GAAP diluted EPS growth of 11.5%. Management could be being conservative, but I think it is more likely that the growth rate of the mobile industry will slow in FY14.
Risks
The share price is likely to remain volatile and investors could lose a portion or all of their investment.
Investors should judge the suitability of an investment in Qualcomm in light of their own unique circumstances.
A decline in the global economic growth rate and/or a decline in the pace of economic growth in the United States could adversely impact the results of operations and the share price.
The technology industry is characterized by rapid technological change, which could materially adversely impact the results of operations.
Competition in product development and pricing could adversely impact performance.
Incorrect forecasts of customer demand could adversely impact the results of operations.
Higher interest rates may reduce demand for Qualcomm's offerings and negatively impact the results of operations and the share price.
This section does not discuss all risks related to an investment in Qualcomm.
Valuation & Portfolio Management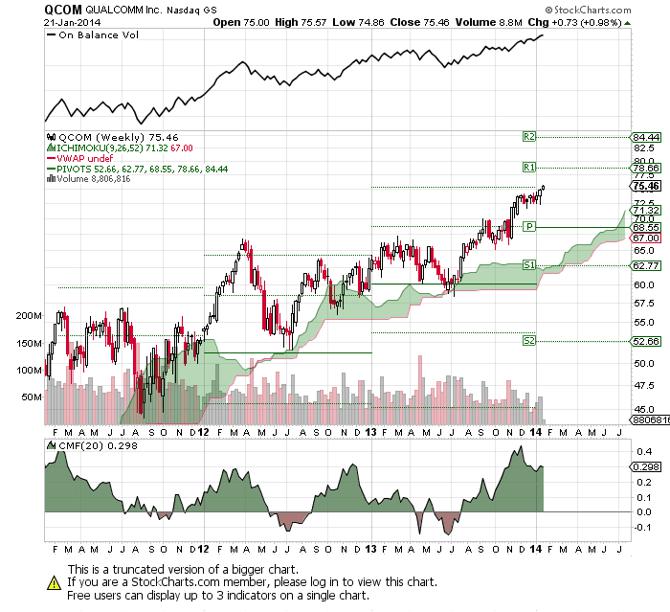 QCOM is in a confirmed uptrend of intermediate and primary degree. After the brief consolidation during the past month, there is scope for further upside, but optimism should be tempered as the bull market is getting "long in the tooth." The share price can go higher, but there is substantial downside risk. That said, shareholders keep accumulating but less enthusiastically.
Relative to the S&P 500, there is limited diversification benefits from investing in QCOM. The correlation ranged from 0.84 since 2013 to 0.93 since 2009. So, from a risk reduction perspective, I would look for another investment.
Also, with the high correlation comes a high R-squared. The S&P 500 explained 70% of the variation of the share price of QCOM since 2013 and 87% of the variation since 2009. Forecasts for QCOM should include forecasts for the broader market, based on this data, which is non-stationary.
I utilize 3-month, 6-month, and 12-month price targets. The price targets are $72.19, $74.07, and $77.83, respectively. The current share price is $75.46, which suggests that QCOM is trading above trend. This suggests QCOM could trade roughly flat in the months to come.
How likely is QCOM to outperform the S&P 500 on a nominal non-risk adjusted basis in the coming months? Using my proprietary model, it is becoming increasingly likely that QCOM will outperform. The probability is somewhere between 60% and 65%. One should note that outperform could mean that both markets decline on a percentage basis.
Based on the growth rate, profitability and fundamentals of the business, Qualcomm should trade at a premium to the market. The price/book is 3.5 relative to the market's price/book of 2.6. This represents a 35% premium. The valuation is neither cheap nor expensive.
Disclosure: I have no positions in any stocks mentioned, and no plans to initiate any positions within the next 72 hours. I wrote this article myself, and it expresses my own opinions. I am not receiving compensation for it (other than from Seeking Alpha). I have no business relationship with any company whose stock is mentioned in this article.