Comcast (NASDAQ:CMCSA), one of the major cable operators in the US, owes around one-fifth of its value to its voice over internet protocol (VoIP) or digital voice business. The company competes with telecom operators like AT&T (NYSE:T) and Verizon (NYSE:VZ) as well as cable operators like Time Warner Cable (TWC) in this business.
Comcast offers VoIP services, which serve as an alternative to traditional landlines, to its customers over its existing cable network. Below we discuss the importance of the VoIP business for Comcast and the two main factors that are driving this business: (i) VoIP penetration, (ii) Comcast market share.
Digital Voice (VoIP) Is 19% of Comcast's stock
Comcast's VoIP business is the third most important division after the company's Digital Cable and Broadband businesses. We estimate that VoIP (digital voice) constitutes about 19% of the $18.65 Trefis price estimate for Comcast's stock. This translates into about $10 billion of value based on our estimates of more than $53 billion for Comcast's value.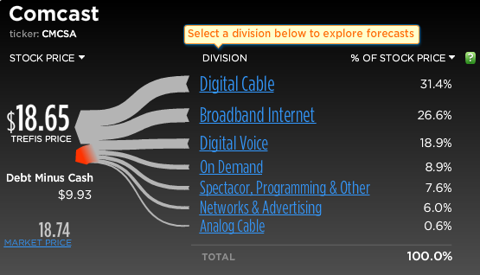 VoIP Penetration and Market Share Crucial
Comcast's digital voice business depends on two important factors:
1. Rising US VoIP Penetration

VoIP penetration represents the proportion of US broadband internet households that subscribe to digital voice service. We estimate that this figure has risen from about 10% in 2005 to 31% in 2009. Telecom and cable operators are increasingly bundling services (TV, internet, phone), and this has helped increase VoIP penetration amongst broadband internet households.
We expect VoIP penetration to reach about 60% by the end of Trefis forecast period.
2. High Comcast Market Share in VoIP

Comcast is the biggest player in the VoIP market, with approximately 31% market share as of 2009. It has picked up substantial market share primarily because it bundles its voice offering with broadband and cable TV services.
Going forward, we expect Comcast's market share to remain stable and trend in line with the company's pay TV market share. You can modify our forecast above to see how Comcast's stock would be impacted if the company were unable to sustain its share in the VoIP (digital voice) market.
For additional forecasts and analysis, here is our complete model for Comcast's stock.
Disclosure: No positions